James Bernard Paynter
1850 - 1927
---
* Peggy's date of birth is based on the April 1911 census which shows her aged 2. This conflicts with the year 1905 which I had previously recorded. If the 1908 date is correct, it indicates that her father was 58 years old (and her mother 41) when she was born.
---
Outline his Life:
Like his father and brother(s), Bernard was a solicitor. He also seems to have been very successful in real estate and seems to have become quite wealthy.
The 1881 Yeovil census shows Bernard as a lodger at 32 Hendford, and employed as a solicitor. Indeed it seems likely that he became a partner in Edwin Newman's law firm that same year, probably being the first (and last) member of the Paynter family to be a partner in the firm. Five years previously, he had become Edwin's step son when his widowed mother Catherine Augusta Paynter married the recently widowed Edwin.
Following Edwin Newman's death in 1885, Bernard appears to have taken over as senior partner in the firm's Yeovil office. He was one of the executors of Edwin's will (along with his brother Henry Augustus Paynter and Edwin's eldest surviving son, Walter), one provision of which empowered James Bernard Paynter to purchase "any part of Edwin's real and personal estate at any sale or sales thereof at public auction or by private contract ….". It may be assumed that Bernard thereby purchased Hendford Manor from which he continued to run the firm. [Presumably Edwin expected that Bernard would take over the firm and purchase the manor.] Bernard was recorded as the owner of Hendford Manor in 1889 when he went on to purchase 'Hendford House' across the road for £4450 (see Hendford Manor page), and in the 1891 census he was recorded as "head" of the household at Hendford Manor.
Like his father, Bernard married late in life. In 1900, at the age of 50, he married Maud Beckton; their last child Peggy was born in 1908, some 119 years after her grandfather.
Maud was the sister of Ernest Beckton (see below) who, together with James, took over the £600 mortgage over part of the Windy Edge Estate adjacent to Freelands.
The 1911 census record shows Bernard living in Hendford Manor with his wife Maud, Pendarvis (7) Peggy (2). Presumably his eldest son Camborne Paynter had by then been sent off to boarding school. Also present were Arthur Curtis Beckton (46), retired clergyman, and his wife Alice (48), presumably brother and sister-in-law of Bernard's wife, Maud. Also in attendance were no less than eight servants:
Rose Chard (47), domestic cook
Ada Gould (34), domestic lady's maid
Gertrude Makey (23), domestic parlour maid
Elizabeth Marks (26), domestic upper housemaid
Alice Webb (18), domestic kitchen maid
Jane White (17), domestic house maid
Mary Oakshott (47), trained domestic nurse and
Hilda Oakshott (18), domestic undernurse (the mother and daughter presumably sharing responsibility for baby Peggy).
Ian Caldwell notes that "My grandmother (Edith Paynter, Henry Augustus's daughter) did not like James Bernard Paynter, who she referred to as Uncle B, because she felt he had taken over her mother's family home and also because he became involved in her own father's affairs, probably when her father tried to sell some land at Freelands that was not rightly his". Ian later notes that "I think James Bernard Paynter was probably his mother's favourite son, and I think was a solicitor and perhaps inherited money from his mother and step-father" (i.e. Edwin Newman). James's father had died penniless. [In fact, as noted above, Bernard didn't receive anything from Edwin's will other than permission to purchase properties from his estate.]
When Bernard died in 1927, he left Hendford Manor to his eldest son Camborne, who sold it to Yeovil Town Council in 1935. Maud Paynter (James Bernard's wife) was still living in Yeovil at The Grove House, Preston Road, in 1939.
In his "Missing Years", my father (H.E.M. Newman) records that "it was in Bernard's era that I visited Hendford Manor several times. He had married a local girl, Josephine Beckton, who bore him two sons Camborne and Pendarvis - Cornish names par excellence - who were several years my senior)". [In fact, it appears that both boys were younger than him.]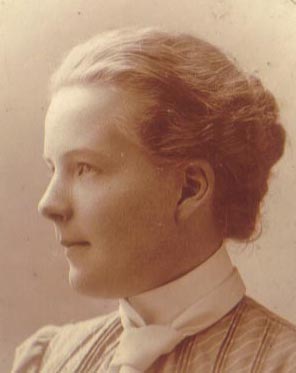 ---
Maud Beckton: (photo at right from a collection of family photos in my possession, probably taken before her marriage to James Bernard Paynter)
David Hope - a second cousin four times removed of Maud Josephine Beckton - wrote to me in March 2006 to tell me something about the Becktons. He explained:
"The Becktons were originally from Didsbury in Manchester and moved to Somerset in the late 1880's after the death of Maud's father Joseph and the remarriage (in 1889) of her mother Amelia to William Cotter who was the Vicar at West Coker. Maud had a brother called Ernest and the two links below tell you more of his and his brother's history:
It is interesting to read in these two websites that both of Maud's grandparents were extremely wealthy industrialists. One of the sites states that "The Beckons' paternal grandfather earned a fortune in textiles, the same industry in which their maternal grandfather, Matthew Curtis, became rich as an inventor and founder of one of the largest textile mills in Britain. Curtis, who also served three terms as lord mayor of Manchester, left his 18-, 19- and 20-year old grandsons a great deal of money when he died in 1887." Presumably Maud also inherited some of her grandfathers' wealth however this was not the source of the funds that James used to buy his properties in Yeovil which he had purchased some years before marrying Maud.
Finally it is interesting (and presumably coincidental) to note that Maud's step-father William Cotter was Vicar of West Coker, which was the same parish where George Jekyll (father of Charlotte) was vicar until his death in 1843.
---
Peggy Paynter: The only reference I have about Margaret comes from a letter from her brother Camborne to my father written in July 1957 where he mentioned that "Peggy is sharing a house with an old school friend ... near Guildford, Surrey. She is very busy with the WVS [Women's Voluntary Service]". From this it could be deduced that she did not marry.
---
Assorted photos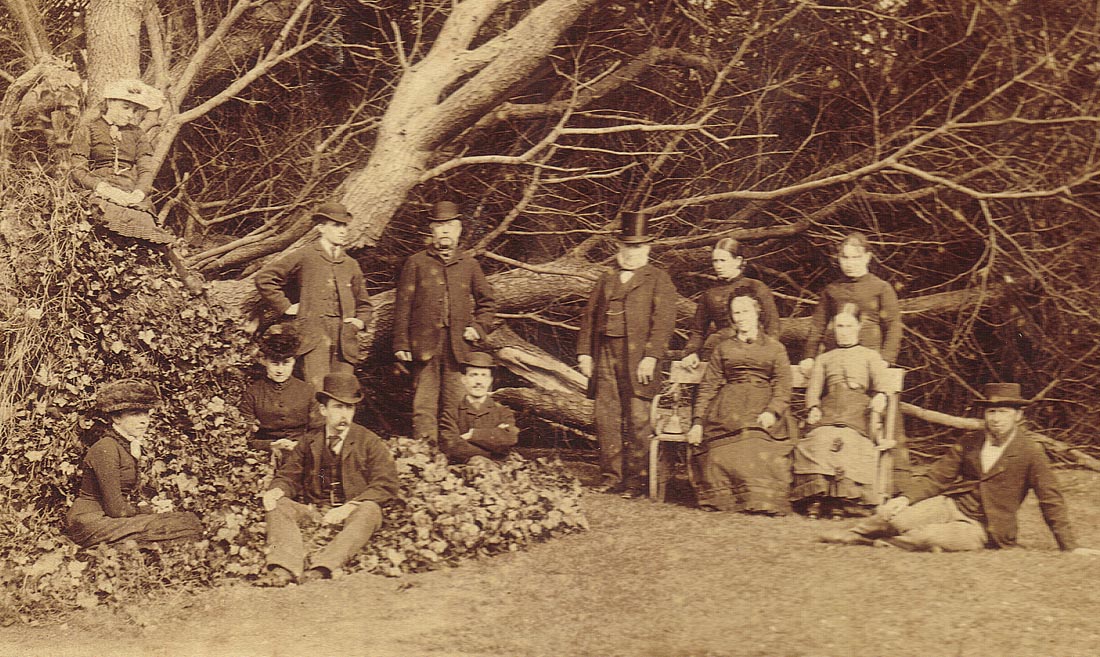 According to my father, this is a photo of the staff of Hendford Manor, with James Bernard Paynter seated next to Lottie Newman (daughter of Rev. George Henry Newman) on the lower left side of the picture. Date unknown, but probably late 1880s (perhaps soon after he'd purchased Hendford Manor) based on the fact that James looks a little younger than in the next photo below.
(from a photo in my possession)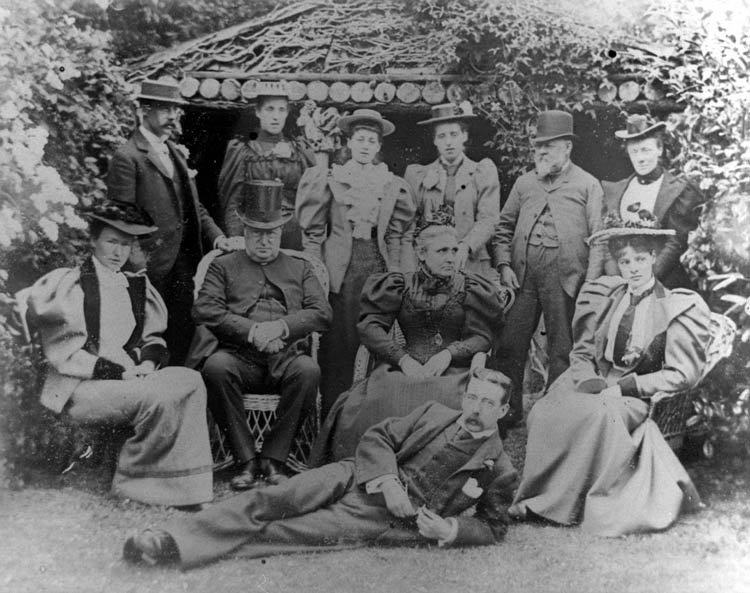 L-R ??, Eva, ??, Lilian, Dr Paynter, Miss Aldridge,
Miss Aldridge, Dr Beeber, Mrs Eastlake, ??
James Bernard Paynter
(location said to be Hendford Manor, Yeovil, date c.1891 based on Lilian's appearance - she was 18 in 1891)
(from a photo in my possession)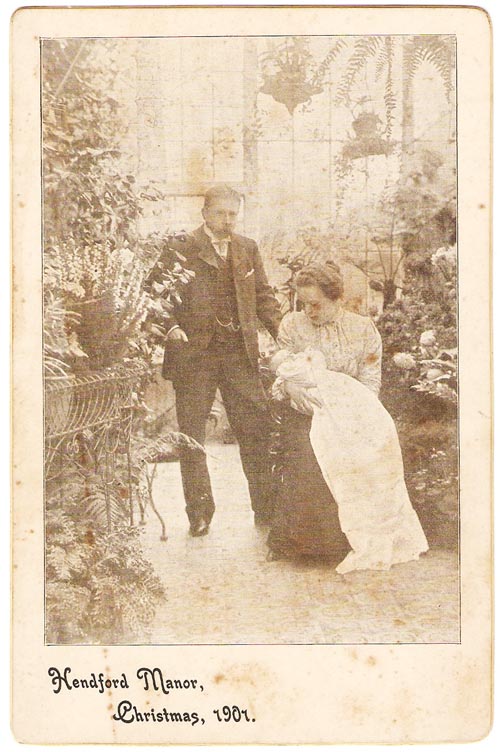 James Bernard and Maud with their first-born child, William Bernard Camborne Paynter
from a "cabinet card" photo kindly sent to me by Tracy Gadd.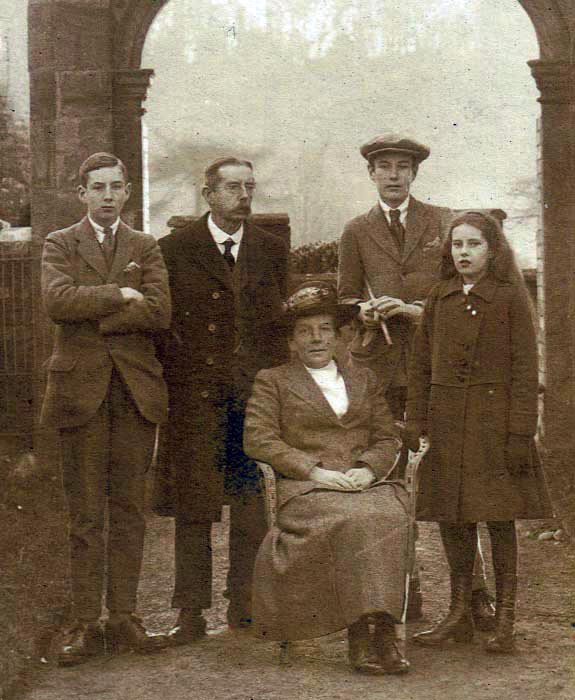 A much later photo of Bernard and Josephine with their three children.
left-right: Edwin Pendarvis, James Bernard, Maud (seated), William Camborne and Peggy.
Date c.1920 [based on childrens' ages].
(from a photo in my possession)
---
Page updated 5 Aug 2013: Minor amendments.
Page updated 27 Mar 2012: Revised information relating to the Newman-Paynter law firm.
Page updated 1 Nov 2011: 1901 photo of Bernard Josephine and William Camborne added. Separate pages created from Camborne and Pendarvis Paynter.
Page updated 4 June 2008: Photos added of Bernard and Family and of Josephine.
Page updated 1 May 2008: Date of death of William Rouse Paynter changed from 1866 to 1860
Page updated: 2nd April 2006
Earlier updates: 10th Nov 2003