John de Camborne Paynter
c1844 - 1915
---
---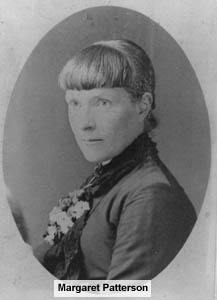 Outline his Life:
It appears that John de Camborne Paynter attended Exeter Free Grammar School. This is based on a message received in April 2008 from Ann Roberts who reported that she is in possession of "a small red hardback volume entitled 'Silvershell or the Life of an Oyster' which was presented to John de Camborne Paynter by the Headmaster of Exeter Free Grammar School at Christmas 1856, 'for improvement in German'. I acquired it on ebay – it has a very nice bookplate in it. I presume it belonged to Francis Paynter's son, whose age would be about eleven at the time, rather than some other John de Camborne Paynter." (I'm sure she's right - the name cannot have been very common.) Most likely John's brothers would have attended the same school.
John moved to Alnwyck sometime after his brother Henry settled there and became a partner (or associate) of Henry's law practice. He married Margaret Patterson, and had four sons: Col William Patterson Paynter D.S.O. (1877 - 1937), John De Cambourne Stackhouse (1876 - 1919), Paul (1879 - 1961) and Francis Pendarvis Paynter (1882 - 1916).
My father's Reminscences include the following anecdote relating to John de Camborne and his sons (dating to around 1907):
"The owner of Belvedere was my grandfather's elder brother, John. He was shorter and sported only a clipped black beard. He seemed to subsist without a job, spending his time growing exquisite carnations in the greenhouse. He was at times cursed with gout in one foot, which he rested bandaged on a footstool. There would be terror in his eyes as I approached lest I should knock it.
Uncle John was a widower with four grown-up sons. One Camborne, a sporting type, was often home. The Paynters came from Cornwall but Camborne's speech affected the Geordie. Bill was a horse gunner, having retained his commission after volunteering for the South African war. He served largely in India with Q battery R.H.A., and became renowned one year for winning the Khadir Cup, the major pig-sticking trophy at Meerut. I saw the monstrous silver bauble in Belvedere. Later, after we had moved to Northwood, he stayed with us while recuperating from a liver abscess operation at 'Sister Agnes'. Later still, after retirement, when I must have been either at Woolwich or Chatham, he gave me lunch at the 'In and Out' followed by a trip to Twickenham for the Army and Navy match. The third and fourth sons I never met, neither Pendarvis, who was killed in WW1, nor Peter Paul."
Ray Farnsworth offers the following additional comments about John de C: "Forster was a solicitor in Alnwick BEFORE Henry et al arrived in the town. The firm was Forster and Paynter initially. Forster died before Henry's brother,John de Cambourne Paynter arrived. He lived in a house called Belvedere, just 300 yards nearer the town centre and became Partner??? with Henry. Or, I believe more likely, a senior clerk. He was more prudent with his cash than Henry (fewer daughters to support and not trying quite so hard to " keep up with the Jones"). I vaguely remember that Forster also lived in Belvedere (a gorgeous terraced Georgian set of houses) but I must check that comment. Both Henry and John de C had longish flowing beards and were both tall".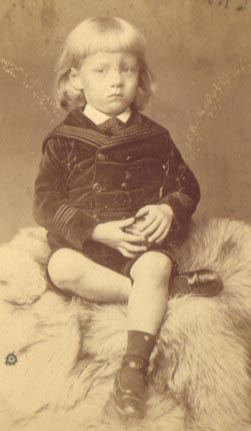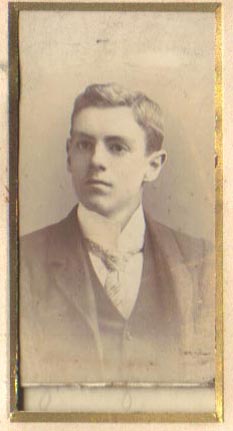 Photos of William and Paul, from an album in my possession.
William is described as "Later Lt.Col. R.H.A. - Winner of the Kadir Cup at Meerut for pig-sticking before First World War
In Jan 1910, John de Camborne Paynter became a life member of the Primrose League, an organisation founded in 1883 for spreading Conservative principles in Great Britain. His life-member ship certificate was purchased by John King in July 2012 who reported that "this diploma is most interesting as it is the first 'Life Member' issue I have encountered in over 20 years of studying the Primrose League."
John de Camborne's death: The following extract from page 56 of "Alnwick in the Great War" by Craig Armstrong was kindly sent to me by John de Lucy in Feb 2017:
"Late in the year a well-known Alnwick personality, Mr John de Camborne Paynter of Belvedere, Alnwick, died. Mr Paynter had been secretary of Alnmouth Golf Club for twenty-five years and was a popular member of the community. He left four sons, Captain John de Camborne Stackhouse Paynter, Major William Pattinson Paynter, Quartermaster Sergeant Reginald Paulet Paynter and Major Francis Pendever Paynter. Mr Paynter's estate was valued at over £23,000 the majority of which he left to his sons. Other family members to benefit from Mr Paynter's generosity included his brother, sister-in-law and grandson. Mr Paynter also left a furnished cottage and a £50 annuity to his former servant Jane Bolton Charters while his gardener Matthew Barnett received £10. Items of interest left by Mr Paynter included Alnmouth Golf Club Cup and a gold watch from Truro Grammar School which were left to his eldest son John, while his large collection of stuffed sea birds was left to Alnmouth Golf Club."
An excerpt from page 66 of the same book can be found on Francis Pendever Paynter's page.
---
Page Updated: 8 Feb 2017 - information added from John de Lucy
Page updated 10 Aug 2016: Dates added for Francis Pendarvis Paynter, Link added to his page. Courtesy Tim Clark
Page updated 19 Sep 2012: Removal reference to a flying ace by the name of John de Camborne Paynter at the request of Richard Coster who reports that the flying ace was not related to this John de Camborne Paynter.
Page updated 27 Mar 2012: Post Script added with reference to the WW1 flying ace named John de Camborne Paynter..
Page updated 4 Jun 2008: Photos of Willam and Paul added..
Updated 1 May 2008: Date of death of William Rouse Paynter changed from 1866 to 1860. Note added about attendance at Exeter Free Grammar School.