Eva Paynter
1876 - ????
---
---
Outline her Life: Ian Caldwell notes: (Eva) born 1876 died 1943, was perhaps the plainest of the daughters and never married. She tied fishing flies for Hardy's of Alnwick and had a great friend, Miss Smith, who she went to live with later. She met Miss Smith at Torquay when she was there for health reasons - she had rheumatic fever. Miss Smith was a General's daughter who had been with her father in India. A young officer had been interested in her but she went riding one day and her hat fell off. She didn't bother about it and continued her ride bareheaded and got sunstroke. This apparently left a permanent effect on her and she walked with her feet splayed outwards (according to my mother, Helen Caldwell). The young officer lost interest in her and Miss Smith never married. She and Eva spent the winters in Torquay and lived in a small house in Herne Bay. Miss Smith was very proud of her garden which, according to my mother, who remembers it as a child, was small and dank and there were sheep teeth and small sheep jaws in the flower beds. My mother and her brother and sister often used to stay with Eva and Miss Smith at Easter when they were children. Aunt Eva was kind, though poor, and used to make them meringues for tea on Sundays.
From my father's "Reminiscences": "An invalid with heart &/or TB, who remained a spinster; had a faithful companion in Ms Smith; spent much time in Torquay; learned typing and lace-making".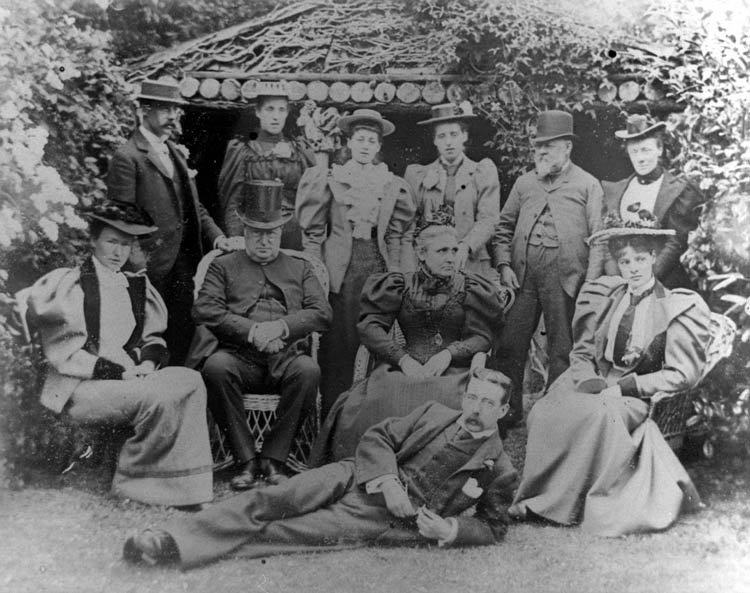 L-R ??, Eva, ??, Lilian, Dr Paynter, Miss Aldridge,
Miss Aldridge, Dr Beeber, Mrs Eastlake, ??
James Bernard Paynter
(location said to be Hendford Manor, Yeovil)
---
sLast updated 10 Aug 2016 - Olive's birth year corrected.