Edwin Pendarvis Paynter
1903 - c.1990
---
---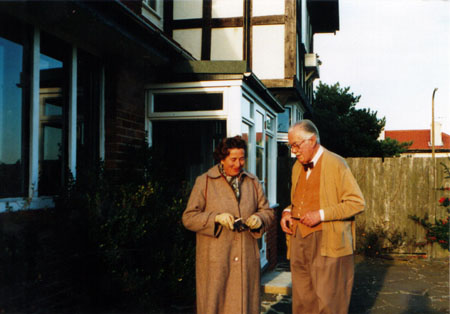 Photo (above) James Bernard Paynter's son Edwin Pendarvis Paynter with Joyce Day (Cousin Vi's daughter).
According to Marion Paynter, he thought the Alnwick Paynters were rather a "dirty lot"!
Pendarvis's brother Camborne referred to Pendarvis in two of his letters to my father as follow:
Letter dated Jul7 1957: "Pen [Pendarvis] and Cicily live at "Little Gill" near Edenbridge near Tunbridge in Kent. After the war he bought a wine business in Tunbridge Wells, mostly as a means of getting cheap drink! However he didn't make it pay and has sold it. He is now poultry farming at home! Cecil is about 27. He did well at polo and other games in the 3rd K.O. Hussars but got tired of it. He is now in Bryant & May[a large match-stick company] and doing well. Jack, a year or two younger, soon came out of the army and is at McGill University in Montreal, and works conscientiously. He intends living in Canada."
The second letter dated Nov 1957 records that:
"Pendarvis's two children Cecil and Jack both went to Wellington. Pendarvis and Cicily are struggling to keep their home going. They have lately gone for poultry and the sale of flowers, vegetables and honey to get their place accepted as a small holding. They are anxiously awaiting the verdict."
---
Page created 1 Dec 2011