Francis Paynter of Clarence House
1789 - 1863
---
---
Outline his Life: For a more detailed outline of Francis (Frank) Paynter's life, see "The Story of Frank Paynter by Ian Caldwell"
The Paynter's connection with the Newman family began some years after Francis's death when his son James Bernard Paynter became a partner in Edwin Newman's law firm Newman Paynter & Co, based at Hendford Manor in Yeovil. Contrary to my earlier understanding, Francis spent his life in Cornwall, and ran his own law practice presumably from his home, Clarence House in Penzance
Francis was, it seems, not an entirely reputable or upstanding member of the legal profession. I have a recollection of my father telling me that he was bankrupted near the end of his life, so I was interested to read Jim Hosking's Boskenna and the Paynters which makes two references to Francis (or Frank, as Jim refers to him). In the chapter on John Paynter (Frank's first cousin), he writes: "John allowed his first cousin Frank Paynter, brother of Edward, to manage his property for him, which was very unfortunate, for Frank defrauded the estate and also borrowed £1000 from John who agreed to be bound over for him". (See "The Story of Frank Paynter by Ian Caldwell" for a more detailed outline of Frank's misdemeanor.)
I contacted Jim Hosking who wrote and told me that there were "a lot of notes by Tom Paynter, Col. Paynter's nephew, also a big 'tree', at the Royal Institute of Cornwall, County Museum, River Street, Truro, Cornwall TR1 2SJ. My enquiry to the Institute of Cornwall generated the following information discovered by their researcher Mr Douch which revealed that Catherine Coleman was Francis's second wife and that he was bankrupt in 1849, some fourteen years before his death. The full text of Mr Douch's report is not without interest; the original letter is reproduced below: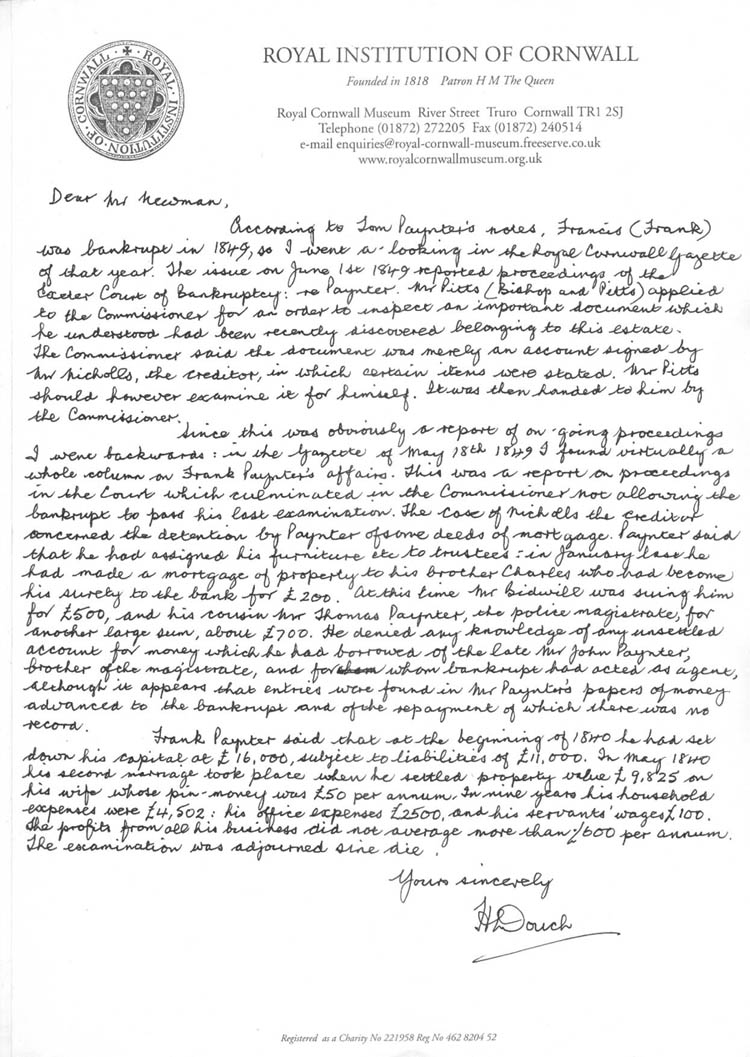 A few other interesting points to note about Frank:
(1) When he married Catherine Augusta Coleman, he was aged 50 and she 29. From what I read of her family, she may have brought some wealth with her. I recall being told (by my father, perhaps) that Catherine was left destitute when Frank died.
(2) Frank's first child by Catherine was born when he was 51 or 52, and he managed to sire seven more children before reaching the age of 65.
(3) His second youngest son (James Bernard Paynter) was only 11 when his father died - perhaps accounting for the rumour that he became his mother's favourite after his younger brother died. He was the uncle that Edith Paynter disliked because he had taken over her mother's family home and also because he became involved in her own father's affairs. Certainly he ended up as senior partner in Newman Paynter & Co's Yeovil office, and became the owner of Edwin Newman's old home Hendford Manor in Yeovil.
---
Ian Caldwell notes: Francis Paynter of Clarence House, Penzance (1789-1863) was a solicitor and judge of the Hundred Court. He married Catherine Augusta Coleman (1811-1880) at the parish church of Martock, Somerset on 9th June 1840. There were eight children of the marriage. Francis evidently got into financial trouble latterly for he went bankrupt and it is alleged that he appropriated money belonging to the estate.
Clarence House is situated in Clarence street, Penzance. It was a large manor house in its own grounds but was sold in Francis Paynter's time and became a high school.
---
William Rouse Paynter: 28 April 2008: Email received from Ann Roberts (née Paynter) saying:
"With regard to William Rouse Paynter, son of Francis Paynter and Catherine Augusta Coleman: there is a death entry in the June quarter of 1860 for a William Ross Paynter in Penzance, which I suspect is actually him. He appears on the 1851 census with his family, age 1, but no sign thereafter, so I think it is likely that this death entry is his. Incidentally, the GRO Birth index (Penzance Sept qtr 1849) show his middle name as Rous rather than Rouse. I have not obtained either certificate; it would be best to obtain the death cert from the local registrar as the GRO reference has an illegible last digit! (It is Penzance 5c 23- )"
---

Frederick Octavius Paynter: May 14 2002:
Ray Farnsworth confirmed today that the information given on Mary Davies Paynter's family tree is correct. Ray writes: " Following a tip-off from Chris Newman, I checked the Alnwick Registrars Office today and confirmed that Frederick Octavius Paynter did die at Freelands on Sept 5th 1871. He was Henry's younger brother. The death was notified by JB Paynter (Henry's older brother) so there must have been quite a family gathering. Given that Catherine would have been 31/2 years, Ernest just over 2, William under 1, and Henrietta circa 5 months pregnant with Frederick, the young Henry and Henrietta must have had a trying time. Frederick Octavius was 17 years old and the cause of death was "Acute Pneumonia Phthisis". I have got a Certified Copy of the Death Certificate for the Freelands records".
---
Page updated 5 Aug 2013: Deletion of references suggesting that the Francis Paynter was ever Edwin Newman's partner..
Page updated 12 Jun 2009: Links added to Ian Calwell's "Story of Francis Paynter"..
Page updated 1 May 2008: Reference added to William Rouse Paynter. Date of death of William Rouse Paynter changed from 1866 to 1860.