Charlotte Campbell (Lottie) Newman
c1858 - 1938
---
Relationship to me:
First Cousin Twice Removed
Gen -2


See photo below

Born:
c.1858
Died:
20 Aug 1938 (as recorded in the 18 Oct 1938 London Gazette)
Age
~80
Father:
Rev George Henry Newman
1830 - 1858
Mother:
Elizabeth née Webb
Brothers:
none
Sisters:
none
Married:
none known
Children:
none known
---
Very little is known about Lottie other than that her father died around the time of her birth. Other than that, her name appears in three sources:
Lottie's name also appears in a small hand-written family tree which I found amongst my father's records.
The following information has also been kindly sent to me by Catherine Stacey:
Charlotte lived as a small child with her mother Elizabeth née Webb and her second husband Walter Spurrier in Birmingham, according the 1861 Census, and then later with her Newman grandfather and uncles in Yeovil and London. George Newman is the only possible father from the dates, although I can find no record of the marriage.

Elizabeth Webb is the daughter of Henry Webb, innkeeper of the Star Inn in Burntwood, Staffordshire (see below #), and this Webb family is distantly related to mine, plus they were next door neighbours of my g-g-grandfather.

No idea how Elizabeth and George met, or why Charlotte had Campbell as a middle name (usually this would be one of the grandmother's maiden names).

In the 1901 census, Charlotte was living in Swanmore, Hampshire with a "Sister Mary Rose" , deaconess, described as her sister. This must be her half-sister Mary Rose Spurrier, daughter of Elizabeth Webb with her second husband Walter Spurrier.
[# Note: the Staffordshire marriage is confirmed in an unnamed source handed down to me from my father.]
The photo below was said (by my father) to include Lottie, sitting next to Bernard Paynter at the bottom left of the scene. The photo was taken at Hendford but the date is unknown. Based on Bernard's appearance however, it was probably taken around 1885 or 1890 (probably after Edwin Newman's death).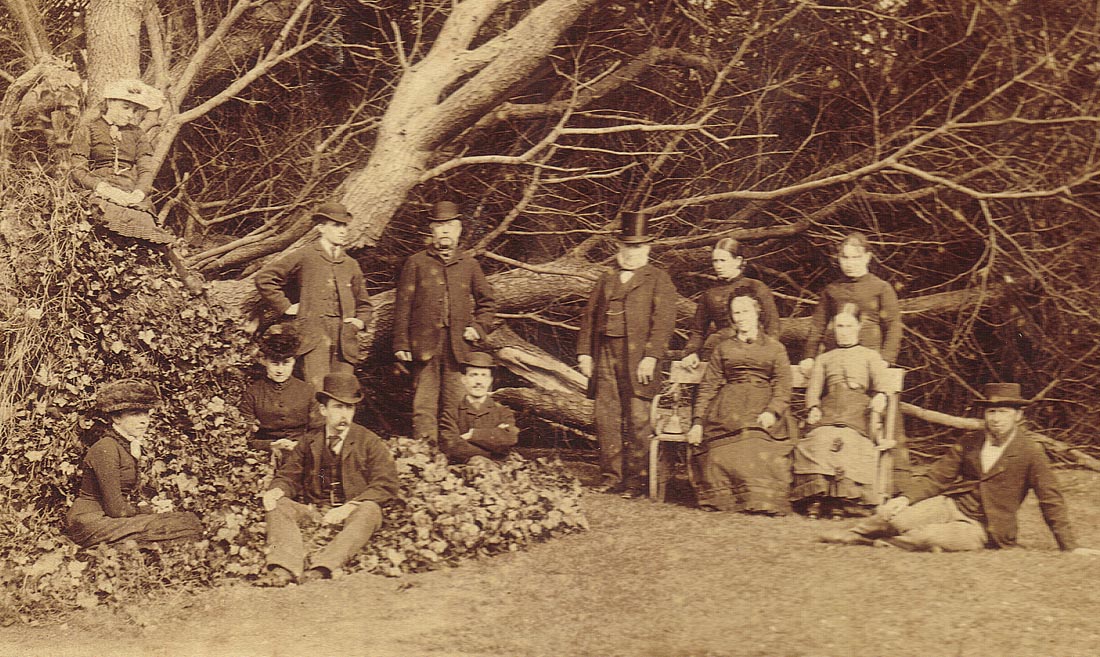 ---
Page Created: 28th Mar 2012