Thomas Beville Paynter
1847 - 1917
---
---
Notes on Rev. Thomas Beville Paynter:

Peter Wray has kindly identified the uniform that Thomas was wearing in upper photograph as being the uniform of Christ's Hospital School, citing the example illustrated on Wikipedia. Peter goes on to say that he has Thomas's Christ's Hospital School marker's medal (see photo at right), inscribed on its edge "THOMAS B. PAYNTER 1865" (a "marker" being a school prefect).

In 1874 Edwin Newman settled the Freelands estate on Thomas Beville Paynter and Henrietta's father, Walter Newman, as trustees for Henry and Henrietta. His motives in doing so remain a mystery. As I wrote to Marion Paynter: "why did Edwin Newman settle the Freelands estate on Walter Newman and Thomas Breville Paynter as trustees for Henry and family? Did he not trust Henry and Henrietta enough to give it to them? I find all of Edwin's actions relating to Freelands hard to understand, not least the circumstances under which he bought it for Henry and Henrietta in the first place".

According to Ian Caldwell, "Rev Beville Paynter, married his cousin, Harriet Emma Baker (Fanny), (the daughter of Harriet Emma Coleman who had married the Rev John Norgrave Baker), at Martock Parish Church, and they inherited How Caple."

Also according to Ian Caldwell Thomas Breville owned or occupied the How Caple estate that had previously been inherited by his great-grandmother Susanna Acton. He also owned the Sollershope estate (near How Caple) which he acquired through his marriage to Emma.

In the 1881 census, Francis Beville Paynter (aged 6) is shown to have been born in Brompton Ralph, Somerset, and to be living at the Rectory, Kemberton in Shropshire where (presumably) his father was the incumbant rector at the time.

Below left - an undated photo of Thomas and Fanny in what appears to be late middle-age, perhaps around 1900. The boy is too young to be their son Francis, so may be a grandson.

Below right: Thomas Beville Paynter sent to me by his g-granddaughter Julie Brae.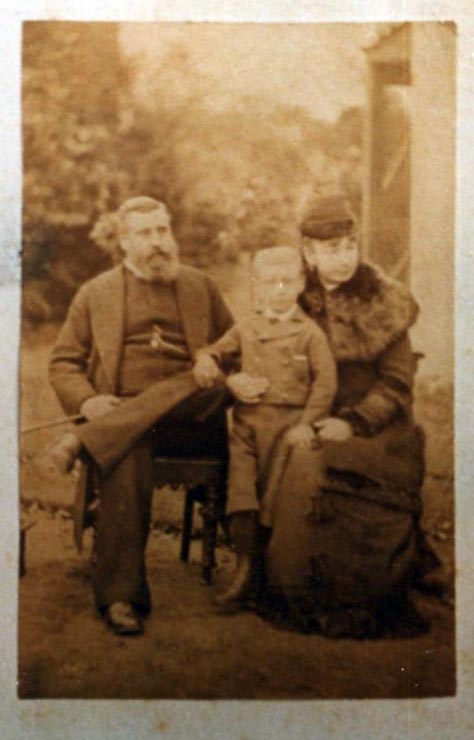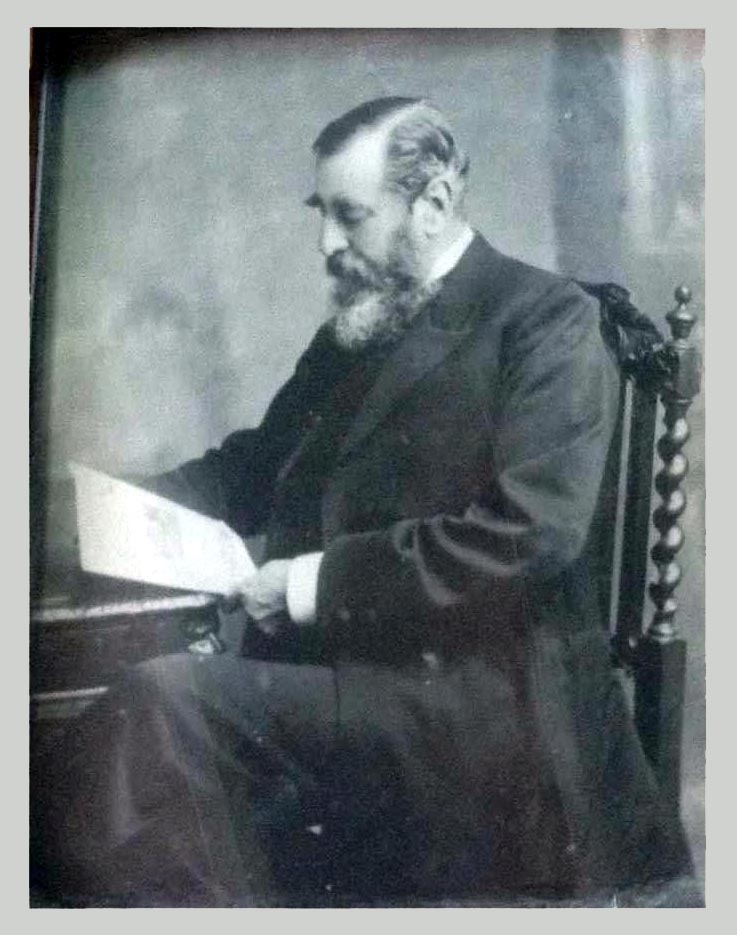 ---
Page updated 27 Dec 2022: Photo of Thomas added - thanks to Julie Bray.
Page updated 23 Sep 2013: Photo of Thomas and Fanny added.
Page updated 14 Sep 2013: Note added about Peter Wray's identification of Thomas's school uniform..
Page updated 16 Jun 2009: 1881 census data added for Francis Beville Paynter.
Page updated 1 May 2008: Date of death of William Rouse Paynter changed from 1866 to 1860