Walter Newman
1836 - 1894
---
* I searched the Family Records Centre in Angel Islington, London, where I found entries under both their names for the marriage of Walter Newman to Emma Matilda Browne in the first quarter of 1861 in Plymouth (ref March 1861, vol 5b p. 407). Interestingly the name "Montague" was not recorded.
---
Outline his Life:
Walter seems to have enjoyed a successful military career in the Royal Artillery, rising (on retirement) to the rank of Major General (see Peter Duckers notes below). However, it seems he gambled his money away and died in debt. His main legacy from my perspective is the lovely "portable" (dismantleable) mahogany dining table that remains with the family in Australia.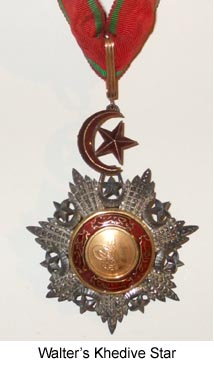 Copied from H.E.M. Newman's "Resume of the Newman Background and of its Connections with Somerset":
Walter, was my grandfather born in 1836. Educated at Rugby1 he was commissioned into the Royal Artillery, served one year in the Crimea, shipped to India for mopping up operations after the Mutiny, and his foreign service included Halifax Nova Scotia, Malta, Corfu and Gibraltar, and he commanded the artillery at the bombardment of Alexandria2 in 1882 for which he was awarded the Khedive's Star3. (At one time, he commanded one of the first Mountain Batteries R.A. which was known as "Newman Nog's Nags").
Note 1: From all accounts, Walter went to school at Sherborne School where he was known as Newman Quintus (see letter from Evelyn Newman). This is confirmed by John Newman's information (below). John Harden, Secretary of the Old Shirburnian Society has also confirmed (in Nov 2003) that five of Edwin's sons went to Sherborne School. However my father's reference to Rugby is probably associated with a small silver object resembling a canoe paddle that has the words Walter Newman Rugby 1854 inscribed on it. So perhaps Walter transferred from Sherborne to Rugby School, or perhaps the inscription has nothing to do with the school.
Note 2: From my reading (confirmed by Peter Duckers), the bombardment of Alexandria was principally a naval bombardment which involved no artillery action. Peter Duckers suggests that "if the RA records are correct and Newman got clasp "Tel-el-Kebir" (which Army Lists do not admit), that could be the source of the bombardment memory - the battle began on 13th Sept with a tremendous artillery bombardment - but there was no such thing at Alexandria (beyond the naval attack in July, before the army was even called out to Egypt)".
Note 3: My father might have been more correct if he had said that Walter was "issued with a Khedive Star". As Peter Duckers pointed out in an email dated 1st Oct 2007: "The Khedive's Star was not a decoration but the simple bronze medal for the campaign in Egypt (any of them, 1882-86) awarded by the Khedive of Egypt with the British medal for the campaign. (i.e. all concerned received two medals)". The Khedive was the title adopted by latter-day rulers of Egypt. In 1882, the Egyptian ruler, Khedive Ismail, collaborated with the British against a nationalist rebellion led by Arabi Pasha. The rebellion brought about the decision by the British to bombard Alexandria and occupy the country.
An excellent account of the history of Britain's involvement in Egypt and Sudan over the period 1869 to 1899 in the book "Armies of God - Islam and the Empire" by Dominic Green which includes a detailed account of the battle. Walter's eldest son, Edwin M.B. Newman was killed in Egypt at the Battle of Tofrek just three years after the Battle of Tel-el-Kebir, by which time Walter was serving in Malta.
In addition to the above, Peter Duckers has kindly provided the following information about Walter's military career:
Timeline

4 Mar.1855 - Enlisted as cadet, Royal Military Academy, Woolwich, aged 18 yrs 6 months (from Royal Artillery Service Records)
31 Jul 1855 (age 18) - Commissioned as Lieut. RA
Sep 1855 to Apr 1856 - Served Crimea (from Royal Artillery Service Records) - BUT not credited anywhere with medal - though if correct, dates would support award. Also looks too early as he was only a cadet in Mar 1855.
Sep 1857 to Jan 1860 - India (from Royal Artillery Service Records). Credited as part of Central India Field Force (Mutiny medal and clasp) - but no Army List credits him with this, but dates are OK.
Aug 1861 to Jan 1863 - Corfu (from Royal Artillery Service Records).
2 Nov 1865 (age 28) - Promoted to Capt.
Apr 1864 to Aug 1867 - Halifax, Nova Scotia (from Royal Artillery Service Records).
13 Aug 1872 (age 35) - Promoted to Major
1 Jul 1881 (age 44) - Promoted to Lt. Col.
Apr 1882 to 8th Aug.1882 - Gibraltar and Malta (from Royal Artillery Service Records).
9 Aug 1882 to 30.Oct 1882 - Egypt (from Royal Artillery Service Records). At that time, was with 9th Brigade RA - but I have not traced any battery of that Brigade in Egypt in 1882. Credited with clasp "Tel-el-Kebir" - but no Army Lists (nor Egypt campaign/award lists, which are usually accurate) grant him the clasp. 3rd Class Medjidieh.
31 Oct 1882 to 7 Jul 1884 - Malta, (from Royal Artillery Service Records).
1 Jul 1885 (age 48) - Promoted to Colonel
1887 (age 50) - Colonel in command of auxiliary artillery (i.e. volunteers) in Plymouth.
15 Feb 1887 (age 50) - Retired with hon. (retirement) rank of Major General - absolutely typical "thank you" on retirement. (Bumps up pension!)
15 Jul 1894 (age 57) - Died London.
War service :

"Served in the Egyptian war of 1882; 3rd Class Order of the Medjidieh; Bronze Star"

The 3rd Class of the Turkish Order of the Medjidieh (we were technically fighting on behalf of the Sultan to restore order in one of his provinces) is undoubtedly the medal referred to with scorn - they were rather freely given out for 1882 (one officer was heard to ask "what do you have to do NOT to get one") but nevertheless the 3rd Class (neck badge) is rather a decent and higher-ranking award!
The Bronze Star is the simple 1882-dated Khedive Star I refer to above.
He did not receive the only army clasp for the campaign "Tel-el-Kebir" (for great victory on 13th Sept. 1882) so probably (a) served in the garrison at Alexandria - which may be the source of your family's Alex. memory or (b) did not advance with Wolseley's strike force from the Suez Canal beyond Kassassin. The former is more likely.

The 1882 Egyptian record of services adds nothing.
The following anecdote is copied from H.E.M. Newman's "Reminiscences":
"My mother and father were engaged for nearly 10 years till (my father's) salary sufficed for marriage, and after a postponement due to my 'gunner' grandfather's death in 1896 leaving debts which my father had to settle. These included debts incurred at whist in the Rag (Army and Navy Club), his nightly occupation ....."
However this statement seems questionable given the information in a Letter of Administration of Walter's estate stating (in summary) that: "Letters of administration of the personal estate of Walter Newman (retired Major General) who died 15 July 1894 intestate were granted to Walter Ernest Newman, dated 16th Aug 1894. Gross value of personal estate: £720 2s 8d". According to http://www.measuringworth.com this is equivalent to something between £71,550.00 to £768,600.00 in 2013 currency values, making it hard to reconcile a legacy of this amount with the anecdote about Walter leaving gambling debts from whist being so great that his son had to settle them before he could marry. Nevertheless, given the estimated that Walter inherited around £3000 from his father's estate in 1885 (see Edwin's will), the fact that just nine years later his own estate was worth less than a quarter of this amount could sugest that Walter was careless with his money.
It is interesting to note that in 1874 Edwin Newman settled the Freelands estate jointly on Walter and his step-son Thomas Beville Paynter acting as trustees for Henry and Henrietta Paynter. Walter was also the only one of Edwin's sons to be nominated as executor of Edwin's will. He was Edwin's eldest surviving son, but it's odd that Edwin did not also choose his next surviving son (and lawyer) Charles Octavius to act as his executor instead of his two step-sons. Under these circumstances, it seems odd that the cautious and conservative Edwin would have appointed Walter to act as his executor if he perceived him to be less than responsible with money.
Edwin's will also identifies Walter's brother-in-law Andrew Smythe Montague Browne "as a trustee named in the marriage settlement of my said son Walter Newman" to whom the sum of four thousand pounds was covenanted to be paid. It's not entirely clear what this provision implies, however it is perhaps possible that Andrew had lodged the sum of four thousand pounds as "settlement" on his sister Emma''s marriage to Walter. https://familysearch.org/ offers the following observations on Marriage Settlements in England and Wales:
In the early Middle Ages a marriage for the majority of property owning people, did not imply a ceremony in church, but a private contract or property exchange that also provided some financial protection to the woman in case her husband died or abandoned her.

Although the church gained control of many aspects of marriage law in the 13th century, a witnessed exchange of promises followed by cohabitation continued to form a legal marriage in the eyes of the civil lawyers, and it was not until 1754 that a ceremony in church became central to the legal concept of marriage. Only 83 years later, in 1837, that idea was abandoned and a civil marriage again became possible.

Prior to the Married Woman's Property Act in 1882, under common law a woman's legal identity during her marriage was subsumed into that of her husband. That coverage, called her "coverture", meant that whatever she brought into marriage became his. In theory she received in return her maintenance, but she had no legal remedy if her husband failed to meet his obligations. However, in the propertied classes any of her unexpired leases would revert to her if she survived him and he could only dispose of her freeholds with her permission. Whilst married she could not sue or be sued (except in conjunction with her husband) and her only consolation was that if she ran up debts that her husband could not pay, it was he and not she who went to the debtors' prison.

It is no wonder that parents in quite ordinary families, if they lived long enough, attempted to safeguard their daughters' property rights and futures by written bonds or settlements, something which many widows also did prior to a second marriage. It is a mistake, therefore, to think that before the 1882 Act the position of all married women was entirely circumscribed and that all were completely dependent on the goodwill of their husbands.
Notes:
From John Newman May 2002: "Walter b.1836 Sherborne 1844-1849. RA 1855; Crimea 1855; Indian Mutiny; Egyptian War 1882, (3rd Class Medjidie); retired 1887. Maj-Gen; died 1894".
The 1881 census shows Walter and his wife Emma and daughter Emma Evelyn, living at Minster, Isle of Sheppy, in Kent. Walter, aged 44, had the rank of "Major R.A. active list"; Emma was 39 and her birthplace is given as County Down, Ireland; Evelyn was then 11 and her birthplace is given as Gibraltar. Walter does not appear to have been recorded in the 1871 or 1891 censuses.
---
Last updated 23 Dec 2014
: Minor changes, mostly reflecting changes to Edwin's page.

Updated 14 Jun 2008
: Copy of Letter of Administration of Walter's estate added.

Updated 3 Jun 2008
: photo of Khedive Star added, with reference to book on the history of British involvement in Egypt..

Updated 22 Oct 2007
: reference to (possible) schooling at Rugby added.
Updated 3 Oct 2007: more information added from Peter Duckers.

Update 1 Oct 2007
: Peter Duckers' information added.

Update 9 Feb 2005:
1881 census info added