Harold Ernest Montague Newman
1900 - 1991
---
---
Outline his Life:
Chronological Summary
1900 - 1907

1907 - 1912

Lived with parents in "Edale", Dene Road,

Northwood

1912

1908 - 1914

Prep School at Broad Oak, Northwood (renamed Forres in 1910)

1914 - July 1918

Sept 1918 - Dec 1919

Training at Woolwich; Commissioned into Corps of Royal Engineers

1920 - 1921

Training at Chatham

1922 - end 1923

Bulford, Southern England, subaltern in 54 Field Co. RE under Major Kelly.

Jan - Oct 1924

Bangalore, India

Oct 1924 - Jun 1925

Waziristan, Kashmir with posted 9th Field Company

Jun - Aug 1925

Leave in Kashmir and Baltistan

Sept 1925 to Mar 1926

Sundry activities in Bangalore

1st Apr - 30th Jun 1926

On leave in Ladakh

Jul - Dec 1926

In charge of 9th Field Co. in Manzai (now NW Pakistan) and Bangalore

Jan - Jun 1927

Bangalore

July 1927 - Jan 1928

On furlough in England

Jan 1928 - Jun 1929

Bangalore & courting

Jun - Jul 1929

On leave in UK for wedding returning to Bangalore

Jul - Oct 1929

Bangalore having been posted to 'Military Engineering Services'

Oct 1929

Return to UK

Nov 1929 - Mar 1931

Posted to Shrewsbury as assistant to the C.R.E. Welsh Area

Mar 1931 - Oct 1933

Craigroyston House, then Dean Terrace and finally 4 Gordon Terrace in Edinburgh,

Oct 1933 - 1935

Bassett Crescent, Southampton

1936 - 1939

India

1939 - 1943 (WW2)

India and Burma

1943 - 1945 (WW2)

England and Germany

1945 - 1948

Ashtead, Surrey, England (working in Chessington)

1949 - 1962

1962 - 1967

fully retired,

Park Farm

, Brent Knoll, Somerset

1967 - 1991

fully retired,

Bilsdean

, Brent Knoll, Somerset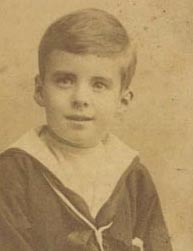 Harold Ernest Montague Newman (known as "Henry" to his friends and "Colonel Newman" to others) was born at 55 Warwick Gardens, West Kensington (London) on 5th October 1900, the eldest son of Walter Ernest Newman and Lilian Jekyll (nee Paynter).
He was born at the dawn of the new century, before the flight of the first powered aeroplane and at a time when cars were in their infancy. The sights and sounds of horse-drawn carriages were familiar to him in childhood, and he remembered the novelty of the first cars that appeared on the roads where he lived. He lived through an age of enormous changes and experienced two world wars, one of which he fought in. It is hard to imagine any other period of a lifespan witnessing such dramatic experiences and changes as he and his contemporaries witnessed.
He was nearly 8 before his sister was born, and his early childhood seems to have been rather solitary, spent under the watchful eye of a domineering mother. He remained somewhat shy and retiring throughout his life.
His father Walter (who I never knew) worked at the family law firm of Newman Paynter & Co in their London office at Clements Inn, London. From all accounts he was a cheerful and easy-going character, and my father had fond memories of him. By contrast, his mother Lilian was an austere and forbidding woman who my father had little love for in later life, and who terrified my sister and myself when we were small children.
Annual holidays up until the age of 8 were spent with his grandparents at Freelands in Alnwick, Northumberland, where his mother had been born and raised, and his memories of the place and the people there are vividly recorded in the first part of his "Reminiscences". The extent of his recollections of Freelands from a very young age, and the space he devotes to them in his Reminiscences, no doubt reveal a depth of feeling he had for the place.
In 1908 the family moved out of town to what was then the rural environment of Northwood. There they lived in a rented house called "Edale" in Dene Road, before the purchase in 1912 of the "Red Cottage", also in Dene Road, where both Walter and Lilian lived out the rest of their lives.
Henry's first school was Broad Oak which he attended as a day boy at the age of 8 - the school being situated at first in Dene Road. In 1910 the school was renamed Forres and relocated first to a nearby suburb, and later during WW1 to Swanage where it was still extant in the 1980s and may still be so today.
In 1914 he was sent to Wellington College, Berkshire, following in the steps of his father and his uncle Edwin before him (and preceding my own!). His period at Wellington from 1914 to 1918 as described in the second part of his Reminiscences, coincided with the years of the First World War. He was lucky that the war ended before he was called to "join up" as he surely would have been since Wellington was the main feeder school to the Royal Military College at Sandhurst next door.
After Wellington, he went not to Sandhurst, but to the Royal Military Academy at Woolwich from where he graduated in 1919 to move on to the Royal Engineers Academy at Chatham until 1921. He then spent much of the 1920s in India where in 1928 he met Margaret Helena Smith. They married in 1929 and produced their first child Jane, born in England in 1930. See Margaret Helena Smith's page for details of this period.
Through the early1930s Henry worked for the Ordinance Survey department in Shrewsbury, Edinburgh and Southampton, before returning to India in 1936. After a short break in England in 1939, he returned to India at the commencement of WW2, was sent to Rangoon, Burma, in 1942 where he immediately joined the allied retreat from the Japanese invasion of the country. The 600 mile walk back to India killed many of his companions and nearly killed him, and his recuperation in India took several months (many spent in the care of his mother-in-law, Gran Smith).
In 1943 he was repatriated to the UK for further recuperation, where he resumed duties in the South of England with the Ordinance Survey in the preparation of maps for the D-Day invasion. After his second daughter Daphne was born in 1944, he was sent to Germany with the invading forces under Field Marshall Montgomery.
At the time of my birth in 1946, Henry was posted to Chessington in the south of London, where he retired from the army in 1949 at the rank of Lt Colonel. After considering a move to New Zealand, he chose instead to move to Somerset where he took up the challenge of running a small-holding at Churchland Farm in Bason Bridge. 13 years of toil ended in 1962 when he moved to the neighbouring village of Brent Knoll, first to Park Farm and then, after my mother's death in 1965, to Bilsdean, the house he built on land subdivided from Park Farm.
He married Babs Soloman my one-time teacher at Hill Brow School (also in Brent Knoll) in 1968, and after her death in 1979, he married Patricia Richards, Daphne's god-mother and long-time friend of the family. After several visits to me in Australia in his seventies and eighty's he suffered a stroke in 1987 after which his health steadily declined. He died peacefully on Feb 4th 1991 at the age of 90, and was cremated in Weston Super Mare after a remembrance service at the village church in Brent Knoll. Four trees were planted in the Brent Knoll churchyard in his memory, but no plaque has yet been erected to record this fact.
Several of his military memorabilia, writings, photographs etc were donated to the Royal Engineers Museum at Chatham where they can be inspected by members of the family.
Throughout his life Henry was perhaps best known for his intellectual leanings and his shy disposition. Mundane conversation with him could be difficult, but he was always happy to talk at a more intellectual level. His interests always leaned towards the arts and in particular towards poetry and music, though he was also passionately interested in literature and painting. He was a talented artist (see Art and Poetry page) and painted many pictures which hung in the house during my childhood. He wrote one short book of poems ("Nostalgia"), which was published by his military unit, but which he grew to hate, nevertheless keeping a few copies (which I now have). His love of music was inflicted on us as young children, but we were expected to learn to appreciate it, and eventually we did - indeed it became a passion of mine in the 1970s for which I thank him.
Henry was highly self-disciplined and through most of his life allowed himself very little self-indulgence. (No doubt this helped him to survive his experiences in Burma). Despite his shyness, he pushed himself to become a member of the local community in his retirement (when I knew him) and amongst other things took on the duties of church warden in both Bason Bridge and Brent Knoll. He also began the village "music evenings" where like-minded music lovers would meet in one or other's houses one evening each week, to listen to and discuss classical music recordings. He was also an expert gardener, and cook - maintaining a large collection of recipes which he followed with military precision. He had mixed feelings about the church, but was a regular attendee if he liked the vicar. Religion was another of his interests and he was very knowledgeable about many of the major religions in the world.
In later life, particularly when money became more plentiful, he allowed himself greater indulgences and loved buying the latest in the way of miniature cameras to take slides photos of the many travels he enjoyed in his later years. Sadly, his photographs, like his paintings, were almost all of landscapes, gardens and historic buildings, and very seldom were the faces of friends or relatives allowed to enter his camera's frame.
Note: Harold Ernest Montague Newman's memoirs are covered in several separate pages as follows:
Episodes (transcribed and combined into H.E.M. Newman's Memoirs - see note below)
His name is also mentioned in "The Indian Sappers and Miners" by Lieut.-Colonel E.W.C. Sandes D.S.O., M.C., R.E. (Ret.) published by The Institution of Royal Engineers, Chatham, 1948, pages 662 to 666.
I am currently working on a combined volume of these memoirs, sorted into chronological order, to which I am adding some (scanned copies of) photographs from my father's collection. This work is still in progress, however I have posted the file as now stands onto this website where it may be accessed by clicking here.
---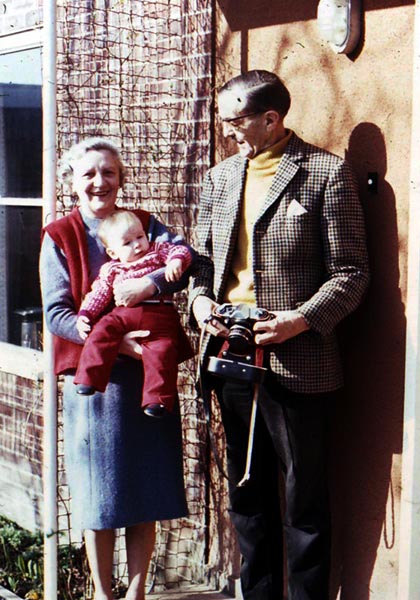 Babs with my father and my son Nicholas at Bilsdean, Brent Knoll, 1972
Hilda Ellen Newman (Babs): I don't have much information about Babs, however I first knew her as my teacher when I joined Hill Brow prep school in Brent Knoll in 1954 where she worked under her married name Mrs. Solomon. She was the form teacher for the junior class and also gave singing lessons in all classes, in addition to teaching piano to the more musical pupils. In those days she lived in the cottage at the entrance to the school. Presumably she stayed on in or near Brent Knoll after the school closed in 1966 and continued to be involved in church activities, which is probably how she and my father got to know one another, she being part-time organist and he a church warden at one stage.
I recall my father coming to my graduation in Aberdeen in 1967 and announcing his intention of remarrying, but I don't recall where and when he and Babs married. I think it was a civil marriage which few people were invited to attend. They married in 1968 and lived comfortably together in Bilsdean for eleven years until 20th April 1979 when Babs stepped off the pavement during a shopping trip to Burnham on Sea and was struck by a car. She died instantly. Dad arranged for a memorial to be set up for her beside the alter in the church at Brent Knoll (see photos on the Brent Knoll page) where she had spent so many years serving in the choir and as organist.
---
Last Updated: 19 Oct 2009 - photo of Babs added.