Rev. Rowland Newman
1845 - 1919
---
* From an unnamed source handed down to me from my father.
---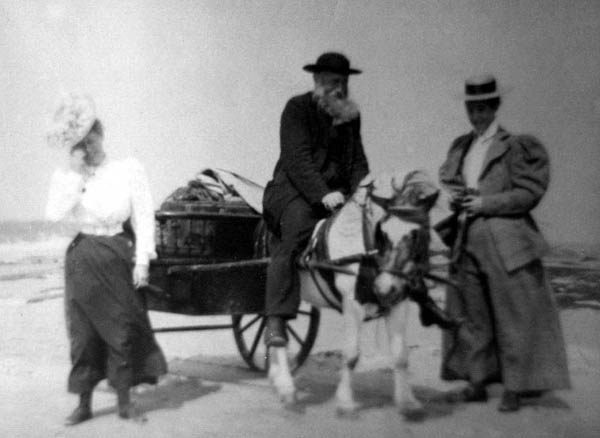 Ian Caldwell gave me this photo of Rowland, but I have no details of the date, location or the ladies present, though the lady on the right looks a little bit like Lilian Paynter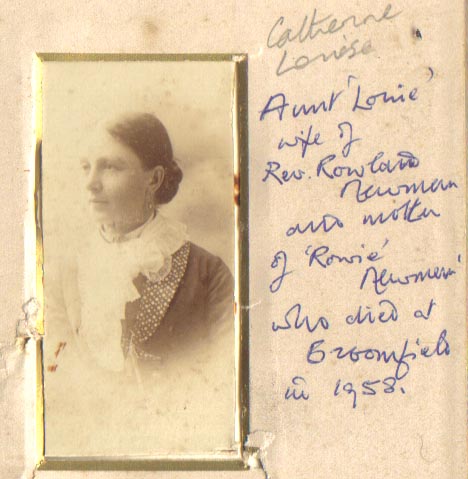 Photo of "Aunt Louie" - Rowland's wife - Catherine Louise (née Edwards)
from photo album in my possession
Outline Rowland's Life: Somerset Country Archives indicate that in 1870, Rowland became Assistant Curate at Wembdon, which is just outside Bridgwater in Somerset. In the 1871 census he was at home with his parents and described as the "Officiating Minister of Lufton So...".
Somerset Archives also tell me that at the time of the 1881 census index of Somerset, Rowland, then 35 years old, was the Rector of Lufton (which happens to have been the village where Henry Augustus Paynter was buried 38 years later in 1919). At that time, he lived in the Rectory at Lufton with his wife Catherine L. Newman who was then 29 years old.
In July 1881 Rowland succeeded his uncle Joseph Jekyll as Vicar of Hawkridge and Withypool in the wilds of Exmoor in Somerset where he was rector for 37 years. His daughter Violet was born there in 1882. On his death in 1919, his eldest son Roland Alan Webbe Newman took over as incumbent of the parish. [See Priesthood in the 18th and 19th Centuries].
The two photos below of Rowland and his wife Louise Edwards come from Seth Matterson's website at http://etribe.com/ancestors/: however they bear no resemblance to Rev. Roland Newman and Louise pictured above.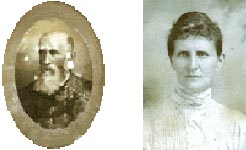 ---
On 7th Dec 2004 John Thomas contacted me with a fascinating story about his illegitimate grandfather, Bertie (Herbert) Thomas whose high-born parents placed him in the care of a washerwoman named Mary Steer of Withypool around 1887. Around 1901, Mary placed his papers into the safekeeping of Rowland Newman, who was then vicar of Hawkridge and Withypool. Subsequent attempts by failed to trace his parents. John Thomas is Bertie's grandson and is appealing for help in tracing his grandfather's parents, and since the story is so interesting I have posted a special page about it on the off-chance that it reaches someone who knows the answer to the riddle.
---
Last Updated: 4th June 2008- photo of Katherine Louise Edwards added.
Updated: 29th March 2007 - information about Reginald Noble Newman transferred to new page.
Previous Update: 11th Feb 2005 - links to Joseph Jekyll added; Hawkridge and Withypool information moved to separate page