Violet Sherston Kinch (née Newman)
1882 - 1965
---
Relationship to me:
1st Cousin Twice Removed
Gen -2

Violet Sherston Newman-Kinch
probably taken in the 1930s

Born:
1882 Hawkridge, Somerset*
Died:
19th Nov 1965; buried at Hawkridge Churchyard (below)
Age
83
Father:
Rowland Newman
1846 - 1919
Mother:
Catherine Louise Edwards
1852 - ????
Brothers:
(older) Rowland Alan Webb
1878 -1958
Claude Edwin Sandys
1880 - 1942
(younger) Reginald Noble
1889 - 1964
Sisters:
Katherine Charlotte Jekyll (Kitty)
1884 - 1963
Married:
Capt A.C. Kinch D.S.O. (Bunny?)
Children:
Robert Arthur Hugh Kinch
1920 - 2011
Diana Mabel Kinch m. Fox
1921 - 1999
Bernard William Sherston Kinch
1922 - 2009
* Information from 1901 census record taken in Alnwick, Northumberland, where Violet was staying with her aunt Henrietta Paynter at her home (Freelands), together with another neice of Henrietta, Edith Newman, then aged 20, who was born in Leekhant, Kent. I have yet to discover whose daughter this was. (Information from http://www.census.pro.gov.uk/, forwarded to me by Ray Farnsworth, present owner of Freelands.
---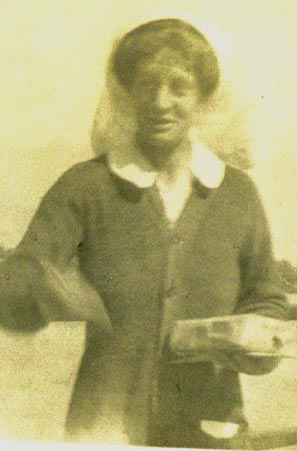 Violet Sherston Newman, 1919 when a nursing sister in the British Army.
At the time ofthis photo she was posted to Kut-Al -Amara, Mesopotamia.
[Photo from her daughter in law Kathleen Keefler-Kinch's collection.]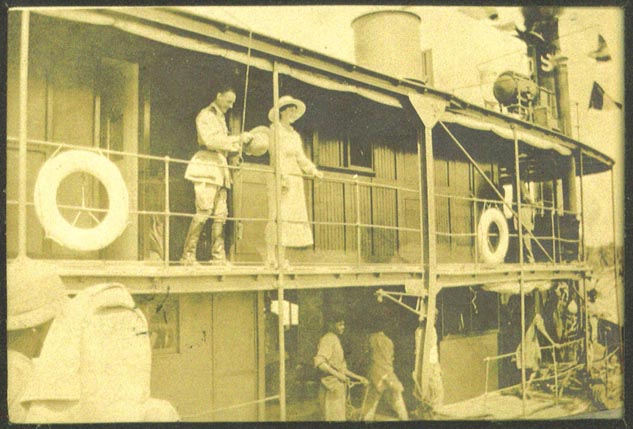 Violet Sherston Newman and Commander Arthur Gordon "Bunny" Kinch, D.S.O. immediately after their marriage in Kut.
They are going off on their honeymoon on a paddle boat that will take them down the Tigris River..
[Photo from her daughter in law Kathleen Keefler-Kinch's collection.]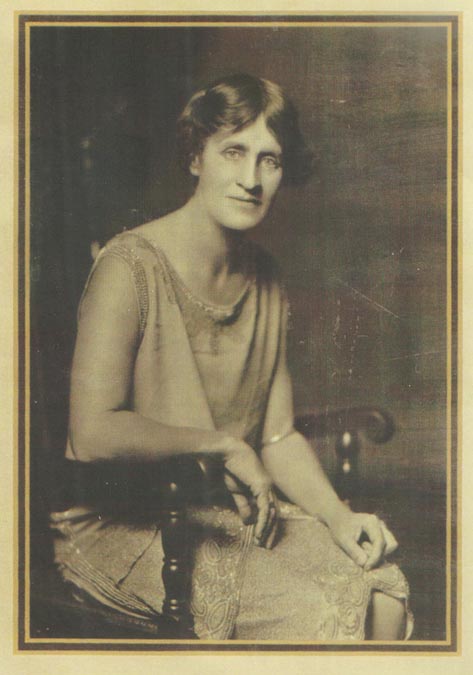 Left: Photo portrait of Violet Sherston Newman Kinch probably in the 1930s. Right: Photo portrait of Commander "Bunny" probably taken at the same time.
Bunny received a D.S.O. for his services during the Battle of Kut.
[Photos from their daughter in law Kathleen Keefler-Kinch's collection.]
From information kindly sent to me by her daughter-in-law Kathleen Keefler-Kinch: After they married, Violet and Bunny lived in Mesopotomia for a year - my husband Dr. Robert Arthur High Kinch was born on June 21, 1920 while they were living in Kut. They then moved to India where Commander Kinch become a Commodore and was in charge of the Bombay Port Trust which looked after all the maritime traffic into Bombay Harbous and the lighthouses. They lived on Malabar Hill in Bombay...and spent a lot of time at the races.
Their daughter Diana Mary Kinch (Fox) and son Bernard William Sherston were born in India - Diana in Simla and Bernard in Bombay. The three children were born within a three year period.... Violet was in her late thirties when she had her first child in the midst of the sands of Mesopotamia...no small wonder she spent a lot of her time at the races after moving to India and then having two more babies.
During World War 11 Commodore Kinch was in charge of the R and R lodge for officers in the Nilgiris Hills. They returned to England just after the division of Indian into India and Pakistan in 1947 and retired to Somerset.
Violet is buried in the cemetary at St. Giles. Commodore Kinch died in Bath - my husband thinks there is a stone to his memory at St. Giles. Their daughter Diana Kinch Fox died several years ago and there is a stone to her memory in the cemetary at St. Giles
(from John Newman): Katherine Charlotte Jekyll (1884-1963). Never married. Great horsewoman. Kept house for her mother in Barnstaple till the latter's death in 1930, and then went as companion to a succession of old ladies. Killed in a car accident, (not her fault).
From Heather Cuthbertson - grand-daughter of Claude Newman, April 2003: "Mollie talked about Auntie Vi, Claude's sister who married Bunny Kinch (Claude called him rabbit.) They had three children, Robert, Diana Fox and Bernard (Bill). She said Bill went to India for a holiday from school and had to stay over during the war. He joined the Dogras with various adventures then returned to England. Mollie told the delightful story of Bill's coming to lunch on Thursday and staying till Monday. On the Saturday, they took him to a ball wearing clothes borrowed from all and sundry and trousers from George (they can't have been married at the time). And when Mollie went to give the trousers back she found a small tear on the leg so she made a very fine nearly invisible repair. However, when next George wore those trousers he said, "Where's my tear?" It was he and not Bill who had made it. The other thing is the Patricks, her cousins in Australia, they are cousins on the Cock side, her mother's people.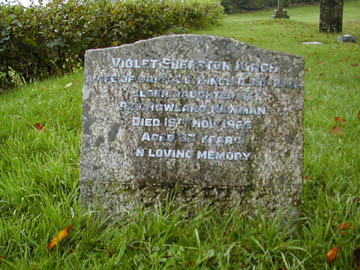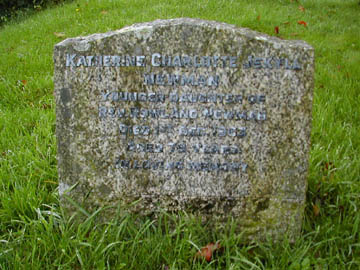 Photo left: Violet Sherston Kinch's grave; on right, her sister Katherine (Kitty) Newman's grave.
Both are at Hawkridge cemetry in Somerset, adjacent to their father Rowland's grave
---
Last Updated: Jun 2008
- Photos and further information from Kathleen Keefler-Kinch added.

Updated: Mar 2007
- Reginald's data updated; Heather Cuthbertson's anecdote transferred from Claude's page.