Rev. Joseph Jekyll
1810 - 1880
---
Relationship to me:
Great Great Great Uncle
Gen -4


Photo of an unknown subject sent to me by Ian Caldwell in Apr 2011. It is possible that this may be a photo of Joseph Jekyll (see below)

Born:
1810 (he was 59 in the 1871 census)
Died:
30 Dec 1880 probably buried at Hawkridge
Age
70
Father:
Rev. George Jekyll
1776 - 1843
Mother:
Ann Brown of Oxfordshire
d. 1851
Brothers:
None known
Sisters:
Charlotte (wife of Edwin Newman)
c.1807 - 1875
Married:
Marian* born in Jersey, Channel Islands
b. c1832 (see 1871 census)
Children:
Alice Marian (see photo of gravestone below)

b.1851 lived 6 months

Clara Jekyll b. Hawkridge, Somerset
b. c1859 (see 1871 census)
Annie Jekyll b. Hawkridge, Somerset
b. c1861 (see 1871 census)
Arthur Joseph Jekyll b. Hawkridge, Somerset
b. c1864 (see 1871 census)
Lewis Nugent Jekyll b. Hawkridge, Somerset
b. c1866 (see 1871 census)
Notes:
Ancestry.com states that the

1871 census

shows Joseph's wife's name as Miriam or possibly Marian. Since his gravestone in Hawkridge includes the name of baby Alice Marian who died in 1851 at 6 months of age, it can be deduced that this was Joseph's child, and that she was named after her mother. (See photo of gravestone below).

Joseph's gravestone also mentions Joseph Langdon Jekyll 1903-1960 whose identity is unknown (perhaps a grandson).
References to the 1871 census relate to different pages, because the two eldest girls (then aged 12 and 10) were at boarding school in Baltonsborough, Somerset.
Joseph's daughter Clara went on to marry her cousin Charles Octavius Newman.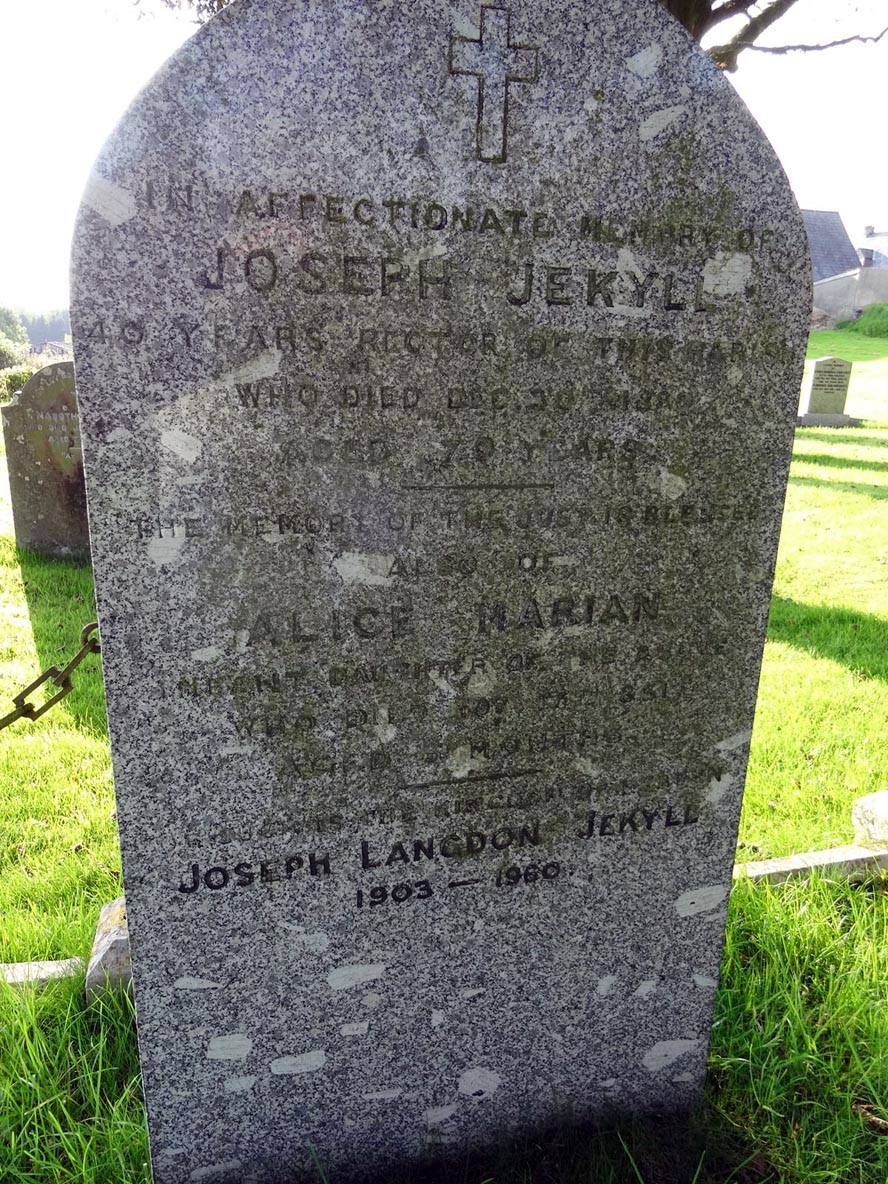 ---
Joseph Jekyll was rector of Hawkridge and Withypool parishes in the wilds of Exmoor until his death in 1880, after which the living was passed to his nephew Rowland Newman. Presumably his nephew Joseph Jekyll Newman (b. 1834) was named after him.
It appears that Joseph was quite a sportsman, as related in the delightful story written by his great neice Evelyn Newman in a letter to her nephew Harold Newman. The full text of the letter is found on Evelyn's page however the text relating to Joseph Jekyll is copied below:
Grandmother's brother, Rev. Joe Jekyll, was Rector of Hawkridge, the famous Tar Steps of Exmoor are close to the Rectory over the lovely River Barle. And when Grt Uncle Jekyll died, Uncle Rowland had the living and moved on from "Lufton"; and when he died, his son Rowie got it. It included "Witherpool" (sic) some miles over Exmoor, and Rowie elected to rent Hawridge Rectory and to live in Witherpool. Hawkridge Rectory was in a very lovely spot, but right down in the valley with the river just at the bottom of a field, and it was very damp there. Old Uncle Jekyll was a great friend of the famous sporting parson "Jack Russell" who used to marry couples in his "pink" coat and top boots, with a surplice over them & then was away …. after the stags!! Uncle Jekyll was a famous fisherman and there's a lovely story of him and an old friend who came to stay who was quite sure he could beat the rector at the fishing. So next day, Rector went "up" stream and friend went "down"; result Rector had a basketful and friend had 2 or 3. So after lunch Rector went "down" and friend "up" with the same sort of result. Next day they went out again different ways - the results the same & at lunch the friend said "Hell, I took the trouble to come down very early to see what flies were on your rod". "Did you?" said Uncle Jekyll. "You didn't think I was such a fool as to leave the flies I was using on the rod? I changed them all before I hung it up!" They used to hang up their fishing rods under the verandah which ran the length of the house.
---
As noted above, Ian Caldwell's image of a Reverand gentleman above may be not be that of Joseph Jekyll. Ian notes that the photograph (and the two below) came from a collection that had once belonged to his great grandmother Edith but which is grandmother (Helen) was unable to indentify. He further notes that the two photos of the reverand gentleman were taken byWilliam Henry Mason junior (1840-1888) who was active as a photographer in Brighton from the late 1850s until about 1874. Ian himself speculates that the photo might be of Rev. Henry Brown Newman who lived from 1798 to 1878 and who was rector of Little Bromley, Essex, however this seems unlilely if one assumes that the age of the man in the photo is between 40 and 50. Based on the photographer's business records, this would put his birth date between c1810 and c1845.
Similarly if the Reverand gentleman is Jospeh Jekyll, then the lady whose photo appears beside him could be his wife Marian. This photo was taken by C. Hawkins of the Brighton School of Photography at 38 Preston Street and 12 East Street, Brighton (Charles Hawkins School of Photography established 1861-71), so if one assumes her age to be between 30 and 40, her birth year would be between 1821 and 1841 into which she fits well.
Unfortunately there is no known connection between Joseph Jekyll and Brighton, so the link between him and the photos remains tenuous.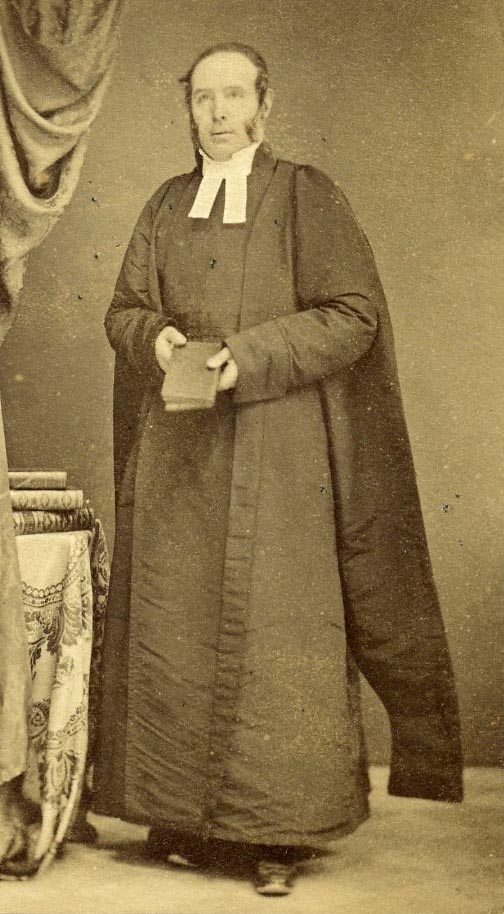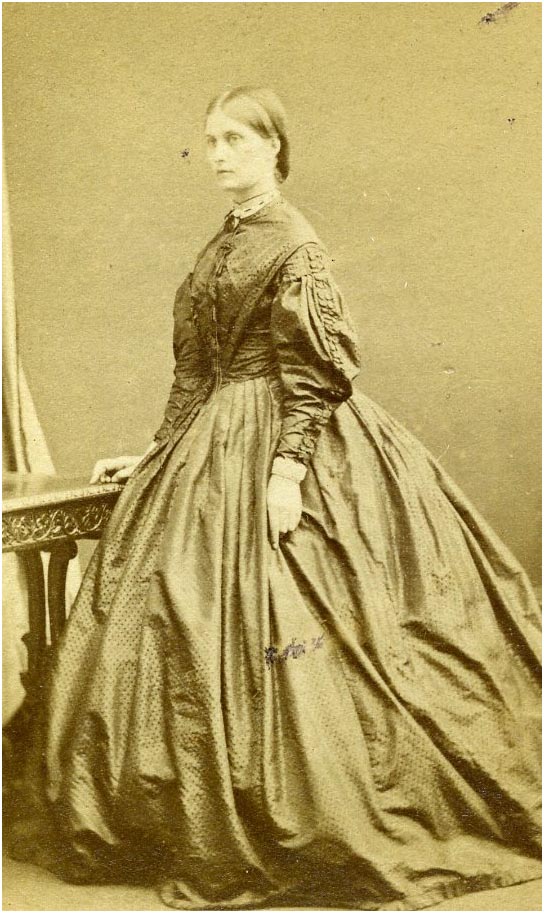 ---
Last update: 14 May 2011 - photos and related text added.
Updated 2nd Jan 2007: Link to Jekyll Family History added
Page created 11 Feb 2005