Mr Bertie (or Herbert) Thomas 1887 - 1965
as sent to me by his grandson John Thomas in Dec 2004
See bottom of page for information about a link to a related website.
---
In Dec 2004, John Thomas wrote to me as follows:
"My grandfather was born somewhere in London in or about 1887 and was known as Bertie or Herbert Thomas, as an infant he was taken by train to Dulverton, Somerset, on this journey he was in the care of nurse Jane Storey1 (1837-1925), on arrival at Dulverton they travelled by coach & horses (property of the Mildmay family of Hollam House, Dulverton) to Withypool, Somerset, a village on the edge of Exmoor and then left him in the care of Mary Steer2 (1818-1904) a 69 year old washerwoman and then lived at Millcleave cottage until he was 12 years old, he was able to recall frequent visits from Mrs Harrison3 who lived at Hamilton House in Dulverton, to pay for his upkeep, though this is only supposition.

Although Mary Steer was supposed to be receiving income from Mrs Hamilton3, Mary and her husband John applied for "Outdoor Parish Relief according to the "Dulverton board of Guardians" records, which they were granted, at this time John Steer was 88 and Mary was 73, my grandfather was only 4 years old, what doesn't make sense, is if my grandfather was having money spent on his upbringing, why would John & Mary Steer apply for, and be granted relief, the alternative would have been the Dulverton Union Workhouse where, ironically Mary Steer ended up, 31 January 1903.

Mary Steer was believed to have given all papers concerning my grandfather to the vicar of Hawkridge & Withypool, the Rev. Rowland Newman (now buried at Hawkridge), when she handed over his papers, she allegedly said "Bertie, I've sold you down the line", these words meant nothing to a 12 year old boy. He was "apprenticed" to a local smallholder, who also happened to be the churchwarden, John Williams.

Once under the charge of John Williams the Williams family suddenly moved from the smallholding to farmers of Stone farm at Exford, which was on the estate of Sir Thomas Acland4 (whether he purchased, leased or managed the farm is unclear). Whilst working on the farm he was not allowed into the farmhouse for food or sleep and was only allowed use of a barn.

On Stone farm he worked alongside John Williams' son, Wilfred John Herbert Williams and remembered him saying "all you can see is yours", again the significance of what he was told was never understood at that time.

In 1905 at the age of 18 he left Somerset to live and work in Swansea, in 1908 he was working for "Bowens Sarso Mineral Water Co", which later became "Corona" of Porth in the Rhondda valley. He was one of the first people in Swansea to hold a license to drive heavy goods vehicles.

On the 19 February 1910 he married Mary Jane Harris aged 23 and they lived at 889 Neath Road, Morriston, Swansea, on the 3 August 1912 they had a daughter Ida and four years later on 23 June 1916 another daughter Irene (René).

In 1915 he tried to enlist for the great war and found he needed his birth certificate, thinking he was born in Somerset he applied there for it, but was told they had no record of his birth, so he employed a Swansea solicitor Messrs D.O. Thomas of York Street, Swansea to trace his parentage. Apparently D.O. Thomas achieved this after placing an advertisement in personal column of "The Times" on 8 September 1915, from this success a South Wales newspaper "The Cambrian Daily Leader" or the "South Wales Daily Post" followed up the story that my grandfather was of "Very high parentage" (see press release) but would not divulge who his parents were, but stated that "both parents are alive today".

In 1917 my grandfather was accepted into the Royal Army Service Corps and after the war returned to Swansea. On the 7 December 1924 they had a son Wilfred John Herbert. In 1924 the family moved to Kings Brompton, Somerset and stayed in the Somerset area until 1936. It was around this time he heard that someone had been trying to contact him with regard to sending him money, but had been unable to find him. He never discovered who this was and once more moved to Swansea. It seems that a legacy of some kind was printed in the Withypool area around June/July time sometime between 1934 and 1936, this was possibly printed in the North Devon Journal or Herald, though as yet has not been found.

Bertie lived in Swansea at 3 Waun-wen Road, Greenhill, Swansea and then at Earlsmoor home for the aged, Brynmill, Swansea until he passed away on 6 December 1965."
Notes:
Nurse Jane Storey is buried in the Mildmay vault in Dulverton cemetery, her epitaph reads Jane Storey, wife of Robert Storey, for 67 years devoted nurse and friend in the family of Arthur St John Mildmay of Hollam died 18 march 1925 aged 88 years. It is believed the mother of Bertie is Alice Frame St John Mildmay. Alice was born 23 May 1857, her place of birth is unknown, she died 09 July 1922 in Melbury Bubb, Dorset. Two of the Mildmay family were killed in the Boer war, one at Rourkes Drift and one at Ladysmith. Alice Mildmay is understood to have visited these sites. Whilst in South Africa a black servant had saved her life and she returned to England with him, Zac was known to run barefoot from Hollam House to Withypool (approx 10 mls) with messages for the family.
There's a discrepancy over Mary Steers age (which was common in those days). In the 1891census she is recorded as aged 73 which means when she died in 1904 she was aged 86. She was baptised on 15 November 1818 at Molland, Devon, died 04 February 1904 and buried at Dulverton, Somerset.
According to Daphne McCutcheon (see below), Mrs Harrison could in fact be Lady Hamilton of Hollom House, this being Edith Charlotte St John Mildmay who married Mr James Archibald G. Hamilton in 1889. John Thomas appears to confirm this, stating that Mrs Harrison was the sister of Alice Francis St John Mildmay of Hollam House.
Sir Thomas Acland was the brother of Dr Henry Acland of Oxford (later Sir Henry) 1815-1900. Sir Henry was appointed by Queen Victoria to look after HRH The Prince of Wales, Edward VII on his tour of America and Canada 1858-1860. Later Sir Henry was appointed Honorary physician to the prince and kept up a friendship with him. A property adjoining Stone Farm, known as Broford farm, Baronsdown, is believed to have been mentioned in the legacy. This farm is also on the Acland estate.
According to army records, Bertie Thomas enlisted into the Royal Army Service Corps (RASC) on the 08 December 1915. However he didn't join for duty until 26 March 1917 at Grove Park. His grandson John Thomas assumes this is because of the missing birth certificate. He was demobilised at Woolwich on 12 February 1920 after serving in France and Salonica.
---
Note from Chris Newman: John Thomas mentions in passing that (I quote from his email dated 12 Dec 2004) "About 15 years ago, I asked the Somerset County Gazette, a paper in the Taunton area, to research the story for me. A reporter took all the details and promised to look into it for me. Several days later, I had a phone call from the reporter (I can't remember his name) telling me he could no longer search for any more detail as there was a "D Notice" on my grandad's parentage. I'd never heard of a "D Notice" before and from what I've learned since it's a government notice regarding sensitive issues. I contacted MP's about this and all deny the existence of such a notice, and have all dismissed me as if I was dreaming it up. Needless to say the Somerset County Gazette denied any knowledge of any conversation regarding my grandfather and a D Notice. One of many dead ends my father and I keep hitting.
---
West Somerset Free Press - 8th October 1960
"Notes By The Way"
Still Unsolved?
Down the years comes the echo of an old and for aught anyone knows to the contrary, unsolved mystery which had an Exmoor village as its setting. A mystery which perhaps had something of a hidden romance behind it. For so it would seem from a story told in an old an yellowing newspaper cutting which has come to me with a letter from a lady reader who spent many years of her life not far from that village and is now living near Barnstaple. She says in her letter that the enclosure was one of several old newspaper cuttings shown to her when she recently visited a friend who was very ill, and on reading it she was very much interested. As well she might have been, for under the heading of "Hidden Romance of a Soldiers Birth "this cutting, which may have come from an Exeter paper and to which, from certain matter on the back I am able to assign the date September 1915, has reference to an advertisement which appeared in the "The Times" offering a reward to the nurse or other persons who can give particulars of the birth or parentage of a male child known by repute as Bertie (or Herbert) Thomas, born in or about the year 1885, somewhere in London, such child being in the same year placed in the custody of one Mary Steer, a washerwoman, of Withypool, Somerset, and afterwards apprenticed to a farmer at Withypool." Nearly 30 years later, as was revealed by the solicitor - Mr D.O. Thomas of Swansea - to the press, Bertie Thomas, being anxious to do his bit in the Great War, tried to join the A.S.C. Transport Section, and was asked for his birth certificate. He was unable to obtain it in the district in West Somerset where he thought he was born, and being then in Wales he went to this Swansea solicitor.
Of High Degree
The solicitor, on making enquiries in Somerset and London, discovered, as he stated, that Bertie Thomas was brought as an infant in the charge of a trained nurse, to Withypool at midnight in a carriage and pair from London. He was placed in the care of a washerwoman named Mary Steer, until he was old enough to be apprenticed to a local farmer with whom he remained until he was 29 when he left Withypool to go to South Wales. "His real name" said the solicitor "is not Herbert Thomas, and I have no doubts in my own mind who his parents are. They are alive, but I am not in a position to disclose their names at present. All I can say is that the young man comes from very high parentage, Mary Steer is dead, and none of her relatives can be traced. The trained nurse however, is alive, and a large sum of money was spent on the young man's upbringing".
All this is certainly intriguing, and the lady who sent me the cutting was much struck by the romantic aspect. But when she writes, as she does in her letter, " I don't think the mystery of the young man's real name will ever be solved unless you can do it", she over-estimates my capabilities. I can only go so far as to bring the story once again to light, after 45 years with the hope that possibly some reader in the Withypool district whose memory goes back far enough, might have heard something about this mystery baby. It is just on the cards, of course, that Bertie Thomas may still be living. If so, did he ever, one wonders, manage to get to that precious birth certificate and so learn who he really was?
---
Advertisement in The Times Newspaper date 8th Sept 1915, placed by Bertie Thomas's solicitor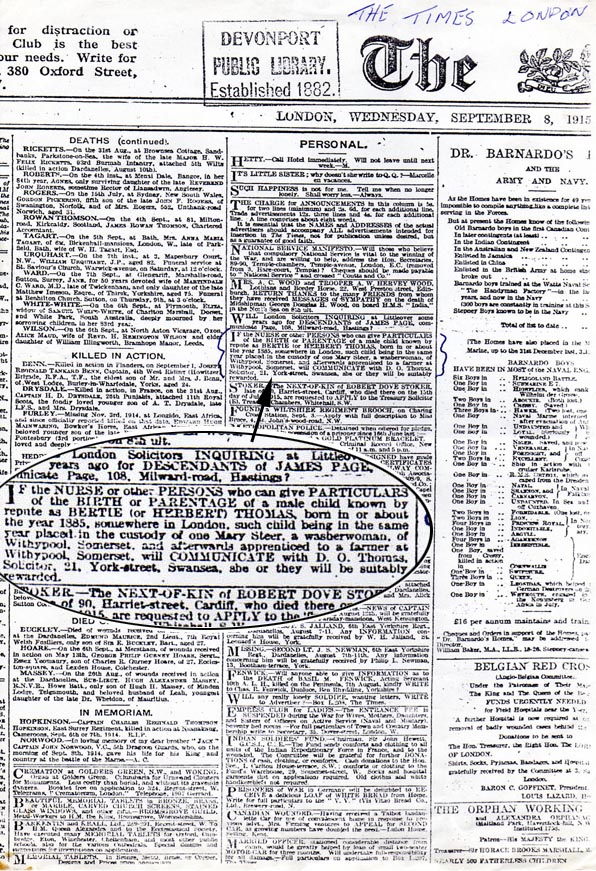 ---
In January 2007, Daphne McCutcheon of Minehead, Somerset wrote to me to say that she is a friend of Thelma Bontoft, Berties granddaughter who also lives in Minehead. She included a link to her own website at www.minehead-online.co.uk/bertie.htm which includes some fascinating photos showing an astonishing likeness between Bertie Thomas with the young Prince of Wales.
Daphne adds:
"Regarding the question about Edward visiting Alice the Weatherslade farm. I dont know why she was staying there. This was just a memory told to us by Fred Milton. It could be that the Mildmays owned the farm and Robert Williams was a tenant farmer. A lot of farms were owned by the Acland family as well as the Mildmays. The King was known to come down and go hunting at Withypool with members of these families.

At recently as last summer, Prince William was dining at the Royal Oak at Withypool with friends from the area after going hunting at Hawkridge. See: http://en.wikipedia.org/wiki/Withypool under Royal Oak Inn".
---
In Oct 2009 I received a message from Alan Steer, great-great-grandson of Mary Steer who is also trying to get to the bottom of the mystery surrounding Bertie Thomas's parentage, but so far without success.
---
Final note: The story of Bertie Thomas is related in Robin Bush's "Somerset Stories" (p 61) published in 1990 by the Dovetail Press Ltd, Stanbridge, Dorset ISBN 0 946159 84 x.
---
Page updated 6th Dec 2009 - reference to Robin Bush's book added.
Page updated 21st Oct 2009 - reference to Alan Steer added.
Page created 10 Dec 2004; updated with further info from Daphne McCutcheon 24 Jan 2007