Reginald Noble Newman
1899 - 1964
---
Relationship to me:
1st Cousin Twice Removed
Gen -2


Photo from http://etribe.com/ancestors/

Born:
1899, probably in Hawkridge, Somerset
Died:
1964, Felton, California, near Santa Cruz
Age
65
Father:
Rowland Newman
1846 - 1919
Mother:
Catherine Louise Edwards
1852 - ????
Brothers:
(elder) Rowland Alan Webb
1878 -1958
Claude Edwin Sandys
1880 - 1942
Sisters:
(elder) Violet Sherston
1882 - 1965
Katherine Charlotte Jekyll (Kitty)
1884 - 1963
Married:
Mary Ambrose
Children:
a daughter (mother of Seth Matterson)
1926 - 1980
---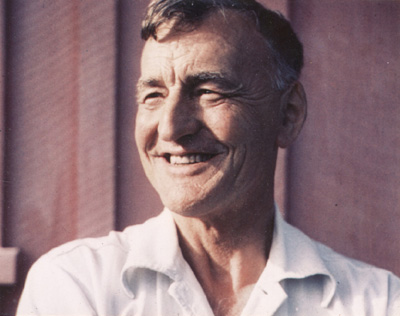 Reginald's grandson Seth Matterson contacted me in March 2007 to tell me of his website with photos of Reginald, his father and mother and his wife and her ancestors (see http://etribe.com/ancestors/). Seth confirmed Heather Cuthbertson's mother's anecdote (see below) that "Reginald Noble Newman did go to America with the proceeds of his Granny's farm". Seth went on to confirm that there he had "married my Grandma, Mary Ambrose Love, in Hawaii. They had one child, my mom."
Seth also sent me photos of an elegant Newman seal that has been passed down to him. It is illustrated in the photos below. At right is another photo of Reg sent to me
by his grandson Seth Matterson.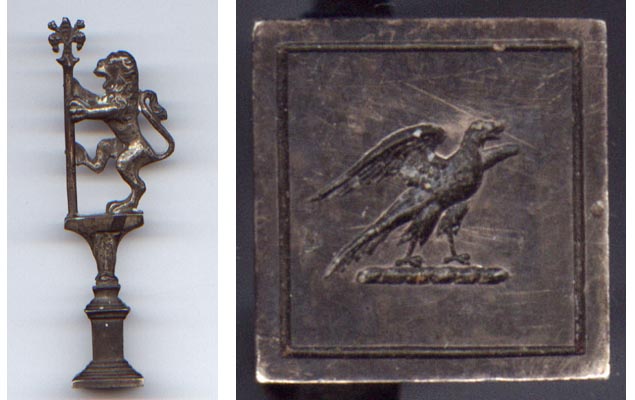 ---
(From John Newman May 2002): "Reginald Noble (Uncle Reggie) b.1889 = Mary Rose --. My son David thinks he has traced him in America whither he disappeared in the '20's."
From Heather Cuthbertson - grand-daughter of Claude Newman, April 2003: "Mollie talked about Reginald, Claude's brother and how he went to the States with the proceeds of Granny's farm and had six children. Claude said if he ever comes back, give him five pound and send him on his way... !"
---
Page Created: March 2007