Olive Stackhouse Henry (née Paynter)
1893 - c1983
---
---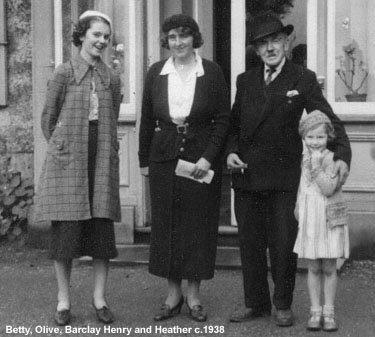 Outline her Life: Ian Caldwell notes: Olive Stackhouse Paynter born in 1893, married Barclay Henry, a friend of William Wilson's; and died at Glen Loine House, Arrochar, Dumbartonshire, Scotland, beside Loch Long. Barclay Henry was a marine artist and he and Olive had two daughters, Elizabeth and Heather.
During WW2, Elizabeth Henry married a Polish soldier by the name of Jan Mangold, but the marriage didn't last. She then married Patrick Barry and they had two children, Stephen and Julia, who now both live in Canada, as does their mother. Stephen is married to Nancy and has two sons, Shawn and Ryan. His mother is now his next door neighbour. Julia has two sons from her first marriage to Brian Huchinson, Patrick and Michael. She is now married to Bruce Bowser and they have two daughters,Jennifer and Robyn. Pat Barry died and Elizabeth married again, to Kenneth Pitt-Jones, the last remaining descendant of William Pitt.
Heather Henry married James McTavish (Jimmie) and they live in Arrochar. They have three children: Vivien, James and Cherry and Cherry and Cherry has a son called Titus and identical twin girls, born in October 2003, Coral and Crystal. Jimmie died just before Christsmas in 2003.
From my father's Reminiscences: "Just like her ma".
Heather married James McTavish and now lives at her mother's old house. They have three children - Vivienne, James and Cherry. Cherry has a son called Titus.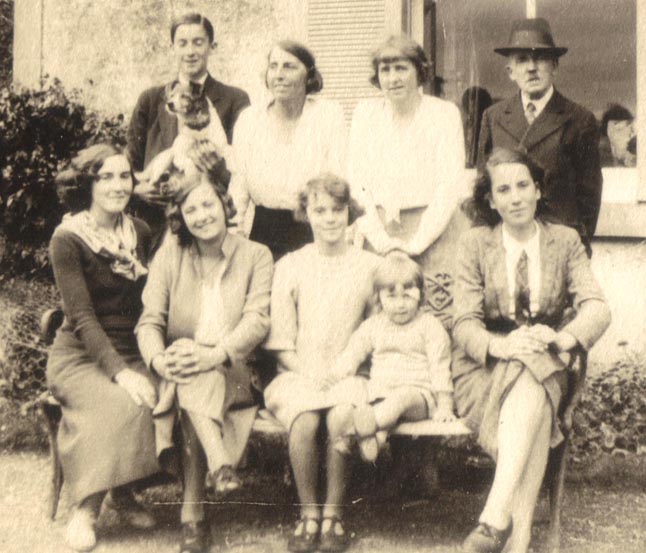 The photo at left was taken at Olive and Barclay Henry's home at Glenloin in August 1934.
Standing l-r: Ian Turner Wilson aged 17, his mother Edith Turner Wilson (nee Paynter), Olive and Barclay Henry;
Seated l-r: Helen Turner Wilson aged 20 (later Helen Caldwell); Molly Laing (daughter of Rose), Betty Henry, Heather Henry, Betty Turner Wilson aged 14.
---
Last updated 10th Aug 2016 - birth date corrected (thanks to John de Lucy). Photo added.
Updated 10th Nov 2007 - erroneous information corrected.