Frederick George Paynter
1872 - 1945
---
---
Outline his Life:
Born in Alnwick, Northumberland.
Engineer, experimenter, entepreneur, ornithologist and poultry farmer; spent time doing research on Farne Island; wrote a book in 1907 called "Poultry Rearing for Profit". Also documented his poultry experiments in a type-written manual written in WW2. More information (from Marion Paynter) to be added later.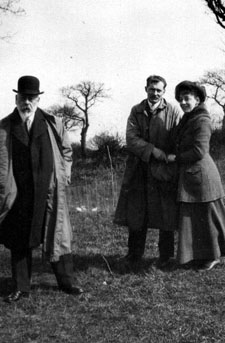 Ian Caldwell adds: "Fred, 1872-1945, was interested in poultry. He married May Stephens in 1912. They eventually lived in May's parents home, Downe House, on Richmond Hill which was bought by Mick Jagger in 1991 and is now lived in by his ex-wife, Jerry Hall. Frederick wrote a book called "How to Make Poultry Pay" and invented a device called "The Night Ark" for poultry. They had two children: Rachel and Marion.
From my father's "Reminiscences": "...... experimented with tomato growing in the Freelands greenhouse before tomatoes were generally popular, then with poultry, which prompted a book on the subject".
Photo Left: Fredrick George Paynter, Sarah and her father shortly after their marriage.
---
Last updated 10 Aug 2016 - Olive's birth year corrected.