William Paynter
1870 - 1888
---
---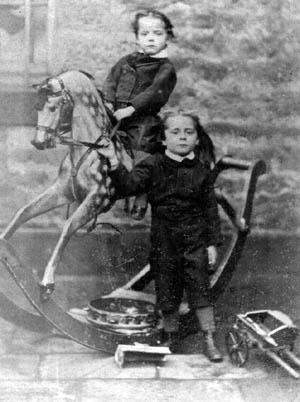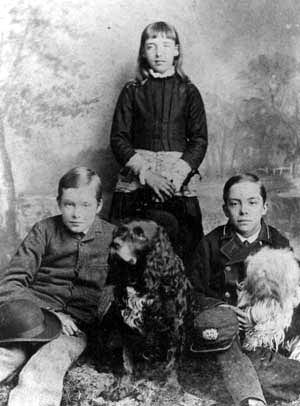 Photos: Left: Fred and William c. 1875 (I guess); Right: Fred, Lilian, William c.1884
Outline his Life: The following information was sent to me by Ray Farnsworth (see email dated 11 Jan 2005) and by Alfie Windsor who runs the website for HMS Conway (see email dated 19 June 2015):
William was born at Freelands, Alnwick, on Oct 8 1870, third child (2nd son) of Henry Augustus Paynter and Henrietta Paynter (née Newman).
Little is known of his early life but some photographs of him as a young boy are held at Freelands.
According to Alfie Windsor, William was educated in HMS Conway on the river Mersey off Rock Ferry between 1884 and 1886. According to Ray Farnsworth, on Nov. 25 1886, he was bound for 4 years as an apprentice seaman in London to C. Nicholson, a ship owner from Liverpool.
His first voyage was on the sailing ship CUMERIA (net 1284 tons, built Birkenhead - Ship No. 63195). The voyage was from London to Melbourne and "any port or places in Australia, New Zealand, India, China, Pacific and Atlantic Oceans, West Indies, America, trading backwards and forwards as the Master may require until the return of the vessel to a final port of discharge in the United Kingdom. Voyage not to exceed 3 years". The voyage in fact ended on March 27 1888, at North Shields (mouth of the River Tyne, some 35 miles South of Alnwick), having started in London in Nov. 1886.
The crew consisted of 20 men, together with 4 apprentices. One of his fellow apprentices was Henry Middleton Dand of Alnwick who was no doubt a close personal friend, as the Middleton Dand family was well-established and known in Alnwick, and friendly with the Paynters (ref. Ediths and Olives diaries/records).
Family, anecdotal information suggests that William was not at all keen to continue his career as a seaman but, during his short break at home in April 1888, was persuaded by his father to continue/complete his apprenticeship. He sailed again on the CUMERIA on April 20 (from N. Shields).
His reluctance to sail again is now understandable from an examination of the Crew Agreements of the CUMERIA (copies held at Freelands). On his opening voyage to Melbourne, one of his fellow young apprentices, George Dickson, was killed by "a fall from aloft whilst at sea". This resulted in a Certificate completed in Melbourne on April 15 1887 at the Mercantile Marine Office. Furthermore 10 members of the crew deserted at Melbourne (replaced by others); two others failed to join the ship in Melbourne, one deserted in Valparaiso and one other was declared sick in Valparaiso (syphilis). A further motley collection joined the ship in Hamburg just before the final short trip across the North Sea to North Shields. Most of these were foreign and were defined as "Runners" and " did not appear to sign their formal release after docking in the UK". What a collective experience for a 17 year old - hardly surprising he didn't appear to keen to continue!
But continue he did, and sailed on the CUMERIA from N.Shields on April 20 1888 on a voyage to Valparaiso. The Master, C.J. Hilton and First Mate, A.L. Hurry were unchanged. The rest of the crew were a mixture of Swedish, Danish, German, Irish, and English. Again there were 4 apprentices including Henry Middleton Dand and William Foster Paynter. The vessel was not heard of after June 12 1888 and 25 lives were lost "supposed drowned". I believe the last contact was somewhere near South Africa (see correction below). My final note is that apparently WF Paynter was owed £4/7s/6d, "to be accounted for". A certified copy of the entry in the Marine Register of Deaths is held at Freelands.
Ray Farnsworth offered further information and the illustration below in an email dated 25th Jan 2005 as follows:
"I have obtained a copy of picture of the "Cumeria" from the Hilton family. I have now been authoritively advised that the Cumeria was last sighted on June 12th 1888 at Lat. 30degrees South, Long. 50degrees West off the South American East Coast, between Port Alegre and Rio Grande, about 300 miles North of Montevideo. I had previously understood (wrongly) that the ship was last seen off the South African coast."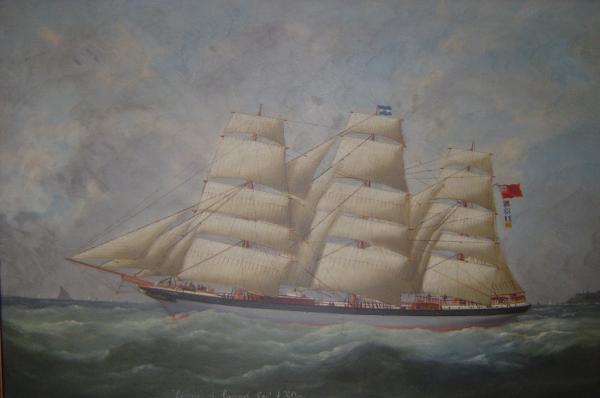 Below is a copy of a very early photograph of the Cumeria sent to me by Ray Farnsworth in July 2006 taken in San Fransisco in 1872 (copyright is with the museum in San Francisco)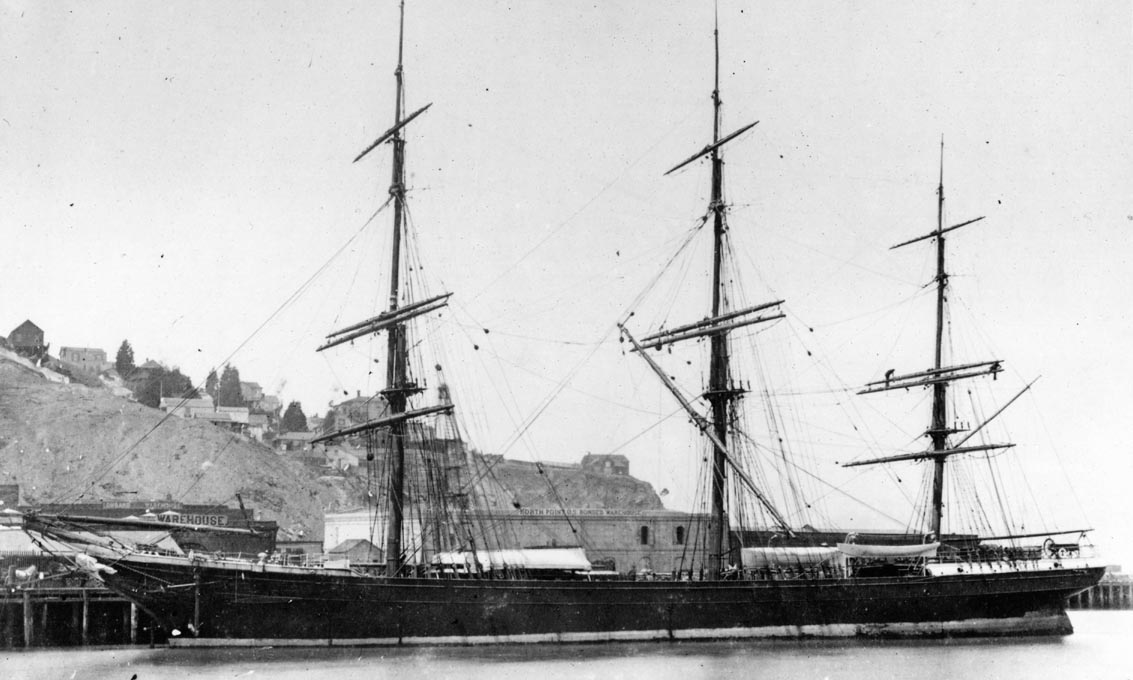 An earlier note from Ray dated July 2002, stated: "I did the original research re the fate of William, your Grandmothers brother. The family data was that he was lost on The Conway. I checked with detailed maritime records both in the UK and in Nova Scotia, and came up with the true ship record and crew lists etc. It was definitely The Cumeria".
Ian Caldwell relates a similar story which concludes with the following anecdote: "William was presumed drowned but his body was never found. His mother always laid an extra place at the table every Christmas for him as she never knew for certain he was dead."
---
Last updated 10 Aug 2016 - Olive's birth year corrected.
Updated 20 Jun 2015 - Information from Alfie Windsor added.
Page updated 29 Jul 2006 - Photo added of the "Cumeria".