Violet de Lucy (née Paynter)
1883 - 1963
---
---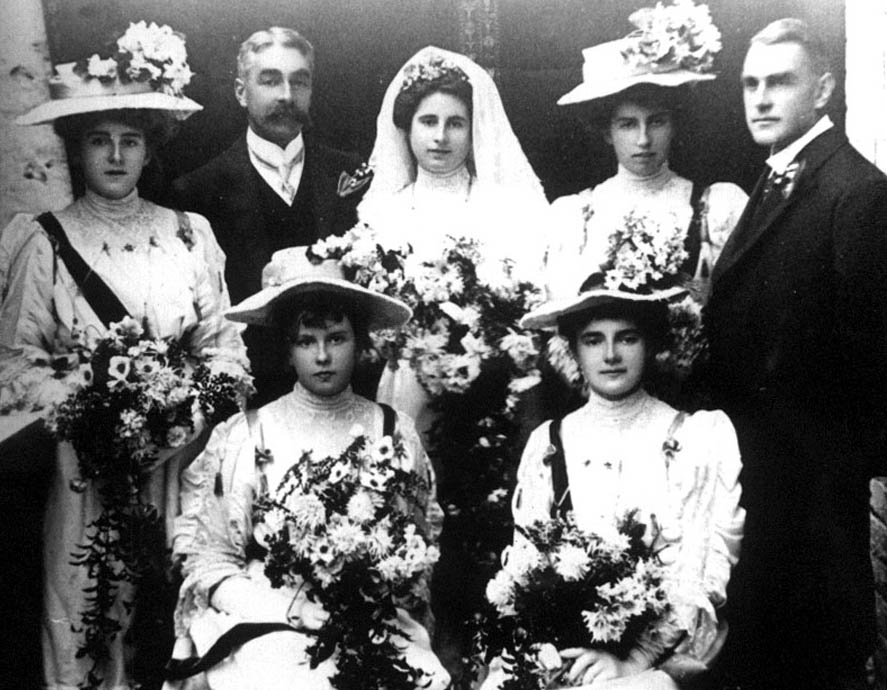 Violet's wedding photo - 15th Oct 1907
Back row l - r:: Olive Paynter, Frank Lucy, Violet Lucy (née Paynter), Edith Paynter, Sydney Lucy
Front Row l - r: Kathleen Manly Powers (Katherine's daughter), Mollie Wilson.
---
From my father's "Reminiscences": "A determined strong character; taught in a London kindergarten; married a widower Frank Lucy, an ex-rubber planter from Malaya; lived at Sutton Valence where I visited them quite often from Chatham".
---
Outline her Life: Ian Caldwell notes: Violet Paynter (Vi), b.1883, baptised 27/9/1883, married 15/10/1907 to Francis William Lucy Esquire of Weston under Penyard, Ross. She had previously been engaged to a much older man in 1899 who had given her a ring which she lost. He made such a fuss about her losing the ring that she broke off the engagement. So she married Frank Lucy, who was also a much older man and they lived in Kent. Frank Lucy had been married before and had three children, Richard (Dick), Mary and Mardi, by his first wife, who had committed suicide by drowning herself in a lake. His children were much the same age as Vi. One of Vi's first acts on entering the family was to get rid of the cat, which the children had been fond of, but which Vi thought unhygienic.
Dick was in the navy as a radio operator. He found the heat in the Mediterranean intolerable, ran up on the deck and shot himself as he jumped over the side. Neither Mary nor Mardi got married. Mardi was very quiet and shy and did gardening work. Mary ran a sweet shop at Sutton Valence School and was a great help to Joyce with her children and a good sister to Mardi.
Vi was always correct and very formal, dressing for dinner, and Frank was very fond of her, often laying his hand affectionately on hers at table. She wore garnets and had striking dark brown hair, even when she was an old woman.
---
Last updated: 10th August 2016 - Names added under wedding photo, courtesy of Ian Caldwell and Olive's birth year corrected.
Updated: 5th April 2004