Edwin Coleman Paynter
1882 - c1974
---
---
Outline his Life: Ian Caldwell notes: (Jum) born 1881, married Margaret Ludlow, who was a governess at Freelands. Their eldest daughter is Edwina. Jum fought in the Boer War and then emigrated to Canada. He settled in West Bank, British Colombia and was responsible for water supplies. There is a lake in British Colombia names Paynter Lake after him.
Jum also had a daughter called Jessica who came to England to study nursing. She married Vernon Yewlet and they had a son, George in about 1940. Tragically Vernon was killed while in the airforce down in Cornwall. Jessica married again, to Arthur (Art) Johnson a charming man (according to my grandmother), who was Henry Paynter's partner in fruit farming and built their house. They has a daughter, Judy. George Yewlett married Ruth. They have five children, two of whom are identical twins, one called Daniel is a vet. George died in 2001 at the age of 61. Judy married Tom and they have a daughter, Coleen, who is married and has a child who was manageress of a shop. Judy and her husband now lives with Judy's mother.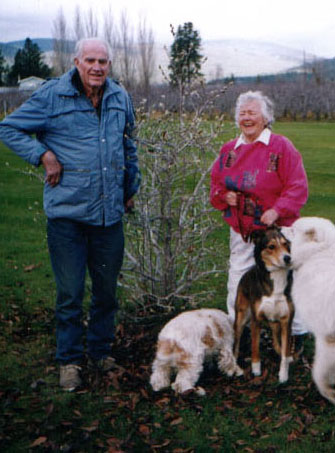 Jum and Margaret also had a son, Henry Paynter (1907 - 2005) who married Sheila McKay (2/7/1919) - photo on right taken in 2000 - and they had many children and grandchildren (photo below). The eldest son, Goeffrey, married Patricia Bishop and they had two sons, Travis and Nigel and a daughter, Chandra, the eldest. Geoffrey married again to Marcia Detta.
Henry and Sheila's son, Henry Arthur Paynter is nicknamed "Hap", and he was married to Marie Lorraine Susanne Morin and has two children, Celestine Rosanne (9/3/82).and Henry Samuel (8/11/84) and now lives with Barbara Mary Heaney.
Henry and Sheila's daughter, Gillian married Mike Evans and they have a son, Anthony Evans. Henry and Sheila's son Robert(Bobby) has not married. He had rheumatic fever, has changed his name to Farlie, and lives in a geophysical dome and grows Ginseng etc.
Henry and Sheila's son David Coleman has an artistic wife, Laurie who illustrates books and they have a daughter Lisa (b.Nov 1981) and a son, Aaron (b.1983).
Henry and Sheila's youngest child is Alisen who married Rod Oliver but they have seperated. They have two children, Jennifer, whose name has been changed to Jennay, and Geoffrey who is at University. Henry and Sheila are fruit farmers, growing apples and peaches and keep bees at Westbank,, British Colombia.
Henry was a keen badminton player and took part in tournaments until the age of 95. He continued playing the game until just a few weeks before his death. In Feb 2003 Jack Paynter sent me press cutting titled "Paynter meets Guinness" celebrating Henry's 96th birthday and his achievement in becoming the world's oldest Badminton player.
Marion Paynter told me (in 2001) that Ernest and Jum trained as lawyers but were made to work for their father for nothing, revolted and "fled to freedom" in Canada. She adds that according to Jum, Henry and Henrietta argued incessently about money - and that suitors visiting the girls had no idea of the parlous state of the family's finances. Henrietta never had enough money for housekeeping or for the entertaining that they did, nor for the charities that she supported.
From my father's "Reminiscences": "Edwin Coleman (Jum): married; lived in a shabby bungalow in Alnmouth; migrated to British Columbia (Canada) where he became a sub-postmaster and grew apples".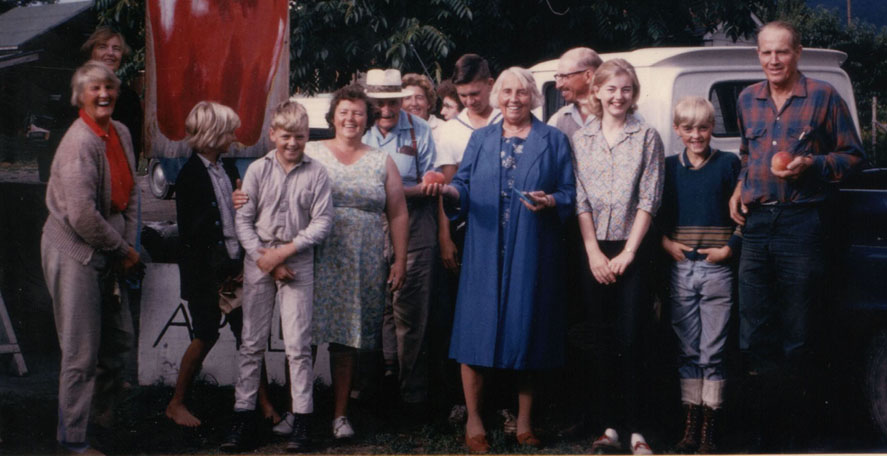 Jum and Family (with Edith) c.1967. Henry Paynter on right of picture (courtesy Marion Paynter)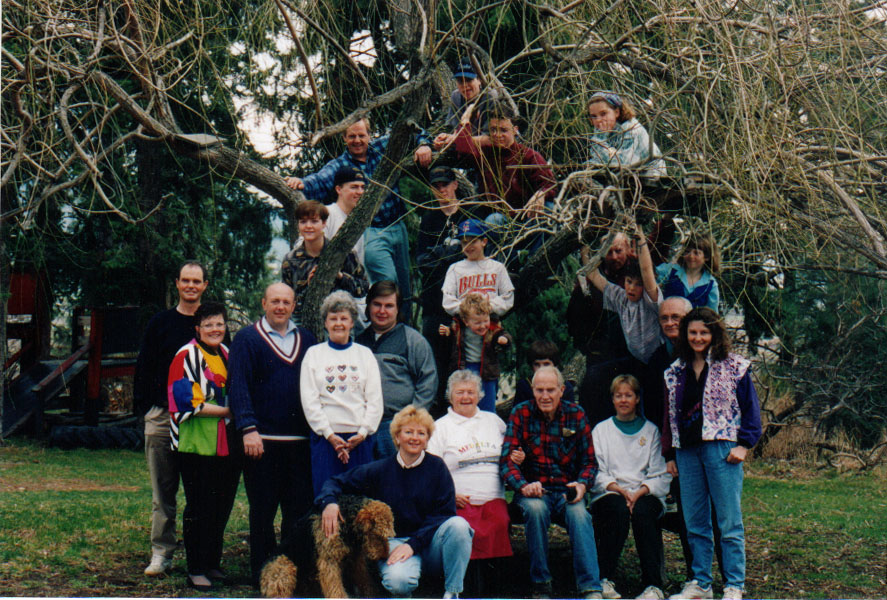 Henry Paynter and Family c.2000 (courtesy Marion Paynter)
---
Last updated 10 Aug 2016 - Olive's birth year corrected.
Updated 29th May 2007 - erroneous information deleted.
Updated 8th May 2005 - recording Henry Paynter's death in 2005.