Emma Evelyn Newman
1870 - 1950
---
---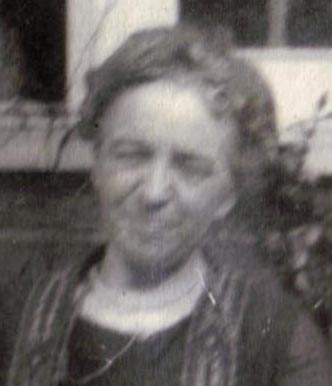 Outline her Life:
The only information that I have to hand about Evelyn Newman comes from my father's "Reminiscences". He describes the changes to his parents household that occurred in 1908 prior to which his grandmother Emma and Aunt Evie had lived with his parents in Kensington.
"Aline's arrival in 1907 ensured the parting of the ways for the inhabitants of 55 Warwick Gardens. In any case, as I was told later, the relationship between Lily and her in-laws had always been strained. .... My grandmother and aunt moved to a maisonette at 27 Philbeach Gardens. The old lady died there in 1930 aged 86 having remained throughout physically fit but latterly losing her memory almost completely. She confused me with my father when I went to see her, and used to wander the streets in my aunt's absence with no lucid explanation as to where she had been, just 'Up the spout'. My aunt then moved to smaller premises near Barons Court underground station, occupied herself as a secretary without typing ability, at last being awarded a quarter in Queen Alexandra's Court in Wimbledon. This was a charitable institution for the impecunious widows and daughters of army officers. She spent the war there refusing to descend to an air-raid shelter however fierce the bombing, until early in 1950 having fallen into her fireplace one night, I was summoned to remove her. Her cousin Rowland Newman offered her shelter in his house in Bridgwater where she died a fortnight later, to be buried in East Huntspill churchyard."
My only (and possibly incorrect) recollection associated with Aunt Evie is attending her funeral in East Huntspill (Somerset) at the age of 4. I believe her gravestone is still there to be found.
see Emma M.B.'s page for full photo
---
The following letter from Evelyn to my father (Harold Ernest Montague Newman), written from Wimbledon and dated 1st April 1945, is of great interest and gives a hint of her personality (quite different to what I had imagined):
"Darling

I was so pleased to get your letter, but I want you to clearly understand that you must never worry about answering my letters. You have your obligations to Peg and Northwood, so never fach yourself about me. I understand. I write when I can, and if I can find "zum.mut" to write about, as they keep telling us, the one thing you all value -across the hay - is letters from HOME even if they are the mewings of an old Cat!!

I'm so glad "D.V." is to be christened at St John's, and I hope my surmises as to the ancient family having been christened there is correct. If I am wrong, the only alternative would be West Coker - (you go up Hawford Hill and about 3 or 4 miles straight on). Grandfather, as a young man, rode out to the Rectory on business & as he entered the drive which sweeps round to the front porch, he caught sight of a lady sitting in the window, back to him with her arm out-stretched & he made up his mind she was to be Mrs. Newman. She was the daughter of the Rector "Jekyll". I presume they were married at West Coker. She bore him 10 or 11 children some died in infancy. Henrietta - your grandmother - was the only surviving girl - (the reason she was so spoilt). Of the boys - my uncles - I've known Uncle Edwin (the eldest), Uncle Joe, Uncle Charlie, Uncle Arthur and Uncle Rowland - and of course Father. He came in before Uncle Joe. Lottie's father was, I think, "George". Anyway, Father was "quintus" Newman at Sherborne school!!

Whether grandmother had any of them christened by her father at West Coker, I do not know. I'm a little mixed as to whether Lottie's father was George or William [it was George]. I never saw or knew either of these 2, but one of them - I think it was William, married a lady called Edith. I remember at Plymouth, an "Aunt Edith" coming to see us - she had married again and was living in Devon. She was a very pleasing soul, I remember. Grandmother's brother, Rev. Joe Jekyll, was Rector of Hawkridge, the famous Tar Steps of Exmoor are close to the Rectory over the lovely River Barle. And when Grt Uncle Jekyll died, Uncle Rowland had the living and moved on from "Lufton"; and when he died, his son Rowie got it. It included "Witherpool" some miles over Exmoor, and Rowie elected to rent Hawridge Rectory and to live in Witherpool. Hawkridge Rectory was in a very lovely spot, but right down in the valley wth the river just at the bottom of a field, and it was very damp there. Old Uncle Jekyll was a great friend of the famous sporting parson "Jack Russell" who used to marry couples in his "pink" coat and top boots, with a surplice over them & then was away …. after the stags!! Uncle Jekyll was a famous fisherman and there's a lovely story of him and an old friend who came to stay who was quite sure he could beat the rector at the fishing. So next day, Rector went "up" stream and friend went "down"; result Rector had a basketful and friend had 2 or 3. So after lunch Rector went "down" and friend "up" with the same sort of result. Next day they went out again different ways - the results the same & at lunch the friend said "Hell, I took the trouble to come down very early to see what flies were on your rod". "Did you?" said Uncle Jekyll. "You didn't think I was such a fool as to leave the flies I was using on the rod? I changed them all before I hung it up!" They used to hang up their fishing rods under the verandah which ran the length of the house.

Uncle Joe married an Aunt Amy and they had a daughter. After Uncle Joe's death, Amy and daughter lived in Italy and the latter married an Italian cavalry officer called Nardi, and she was therefore "Nardi Newman". They had 2 or 3 sons but she wasn't happy - (I fancy he wasn't true to her). I used to correspond with her & when he was ordered down to Eritrea (or whatever part of N. Africa was Italy's at that time), and she went with him and wrote to me from there & had a very lonely time as he had to be away nights at a time, and she had to sleep with a revolver beside her and keep off wild beasts - she died down there. Aunt Hen always had it that he "got rid" of her down there, - no-one knows. But the point is that we have cousins in Italy called Nardi and they would be about in their 60s now. I wonder which side they are on? Weird world! Here endeth the Family History!

Don't for a moment think of Lilian(?) as frightening. She's just a spark of vivid life enjoying everything. Prewar she used to make up parties of students and young folk and go off for a fortnight in the winter for the sports, to Switzerland etc. That is why I admire her so. Giving up at the moment, all that side of life to help her fellow creatures & she'll do it jolly well as she's capable and well balanced, with plenty of common sense. I expect she is thoroughly enjoying what she's doing. I can't tell you where she is, as not even her mother is allowed to know and she writes to her very often. I gather she is running a welfare club for the troops….. somewhere. She's about the size of Peg!! These small bodies seem to have a vast accumulation of energy on board!! I always think Peg is amazing at what she gets through. Are there no parks or gardens you could exercise in? And see a few flowering trees and shrubs; they are so lovely and refreshing in the spring; one pear tree on the terrace is in flower already. The chestnuts are in full leaf and all the elms etc and tinging(?). There is a darling blackbird that perches close to my bedroom window and I wake to hear his morning hymn and then there is silence for a time as goes to find breakfast for wifey and self; and then he starts again. I do love it so. I'm afraid I'm not an artist in any sense. I love most of the operas played on a good orchestra, but I don't care tuppence to see one and when they start singing and howling, I'm bored! I'm thrilled by music when played by orchestra, most of the Russian and Polish music fascinates me and Wagner does too, but this ultra modern stuff irritates me past endurance. It sounds to me - often - like a child pounding up and down the piano to make a noise - I loathe it! So that's that.

P.S. Quite an oversight leaving this side unused! I think you would have liked old Grandfather and he would have appreciated you. He was very proud of Eddie [Evelyn's eldest brother, Edwin Montague Browne Newman] and was very good to him. Mercifully Grandfather died about a month before Eddie was killed in the Sudan. It would have been a great blow to the old man. He was such a fine upright old figure always dressed in beautiful Cwad(?) cloth - black - with a fob, with his seals hanging. He had a big head, always wore a topper, rather at the back of his head. He was much respected and loved by all around him, townsfolk and country folk alike. I can see him now, walking up the isle of St John's and on one occasion I think the Harvest Festival, they had put a scrowl (sic) over the alter with 'sanctus sanctus sanctus' on it. This upset Grandfather completely, and he kept on uttering "Popery! Popery!" as he stalked along. Feelings ran high in those days!*

With much love. Your old Aunt Evie. No howls or thuds for some days. Can they have really stopped? They've swooped low over us or dropped H.E. [high explosives] in the grounds. But I never moved!"
* See note on Edwin Newman's page relating to the 'high church' movement.
The 1881 census shows "Emma Evelyn", living with her parents at Minster, Isle of Sheppy, in Kent. She was then 11 and her birthplace is given as Gibraltar.
---
Updated 10 Aug 2007: New photo added
Updated 11 Feb 2005: links to Joseph Jekyll's page added
Updated: 9 Feb 2005: 1881 census info added