Emma Matilda Newman (née Montague# Browne)
1841 - 1930
---
Relationship to me:
Great Grandmother
Gen -3

Emma at the wedding of her grandson
Harold on 29th June 1929

Born:
06 Jul 1841 in County Down, Ireland
Died:
1930
Age
86
Father:
Peter Rutledge Montague Browne
1796 - 1864
Mother:
Mary Jane Smythe
???? - ????
Brothers:
(elder) Andrew Smythe
1836 - 1916
William Henry Seymour
1839 - ????
Sisters:
(elder) Mary
1834 - ????
Belinda
1838 - ????
Married:
Walter Newman m. 1861
1836 - 1894
Children:
Edwin Montague Browne Newman
1861 - 1885
Walter Ernest Newman
1964 - 1947
Emma Evelyn Newman
1870 - 1950
# Note: I searched the Family Records Centre in Angel Islington, London, where I found entries (under both their names) for the marriage of Walter Newman to Emma Matilda Browne in the first quarter of 1861 in Plymouth (ref March 1861, vol 5b p. 407). The name "Montague" was not recorded. Possibly the name Matilda was a mis-transcription.
---
My father mentions Emma twice in his Reminiscences. Firstly he noted that the household at 55 Warwick Gardens "consisted of my parents, my grandmother, Emma (nee Montague Browne, 1841 to 1930, from Co. Down), my father's sister Evelyn (six years his junior, 1870 to1950), my nanny (Mary or Mamie Friend), and a cook and house-parlourmaid who changed from time to time. The servants worked in the basement and slept on the top floor next to my nursery, in which Mamie had a bed, adjacent to my father's dressing-room."
He concludes the story of his early childhood with the comment "Aline's arrival in 1907 ensured the parting of the ways for the inhabitants of 55 Warwick Gardens. In any case, as I was told later, the relationship between Lily and her in-laws had always been strained. .... My grandmother and aunt moved to a maisonette at 27 Philbeach Gardens (Kensington, London). The old lady died there in 1930 aged 86 having remained throughout physically fit but latterly losing her memory almost completely. She confused me with my father when I went to see her, and used to wander the streets in my aunt's absence with no lucid explanation as to where she had been, just 'Up the spout'."
The 1881 census shows Emma, her husband Walter and daughter Emma Evelyn, living at Minster, Isle of Sheppy, in Kent. Emma is shown as 39 years old and her birthplace is given as County Down, Ireland. Evelyn was then 11 and her birthplace is given as Gibraltar.
Note: Emma's brother Andrew and her sisters Mary and Belinda are mentioned in a letter dated March 1855 from a Geo. H. Young (see below). Andrew is described as having just been promoted to the rank of Captain, implying that he might have been at least 25 years old, or some 12 years older than Emma. However, given that the Crimean War was then in full swing, it is quite possible that Andrew was promoted at a younger age.
Emma was around 13 years old at the time this letter was written. It is transcribed as follows:
Postmark 23 Mar 1855

To Miss Emma Browne
Janeville
Clough
Killough
Co. Down (Ireland)

My Dear Emma

Although I know it is not considered right for young gentlemen to write to young ladies in this the 19th century, yet I take advantage of our being cousins to write a few lines with the Philapena(?) that I owe you, to congratulate you all on Andrew's promotion which I hope he may enjoy and soon exchange for his troop. I hope Captain Browne has quite got rid of his cold, and that Mary and Belinda are quite well. I heard of the visit the Infant made to Janeville and am glad he was sold. I am getting stronger every day and quite able for the duty here.

With kindest regards and best wishes to Captain Browne and your sisters. Believe me to be yours very sincerely Geo. H. Young.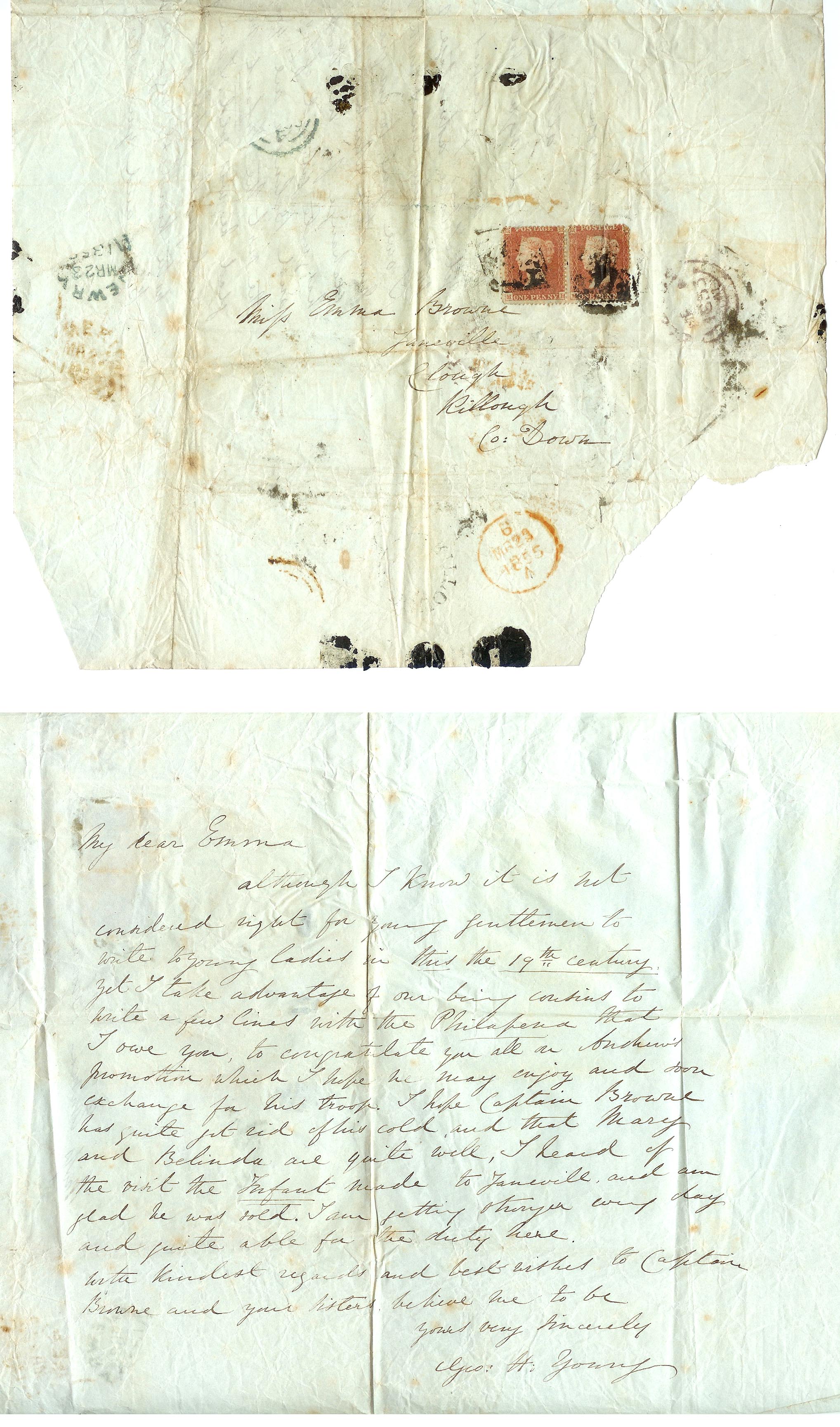 ---
Last updated: 26 Jan 2017 - parents' names added and birth year corrected based on information from Ron Walker 24 Oct 2016.
Updated: 23 Dec 2014 - transcript of letter added.
Updated: 2 Aug 2013 - reference to 1855 letter added.
Updated: 10 Aug 2007 - photos changed.
Updated: 22 July 2007 - photos added, minor text amendments.
Updated: 10 Feb 2005: 1881 census info added