Margaret Helena Newman (née Smith)
1907 - 1965
---
---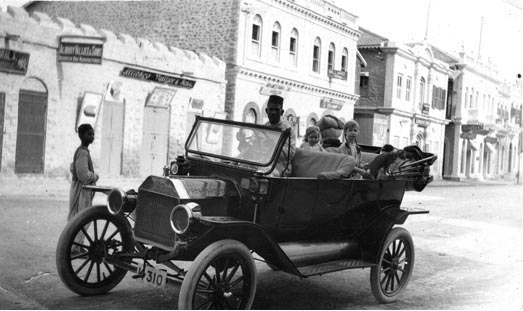 Outline her Life: Margaret (or "Peg" as she was known) was born in Karachi (then part of India) in early 1907. Her parents were (or became) quite wealthy to the extent that they owned their own car (the Model T photographed above) before the outbreak of WW1. Living in India, they could also afford a houseful of servants, so Margaret's early life was an easy one by the standards of the day..
Margaret was sent home to England in 1913 to attend a ladies' school in Eastbourne, staying with relatives during WW1 and seldom if ever seeing her parents during most of those years. Strangely (considering her mother's ambitions and academic achievements) Margaret's education was non-academic, concentrating instead on subjects that were considered suitable for eligable young ladies such as sewing, music, etiquette etc. This she deeply regretted in her later life, especially after she married an intellectual husband with whom she never felt able to engage as an equal in any meaningful discussion.
[It is interesting to note that Hill Brow School was located in Bolsover Road, Eastbourne during this period, close beside at least one ladies' school.]
Based on the evidence of a photo of her in Eastbourne in school uniform dated 1921 (see below) Margaret remained at school at least until that year, though presumably once the war was over she would have returned home to India for the summer holidays. Certainly it appears (from her photo collection) that she was in India with her parents in 1922 which must have been just before they returned to live in England. Her photos also include several undated ones of herself in Girl Guide uniform, including one titled "8th Sutton G.G" probably taken around 1925, by when her parents were living at Mylesdown in Sutton. At some stage during the 1920s, she spent time in France improving her French language skills and at a "finishing school" either in France or England.
In 1928, at the age of 21, Peg travelled to India to visit her half-brother "Dick" Richards who was serving in the army there, along with my father HEM Newman (Henry). This is how he and she met and (very quickly) fell in love - Henry (an intensely shy man then and always) told me that he fell head-over heels in love within a very short time after meeting her, and that had to consume a large quantity of alcohol to summon the courage to ask her to marry him! Shortly afterwards, she was out riding (she was a good horsewoman in those days), but fell and broke her arm so badly that she had to be sent back to England (by boat, of course) for the break to be rebroken and set properly. In fact it never did mend properly, and she lived the rest of her life with a slightly bent arm (hindering, amongst other things, her ability to play the piano).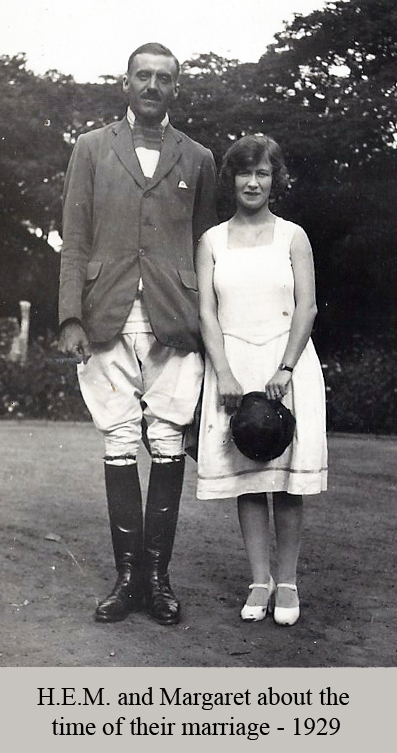 The couple returned home for the wedding which took place in Sutton on 29th June 1929 (for which Henry again had to sustain himself with "Dutch courage"). They honeymooned near Tor Cross in South Devon after which they returned to India together ... but only for 12 weeks because Henry's company commander had left, and his new commanding officer declined to give him the field company command that he'd been expecting. In preference to the desk job that was offered to him, he chose to return to England and a job in the Ordinance Survey.
Back in England, Henry was posted to CRE Welsh Area based at Bayston Hill in Shrewsbury where the couple lived for the next 12 months just south of the Ordinance Survey headquarters in Clermont Crescent. Their house had no running water, and my mother had to collect water for washing and drinking, from a standpipe (or a hand-pump) in the street - a very different lifestyle to the one she was brought up in.
My sister Jane was born at this time at her grandparents' house in Sutton. The birth nearly killed Margaret and that she was strongly advised not to risk having any more children. (I recall that the birth was complicated by appendicitis, but I don't remember the details).
Thereafter, the family moved to Edinburgh where they spent 2½ years living in rented accommodation, first in Dean Village before moving to a house at 10 Gordon Terrace owned by a family friend. It was here that they bought some pieces of second hand furniture with which I became familiar in later times - including a"green faced" grandfather clock. They also met the Harry Ware, a painter who was then teaching at Fettes College, who became a life-long friend.
In autumn 1933 the family moved to Southampton to a new unfurnished rented house in Bassett Close, which they named "Bilsdean" after a village south of Dunbar about 40 miles east of Edinburgh. (My father recycled the name when he built his last home in Brent Knoll). There they stayed until the end of 1935 when Henry's period of service with the Ordinance Survey closed.
In early 1936 Margaret accompanied Henry on his return to India, Jane and Nanny Ingram (who had been engaged to help with Jane) being left in the care of Gran Smith. The move to India was my father's choice notwithstanding warnings from colleagues that he would have done better for his career if he had stayed in the UK. The couple appear to have spent around 12 months in Bangalore, when in March 1937 Margaret travelled with Henry by troop train to Mari-Indus from where he travelled on to Wizeristan for a two-year posting. Margaret stayed on for a few months, living on a house boat until October 1937 when my father was permitted to spend two weeks with her. She then returned to England at the end of 1937.
In 1938 Henry returned to England for three months leave, travelling back to India by plane for the first time - stopping in Amsterdam, Athens and Alexandria - and perhaps other places too. By then Margaret was living Harman's Cross between Swanage and Corfe Castle with Jane and Nanny, which was considered safer than Southampton with war imminent.
In March 1939 my father returned to the UK once again on "furlough" - extended leave granted after 5 year's service - with 2 months at full pay and 6 months at half-pay. However the war intervened, and on September 3rd (the same day WW2 was declared) he sailed from Glasgow arriving back in Bombay in October.
Margaret and her sister Phil travelled to Llangurig in Wales to escape the bombing of the cities where they stayed until 1942, after which they moved to Dorset, living in Halstock near Yeovil. (I'm not sure if whether Phil went too, but certainly Margaret was accompanied by Jane and Nanny ). Henry returned there in 1943 to regain his health after his ordeals in Burma and extended recuperation in India. A thin man at the best of times, my mother often commented on how desperately thin he had become after his ordeals.
In August 1944, my sister Daphne was born in Salisbury hospital while Margaret and Henry were living at Halstock. Margaret subsequently moved to Ringwood when Henry was posted to Brussels (and subsequently Germany) in January 1945.
(The above is based on notes taken during a conversation with my father in 1987. They end in mid-sentence at this point, so I've had to rely on my own memory for the rest of Margaret's story).
After occasional home-leaves (during one of which, I was conceived) Henry finally returned from Germany in March 1946 at the invitation of Major General Geoffrey Cheetham, Director-General of the Ordnance Survey. He was posted to Chessington in Surrey, south of London, and my parents rented a house in nearby Ashtead. It was while living there that I was born in Epsom Hospital in August 1946.
It was often said that Margaret was very brave to have had two more children following the warning she was given after Jane's birth. She knew however, that Jane did not have long to live, so she and Henry made a calculated decision to risk starting a new family while they were still young enough to do so. Henry was 45 when I was born, and Margaret 39.
In 1949 Henry made a sudden decision to leave the army. He and Magaret considered the possibility of emigrating to New Zealand, but decided that they should remain in England to be close to their parents. Instead, they made arrangements to purchase Churchland Farm in Basin Bridge, north Somerset through an agent in London and with the financial support of Gran Smith. Margaret wasn't able to see the property before it was purchased and she received quite shocked when she saw it for the first time when she moved there in June of that year and discovered its state of disrepair. Gran Smith who had returned to England after her stint in India during the war, made it her home also, and it was there that I enjoyed a (mostly) idyllic childhood in the depths of country England.
My parents were still impecunious at the time (the army was not a well paid profession in those days, and my father missed out on a big retrenchment payout by resigning a few months too early. Thus Gran Smith had to pay for the house for them in return for being given accommodation in it - a happy enough arrangement from the point of view of us children, but there's no doubt it was a cause of some frustration for my father.
Margaret's 13 years at Churchland Farm were spent in almost endless toil. Not only did she have two young children to bring up, but she had to help out with the farm duties, do the majority of the cooking (three large cooked meals per day, plus cakes for afternoon tea), the housework, washing and ironing, sewing (making new clothes and repairing old), knitting and (not least) redecorating what was an incredibly old and run-down house and garden. Luckily she was blessed with her mother's boundless energy; I don't recall her ever resting or relaxing with nothing to do. I do however remember her reflecting on occasions as she plucked and gutted a chicken for Sunday lunch, how she had not been brought up to do such tasks, and how she'd had to learn to cope with life on a farm.
In 1958 Henry's mother died, leaving him with sufficient funds to repay the loan that Gran Smith had given him to purchase Churchland Farm, and sometime around this time, she went to live with Margaret's sister Phyl in Harborne, Birmingham. In 1962, Henry and Margaret decided to retire, selling Churchland Farm and buying the equally large and somewhat run-down Park Farm in the village of Brent Knoll, some 4 miles away. Whilst the garden was smaller, and there was no more farming duties, redecoration of the house became Margaret's principle occupation for the next two years.
Unfortunately she did not have long to enjoy the fruits of her labour. In early 1965, after ignoring for too long a chronic stomach pain, she was diagnosed as suffering from cancer of the colon. Characteristically, she defied the doctors who gave her three or four months to live, and survived for most of the year, passing away peacefully on Christmas Day 1965, achieving her desire to spend one last Christmas with the family. While eating Christmas lunch with the Wheelers from across the road, my father and I went upstairs to check on Margaret's condition and either by chance or at her choice, we witnessed her life slip quietly away as she slept. She was just 58 years old.
Margaret's body was cremated in Weston Super Mare and her ashes placed at an unmarked spot in the cemetry.
---
Photos: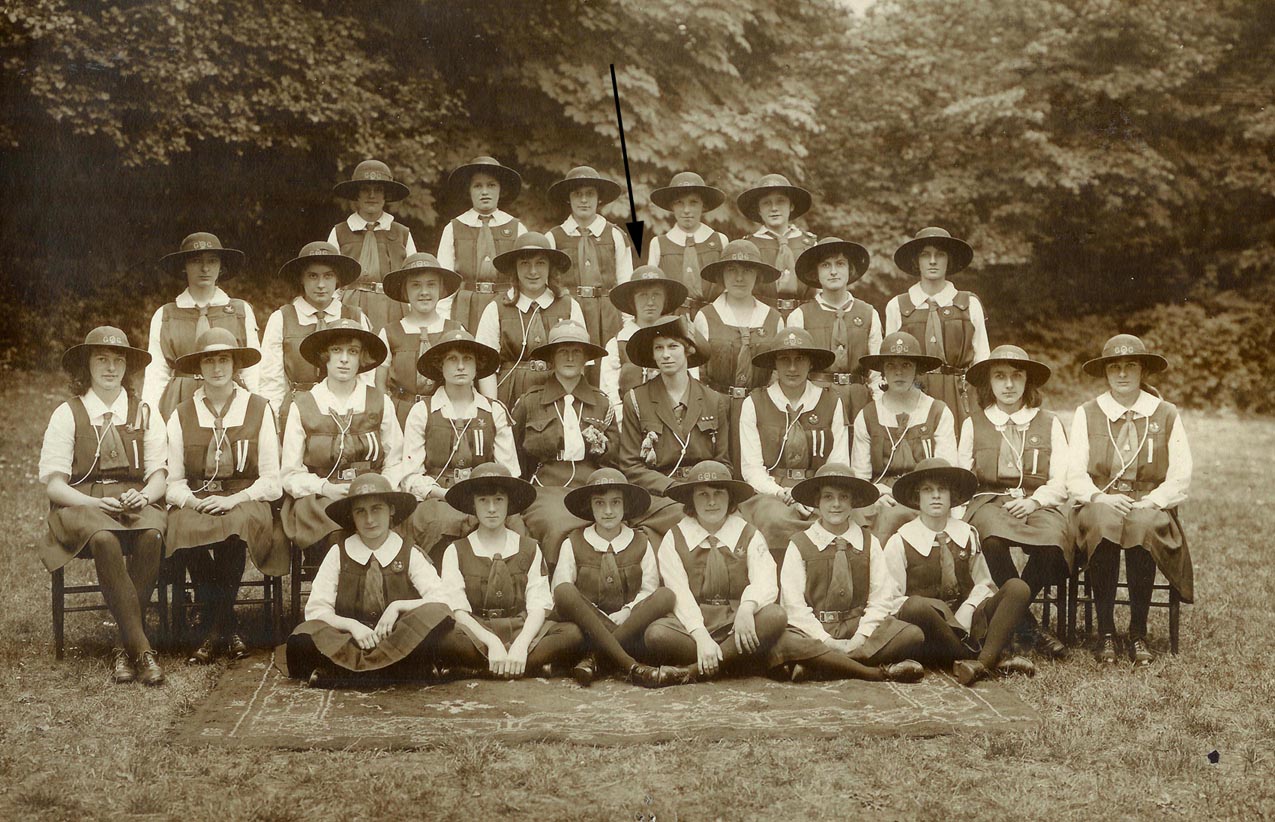 Girl Guide troup - c. 1918/9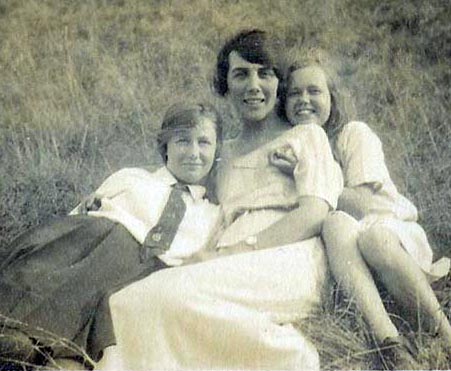 1921 Eastbourne - aged 14. Sister Phyl at right
---
Last Updated: Feb 2011