Sir Hugh Wyndham
1603 - 1663
---
Relationship to me:
unrelated

Born
1603
Died
1663
Age
60
Father:
Edmund Wyndham
???? - ????
Mother:
Margaret Chamberlayne or Christabella
Brothers:
Sisters:
Married:
Mary Alanson
m. ????
Children:
Dinah Wyndham
1635 - ????
Sarah Wyndham
Rachel Wyndham
---
Gay Brennan kindly provided update information about Sir Hugh, the most important of which was to differentiate between Sir Hugh Windham, father of Dinah and Sir Hugh Windham the judge whose life and portrait feature in Wikipedia's pages. Either way, she has established that the Wyndhams are not ancestors of the Newmans as used to be thought
Gay went on to explain that:
Sir Hugh Wyndham of Pilsdon was indeed the person who was involved with the escape of Charles II after the Battle of Worcester (see below), but he was a merchant in the City of London, not a judge. He died in 1663 (not 1684) at which time he had four daughters still living who were:

Sarah Wyndham (1619- )
Martha Wyndham (1622- )
Priscilla Wyndham (1626-1691)
Rachel Wyndham (1633-1678)

Sir Hugh Wyndham's death is confirmed in his entry in Cockayne's Complete Baronetage: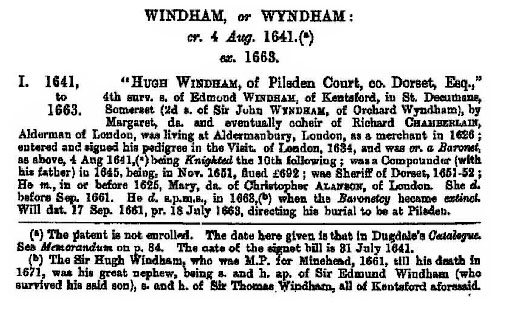 Earlier notes from Jerry Gandolfo were as follows:
Sir Hugh Wyndham: Created Baronnet 4 Aug 1641, an ardent Royalist, extinct about 1663
Tony Newman list as: Sir Hugh Mompesson, of Pitsdown, Dorset, children: Eleanor Windham
Burke's, Extinct and Dormant Baronetcies of England, gives the name as Hugh Wyndham, esq. of Pilsden Court
Maximilian Genealogy Master Database 2000 [http://www.peterwestern.f9.co.uk/maximilia/pafg387.htm]
list Sarah Wyndham; and Rachel Wyndham as only children.
Sir Hugh Wyndham and Escape of Charles II after the Battle of Worcester: The Prince's pursuers first came to the house of the Royalist judge, Sir Hugh Wyndham, at Pilsden thinking he was hiding there. As Sir Hugh fumed and raged in the Hall they proceeded to ransacked it in their search for the prince. Intelligence was at fault, the prince being at the Manor house of Sir Hugh's nephew, Colonel Francis Wyndham [son of Sir Thomas Wyndham], at Trent. Prince Charles had arrived at Trent, disguised as the servant of Jane Lane. The Prince's hiding place off Lady Wyndham's room is still preserved. It is said that Charles became petulant when the ringing of the church bells disturbed him, and even more angry when he told the villagers had rung them because, mistakenly, they had thought he had been captured. On September 22nd he set out for Charmouth and a promised boat that would take him to France. [http://www.thedorsetpage.com/history/Flight_of_Charles/flight_of_charles.htm]. See also excerpts from Charles Spencer's "To Catch a King" below.
Sources: Hand-written notes from an unknown source passed down from Harold Ernest Montague Newman
Tony Newman: shipshaper@hotmail.com
Tim Sandberg: tsandberg50@hotmail.com [The Sandberg and Floyer Genealogy Site]
Website: http://www.peterwestern.f9.co.uk/maximilia/pafg388.htm (omits Dinah)
Maximilian Genealogy Master Database 2000 [http://www.peterwestern.f9.co.uk/maximilia/pafg387.htm]
According to David Garway-Heath (22nd May 2012), "Sir Hugh Wyndham names 3 children of "his daughter Monpesson" in his Will (written in 1661): Dyna, Mary and Martha".
---
Excerpts from Earl Charles Spencer's excellent book "To Catch a King" relating to Sir Hugh Wyndham:
From pages 171 and 172:
Charles ... decided to head for Trent House, four miles north-west of Sherborne in Dorset. It was the new home of an old acquaintance, Francis Wyndham, and his wife Anne. She was from the wealthy Gerrard family, and they had been married five years. The Wyndhams had moved to Trent earlier in 1651, having amicably split the inheritance of four Dorset estates with Anne's sister and co-heir.
The Wyndhams were part of a strong Royalist network, connected by marriage and blood. Francis was a brother-in-law of John Winter, with whom Wilmot had so recently been staying in Gloucestershire. Anne's sister was married to Bullen Reymes, a Royalist infantry colonel who had fought in the south-west on Charles I's behalf, and who had been imprisoned in Taunton Castle the previous year because of his continued loyalty to the Crown. Francis's eldest brother, Sir Edmund, had led the defence of Bridgwater Castle in the summer of 1645, while his feisty sister-in-law Christabella had been wet-nurse to Charles as a baby, governess to him as a boy, and his first lover as a youth. It was she who, with bared breast, had taken a potshot at Cromwell shortly before Bridgwater fell to the New Model Army. To complete the bonds of loyalty to the Crown, Edmund and Christabella's son, Sir Hugh Wyndham, was a Cavalier colonel known to Charles since childhood.
Francis Wyndham's record of loyalty to the Crown was impressive in its own right. He had served under Charles I as a colonel from 1643, when he had been made governor of Dunster Castle, near Minehead in Somerset. Charles had briefly stayed there with Wyndham in May1645. Four months later, when the Royalist military cause was beyond repair, Wyndham and his garrison were holed up in a siege. So stubborn was their resistance that Colonel Robert Blake, the Parliamentary commander, ordered Wyndham's mother to be placed directly in his line of fire. Blake's sappers had failed to bring about Dunster Castle's surrender with their subterranean explosions, but Blake hoped the threat of his mother's imminent death would persuade the garrison commander to yield.
But Blake had failed to take into account Elizabeth Wyndham's courage. She was defiant in the face of death, urging her son to do his duty and fight on for the king, whatever her fate. Impressed by such bravery, Blake spared her. Dunster Castle eventually fell after 16o days of defiance, Francis Wyndham being allowed to surrender on generous terms. It was one of the last Royalist strongholds to succumb to the inevitable.
The circle entrusted with the king's safety remained necessarily tight, as the search for him was still intense. When the king had briefly stayed as Francis Wyndham's guest six years earlier, he had done so as an honoured and feted prince. Now he was attempting to cross country thickly infested with the enemy, his status that of the most hunted man in the country.
From pages 201-2:
..... There was nothing for it but to return to Trent House, Francis Wyndham's home. Charles set off again, Juliana Coningsby behind him, with time to wonder what might have been, with just a modicum of good luck, and to worry that his best and perhaps only chance of freedom had just passed him by.
It proved extremely fortunate that Charles had kept on the move, because a quarter of an hour after he and his companions had left Bridport, Captain Macy and his cavalry troop rode into the town. They were still hunting for the suspicious group with those horseshoes with the tell-tale Worcester markings. Macy made enquiries at the George inn, and was told that guests answering his description had set off down the road to London. The Parliamentarians charged off in pursuit, not stopping till they reached Dorchester, fifteen miles away.
It is possible that this was the point at which Ellesdon gave in to the temptation of the huge reward on Charles's head. He seems to have set off from Lyme Regis after Macy's posse had departed. Not far out of town he came across a man he knew, Thomas Taylor, and said to him, 'Now, Mr Taylor, there is a £1,000 promised for anyone that can discover the King.' Ellesdon made it clear that he knew where the king might be found. But Taylor later swore that he dismissed the suggestion with disgust: 'I would not do it if it were to gain the World, he said, before riding on.
Undeterred, Ellesdon appears to have carried on alone in pursuit of the king and the reward. He rode to Pilsdon House, the home of Sir Hugh Wyndham, which was five miles from Lyme Regis. Sir Hugh was Francis Wyndham's uncle, and Ellesdon was convinced that this was where the king would have been taken to hide. He said as much to Sir Hugh, who was furious at the impertinence of his uninvited guest, and sent him swiftly on his way.
Soon after that, perhaps after receiving a tip-off from Ellesdon, Captain Macy appeared at Sir Hugh's house with his troopers. They were no longer merely on the trail of suspected Royalist fugitives, but now openly declared that they were there to arrest Charles Stuart. Excited at the prospect of catching such a uniquely valuable prize, they roughly searched every room of the house, local tradition recording: "They burst in upon the astonished family with some heat, and commenced their blundering proceedings by declaring that one of the young ladies of the house was Charles Stuart in disguise. When this error had been corrected, they placed the old baronet, his lady, his daughters, his manservants and his maid-servants in the hall under guard, while they set to work to search every cupboard and loft in the house ... The indignant maids watched the soldiers ride sulkily away, while the young ladies mourned over the dainty gowns and laces which had been tumbled out of any wardrobe that could shelter Charles Stuart." But Charles was already some distance away.
---
Note: Gay Brennan has established that there must have been three Sir Hugh Wyndhams who were contemporaries. The second Sir Hugh Wyndham, was an eminent judge, who lived from 1603 to 1684 and who earned his own Wikipedia page. The following paragraphs (supplied by Jerry Gandolfo, believing he was a Newman ancestor) in fact relate to Sir Hugh the judge:
Hugh Wyndham's Monument : In the far north, where Somerset and Wiltshire jostle with Dorset for the rich farmland of the headwaters of the Stour, is the village of Silton. It's a fairly ordinary place … However, the village church of St. Nicholas houses a memorial to one, Sir Hugh Wyndham, that is far from ordinary. The huge edifice is by John Nost of Tring and dates from 1692. Nost was one of the most renowned sculptors of his day and sculpted the Digby monument in Sherborne Abbey. As for Sir Hugh Wyndham, he was Justice of the Common Pleas during the Commonwealth and was cute enough to keep the job under Charles II. Sir Hugh's memorial is melodramatic if you're feeling charitable, or ostentatious and pompous if you're not - however, there can be no argument about its impact: the memorial dominates its surroundings to the point where you find yourself wondering about the ego of the individual who commissioned it - especially when it dawns on you that the portentous figure standing between the barley twist columns is the great man and the two weeping figures at this feet are those of his wives who predeceased him. Having said all that, the memorial is a superb example of its kind and probably says more about the aesthetics of the period rather than the personality of the individual who had the thing produced - you hope so, if only for the sake of his two wives. [http://www.thedorsetpage.com/locations/Place/S130.htm]

Portrait of Sir Hugh Wyndham: Ritratto of Sir Hugh Wyndham: 1670-1680, oil on burlap, cm 125,5x102. Of an aristocratic family, after having studied at Oxford Sir Hugh (1603-1684) undertook a career in magistracy, exceeding with alternate fortunes the years of the civil war, until the nomination to judge in 1660 and baron of the "Exchecquer" in 1670. It appears here in a sontuoso ritratto official in judge garments exactly: the clear painting of Wright picks with puntiglio every detail, from the collar inamidato to the gloves in skin rich embroiders to you, but it knows also to render the nature tests and it does not alter of the personage, than familiar window opened on the landscape is felt sorry of one.
[http://www.accademiacarrara.bergamo.it/iniziat/Rau/visita/wjrwynd0.html]
According to Gay's researches, the third Sir Hugh Wyndham of Kentsford lived from 1624 - 1671, and was the son of the feisty Christabella (née Pyne) who featured so prominently in the pages of Charles Spencer's book copied above. Sir Hugh had a daughter called Christabella who married Henry Waldron, nephew of Florence Waldron who married Thomas Mompesson. They were parents of Eleanor Mompesson who married Francis Holles Newman.
---
Page updated 12 Oct 2020
with information from Gay Brennan and excerpts from Charles Spencer's book "To Catch a King"
Page updated 25 May 2012 with note from David Garway-Heath
Page created 25 July 2002