Clara Newman (née Jekyll)
c.1859 - 1930
---
---
The photo at right shows Clara with her three children "Dick, Frank and Ethel" (as written in my father's handwriting).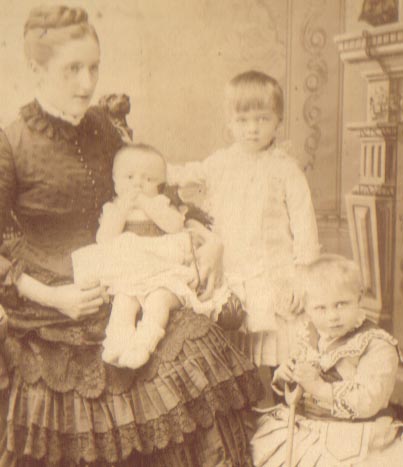 Notes: (copied from Charles Newman's page)
The 1881 census shows Charles G Newman, 39, "Solicitor B A", living at 20 Mountsey, Lee, London, with his wife Clara (age 22 born in Hawkridge, Som), daughter Ethel (1 month), Marian Jekyll mother-in-law (49 born in Jersey Channel Islands) and Annie Jekyll sister-in-law (20 born in Hawkridge, Som). There is no mention of Richard, which is odd because the family photo (right) shows him alive and well some months after his brother Charles was born in 1884. There is little doubt that Clara Jekyll was a cousin of Charles, since one of the anonymous sources that came from my father states that Charles "was born on 5 Nov 1841 and married his cousin Clara Jekyll at Hawkridge".
The 1891 census shows Clara visiting her brother-in-law Rowland Newman at the Rectory, Hawkridge accompanied by Charles Francis Newman aged 6, born at Bexley Heath in Kent. Sandra Spurr reports (see email dated 12 Jun 2009) that Ethel aged 10 and Richard aged 8 were visiting his aunt and uncle Henry and Henrietta Paynter in far-away Alnwick in Northumberland.
In the 1901 census, Clara aged 42 is recorded as a boarder living off her own means at Ascott Villa in Sheringham, Norfolk along with her son Richard aged 18. Her husband Charles Octavius was at home alone in Kent, so perhaps the couple had separated.
According to Sandra Spurr (see email dated 16 Apr 2009) Ethel married very late at 50 and went to live in Australia, where she died shortly after arrival around 1934.
See separate page for Charles Francis Newman.
---
Last Updated: 16th Apr 2009 - information from Sandy Spurr added.

Previous Update: 3 Jun 2008 - photo of Ethel and family added
Page created 20 Feb 2005