Hilda Patricia Newman (née Feaver)
1912 - 2001
---
Relationship to me:
Step-Mother
Gen -1




At Brent Knoll, August 1997;
kindly sent to me by Mike Bown

Born:
5th May 1912 in Mattawa, North Ontario, Canada (170 m N of Toronto)1
Died:
25th June 2001
Harpenden
Age
89
Father:
William Feaver
15 Feb 19151
Mother:
Hilda May Hartley, from Leeds, b 1877, d 11 May 19751
Brothers:
None
Sisters:
(elder) Isobel
b. 19081
Sally
b. 19111
(younger) Winona
b. 19131
Married:
(1) George Richards m. Dec 1937
1907 - 19801
(2) Harold Ernest Montague Newman m. 1982
1900 - 1991
Children:
George Richards
b. 4th Dec 1938 in Simla1
Sarah Richards (George's twin)
b. 4th Dec 1938 in Simla1
Timothy Richards
b. 4th Dec 1946 in Walmer, Kent1
---
Patricia was born in Canada. Her father, William Feaver, was a railway engineer who worked on the pioneering transnational railways in South Africa and Canada. He was working for the Canadian Pacific Railway when he was killed in an explosives accident in 1915, when Patricia was three. Her mother continued to live in Canada for the next six years, but during that time, she became seriously ill with pleuricy, and being unable to cope with four young children on her own, she sent Patricia (now 6 years old) and Sally back to England to live with their aunt Sarah (William's younger sister, "Sally" Luff) in Evercreech, Somerset. Patricia (Patty as she was called then) and her sister Sally lived there for three years spending her time in Evercreech in the company of a number of relations including her cousin Mary Feaver (William's brother's daughter - see Note 2 below), and Mary's mother's family, the Richards.
Patricia's mother and sisters returned to England in 1922 or 1923 and the reunited family went to live in Dover, where Patricia went to the Girl's High School. Schooling was followed by a secretarial course and work as a secretary before she decided to become a nurse and she did her nursing training and subsequent nursing at the London Hospital.
When she was 26 she decided she wanted to go abroad to become a missionary, but was dissuaded from doing this by Capt. George (Geo) Richards who had fallen in love with her and proposed marriage to her. George was Mary Feaver's first cousin and one of the group of children that Patricia had grown up with in Evercreech, and (she told me) she only agreed to marry him after some deliberation, because until that moment, she'd always thought of him as an elder brother! Anyway, she accepted, and they married at in December 1937 in Evercreech.
As an army officer's wife, Patricia began a life of frequent postings, beginning with a posting to India in 1938, where she gave birth to her first children - twins George and Sarah. For most of the war, George served in North Africa, but it was during a posting to Bangalore in 1940 that Patricia met Capt Henry Newman R.E. who became her second husband in later life.
After the war, George and Patricia returned to England where in 1946 she bore him their third child Timothy, at Walmer in Kent, who shares the same birthday as the older twins. From 1946 to 1962 Patricia accompanied Geo on several postings within England and abroad including Malaya and Washington D.C. (their favourite posting). The final posting was to MEXE in Christchurch, by which time Geo had attained the rank of Brigadier, and was No 2 to Sir Donald Bailey of Bailey Bridge fame. During their army life of 24 years, they lived in over 50 houses!
In 1962 Geo and Patricia settled in Abbots Leigh in Somerset, near Bristol close to Clifton College where Timothy went to school as a day pupil. After retirement, George became a director of a civil engineering firm and then a school bursar, while Patricia became involved in church and village activities, while creating a lovely garden at their home. Increasingly her time was spent looking after Geo who had to have a leg amputated. He died in January 1980.
My own memories of Patricia begin in the 1950s when I was perhaps 6 or 7 years old when she and Geo returned from America. I remember they brought with them an immense Chevrolet car which impressed me no end. Thereafter I have a clearer recollection of staying with Patricia in Bournemouth in 1958 (or was it later?) when I travelled there via the old Somerset & Dorset Railway with the inevitable result that I arriving black in the face from hanging my head out of the window all the way (train spotting!). I will never forget the chagrin of being scolded by Patricia on the doorstep of her house with the question "what would your mother say if she saw you looking like that?" and being dumped straight into a bath.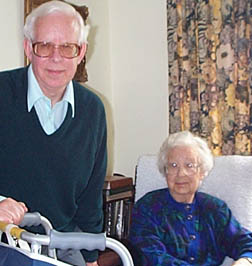 Paticia moved back into my life in 1982, some two years after Geo's death, when my father offered to share his home in Brent Knoll with her. She once again found herself faced with a marriage proposal that she hadn't expected and once again she took some time to come to a decision. Luckily for my father, she accepted the offer, though I remain unconvinced that it was altogether the best decision for herself. Anyway, for better or worse, they married in 1982 and Patricia did a wonderful job looking after my father in his later years and I will always be grateful to her for this. Besides that, she was a wonderful stepmother who I became very fond of over the years and whose memory I hold dear. She was one of the most stoic and uncomplaining people that I have ever met.
Patricia lived on in Brent Knoll for seven years after my father's death in 1991, moving from his old home "Bilsdean", to a small cottage, "Hillside" in Brent Close. Tragically she suffered a debilitating stroke in 1998 from which she never fully recovered. After recuperating in Weston-Super-Mare hospital, she was moved to Harpenden to live with her eldest son George and his wife Heather, who looked after her until her death in 2001.
(1) Information kindly provided to me by Michael Bown, a Feaver relation. Other information provided to me by Patricia's eldest son, George Richards.
(2) It is sad to record the death of Patricia's cousin Mary Feaver, on 12th October 2002 at the age of 92.
---
Last Updated: 28th April 2003