Dan Smith
1878 - 1934
---
Relationship to me:
Grandfather
Gen -2


Dan Smith in later life
See more photos at bottom of page

Born:
13 Apr 1878, Bonar, Sutherland, Scotland
Died:
26 Jan 1934, Sutton (SW London)
Age
55
Father:
Alexander Smith (see notes below)
17/5/1839 - 24/2/1878
Mother:
Margaret née Young (see notes below)
b. c1844 - 5/6/1904
Brothers:
James

b. 13/7/1868 Fortrose

Simon Young

b. 25/4/1871 Old Machar, Aberdeen

Alexander
b. 13/4/1873 Old Machar, Aberdeen
John
b. 1/11/1875 Bonar Bridge
Sisters:
None
Married:
Mary Helena Nelson Richards (née Wake) m. 11th Oct 1905
1874 - 1969
Children:
Margaret Helena (m. Newman)
1907 - 1965
Phyllis (m. Evans)
1910 - 1986
---
Dan Smith:
According to his birth certificate, Daniel Smith was born on 13 Apr 1878 in the little town of Bonar Bridge, Sutherland, in the far north of Scotland some 80 miles south of John o'Groats (see map below). His father Alexander had worked there as a fisherman in the early 1870s and his mother Margaret appears to have moved there with her growing family around 1875 since his brother John had been born there in November of that year. [He was not the only Daniel Smith born in the area at the time - see note below.]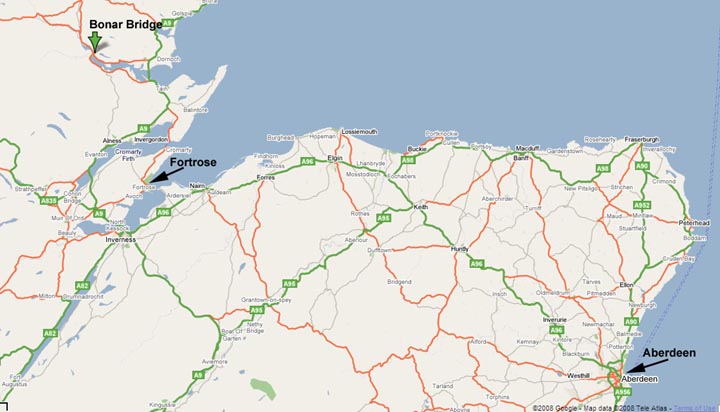 Map of Scotland showing Bonar Bridge where Dan Smith was born, Fortose where he grew up, and Aberdeen where his father's family came from.
Rosemarkie, where his mother's family came from is a mile north of Fortrose on the penninsular called the "Black Isle".
Two months before his birth, Dan's father Alexander, who was then the manager of a fishing company in Berwick-on-Tweed, drowned in Tweedmouth Dock (Berwick) in circumstances as yet undiscovered. Shortly afterwards (according to Alexander's estate record) Dan's mother Margaret moved south to live in Fortrose in the Black Isle north of Inverness (see map), to be close to her own family.
Daniel Smith grew up in Fortrose where his mother leased in a small pub called the Union Tavern where she earned a living as innkeeper. According to the 1881 census, he had four elder brothers, the oldest of whom, James, was 10 at the time of Dan's birth. All were living in the Union Tavern in Fortrose (photo below).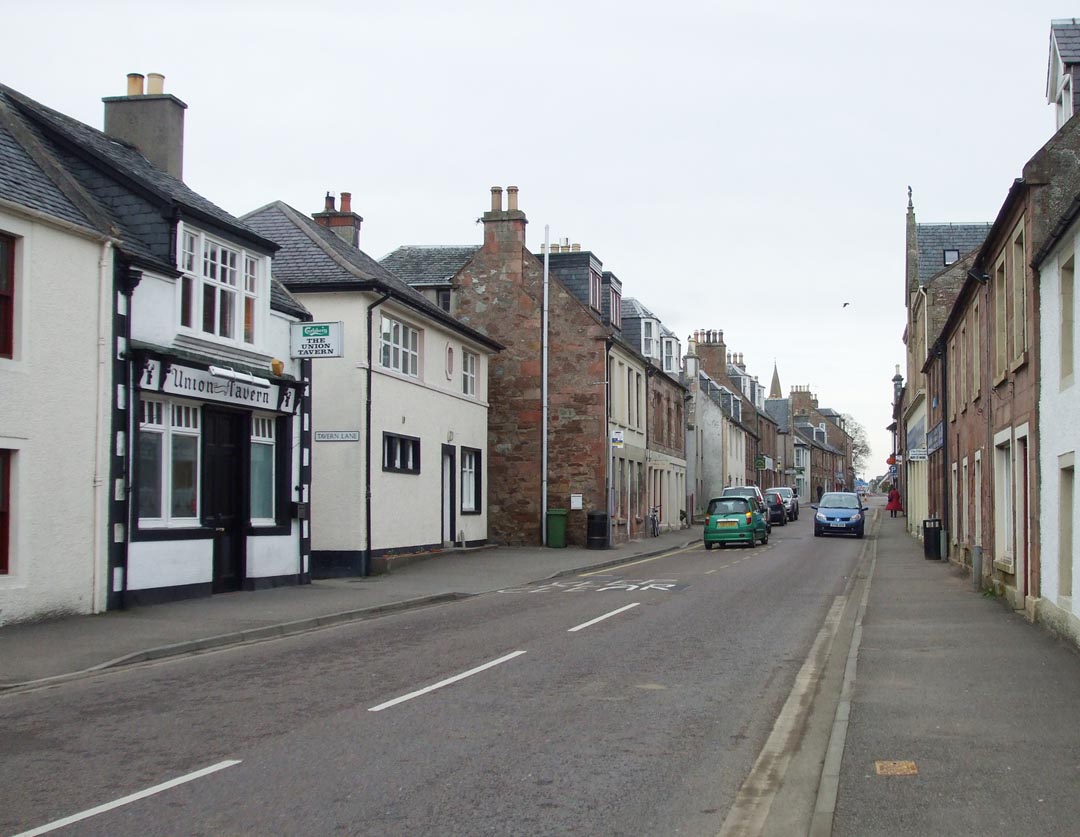 Union Tavern, High Street, Fortrose, where Dan Smith grew up.
There seems to be no mention of Daniel or his family in the 1891 census, however valuation rolls for both 1885 and 1895 show that Margaret continued to lease the Union Inn over this period. Indeed, Dan was still living there in 1900 when he first registered as a pharmacist with the Royal Pharmaceutical Society (see note below).
Dan's mother died in Rosemarkie (next door to Fortrose) in June 1904. It's probable that her death and the inheritance she left him gave Dan the freedom to sail off to India in 1904 or early in 1905. According to their marriage certificate, in October of 1905 he married Mary Helena Nelson Richards, in the Church of Scotland kirk in Quetta, in what was then the Northwest Frontier province of India (now Pakistan). Just what they were doing in Quetta remains a mystery because Mary was at the time headmistress at a girls' school in the Nilgiris in the far south of India, and Dan either had, or was about to, establish a pharmacy business in Karachi.
The business he established in partnership with a Scottish compatriot by the name of William John Fraser Campbell was a pharmacy firm by the name of Smith & Campbell (see separate page). The partners ran premises at each end of the main north-south railway line: Dan managing a shop in Karachi while William Campbell managed premises in Lahore. Their main business seems to have been the manufacture and sale of ice to rail passengers, the ice being used to cool their carriage compartments.
According to his great-granddaughter Nicola Gapp, William Campbell was almost the same age as Dan (b. 1879) and had a very similar background, his father having been a farmer in Nairn directly across the Moray Firth from Fortrose. It therefore seems likely that the pair knew each other (perhaps they met in pharmacy classes) and planned their venture to India together. Like Dan, William also met his wife in Quetta, where they married in 1909 (four years later than Dan). His wife was also a teacher and also something of a "tartar". William (like Dan) seems to have been a rather gentle soul. Unlike Dan, William remained for the rest of his life in India, carrying on the business until his death in 1943. He is buried in Lahore.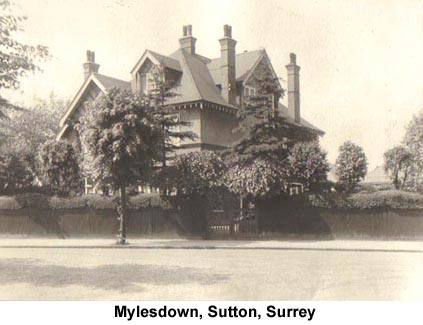 Dan, on the other hand, brought his wife and family back to England in 1921, settling in Sutton, Surrey, where he bought a large house named "Mylesdown" at 44 Mayfield Road, Sutton, Surrey. He must have become a wealthy man, but according to his wife (my grandmother) he was something of a gambler and a drinker. His daughter Margaret, on the other hand,remembered Dan as an easy-going father to whom she would run for protection from, or to appeal against the rulings of, her overly strict mother.
When I was a child, Helena (Dan's wife) used to tell me how he had lost his money and how she had had to protect her own savings and in doing so had learned how to invest them in her own share portfolio. Her shares in companies such as Marks and Spencer and Woolworths (presumably bought after the 1929 stockmarket crash) brought her enough wealth to be able to live independently for the next 40 years.
Whether Dan deserved the opprobrium that Helena cast on him remains uncertain. She was a strong-willed lady with a headmistress's temperament who expected high standards of herself and those around her. It's therefore possible that even modest alcohol consumption would have attracted her criticism, and equally possible that his "gambling" amounted to no more that following the herd by investing in the rising stock-market that crashed spectacularly in 1929. Also possible is that he turned to drink to deaden the pain of the financial losses that he suffered.
Anyway, he was not such a gambler that he died penniless. The probate certificate attached to his Will shows that the gross value of his estate was £11,732 - equivalent to over half a million pounds in 2010 values.
Dan died of lobar pneumonia on 26 Jan 1934 in his house at Mylesdown (see his death certificate). He was only 55. Only his step-son George Richards is recorded as being present at his death. He is buried in Sutton. In his Will, Dan left his estate to his wife Mary Helena Nelson Smith, save for two bequests - one to a cousin Louisa Whiting of £150 and the other to Denis Smith of 49 Seward Road, Hanwell of £100. It is not known whether Denis Smith was a relation, but it's possible that he could have been a nephew - a son of one of Dan's elder brothers.
---
Two other Dan Smiths were born in (or living in) the Ross and Cromarty area at the time of the 1881 census: one (aged 2) was living in Rosemount Farm, Tain, and the other (aged 6) was living in Stornaway on the Isle of Lewis.
Confirmation that my grandfather Dan Smith came from Fortrose came from the Royal Pharmaceutical Society who wrote to me in Oct 2007 to say: "Daniel Smith passed the minor examination and registered as a Chemist and Druggist on 18th April 1900, certificate number 13307. His address on registration is given as 18 High Street, Fortrose. He remains at this address until his name is removed from the register for non-payment of fees in 1906 which is not surprising as by then he had moved to India. His name does not appear again on the register so it would seem that he didn't return to work as a pharmacist on his return to England. No obituaries have been found in either the Pharmaceutical Journal or the Chemist & Druggist".
---
Photos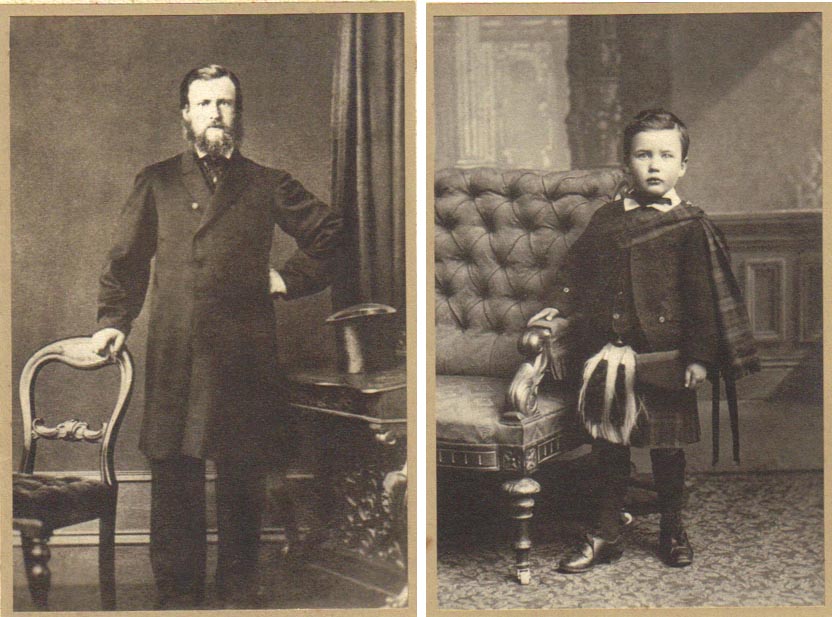 The two photos (above) are described in my mother's handwriting as being of Dan Smith and his father.
I originally assumed that they both taken at the same time, however since Dan's father died two months before Dan's birth, this could not have been the case.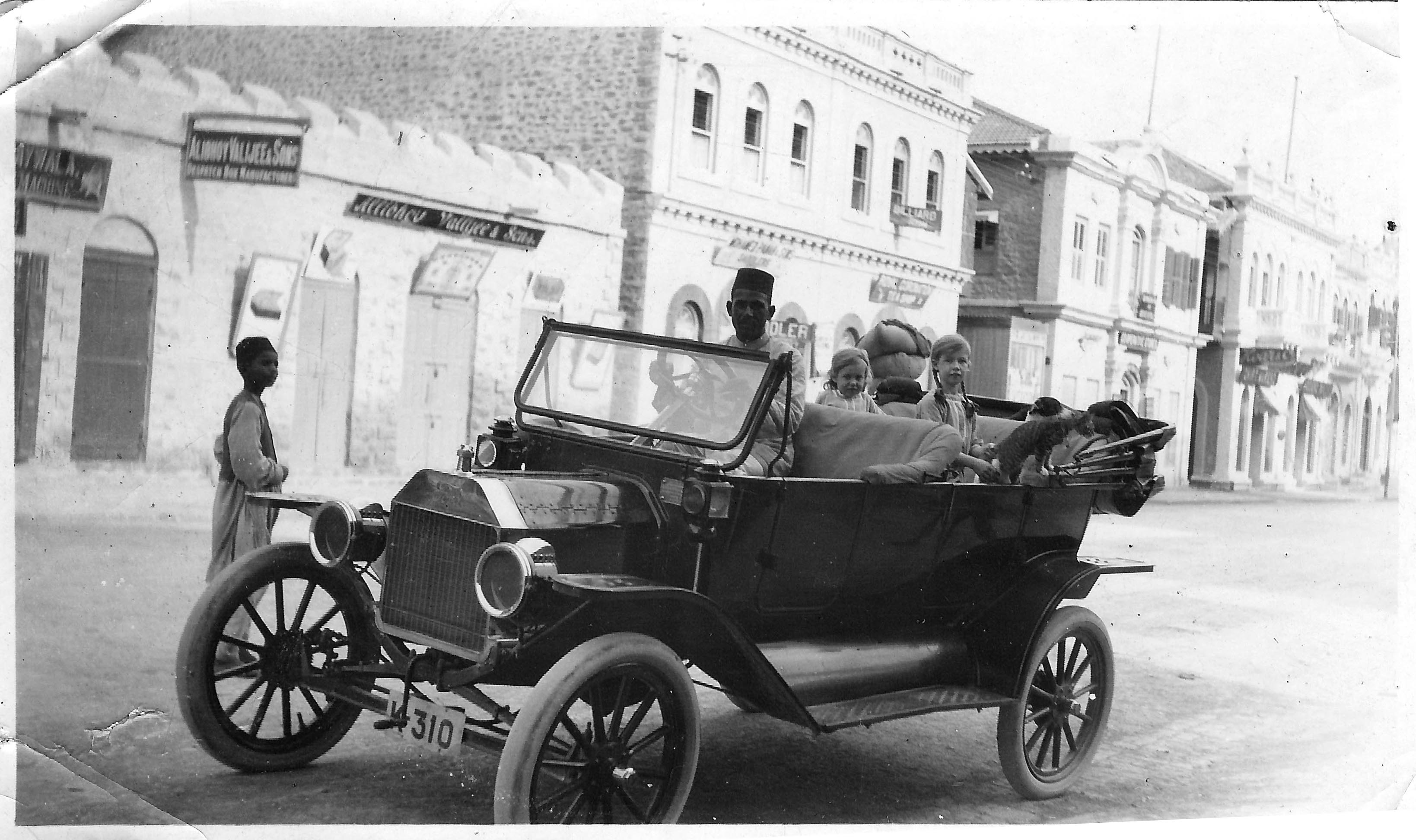 This photo shows my mother (Peg) (rear right) and her sister (Phyl) (rear left) sitting in the Smith family's first car.
On the back of the photo is written (in my mother's hand): "1st car 1914 - Tin Lizzie taken in Elphinstone Street, Karachi".
It is probable that Dan Smith's pharmacy was located in this street - see separate page.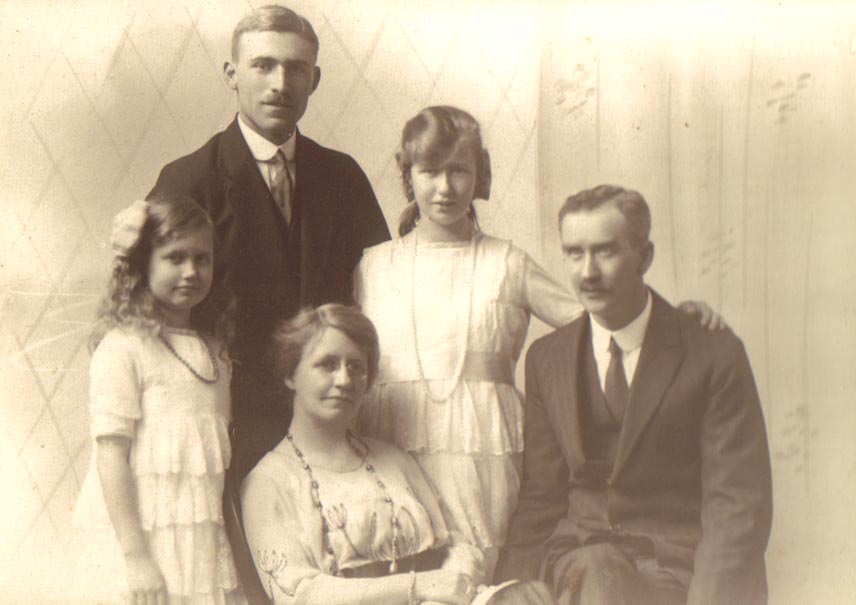 With his family c.1920 - (step-son) Dick and Margaret behind; Phil and Mary Helena Nelson in front.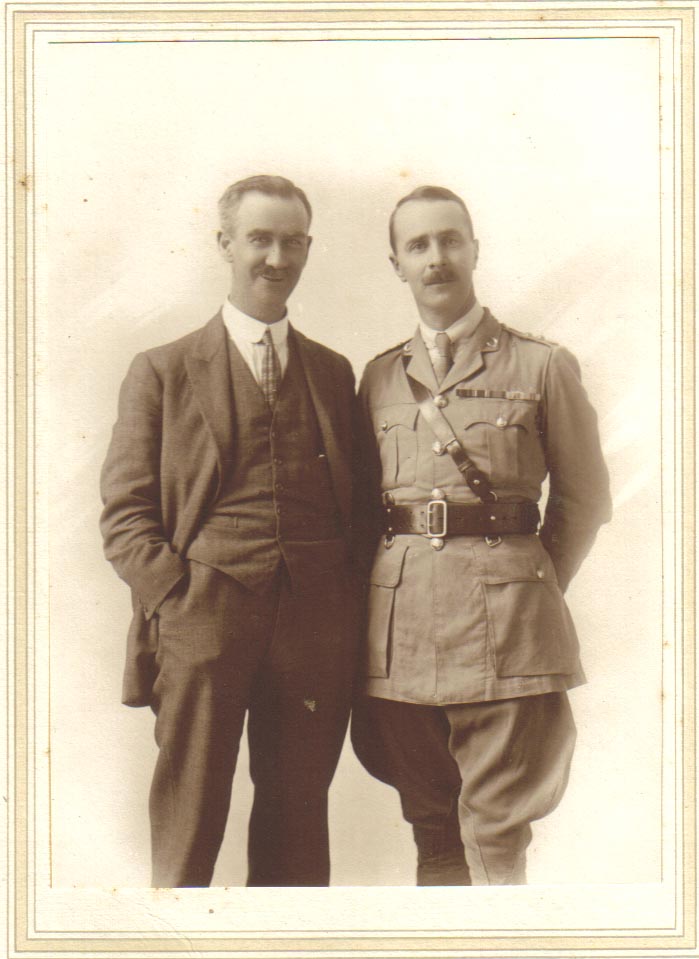 With an unidentified military friend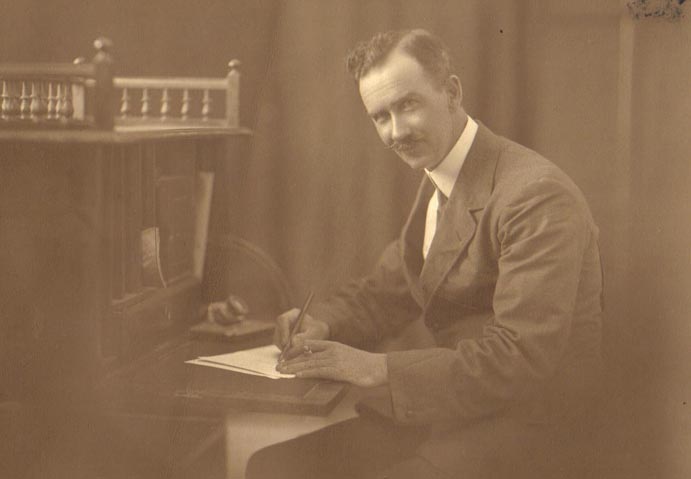 Undated photograph, presumably taken at home in Sutton in the early 1920s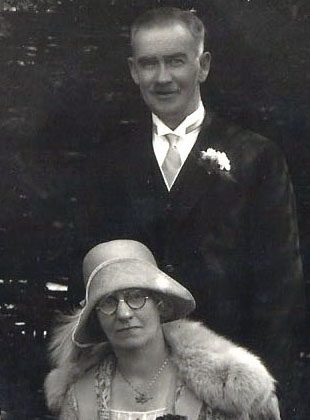 With Helena (Mousedear/Gran) at their daughter Margaret's wedding, June 29th 1929.
---
Modified - 24th Jul 2015 - revised history based on new information about Dan's mother and father..
Previously modified - 17th Aug 2012 - information about Smith and Campbell's Pharmacies moved to a separate page.
Previously modified - 10th May 2011 - information and photos from Nicola Gapp added relating to Smith & Campbell's pharmacies.
Previously modified - 5th March 2008 - information about Dan's Will and Probate certificate added.
Previously modified 6th Nov 2007 - confirmation of Dan's parents and link to copy of his death certificate added.
Previously modified 1st Oct 2007 - new information on Dan's possible parents added.
Previously modified 24th Sept 2007 - link to 1905 marriage certificate showing father to be Alexander Smith.
Previously modified 22nd July 2007 - reference added to Mylesdown, where Dan died.
Previously modified 2nd Jan 2007 - link added to Joseph Bliss's speech notes;
Page created: 28 Jun 2005