Margaret Smith (née Young)
c1844 - 1904
---
---
Margaret Young
Census and other records indicate that Margaret was born in 1844 (probably between June and August), however a search of Scotland's People website has not yet come up with Margaret's birth record (see search output). [Only one Margaret Young is recorded as being born between 1842 and 1848 in Rosemarkie and her parents were William Young and Ann Johnstone. Margaret's 1867 marriage record shows that her parents were in fact Simon Young and Mary née Bisset from Cloy near Rosemarkie.]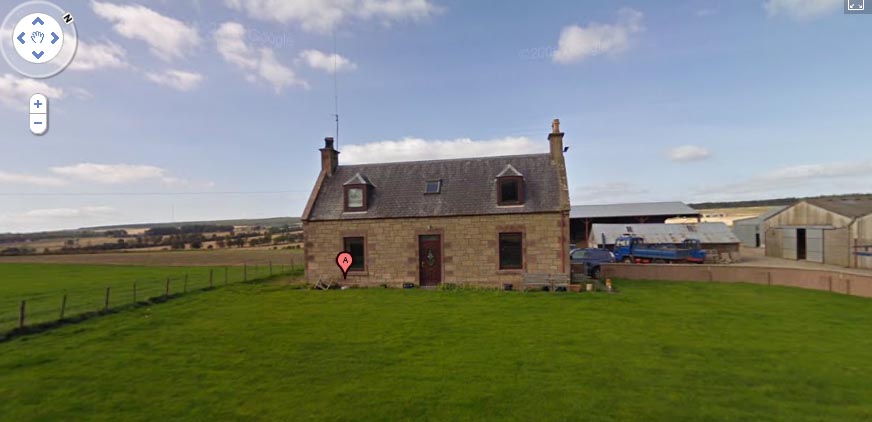 The 1851 census records show Margaret living with her parents at Wester Raddery which according to Google Maps lies approximately 2 miles west of Fortrose (see map). Margaret's father, then aged 52 is described as a farmer with 30 acres of land, and her eldest sister Isabella is employed at home. Her mother and father are both recorded as being born in Rosemarkie (adjacent to Fortrose). Donald Young aged 40 (almost certainly Simon's younger brother) is recorded living next door at Cloy Raddery (presumably Cloy Farm at Raddery) with his sisters Isabella (58) and Mary (45), and nephew Alexander (aged 20). Google Maps identifies both Cloy Farm, Raddery and Wester Raddery at exactly the same spot, but includes a photo of Cloy Farm (copied at right from its "street view"). Indeed, this may be so, since the 1861 census shows both families living at Cloy but listed separately under adjoining properties. The 1841 census appears to have no information about the family.
The 1861 census shows Simon and Mary at Cloy with their three youngest children, William, Mary and a new daughter Janet, aged 9. Margaret, then 15, does not appear.
The 1867 marriage record of Alexander Smith and Margaret Young show their ages as 28 and 23 respectively. The marriage record shows Alexander as both a ship's carpenter and salmon fisherman who was then resident in Aberdeen. Margaret is described as a Farmer's daughter, hailing from Cloy in the parish of Rosemarkie (see Cloy Farm, pictured above). Margaret's parents are given as Simon Young, farmer and Mary née Bisset, and the marriage was witnessed by James Smith (either Alex's father or brother) and Donald Young, Margaret's eldest brother.
In July 1868 Margaret was in Fortrose when she gave birth to her first son James.
The 1871 census shows Margaret as 26 years old, born in Avoch, Ross-shire, salmon fishers wife living together with her first-born James aged 2 and also born in Ross-shire. Margaret was then living at 20 Bank Street, Old Machar, Aberdeen - probably the same Bank Street that exists today at AB24 2RZ, on the south side of the River Don and on the northern side of the Great Northern Road. At the time her husband Alexander was working far away in Bonar Bridge.
Three weeks after the 1871 census, on 25th April, Margaret gave birth to her second son, Simon Young Smith.
Two years later in April 1873 she was still living in St Machar, Aberdeen, when she gave birth to her third son Alexander.
By late 1875, Margaret had moved north to Bonar Bridge where her fourth son Alexander was born. She was still living there in February 1878 when her husband Alexander drowned in Berwick and was still there in April 1878 when her youngest son Daniel was born. She inherited a sizeable sum of money from Alex's estate, amounting to some £580. It appears from his estate record that Alex died intestate, hence it was not until November 1878, eight months after his death, that Margaret was decreed "Executrix dative quo relict" of her husband's estate (presumably meaning that she was granted title to it).
According to the above estate record, the widowed Margaret moved back home to Fortrose sometime prior to November 1878. There she took a lease on the Union Tavern at 18 High St, where the 1881 census records her living as a young widow, aged 34 (though it is more likely that she was 36). Valuation rolls for 1885 and 1895 show that she paid a lease of £10 per annum for the Union Tavern premises.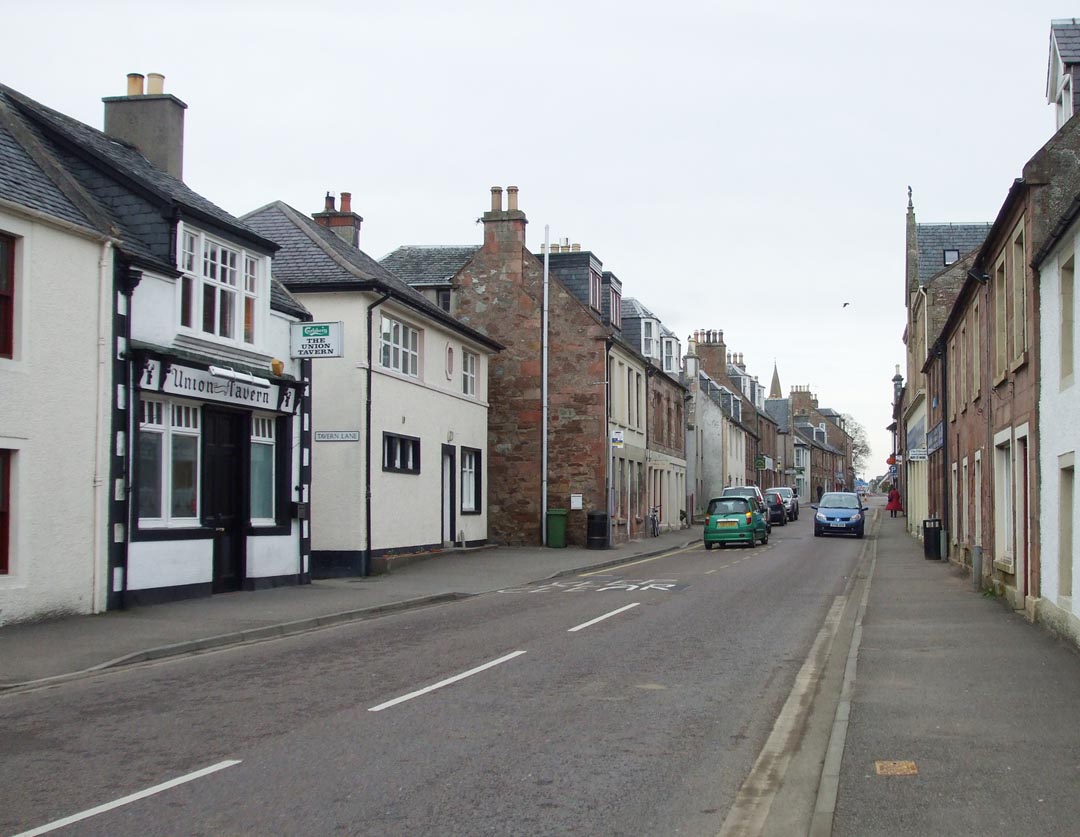 Union Tavern, High Street, Fortrose, which Margaret leased from c.1878 until after 1895. (Photo by Chris Newman 2008)
Neither the 1891 census nor the 1901 census shows any Smiths living in Fortrose, however the Royal Pharmaceutical Society reports that when her son Dan Smith first registered as a Chemist and Druggist in 1900, his registration address was 18 High Street, Fortrose, and that his address remained the same until 1906 when he was deregistered after he had left for India. Perhaps Margaret and Daniel were away at the time of the censuses, or perhaps the census records are incomplete.
Margaret died aged 59 in Rosemarkie (next door to Fortrose) on 5th June 1904. The parish death register records her as having been a retired innkeeper. Cause of death is stated as diabetes and cancer of the pancreas.
---
Last updated: 21 Jul 2015
Updated: 24 Jan 2011
Page created: 1 Oct 2007