Alexander Smith
1839 - 1878
---
Relationship to me:
Great Grandfather
Gen -3

Alexander Smith, probably shortly
before his death in 1878
(extracted from photo below)

Born:
17 May 1839, Old Machar, Aberdeen, Scotland
Died:
24 Feb 1878, Berwick-on-Tweed, Northumberland, England
Age
38
Father:
James Smith
1803 - ????
Mother:
Mary Smith (née Nicol)
1809 - 1875
Brothers:
James
b. 1834
Thomas
b,1836
Sisters:
Mary
b.1831
Agnes
b.1833
Married:
Margaret Young m. Cloy, Rosemarkie, 18th Sep 1867
Children:
James

b. 13/7/1868 Fortrose

Simon Young

b. 25/4/1871 Old Machar

Alexander
b. 13/4/1873 Old Machar,
John
b. 1/11/1875 Bonar Bridge
Daniel
1878 - 1934
---
Alexander Smith: Alexander Smith is identified on his youngest son Daniel's birth record. Also identified is Dan's mother Margaret (née Young).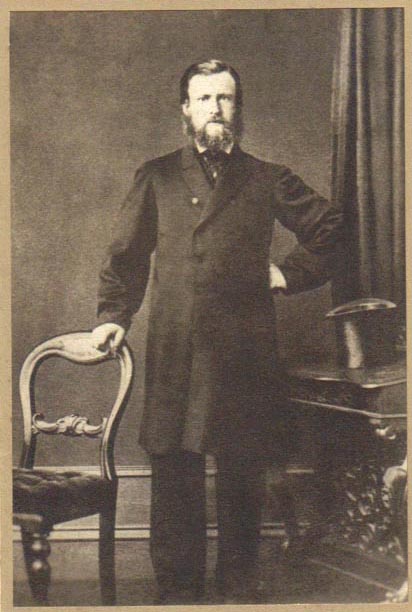 Alexander Smith's baptismal record shows that he was born on 17th May 1839 and baptized in Old Machar, Aberdeen, by Rev. Mr. Smith. His parents are recorded as James Smith, who was then a farmer from South Murcar, and Mary Nicol. One of the witnesses was Alexander Smith - probably his grandfather. Perhaps the Rev. Mr. Smith might also have been a relation.
Murcar is now (2011) the site of a golf course, industrial estates and new housing estates some 7 km north of Aberdeen city centre and about 3 km north of the mouth of the River Don. However in the 19th century, the entire area north of the River Don was rural and a map of 1869 shows South Murcar as a farmstead just one or two miles north of the Bridge of Don.
Old Machar is the parish on the north side of Aberdeen city which extended north of the River Don incorporating the farms of South Murcar, Bankhead (to its south) and Findlay (to its north), all of which are listed in the 1841 census records. The parish of Old Machar also extends south of the River Don to include Aberdeen university's ancient Kings College and Crombie Hall where I spent my first two years at the university. The parish is dominated by forbidding edifice of St Machar's cathedral, which may have been where Alexander was baptized.
The 1841 census mentioned above, shows the Smith family living in the "Mains of Murcar Balgownie estate". The 1869 map of the area shows several Murcars, including Murcar, North Murcar, South Murcar, Intown of Murcar and Newton of Murcar, all appearing to be farmsteads. Presumably the South Murcar farm formed part of the Mains of Murcar under the Balgownie Estate.
No record has been found of Alex in the 1851 or 1861 censuses, however in 1867 Alex's married Margaret Young in Rosemarkie, their ages being 28 and 23 respectively as shown on their marriage record. Alexander is described as a ship's carpenter and salmon fisherman then resident in Aberdeen, while his parents are given as James Smith (by then a salmon fisherman) and Mary née Nicol. Margaret is described as a Farmer's daughter, hailing from Cloy in the parish of Rosemarkie, and her parents are given as Simon Young, farmer and Mary née Bisset. The marriage was witnessed by James Smith (most likely Alex's elder brother) and Donald Young (presumably Margaret's brother).
The 1871 census shows Alex as a salmon fisherman aged 31, living in "a small wooden hut" in Invercarron Mains in the Parish of Kincardine with a group of four men described as lodgers and employed as salmon fishermen, aged 24, 21 and 19. It happens that Invercarron Mains lies just outside Bonar Bridge in Sutherland where Dan Smith and his brother John were born a few years later - see http://canmore.org.uk/site/111321/invercharron-farm (or click here). It seems likely that by this time Alexander was the leader of the small fishing team, so it is possible that he was self-employed and running his own business.
While Alex was working in Bonar Bridge, his wife Margaret and eldest son James (then 2 y.o.) were living in Bank Street, Old Machar, Aberdeen - probably the same Bank Street that exists today at AB24 2RZ, on the south side of the river and on the northern side of the Great Northern Road. Just three weeks after the census Margaret gave birth to her second son Simon Young Smith.
Alex died on 24th Feb 1878 when he drowned in Berwick. At the time he was employed as the "Manager to James Smith Jacksman of Salmon Fishings at Berwick on Tweed. The Berwick Advertiser of 1st March 1878 (page 3) carries a short death notice stating: "At Tweedmouth on 23rd ult. accidentally drowned in the dock, Alexander Smith, salmon fisherman, 39, late of Bonar Bridge".
Alex left an estate valued at £581 13s 4d including £100 in bank deposits; 24 shares (valued at £10 each) in the Northern Agricultural Company of Aberdeen; a promissory note from the same company from the same company valued at £150; and a 64th share in a schooner named "Allan" valued at £50 - see Alex's estate record. According to www.measuringworth.com his estate, in 2015 values, equated to: £50,400.00 using the retail price index; £58,700.00 using the GDP deflator; £465,000.00 using the per capita GDP and £884,000.00 using the share of GDP. He may not have been a rich man, but by any of these counts he was not a poor one. It appears from his estate record that he died intestate.
At the time of Alex's death, his wife Margaret was living in Bonar Bridge, Sutherland where Alex had been working in 1871. She was pregnant with her last son, Daniel who was born less than two months after his father's death.
---
Last Updated: 20 July 2015
Updated: 24 Jan 2011
Page created: 1 Oct 2007