Sir Richard Newman of Fifehead, Preston Hall and Evercreech
1676 - 1721
---
---
Notes:
Sir Richard matriculated into Pembroke College, Oxford on 8 April 1693, was granted a baronetcy on 20th December 1699, and became MP for Milborne Port in 1700 (where Edwin Newman was born 103 years later!)
The chapel on the north side of the little church at Fifehead Magdalen was built by Sir Richard's grandfather Richard Newman in 1693. It contains memorials to his great-great-grandfather Thomas Newman; to his great-grandfather Richard Newman; to his father Richard Newman; to himself; to his son Sir Samwell Newman and his three daughters. The memorial was carved by Sir Henry Cheere sometime between his son's death in 1747 and 1763 when Barbara died, based on the evidence that Samwell's date of death is part of the original monument text while Barbara's date was added at a later date - see photo below..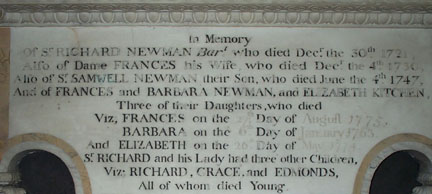 Sir Richard's will includes the following extract (passed to me by Di Clements):
"1712 Sir Richd N of Fifehead M Bar.t Proved 1722 by Sir Samuel Bart. To be buried at Fifehead monument not to exceed £200. Estates to be sold to raise £5000 for Frances eldest daughter and £3000 for Barbara. £60 for sister Toll. Codicil daughter Elizabeth, born since will made, £3000 Sir RN to be buried at Preston Deane Northants."
Di adds that the Trustees either died or renounced, whatever consequences that may have had. Sir Richard's will on the other hand ....
Campbell Newman's website makes some interesting references to Sir Richard:
"Col. Richard was succeeded by his senior grandson, Sir Richard Newman of Preston Hall, who as we saw was created a baronet on 19th December 1699 in recognition of his grandfather's services to the Stewart kings. He married Lady Frances, daughter and co-heir of Sir Thomas SAMWELL, baronet of Upton Hall, Northampton, and died on 30 December 1731, leaving his estates and the baronetcy to his son Sir Samwell Newman who died without issue in 1747. The estates of Preston Hall, Evercreech Park and Fifehead Manor passed to his surviving sister Frances Newman, and were sold when she died unmarried on 25th August 1775. She had adopted in her will the grandchildren of her aunt Anne Newman, and they on 8th September 1775 assumed by Royal License the Newman surname and arms, first of Farnham Hall."
(1) Frances Samwell was the daughter of Sir Thomas Samwell Bart., of Upton Hall, Northamptonshire. Her elder sister was Elizabeth who was the first wife of Sir John Langham of Cottesbrooke and Walgrave - ref: The Baronetage of England, Or the History of the English Baronets Volume 2 p.51. Elizabeth had six sons and four daughters; her fourth son Stephen had three daughters: Maria, Frances and Phillis Langham who names appear in Frances Newman's will and who would have been Frances's first cousins once removed. Sir John's second wife was Maria Temple who had four sons, the youngest of whom was Purbeck Langham who had three daughters Elizabeth Jane and Purbecca who are mentioned in Frances Newman's will. Thus they would have been her step-first cousins once removed.
(2) Sir Richard's birthdate: My early information (unsourced) was that Richard was born in 1675. However Ken Toll wrote to say (see email dated 13th June 2004): "A Richard NEWMAN was baptised 31 Aug 1676 (according to IGI) at Preston Deanery. Seems a likely first Child." Ken's email also quotes Sir Richard's parents marrying in 1675 at Preston Deanery, Northamptonshire which would make 1676 a more likely year for the birth of their first child.
---
Last updated: 11 Jan 2016 - information about Frances Samwell added.
Last updated: 1 Aug 2004