Sir Samwell Newman Bart
c1696 - 1747
---
Relationship to me:
Second Cousin 6 Times Removed
Gen -6


Bust of Sir Samwell Newman
in the Newman chapel at
Fifehead Magdalen

Born
c1696 (deduced)
Died
4 June 1747: Buried at Fifehead
Age
~51
Father:
Sir Richard Newman of Fifehead
1675 - 1721
Mother:
Frances Samwell
d. 4 Dec 1730
Brothers:
(younger) Richard
d. young
Edmonds
d. young
Sisters:
(younger) Grace
d. young
Frances
d. 27 Aug 1775
Barbara
d. 6 Jan 1763
Elizabeth: m. Mr Kitchen
d. 26 May 1774
Married:
never married
Children:
none
---
Notes: Sir Samwell Newman was the last Newman of his lineage. He never married and and therefore had no sons to pass his inheritance to. Thus the baronetcy died with him.
It appears that Sir Samwell died intestate (strange for a man of his wealth). Below is a copy of an Extract from the Registry of the Prerogative Court relating to the "goods, chattols (sic) and credits of Sir Samwell Newman Bart late of the Parish of St Margaret Westminster within the County of Middlesex" in which the administration was granted to his sister Frances Newman.
Sir Samwell had a residence in Old Palace Yard in Westminster, London which is where he died, and where his sisters appear to have lived after his death (though that suggestion is contradicted by Peter Oxlade in the transcript of his talk "Fifehead Revisited - A ramble around the village in the 1840s"). The Old Palace Yard residence is mentioned in the Act of Parliament drawn up in 1754 (after Sir Samwell's death) to empower a committee of the estate of Elizabeth Kitchen to make leases during her lunacy, which describes the dwelling in less than flattering terms. The same act alludes to Sir Samwell's wealth by describing him as "seized of and in a messuage [a dwelling plus its outbuildings and land] or tenement situated in the Old Palace Yard, Westminster; and also diverse messuages, lands, tenements and hereditaments [inheritable property] in the Parish of Preston Deanery, Northampton; and of in certain lands at Evercreech Park, Somerset; and also diverse messuages, lands, tenements and hereditaments called Thornbury Park in Gloucestershire; and also diverse messuages, lands, tenements and hereditaments called Fifehead Magdalen in Dorsetshire in fee-simple [meaning absolute ownership including the right to sell or bestow]; and seized of or entitled to other lands, tenements and hereditaments in Fifehead Magdalen held by him by virtue of leases granted to him and his heirs by the Bishop of Bristol for three lives [what does that mean?] therein named; and also possessed of a lease-hold messuage at Palace Yard aforesaid by virtue of and under a lease from the Dean and Chapter of the Collegiate Church of Westminster for the residue of the term of years then to come and unexpired."
.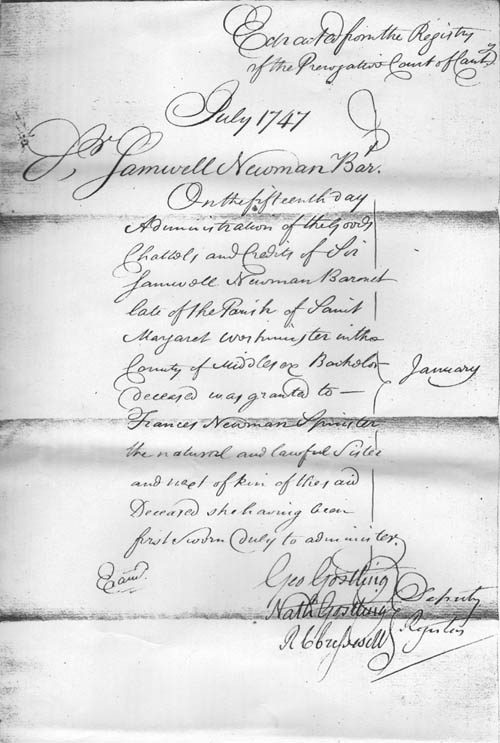 ---
Last updated 3 Mar 2003