Simon Young
1798 - ????
---
---
Simon Young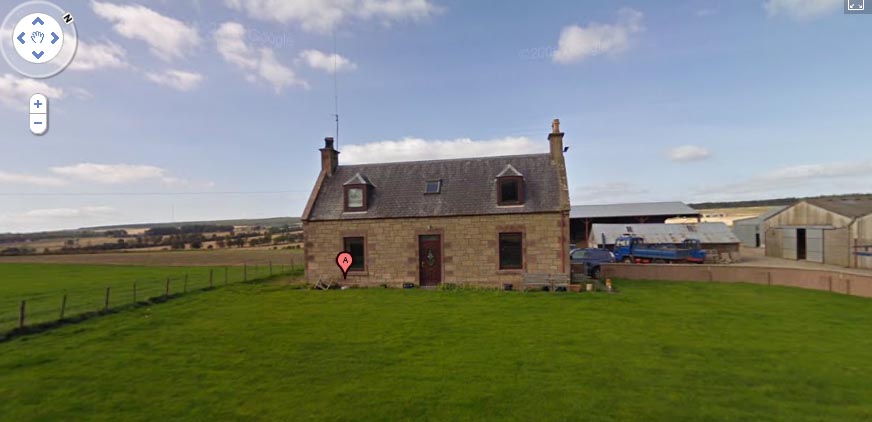 The 1851 census records show Simon living with his family at Wester Raddery which according to Google Maps lies approximately 2 miles west of Fortrose (see map). He is described as aged 52, having been born in Rosemarkie (adjacent to Fortrose), and a farmer with 30 acres of land. This implies a birth date between April 1798 and March 1799 and the only birth record for a Simon Young in Fortrose during that time gives his birth date as 12 June 1798 and names his father as Murdow(?) Young, a tenant at Teavlair(?).
The 1851 census shows a Donald Young aged 40 living next door at Cloy Raddery (presumably Cloy Farm at Raddery) with his sisters Isabella Young (58) and Mary Young (45), and Alexander Young (nephew aged 20). It is assumed that Donald, Isabella and Mary were Simon's brothers and sisters, and that Alexander (born c.1831) was the eldest of Simon's sons. Google Maps identifies both Cloy Farm, Raddery and Wester Raddery at exactly the same spot, It also provides a photo of Cloy Farm (copied at right from Google's "street view"). The 1841 census appears to have no information about the family.
The 1861 census shows Simon and Mary at Cloy with their three youngest children, William, Mary and a new daughter Janet, aged 9. (Margaret is not mentioned.) Simon is now farming 55 acres. Next door were his brother Donald Young and his sister Isabella now aged 50 and 66 together with nephew Alex now aged 30. In addition, Isabella now had the assistance of a domestic servant by the name of Ann Grant aged 19. Donald is also recorded as being a "farmer of 55 acres" which might confirm that the two brothers were working the same farm but living in separate houses. The land around Fortrose is flat and intensively farmed so 55 acres should have provided the two families with a reasonable living.
Also of interest is the record of a large Bisset family living next door, including an elderly Isobella Bisset aged 87 and widowed. Presumably this was Mary Young''s mother.
It is not yet known when Simon Young died.
---
Page created: 21 Jul 2015