Adah Rhodes Wake (née Nelson)
1849 - 1921
---
Return to Home Page
Relationship to me:
Great Grandmother
Gen -3

Adah from photo at bottom of page.
Based on the appearance of the children with her, I guess the photo was taken around 1884 when she was about 35, though she looks a fair bit older than that.


Born:
3 May 1849 - at Broomfield Terrace, Bowling, near Bradford Yorkshire (see 1871 census and birth certificate)
Died:
12 Dec 1921
???
Age
72
Father:
Horatio Nelson
1811 - 1859
Mother:
Ann Rhodes
Brothers: (elder)
Horatio - at Sevenoakes? (see below)
1841
William - at St George Hanover Square (see below)
1844
Herbert - at Holywell (see below)
1846
Sisters: (elder)
Mary Ann Rhodes at Eckington, Derbyshire
b. 23 Nov 1839
Married:
Robert Kilpatrick Wake m.21 Dec 1871
1848 - 1892
Children:
Adah Elizabeth Aitken (m. Wall)
1872 - 1963
Mary Helena Nelson (m. Smith)
1874 - 1969
Annie Margaret (m. Stocks)
1876 - 1970
Nicholas Beatrice (m. Blackwell)
1881 - 1961
Gladys
1884 - 1885
---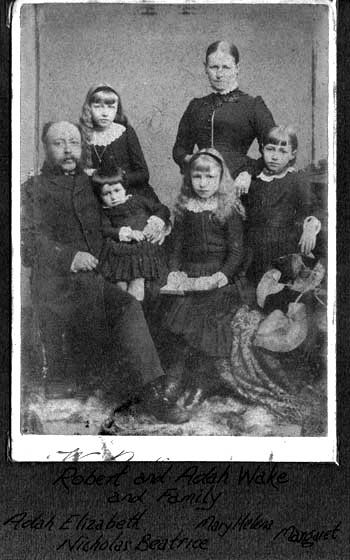 Oliver Suffield (one of Adah's great-grandsons) relates a wonderful early life-story of Adah Rhodes Nelson:
"Adah Rhodes Nelson, daughter of Horatio Nelson (civil engineer) who went to India circa 1858 with a contract to build the first railway, from Bombay up the Ghats to Poona. Adah was then 8 years old. They went by sailing ship, sometimes becalmed, more than five months out of sight of land. Then they crossed the desert by camel and she remembered being awakened to see the Pyramids. In India she went to a convent school and loved the nuns. She liked music and became a good pianist. About the time of the Indian Mutiny, she was taught to shoot.

When Adah was about 18 [c1867], her eldest brother married a beautiful Armenian girl (see reference to Loisa Essai on Mary Ann's page), and she was her bridesmaid. The bride's brother fell in love with her, and she with him, but her mother forbade her to marry him. Her father had by this time died of cholera, and she said she would become a nun if she could not marry her Armenian. Her mother brought her back to England, where a few years later she met and married Robert Kirkpatrick Wake".

Notes: (1) the Indian Mutiny took place in 1857/8 so it must have coincided with the family's arrival in India.

(2) The implication from the fact that "her mother brought her back to England" is that Adah met and fell in love with her Armenian while the family was still living in India, which must have been 10 years after her father's death. If so, then it would be interesting to know why her widowed mother stayed on in India for another 10 years and how she maintained an income to survive and bring up her family. Did she perhaps remarry in India?
Adah's name does not appear in a search of the 1861 UK census, presumably because she was still with her mother in India. However by the time of the 1871 census Adah is recorded (incorrectly, as Adah Rhodes Wilson) aged 21 and staying with her sister Mary Ann and her family at No 7 Holyhead Road, Wednesby (near Birmingham). Perhaps she had fallen out with her mother and was living with her sister, and perhaps it was there that she met her husband Robert Kilpatrick Wake who she married later in the same year.
The 1881 census shows Adah and Robert living at 23 Spark Street, Aston, Birmingham. Photo at right, (given to me by her grandson Oliver Suffield), shows Adah with her family a few years later, probably around 1886. Left to right: her husband, Robert Kilpatrick Wake; Adah Elizabeth; Nicholas Beatrice; Mary Helena, Adah and Margaret.
In the 1891 census, Adah was living with Robert and her four daughters at 141 Durham Road, Yardley, Worcestershire.
In the 1901 census Adah is shown living at 135 Woodstock Road, Moseley with her daughter Nicholas, aged 19, and two boarders. She had been living there since at least 1899 when her daughter Mary Helena married.
At the time of the 1911 census she was living at 40 St. Alban's Road, Moseley, Birmingham with her grandson Dick and a 25 y.o. lodger who worked as a "motor car and cycle sales manager" (a very new trade at that time!)
---
Below, also courtesy of Oliver Suffield, is a letter written to his mother by Adah in her 72nd year, 7 months before she died. I have transcribed the text as best I can interpret it, as follows:
My dear Marjorie
Thanks for your card, it was so good of you to write to Mrs Jones, but .... Margaret says Ken will have to give up the idea of joining us. Mr Goddard has had to have him back at the business again; he had a fall at Cornistone on Sunday and sent for him on Monday and can't spare him at home to study yet.
Derek had the pneumo-thorax treatment again on Saturday and stood it well; it was nearly one hour, a difficulty getting the oxygen in. Dr Woodcock thought it was ....in the lung; he took 3 times as much as the first time and his temperature was lower at night; he is to have another dose in a fortnight. He has tuberculine injections every other day. If his temperature keeps down he can get up for a few minutes in a few days recreate(?) the time as he feels able, but must go very carefully. They are hopeful now that they may all get away for a Summer holiday. It is most gratifying to know the improvement of the last week is maintained. So pleased to hear that Gladys is making such good progress. The weather is in favour of the invalids, but we do want to see rain wishing it would come during the night.
Mrs Bradley has been this afternoon. Must close now and write my letter to Lena (Helena), but thought I had better write to you first. Frank is trying to let ...'s house for her furnished so that she can re.... longer with ......
Love to each & all
---
Last Updated: 20th Jun 2011 - Link added to Annie Margaret Stock's page.
Updated: 6th Jun 2011 - 1901 census date added.
Updated: 13th Jan 2005