Adah Elizabeth Aitken (Bessie) Wall (née Wake)
1872 - 1963
---
Return to Home Page
Adah Elizabeth was always known as Bessie (or in my case "Auntie Bessie". She was tiny and apparently suffered serious health problems, at least in the early part of her life (see record of Gran Smith's conversation with Michael where he reads from a letter that talks of Bessie being very ill and having a weak heart. Bessie's grandson, Oliver Suffield tells me that she used to spend time in San Remo for her health problems - which must have worked since she lived to over 90!
Gladys Wall married (David) Geoffrey Price. Her youngest daughter, Nicholas Nadine Aitken Price (Nadine) was responsible for much of the research on this side of my family. Gladys's eldest daughter, (Elizabeth) Valerie Aitken Cowell died in 2017.
According to a note left by my grandmother (Mary Helena Nelson Smith), Eric married someone called Renie and had two children, Susan and Nigel.
I have vivid recollections of Joyce (Cousin Jo) when she visited us in Somerset when I was quite young. She must have inherited the vitality and energy that my mother and grandmother had, and was always full of fun and adventure, taking us children out for long walks in the country.
---
All photos on this page given to me by Oliver Suffield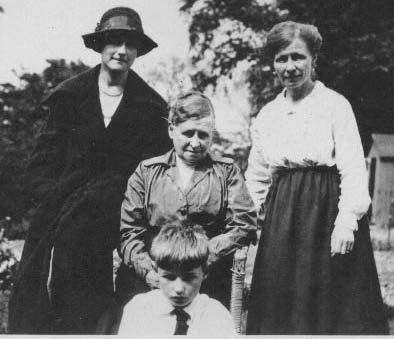 L-R: probably Jo Wall; Adah Nelson; Bessie Wall
Eric Wall in front (c.1920)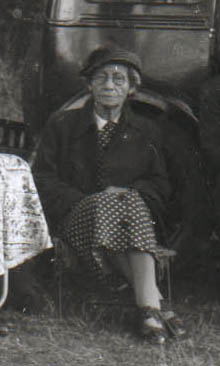 Bessie Wall in later life
c.1950 (see whole photo on M.H.N. Smith's page)
---

Last Updated: 21 Dec 2017 - death of Valerie Aitken Cowell recorded (thanks to Caroline Cowell).
Last Updated: 31 Jan 2005