Mary Ann Rhodes Trail (née Nelson)
1839 - ????
---
Relationship to me:
Great Great Aunt
Gen -3

photo?


Born:
23 Nov 1839 at Eckington Derbyshire
Died:
???
???
Age
??
Father:
Horatio Nelson
1811 - 1859
Mother:
Ann Rhodes
c1817 - ????
Brothers: (younger)
Horatio Rhodes - at Sevenoakes? (see below)
1841
William - at St George Hanover Square (see below)
1844
Herbert - at Holywell (see below)
1846
Sisters: (younger)
Adah Rhodes b. Bradford Yorkshire (see 1871 census)
1849 - 1921
Married:
(1) Tippet or Tippetts, m. 1858 Bombay
(2) George Trail in India (6 May 1836 - 6 Dec 1869)
m. c.1862
(3) Stephen Turner (married in England sometime after 1871)
Children:
(1) possibly Mary Tippetts - see note below.
b. c.1859
Richard E Tippet or Tippetts
b. 1860 Bombay
(2) James Trail
b. 28 Dec 1862 Bombay*
Henry Trail
b. 29 Jan 1866 Karwar*
George Horatio Trail
b. 13 Feb 1868 Karwar*
(3) Clara
Edith
* dates taken from George Trail's Bible which may not be accurate - see note from Debbie Hill below. [Karwar is spelt Carwar on the family Bible]
---
The following information about Mary Ann Rhodes Nelson, was sent to me by her great-great grand-daughter, Debbie Hill (ref email 17 Dec 2004):
Mary Ann Rhodes Nelson, born 23.11.1839, married my great great grandfather, George Trail. I believe George was born in India and I have a gold watch inscribed to him from an engineering company that was draining the land around Bombay in the late 1850s/early 60s. If you look at www.geocities.com/Athens/Acropolis/9460/baithkol.htm you will find George Trail's grave recorded in Karwar, India. In the grave next to him is Loisa, wife of Horatio Rhodes Nelson who died 2.8.1867. She must be the 'beautiful Armenian girl' in your family history (see story on Adah Rhodes's page). Mary Ann Rhodes Nelson remarried a Stephen Turner in England after my g-g-grandfather's death, and had two girls with him following the three boys she had already given birth to. Interestingly, in the 1871 census, it says that she was born in Derby in England, so that is where her family appear to have come from before going to India. [She is also shown as a widowed draper/hosier living at No 7 Holyhead Road, Wednesby (near Birmingham) in the 1871 census]
Debbie Hill followed up on 9th Jan 05 with two documents:
Note: Several websites refer to the British Cemetery at Baithkol, Karwar near Mangalore, India, including:
However all these sites present very similar information and may have used the same data source. The British Association for Cemeteries in South Asia (http://www.bacsa.org.uk/) doesn't list any cemetery at Baithkol, but it does list one at Karwar (http://bacsa.frontisgroup.com/bin/aps_detail.php?id=245549) without offering any information on it. Google Maps show Karwar as a beach resort some 100km south of Goa on the west coast of India, however it is nowhere near Mangalore which is some 270km to the south.

The British Association for Cemeteries in South Asia offer an extensive listing of names of British citizens buried in India in the 19th and 20th centuries (and perhaps beyond), however they do not include the names of George Trail or Loisa Nelson (mentioned above), nor of Horatio Nelson (d. 1859), Charles Tippet, or Mary Helena Wake's first husband , George Richards (d 1902).
Debbie goes on to say:
"By tracing back the d.o.b.s given on your website, I have used UK birth records and found the following:

1849 – Adah Rhodes Nelson. b. Bradford. XX111 106
1846 – Herbert Rhodes Nelson b. Holywell XXV11 243
1844 – William Rhodes Nelson b. St Geo Han Sqr
1841 – Horatio Rhodes Nelson b. [Sevenoakes?]

I've looked at records held by the 'Families in British India Society' and they have no record of a marriage between George Trail and Mary Ann Rhodes Nelson – but I found a George Trail who married Mary Ann Tippet…..I just assumed there may have been a surplus of George Trails in India at the time! However, there is also a marriage record of Charles Tippet marrying Mary A R Nelson in Bombay in 1858! Doesn't this seem too much of a coincidence? I need to see if there is any original documentation for this, but it seems to me that Mary Ann had a fairly eventful time in India – which might explain why Adah's mother was keen to maintain control over her future and brought her back to England?? However, how does this fit with your understanding that the family arrived in India in 1858? Could it have been a bit earlier, or was Mary Ann an extremely quick worker??!

Mary Ann's third son, George Horatio (see Bible), appears to have been baptized 7/3/1869 at Sparkbrook, Warwick, England. If this is the case, Mary Ann must have returned to England - presumably without her husband, George, who died later that year in India."
Debbie Hill followed up again on 23rd 9th Jan 05 with the following additional information:
"The attached 1871 England census (see below) proves the 'Tippet' link for Mary Ann and also clearly shows the link between our families. Mary Ann Trail is the head of household, employed as a 'draper and hosier', with her sons - Henry Trail , George Horatio Trail AND Richard E Tippet!! Also living with her is 'Ada' Rhodes Nelson (recorded incorrectly as 'Wilson').

The date of marriage for Mary Ann and George appears to be 1862, according to a search on the Families in British India database - but I haven't got the documentary evidence for this yet. Interestingly, the same database give the date of marriage in Bombay for Horatio R Nelson and 'Louisa' Essai as 1865. This obviously suggests that Adah didn't return to the UK until after this (see Adah's page, about her falling in love with Louisa's brother) - and her mother appears to have 'disappeared' by the census in 1871....so it might be possible to find a record of death for Ann Rhodes during this relatively small gap.

I found George Horatio Trail's baptism in Sparkbrook 7.3.1869 in a search of the International Genealogical Index. It clearly is him, as the parents are listed as George Trail and Mary Ann - also it's in the West Midlands, where the family settled for the next two decades. What looks like 'Larwar' on the Bible inscription, we deciphered as Carwar - which appears on some transcripts I have found on the Net. This must be modern-day Karwar - which fits with the burial place of George Trail. The other Trails on the Bible page.....I haven't a clue who William Herbert is - that's one of the biggest mysteries I've yet to solve. The others, Albert, Elsie, Violet and Ethel are all Henry's children (Ethel was my grandmother). To me, with a stepbrother and two step-sisters through Mary Ann's marriage to Stephen Turner - I just feel it could have been written by Henry, almost as an attempt to define his direct blood relatives. There do seem to be inaccuracies in the dates at times - one interesting, but useless fact is that where you see the dates 28th Dec, 29th Jan and 13th Feb recorded sequentially. Ethel was then born on 13th Feb, her daughter on 29th Jan and her grandson on 28th Dec! That always interested me as a child!!

Other stuff I've found out recently: Richard Edward Tippetts turns up in the 1881 Census as a servant (assistant grocer) to Zephaniah Edmunds. His year of birth fits and he was born in India. I will check the documentation for this. I am interested that, although Henry and George Horatio remain in the UK, I can find no trace of Mary Ann, her third husband Stephen or their daughters Clara and Edith after 1881. I've also found a record for the death of George Horatio Trail, age 1, in 1885, Birmingham - which needs a bit of investigation to see if there's a connection."
---
Mary Tippetts: The inclusion of Mary Tippetts's name and the spelling of her family name derives from a copy of Bunyon's "Pilgrim's Progress" that came into my possession in 2007. Inscribed inside the cover are the almost illegible and rather odd-sounding words: "Meary (sic) Tippetts Her book Presented by Mary Ann Tippetts Birmingham on the 23rd November 1864" - see below.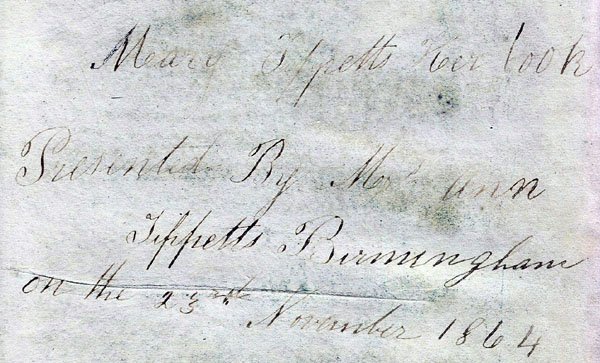 There must be some doubt that this Mary Tippetts was really the daughter of Mary Ann Trail. By 1864 Mary Ann had been married to George Trail for at least 3 years, so it's most unlikely that she would still have been writing her name as Mary Ann Tippetts. The fact that the book was "presented" in Birmingham is also surprising given that she was living in India throughout the 1860s - though of course she might have been "home" on leave in 1864. The date 23 November 1864 happens to have been Mary Ann's 25th birthday but this is also a little odd: why should she give the book to her daughter on her own birthday and not on her daughter's birthday? I have no answers to these questions at present.
---
Page updated: 3rd Aug 2016 - note added about Mary Tippetts.
Page updated: 22nd Jun 2011 - Note added about British Cemetery at Baithkol, Karwar near Mangalore, India
Page Created: 31st Jan 2005