George Robert Richards
1900 - 197?
---
Relationship to me:
Half Uncle
Gen -1


Dick Richards c.1920

Born:
1900 born in London
Died:
197?
Age
70+
Father:
George Richards
died c1903
Mother:
M.H.N. Smith (née Wake)
1874 - 1969
Brothers:
None
Sisters:
(younger) Margaret Helena (m. H.E.M. Newman)
1907 - 1965
Phyllis (m. Evans)
1910 - 1986
Married:
Marcia Evans
Children:
Susan
Graham
Rosemary
---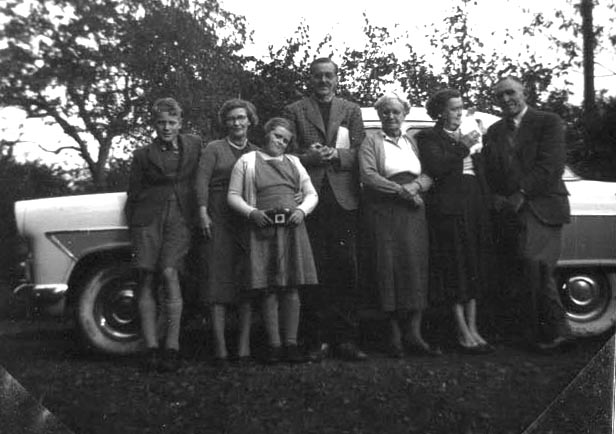 "Uncle Bob-Dick" - my mother's half-brother and a good-hearted soul with a sense of humour who always made me laugh when I was a child.
Dick's father died in India when Dick was just two or three years old. His mother married again when he was five.
The 1900 birth register shows Dick's birthplace as Camberwell in South London as does Ancestry.com's data. However the 1911 census states it to have been some 2 km further south at East Dulwich, London. (Perhaps East Dulwich falls within the district of Camberwell.
At any rate, in 1911 Dick was living with his grandmother Adah Wake at 40 St Alban's Road Moseley, Birmingham. Presumably he had been sent back from India (where his mother continued to live until around 1922) to attend school in England.
Dick joined the Royal Engineers and was posted to India to join the Madras Sappers and Miners in the early 1920s becoming a subultern to Maurice Jeakes in the (33rd?) Field Troop. My father records that he was Quartermaster for a while and also CRE (Commander Royal Engineers) Division.
He and H.E.M. Newman became friends in the mid-1920s, Dick's caricature appearing in my father's 1925 collection. It was through Dick that my parents met when, in 1928, my mother travelled out to India to spend time with Dick.
Marcia (née Evans) was Phyl's husband's sister, brother and sister having married sister and brother. Sadly Marcia was a difficult lady who was seldom happy with her life.
My father records that Dick fell from a pony when playing polo after which developed epilepsy and was considered unfit for active service. No date was given, but in 1938 Dick's mother travelled out to India to look after him after Marcia deserted him, returning to England following the death of her child. In 1939, his mother found herself trapped in India for most or all of WW2.
When Dick retired from the army, he moved back to Birmingham where he was employed in his father's company which specialised in making steel-framed hospital beds. Presumably he took ownership of the company when his father died.
Photo (right) shows Richard Synge (my school friend), my mother, Dick's youngest daughter Rosemary, my father, Dick's mother Gran Smith, Marcia and Dick - c.1956 at Churchland Farm, all standing in front of his very grand and very new Ford "Zodiac".
---
Last updated: 5 Jun 2011
Page created: 31Mar 2007