Thomas Bernard Coleman
1782 - 1818
---
---
From Ian Caldwell (Dec 2001): Rev Thomas Bernard Coleman MA (1782-1818) was the rector of St.Lawrence's Church, a Norman church built around 1100 AD. He was Rector at this church from 1807 until his premature death in 1818 at the age of 36. He and his wife Anne would have lived at the Old Rectory, Church Stretton (photo below).
I have a silver spoon inscribed with the initials TBC and hallmarked London 1812 which must have belonged to him. I was given it by my mother who thought I might like to sell it in my antique shop, as she had not appreciated the significance of the initials.
Mary Anne Coleman married John Wood of Martock Ashfield, Somerset in 1832. Their son, William Cole Wood, born 1841 inherited Pendarves and changed his name to Pendarves. Their second son, Augustus Wood,(1842-1918), inherited Acton Scott and changed his name to Augustus Wood Acton. He married Laura Surtees and their daughter, Joyce Stackhouse Wood Acton married Richard Charles Fullerton-Smith (1882-1970), who took the name of Acton in 1941. Their son, Thomas Stackhouse Acton, born 1926, married Lucy Stavely in 1966. They live at Acton Scott Hall, a lovely Elizabethan mansion, and have two sons, Francis Stackhouse Acton (b.1967), married to Alison Ruth Beck; and Rupert Stavely Acton (b.1970). Acton Scott Farm is now run as a Historic Working Farm, open to the public, and still run by the family for the local authority.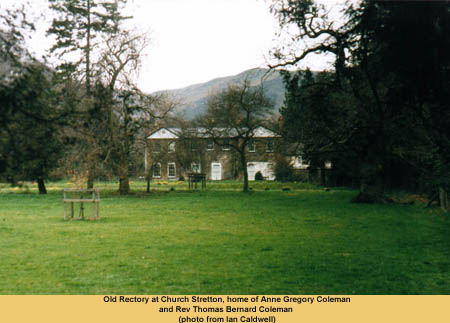 In Jan 2011, John Coleman, a descendant of Thomas Bernard Coleman's uncle Francis, offered additional information about Thomas Bernard Coleman from the Shropshire Archives Online:
Collection SALT COLLECTION; Section RECORDS OF CLIENTS - Family, Estate and Personal
Level Sub Section; DocumentRef D3651/B/74; Date 1799-1887
Title: COLEMAN/PROCTOR

Description: Thomas Coleman of Leominster bought the advowson of Church Stretton in 1799 (see 802/51/1) and in 1803 the manor of Stretton-en-le-Dale and settled them on his son Thomas Bernard Coleman, who thus became lord of the manor and Rector of the parish. Thomas Coleman's great grandson Edward Bernard Coleman (lord of Stretton in succession to his grandmother, Ann Gregory Coleman) took the name of Proctor on succeeding to his maternal grandfather's Aberhafesb Estate in Montgomeryshire. His own inherited (Coleman) estate was at Church Stretton and at Cholstrey near Leominster and Calverhill in Norton Canon, Herefordshire.
John Coleman has his own genealogy website. Click here for an automatic guest login.
---
Page created 24 Jan 2011