Anne Gregory Coleman (née Stackhouse)
1785 - 1862
---
---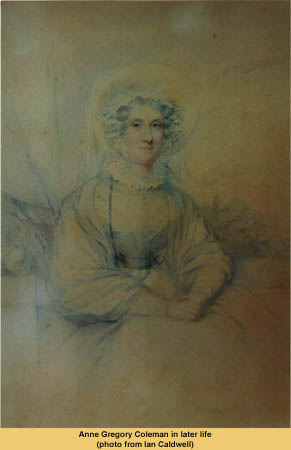 From Ian Caldwell (Dec 2001): Anne Gregory Stackhouse (1785-1862), daughter of Susannah Acton and John Stackhouse, married Rev Thomas Bernard Coleman MA (1782-1818). Anne and her husband would have lived at the Old Rectory, Church Stretton (photo below), as her husband was the rector of St.Lawrence's Church, a Norman church built around 1100 AD. Rev Thomas was Rector at this church from 1807 until his premature death in 1818 at the age of 36.
I have a silver spoon inscribed with the initials TBC and hallmarked London 1812 which must have belonged to him. I was given it by my mother who thought I might like to sell it in my antique shop, as she had not appreciated the significance of the initials. I was likewise given a portrait of a lady by my aunt Betty, who said she was told by the cousin who gave it to her that it was a Coleman relative, but she did not know who. I thought that from the style of dress the lady was painted in about 1835 and she looked middle aged, so I guessed she might be Anne Gregory Coleman, and was very pleased to have my guess confirmed when I met our relatives at Acton Scott who had earlier portraits of this lady, showing the same features. The parish records show the baptisms of Mary Anne Coleman on 20/11/1809; Catherine Augusta Coleman on 7/4/1811, a son, Edward Bernard Coleman was born in 1812 (died 1849) and there were two other daughters, Harriet Emma and Frances.
Mary Anne Coleman married John Wood of Martock Ashfield, Somerset in 1832. Their son, William Cole Wood, born 1841 inherited Pendarves and changed his name to Pendarves. Their second son, Augustus Wood,(1842-1918), inherited Acton Scott and changed his name to Augustus Wood Acton. He married Laura Surtees and their daughter, Joyce Stackhouse Wood Acton married Richard Charles Fullerton-Smith (1882-1970), who took the name of Acton in 1941. Their son, Thomas Stackhouse Acton, born 1926, married Lucy Stavely in 1966. They live at Acton Scott Hall, a lovely Elizabethan mansion, and have two sons, Francis Stackhouse Acton (b.1967), married to Alison Ruth Beck; and Rupert Stavely Acton (b.1970). Acton Scott Farm is now run as a Historic Working Farm, open to the public, and still run by the family for the local authority.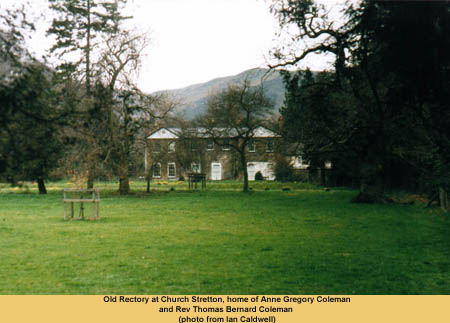 ---
Last revised 3 Mar 2003