Newman Street London
---
My father commented that "there could be substance in the rumour that Richard Newman (d.1695) held property in London now commemorated by Newman Street".
Barbara Girvan, in a letter to my father dated 15th July 1957 wrote: "You will perhaps know that Newman Street in London was given to the family by Charles I." Unfortunately she offers no source for this information.
A different story comes from an alternative family history titled "The Newmans of Wessex" which states that
"Francis [II] Newman, 2nd of Nth.Cadbury was succeeded by his nephew Francis [III] Newman, 3rd and last of Nth.Cadbury and of West House, both co.Somerset. This Francis speculated on, bought, and built Newman Street near Oxford Street, London, and Newman Hall, co.Essex, both purchased on credit from William Berner." Campbell Newman also wrote to me (email dated 29 Oct 03) saying: "I believe that a spectacular night of gambling (by Francis Newman of North Cadbury) was the explanation for William Berner's re-possession of Newman Street and Newman Hall."
There is almost certainly no truth in the story that Francis Newman purchased Newman Hall in Essex, since any family connection with that place dates back to Thomas Newman who died in 1649 and whose memorial on the wall of the Newman chapel in the church at Fifehead Magdalen is inscribed (in Latin) with the words "Thomas Newman is at rest beneath this altar, From the lineage of Newman of Newman Hall, Essex". The authenticity of the story that Francis was responsible for the building of Newman Street must also be doubted .
Newman Street is easy to find; it runs north from Oxford Street towards the Post Office Tower.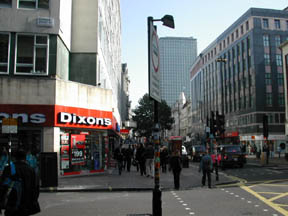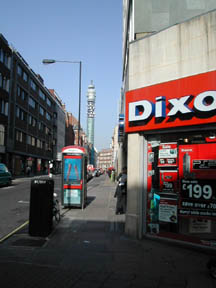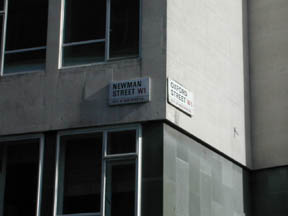 ---
Page last updated: 2 Aug 2013