Appeal for funds to rescue the Newman monuments in Fifehead Church
[Launched Jan 2017]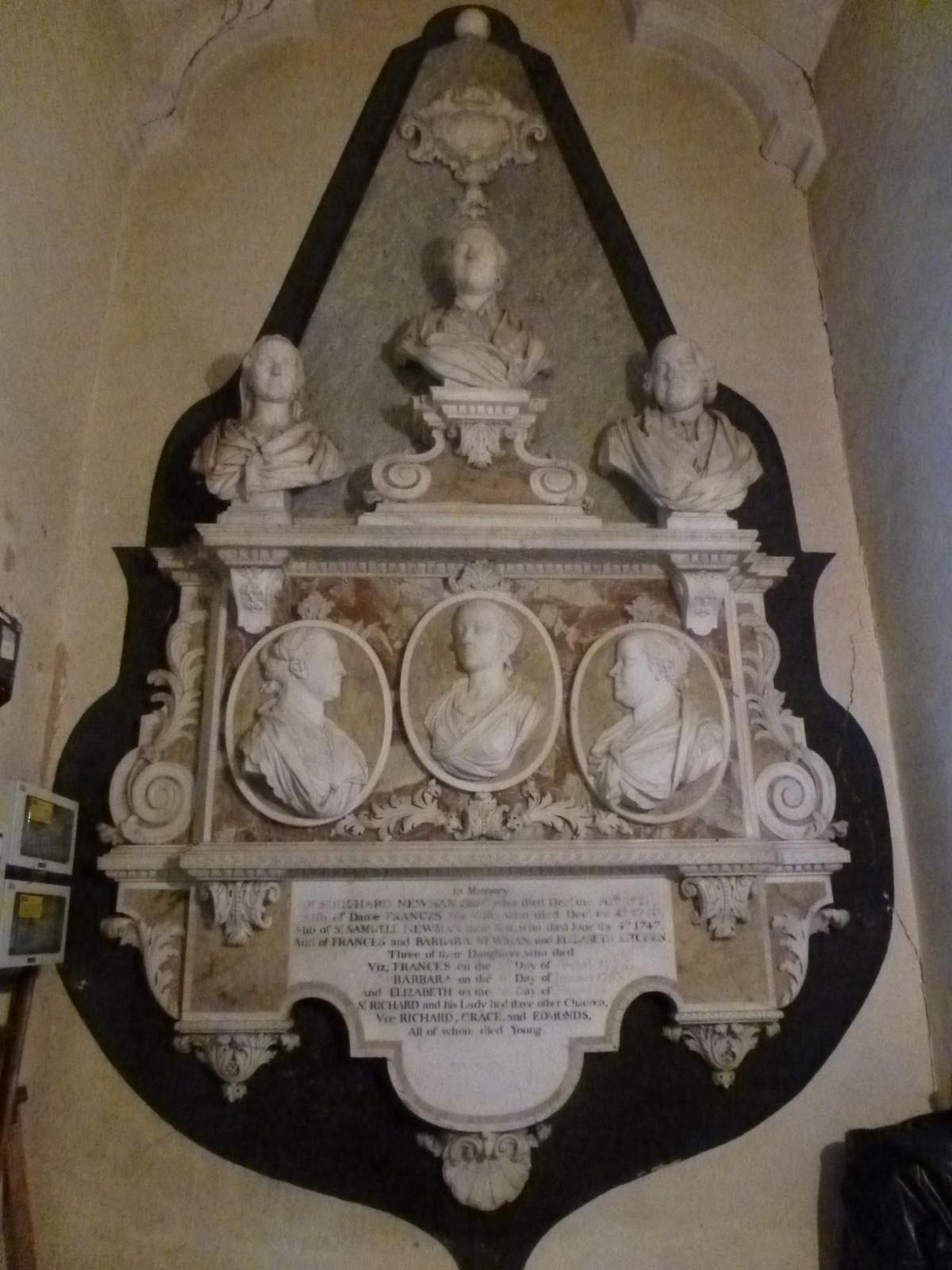 In 2011, the Fifehead PCC began a major fundraising exercise to pay for major repairs to their church roof, a project that took over four years to complete at a cost in excess of £100,000. Chief fundraiser for the project was Rosemary Redwood, the PCC's treasurer, secretary and electoral roll officer, who now finds herself acting once again as chief fundraiser after receiving a report from a firm of sculptural and architectural conservationists advising of serious problems with the principle Newman monument and lesser problems with other monuments within the church.
The report by the firm of Humphries and Jones, warns that Sir Henry Cheere's monument dedicated to Sir Richard Newman and his family, has become unstable and parts are moving away from the wall. It is held in place by iron rods which are believed to be rusting, in consequence of which the monument has to be removed, repaired and returned to the wall. The same report describes the condition of seven other monuments in the church, including the other two Newman monuments in the chapel, all of which are in need of varying degrees of repair.
Quotations received to date indicate the likely cost of repair and restoration of all eight monuments at around £40,000, for which some £24,000 is estimated to cover repairs to the three Newman memorials. However, as with all such work, the need for additional work (and extra expenditure) may be discovered as the work is carried out.
Rosemary is currently seeking assistance from several funding bodies and has so far obtained a grant of £5000 from the Erskine Muton Trust. She is awaiting responses from the Lottery Fund and other organisations. She has also sent an appeal letter to every one of the villagers who have responded magnificently with donations amounting to over £2500 so far, including individual donations of £250, £400 and £500. An additional £1100 has been raised by one villager (Thomas Trevor) who is running his first half-marathon as reported in the local newspaper. An additional £1500 has been donated by members of the Newman family bringing total receipts to £10,450 as at the end of March 2017 - just over a quarter of the amount needed.
The church with its Newman chapel is a popular destination for members and relatives of the Newman family when visiting Dorset, as attested by their entries in the visitors' book. Family members and relatives are therefore urged to contribute generously towards saving these family "heirlooms" for future generations to visit and enjoy.
HOW TO DONATE:
Cheques payable to "Newman Chapel, Fifehead Magdalen" can be sent to Rosemary Redwood at: Three Farthings, Fifehead Magdalen, Gillingham, Dorset, SP8 5RR. Donations can alternatively be sent by direct bank transfer to "Newman Chapel, Fifehead Magdalen" at Sort Code: 30-65-21, Account No: 41758260.
Gift Aid: If you are a UK taxpayer and eligible to Gift Aid your donation, please print and complete the declaration below and return it to Mrs Rosemary Redwood at the above address. This will increase your gift by 25p for every £1 given at no extra cost to you.
. . . . . . . . . . . . . . . . . . . . . . . . . . . . . . . . . . . . . . . . . . . . . . . . . . . . . . . . . . . . . . . . . . . . . . . . . . . .

Please treat as Gift Aid donations all qualifying gifts of money made from the date of this declaration. I am a UK taxpayer and understand that if I pay less Income Tax and/or Capital Gains Tax than the amount of Gift Aid claimed on all my donations in that tax year it is my responsibility to pay any difference.
Full Name: _______________________________________________________
Address: __________________________________________________ Postcode: ________
Signature: _______________________________ Date: _________________
NOTES
1. Please notify the church/PCC at the above address if you:
• Want to cancel this declaration
• Change your name or home address
• No longer pay sufficient tax on your income and/or capital gains. Gift Aid is linked to basic rate tax, currently 20%, which allows charities to reclaim 25p for every £1 donated.
2. If you pay Income Tax at the higher or additional rate and want to receive the additional tax relief due to you, you must include all your Gift Aid donations on your Self-Assessment tax return or ask HM Revenue and Customs to adjust your tax code. Fifehead Magdalen PCC Charity Reference No. XR37279.
---
Note: An appeal flyer can be downloaded here, giving further details about the appeal. A gift-aid declaration form can also be downloaded by clicking here.