Richard Newman of Charlton Musgrove
1525 - 1573
---
Notes 1: Information on Richard's marriage sent to me via Ian Caldwell 23 Jan 2003. He may have obtained it from "The Visitation of the County of Somerset in the Year 1623" edited by Frederick Thomas Colby DD and published in 1876 - see below.
2. Di Clements quotes from Somerset Wills Fifth Series: "Newman Alias Evered of Charlton Musgrove 1573 Will of Richard N. Johane the relict, sons Richard, Robert and Jeffery. Uncle Robert. Lease granted in Wincanton to brother Thomas N. land in Horsington daughters Edith, Elisabeth,Kathrine. Brothers Robert,Henry Thomas". These names are also confirmed by Newman Name Soc Chronicle.
3. Newman Name Soc Chronicle shows Robert of Charlton Musgrove having nine children, the youngest being "Hugh Newman ( ) -(1641), gent., of Charlton Musgrove, will P.C.C. 113 Campbell, dated 08 FEB 1641". He also appears in Di Clements's quotes from Somerset Wills Fifth Series: "1641 Hugh Newman of Charlton Musgrove, Gent. Sisters Dorothy and Cecily, Brother Richard, Citizen and Salter of London."
4. In The Visitation of the County of Somersetshire (1623), Richard's lineage is shown on page 79, Richard himself being named as Richard of Charlton Mackrowe. The relevant part of the page is copied below: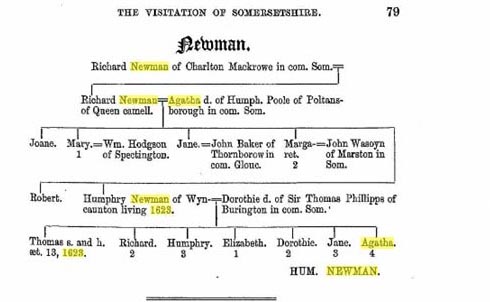 ---
Last updated: 25 July 2013 - reference to The Visitation of the County of Somersetshire (1623) added

Updated: 2 Mar 2003