Hugh Haweis Paynter
1865 - 1934
---
Relationship to me:
3rd Cousin twice removed
Gen -2

Born:
1865
Died:
1934
Age
69
Father:
Reginald Hearle Paynter
1831 - 1875
Mother:
Mary Davies Haweis m. 1858
1837 - 1905
Siblings:
Camborne Haweis Paynter
1864 - 1949
Married:
Beatrice Louisa Barkworth m. 1890
c1866 - ????
Children:
Ann
c1893 - ????
Donnett
c1895 - ????
---
Summary of his life (from Peter Duckers of the Shropshire Regimental Museum):
H. H. Paynter was born on 14th November 1865 at 46, Denbigh Street, London. He entered the Royal Navy as a Naval Cadet on 15th January 1879 and served until relinquishing his commission in January 1888. He went on the Emergency List of the RN in 1896.

Passed courses in Seamanship, Torpedo, Gunnery and Pilotage : all in 1886. He was subsequently placed on the Emergency List (1902) and resigned from this in Oct. 1911, being reinstated in Nov. 1915 as Lieut. with seniority from 19th July 1888.
He spent a great deal of his time working with Messrs. Armstrong and later with Messrs. Vickers and travelled widely.
In 1903, he was a founder member of The Royal Motor Volunteer Corps and a staunch advocate of the employment of cars in modern warfare, writing and speaking extensively on the subject.
He held high office in Masonic circles.
In 1903, Paynter delivered the Ottoman Sultan's yacht and state barge, Seughudlu, [built on the Tyne by Armstrong's] to Constantinople, for which he was decorated by the Sultan After retirement, he worked in a variety of positions. He "went to South Africa as an electrical engineer" and became a consulting engineer in 1893, practising in China and Australia.
In 1904, he captained the Japanese cruiser KASUGA from Genoa to Japan (see below), in convoy with the NISSHIN. These were built in Genoa, originally for the Argentine navy, but were bought by the Japanese government. The crews who took them to Japan were largely British, with some Italian presence. This action caused international interest and led to the officers being temporarily removed from the Navy List, since Britain was not supposed to be materially supporting either side in the developing conflict between Russia and Japan. Their progress was commented on in newspapers around the world (see below) and there was a real fear that the Russian navy might take action against them before they reached Japan. Paynter and his fellow officers (Lt. Lea in KASUGA and Capt. Boyle in NISSHIN) were accorded a hero's welcome in towns and cities in Japan, with public receptions, special tours and visits and the great honour (for that time) of a personal meeting with the Emperor, who decorated the three British naval officers with the Order of the Rising Sun and gave them personal gifts. Both ships immediately joined the Japanese fleet engaged against the Russians and were present in the action in the Straits of Tsushima.
From 1904-17 he worked with Armstrong, Whitworth and Co and travelled extensively on their behalf. E.g. in 1913-14 : was in Buenos Aires, Argentina.
Presented to King at a Levee in St. James' Palace, 19th Feb. 1908; rank given as Captain, presumably relating to the Motor Volunteer Corps].
Paynter was the firm's representative with the Grand Fleet and visited St. Petersburg on their behalf in 1915.
He served for some time aboard HMS Satellite during the 1914-18m War, a depot ship based at Newcastle-upon-Tyne and no doubt linked to his service with the Armstrong factories.
3.2.1916 : granted permission to "proceed abroad" on business of Messrs. Armstrong Whitworth – though not to wear uniform.
29.12.16 – granted permission to travel to the US [he did this with Lord Northcliffe on a US tour for propaganda purposes]
Worked from 1918-1923 for the arms/shipping company Messrs. Vickers-Armstrong.
3.3.18 : granted permission to travel in France and Italy on behalf of Vickers – though not to wear uniform.
10.2.19 : granted permission to travel on continent on business of Messrs. Vickers.
1921 : granted permission to proceed for 3 months to Brazil. Address : Rio de Janeiro.
He married in 1890 Beatrice Louisa Barkworth, dau. of Harold Barkworth (d. 1902) and Julia Trail Sandbach (d. 1890). Born in Beverley, Yorks., in 1866.
A NOTICE OF DEATH for H. H. Paynter appeared in The Times on 29th March 1934 : died in a nursing home in Bath after a short illness; resident of 17, Marlborough Bldgs., Bath.
An OBITUARY appeared in The Times on 31st March 1934 and another on 4th April.
He, his wife and other family members are commemorated on plaques in Bath Abbey (north wall, near the altar end).
His funeral took place on 31st March 1934; cremation at Bristol crematorium.
---
From information kindly provided by Lucy Nuttall on 13th Oct 2002:
Hugh Haweis Paynter: m. December quarter, 1890 Paddington reg. district, London, England to Beatrice Louisa Barkworth (parents: Harold Barkworth & Julia Traill Sandbach) b.c.1866, Beverley, Yorkshire, England bp.19-Sep-1866, St Mary & St Nicholas, Beverley, Yorkshire, England.

From the Online 1901 Census Index I found the following entry:
Beatrice PAYNTER: age 34; b. Yorks Beverley; living in Rye, Sussex; occupation: Living on Own Means
Ann PAYNTER: age 8; b. Sussex Slaughman; living in Rye Sussex
Donnett PAYNTER (female); age 6; b. Teansvaal Doonfontein; living in Rye Sussex.
Note received from Eric Percival (Sep 2004) relating to Harold Barkworth & Julia Traill Sandbach, mentioned above:
Harold and Julia had another son - John Edmund, who married the daughter of Ralph Copeland, Fanny Susan. Both Ralph and Fanny were remarkable people - Fanny ended up in Slovenia where she died at the age of 98. It seems that her marriage to John was not the happiest - and I don't know if they separated before he died (in Geneva in the late 1920's) or whether she stayed with him until them. Anyway, they had 3 children. John was 14 years older than Fanny. He taught the organ at Fettes in Edinburgh (the school where our Prime Minister, Tony Blair was educated.) He later had a visiting professorship at the Peabody Institute in Boston where he also taught the organ.

Did you know that Reginald Hearle Paynter was previously married to Sarah Ann Clay? they had a son bpt 17 March 1751, St Mary, Marylebone, Reginald Paynter PAYNTER! I found Sarah on the 1851 census under Ann Sarah Paynter, aged 25, born Chatham Kent, officer 's wife artillery. She was a visitor at Restornal House, Lanlivery, Bodmin, with Charles Bruine Graves Sawle 34, a magistrate and Deputy Lieutenant, and his family.
---
Delivery of the Kasuga and Nisshin armoured cruisers from Genoa to Japan, January 1904
Captain Hugh Haweis Paynter, R.N. was one of very few westerners of his era to personally meet the emperor of Japan. In January 1904, he and Captain J.H. Lea (both "emergency-listed" RN officers whose commissions had been temporarily withdrawn) sailed two Italian-built armoured cruisers and delivered them to the Japanese navy thereupon being renamed the Kasuga and the Nisshin. The voyage of these Japanese vessels with British captains and crews under the imminent threat of war between Japan and Russia, created a huge amount of press interest and speculation, as well as raising political and legal questions (see press cuttings below).
On their safe arrival in Japan a week after the start of the Japanese naval attack on Port Arthur, the ships were received with great fanfare and their captains treated as visiting dignitaries as evidenced by the illustrations below, kindly sent to me by Peter Duckers of the Shropshire Regimental Museum.
The provenance of the Nisshin is described by Wikipedia as follows (see http://en.wikipedia.org/wiki/Japanese_cruiser_Nisshin):
The Nisshin was a Kasuga-class armoured cruiser of the Imperial Japanese Navy designed and built by Ansaldo in Genoa Italy, where the type was known as the Giuseppe Garibaldi-class cruiser. Designed as a cross between a battleship and a cruiser, but with a very small displacement, it had the ability to stand in the line of battle and the speed to avoid action with battleships. Its armour belt was only 6 inches (150 mm) thick, but covered a far greater percentage of the hull than previous armoured cruiser designs. The Nisshin had a sister ship, the Kasuga.

The Nisshin was the last of the Garibaldi-class armored cruisers to be built. Originally ordered by the Italian Navy as the Roca in the spring of 1902, it was sold immediately after launch to the Argentine Navy, who renamed it the Mariano Moreno. However, the possibility of war between Argentina and Chile abated before the ship was completed on 7 January 1904, making it surplus. The Japanese quickly purchased it due to increasing tension with Russia.

Completed in January 1904, the Nisshin was sailed, together with its sister ship the Kasuga, from Genoa to Japan under the command of British captains with combined British, Italian and Arab crews. During the voyage, the Imperial Russian Navy shadowed the two vessels with the intention of sinking them as soon as the conflict started, however they reached their destination just as Japan opened up hostilities with its naval attack on Port Arthur. The Nisshin was commanded by Captain J.H. Lea and the Kasuga was commanded by Captain H.H. Paynter, both captains having their commissions temporarily withdrawn by the Secretary of State for Foreign Affairs in order to avoid diplomatic complications in the event that the ships came into conflict with Russian forces.

On their arrival, the officers and men of both ships were welcomed as heroes in Japan, and their British captains had the honor of an interview with Emperor Meiji. [Their crews' extraordinary welcome is illustrated below.]
Wikipedia has a separate page for the Kasuga with similar information about its delivery to Japan.
Both ships had distinguished careers, proving themselves capable of fighting (and surviving) in the "line of battle" - i.e. fighting against battleships - despite their relatively small size and light armour protection. They also had historic significance in that their successes in battle led to the development after WW1 of battle cruisers such as "HMS Hood", based on their combination of heavy firepower, light armour and high speed.
H.H. Paynter's own account of the voyage was published in the newspaper clipping copied below.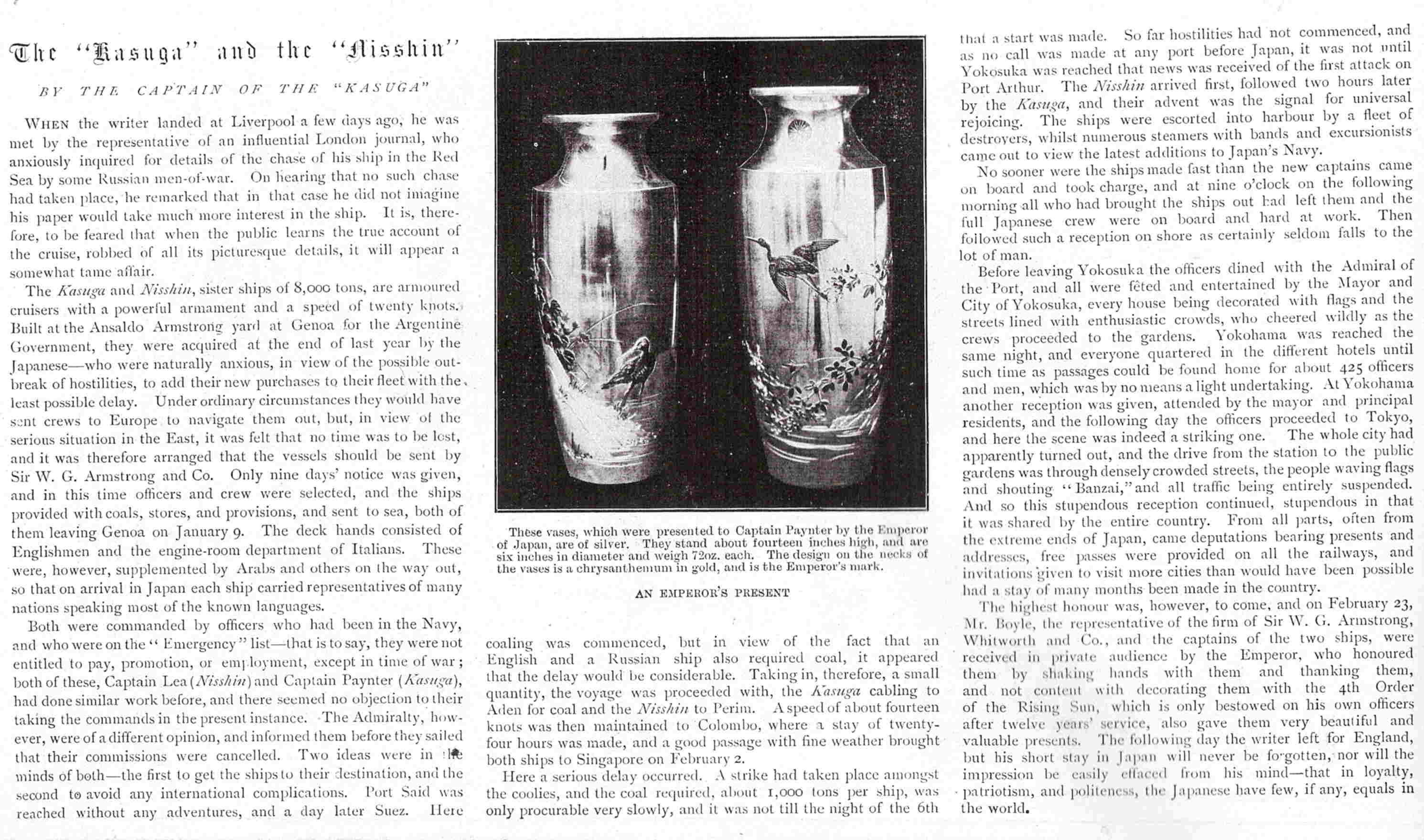 ---
Illustrations relating to the delivery of the warships Kasuga and the Nisshin to Japan by Captain H.H. Paynter and Captain J.F. Lea, in January/February 1904, and to the extraordinary welcome that they received:
The two warships, Kasuga and Nisshen, en-route to Japan, Jan 1904.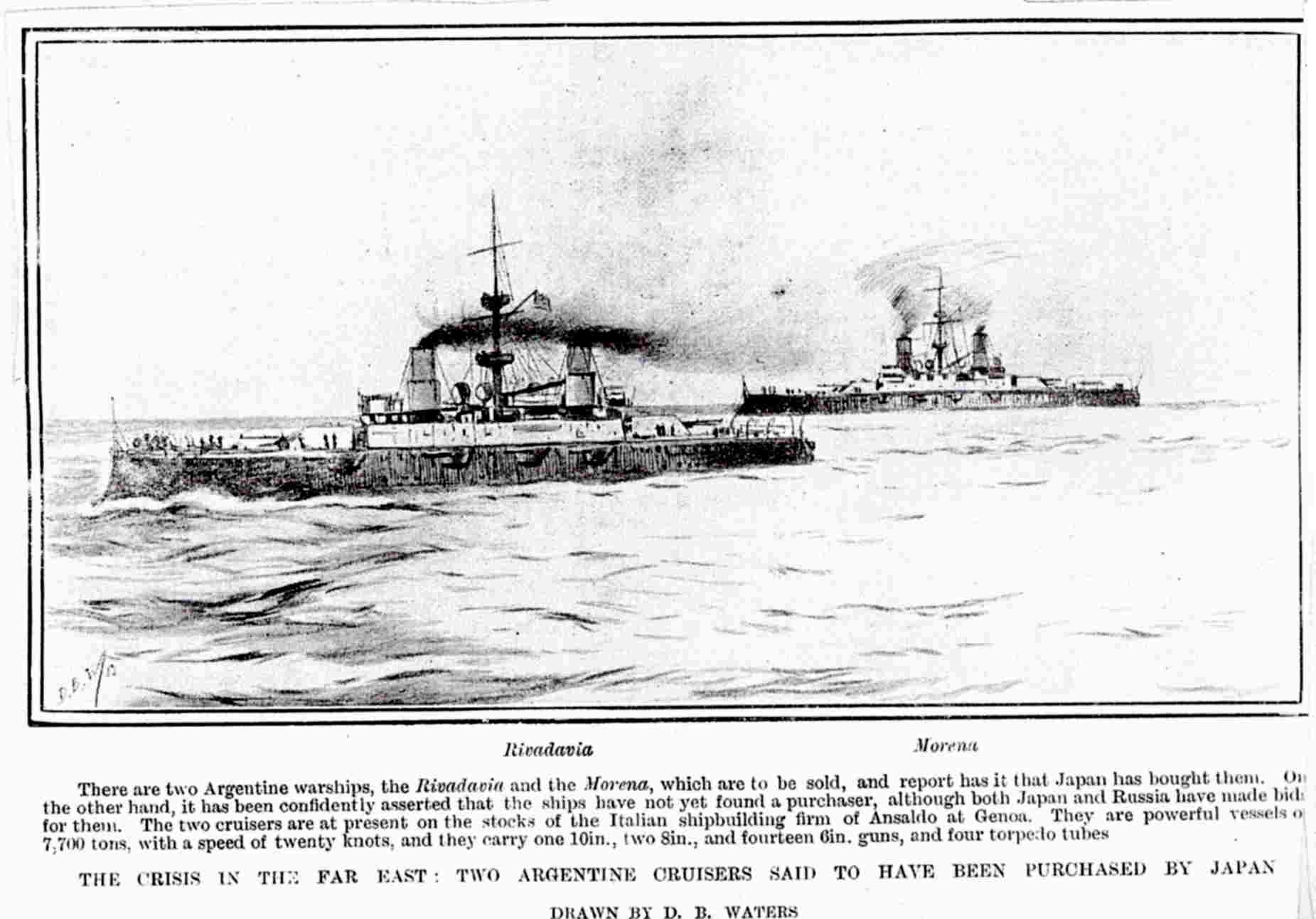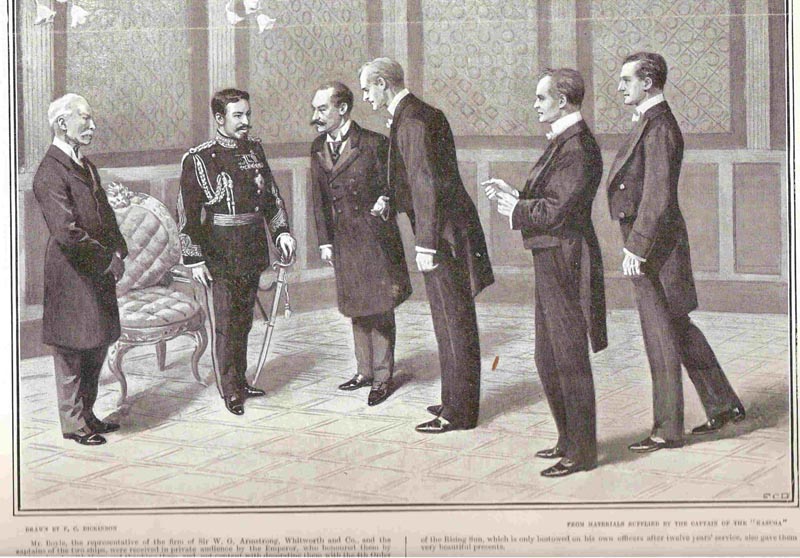 23rd or 24th Feb 1904 - Imperial Reception - presumably Capt. H.H. Paynter at centre with Capt Lea and Mr Boyle of Armstrong Whitworth & Co. behind him. Emperor Meiji in uniform second from left.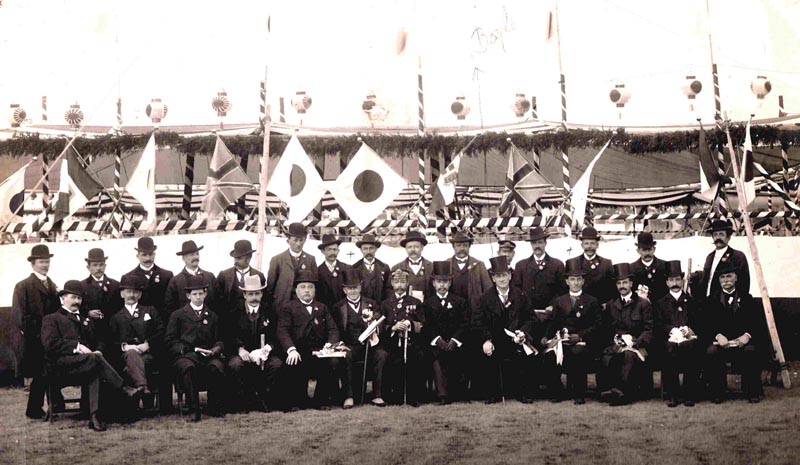 Reception group, Tokyo. Capt H.H. Paynter is presumably the tall man in the top hat two seats to the right of the Emperor.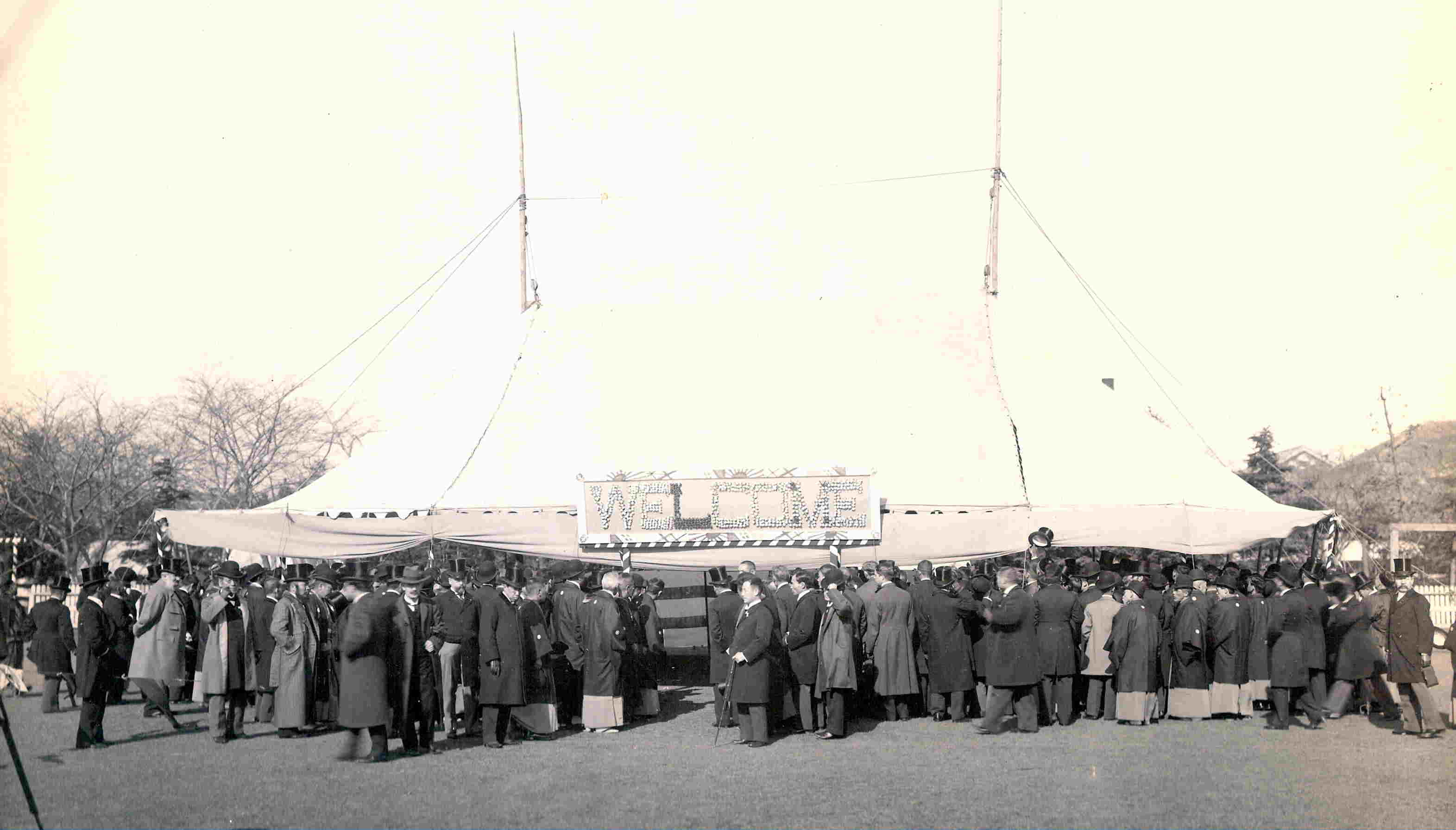 Welcoming celebrations in Tokyo park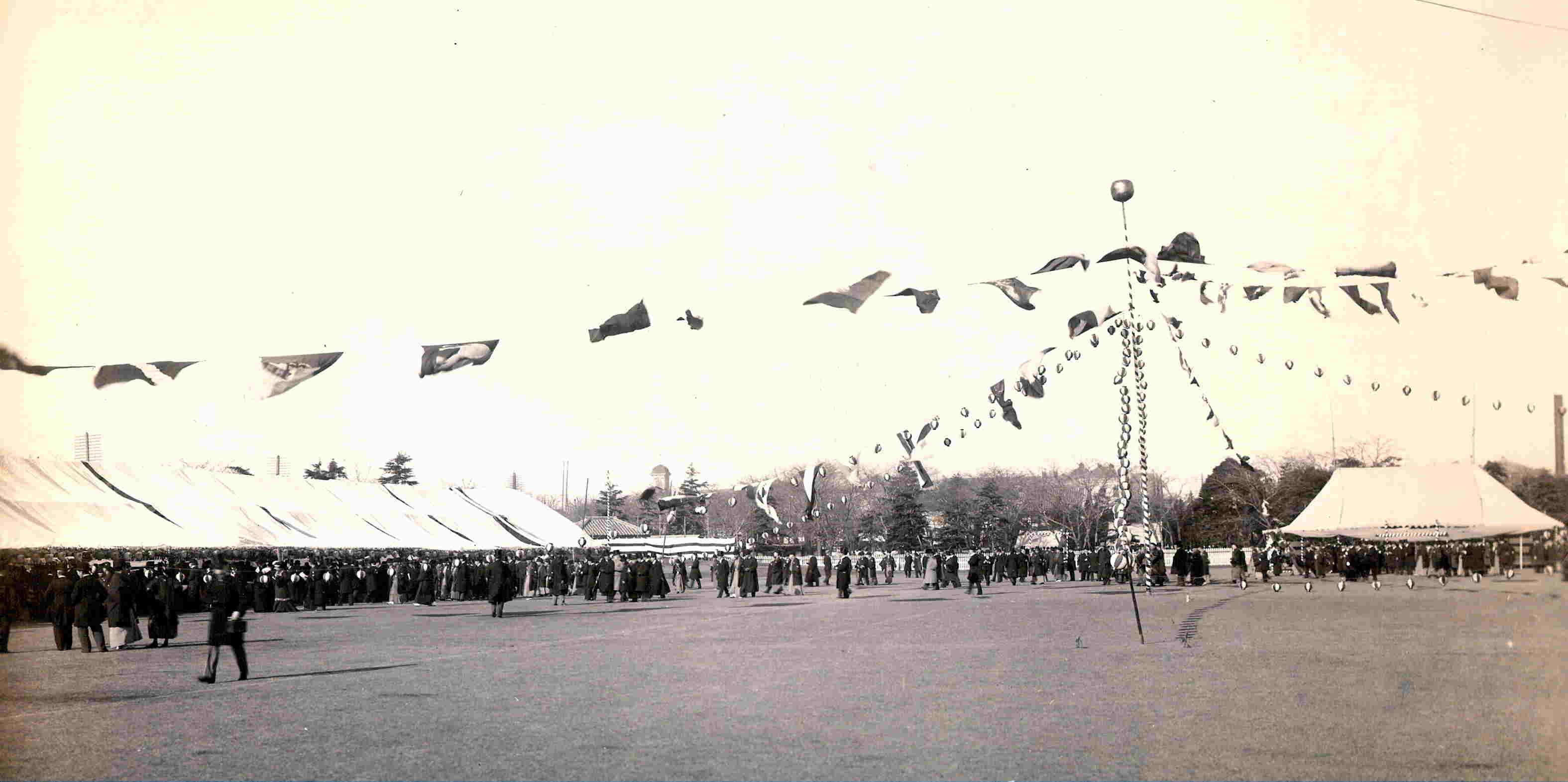 Welcoming celebrations in Tokyo park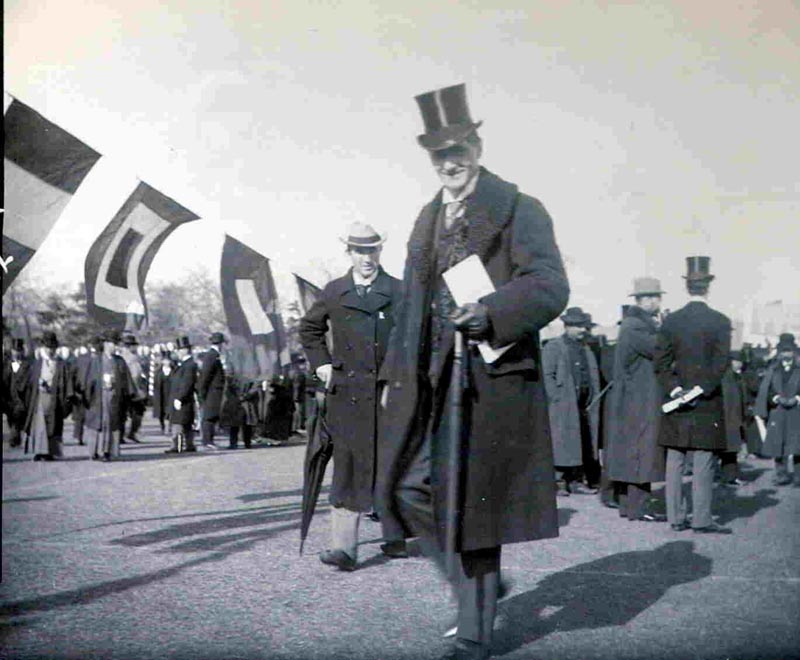 Capt H.H. Paynter in Tokyo park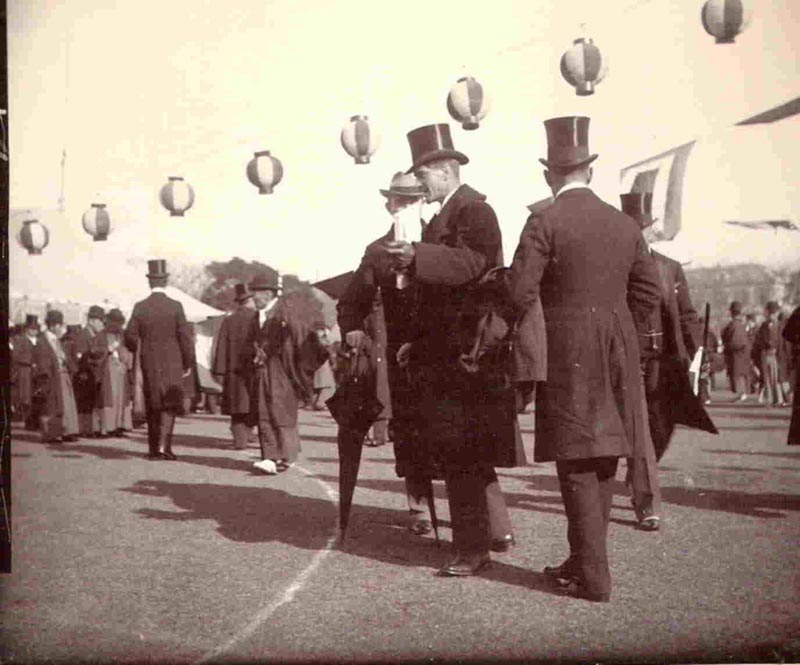 Capt H.H. Paynter in Tokyo park
Crowds at Tokyo reception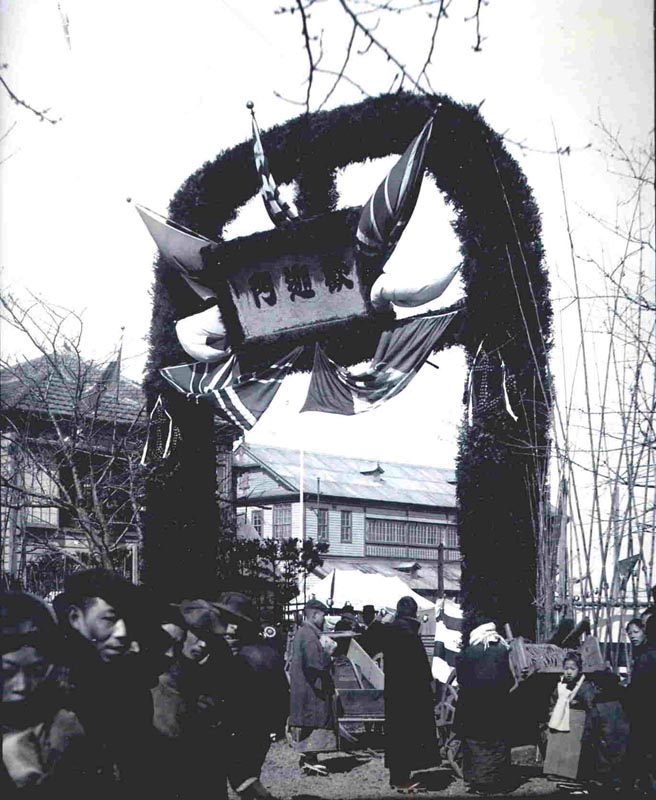 Welcome Arch in Tokyo Park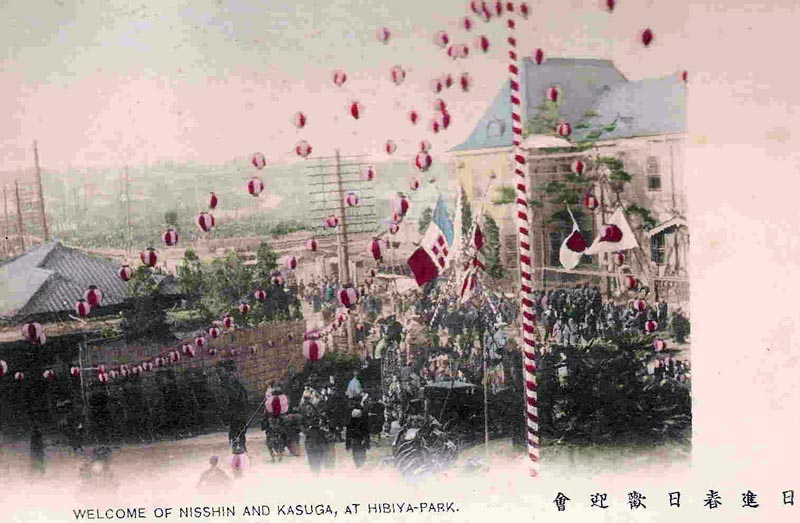 Welcome Card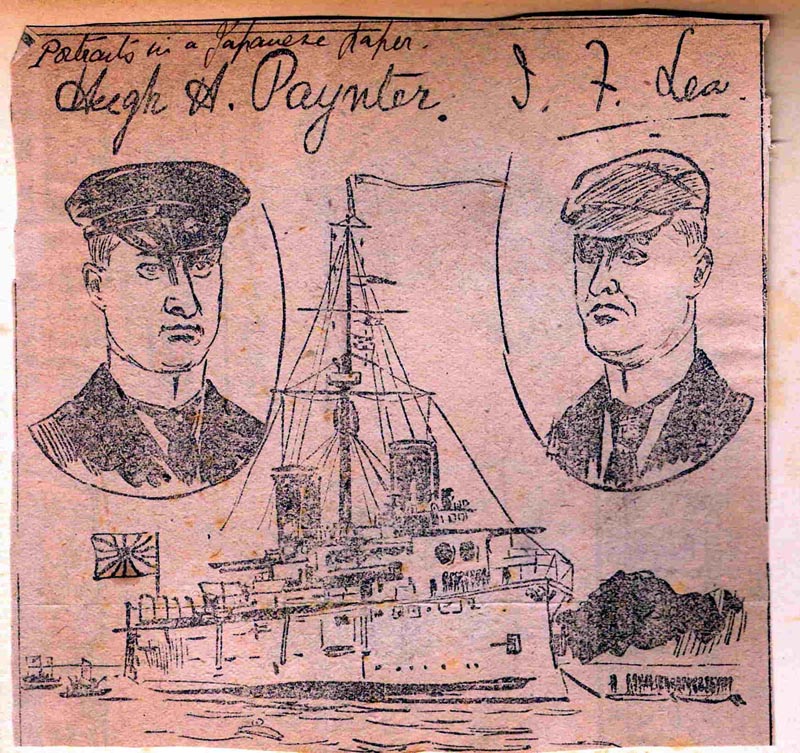 Japanese Cartoon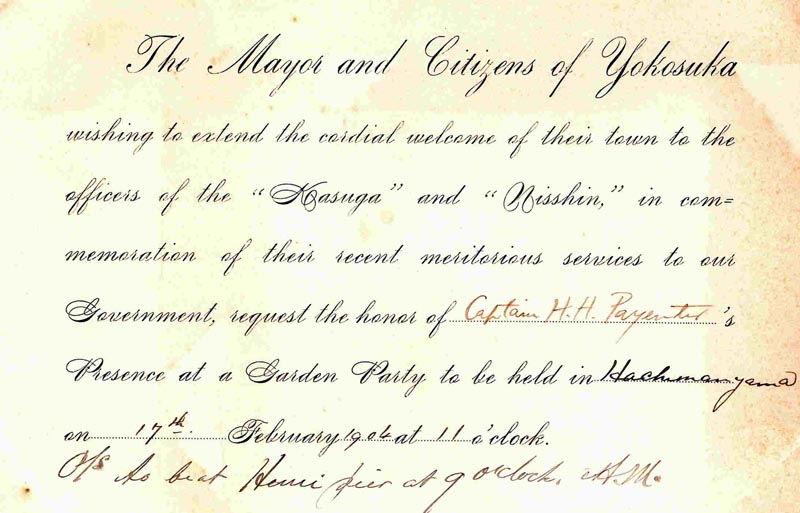 Mayor and Citizens of Yokosuka Garden Party Invitation - 17th Feb 1904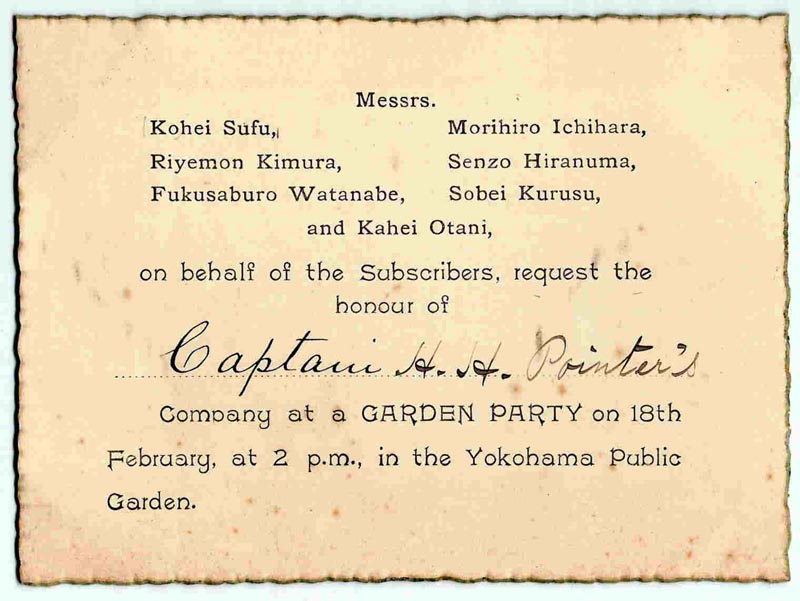 Garden Party Invitation - 18th Feb 1904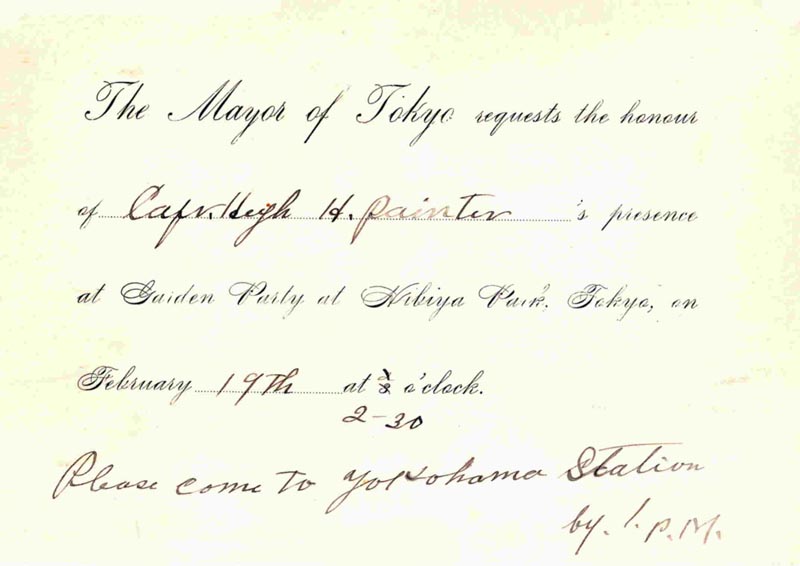 Mayor of Tokyo Garden Party Invitation - 19th Feb 1904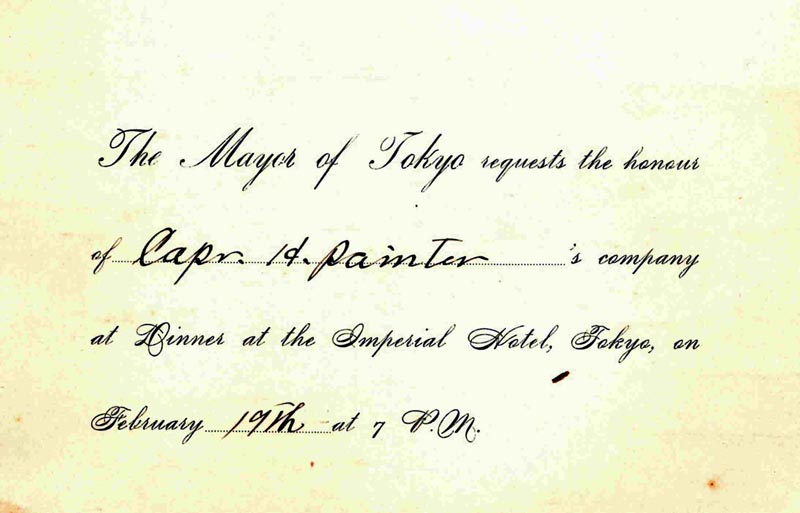 Mayor of Tokyo Dinner Invitation - 19th Feb 1904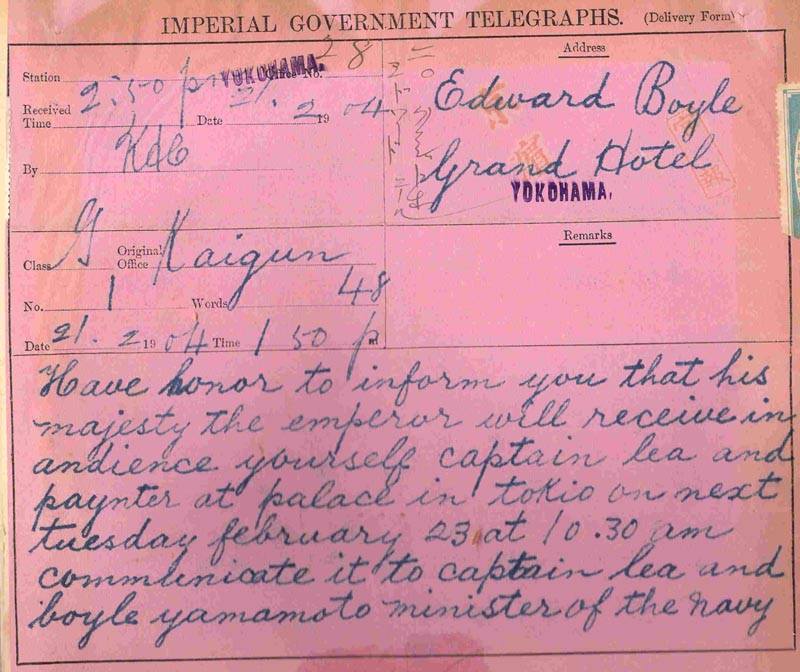 Royal Audience Invitation Telegram - 23rd Feb 1904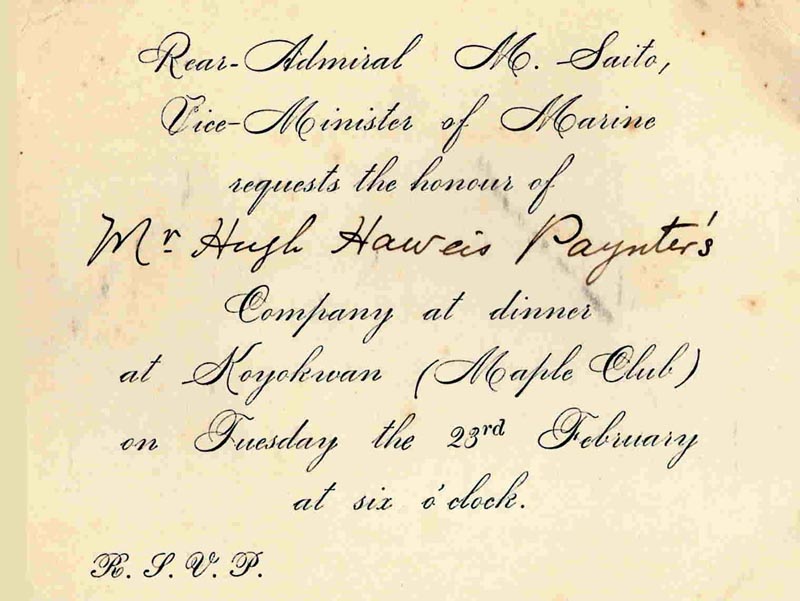 Admiral Saito Dinner Invitation - 23rd Feb 1904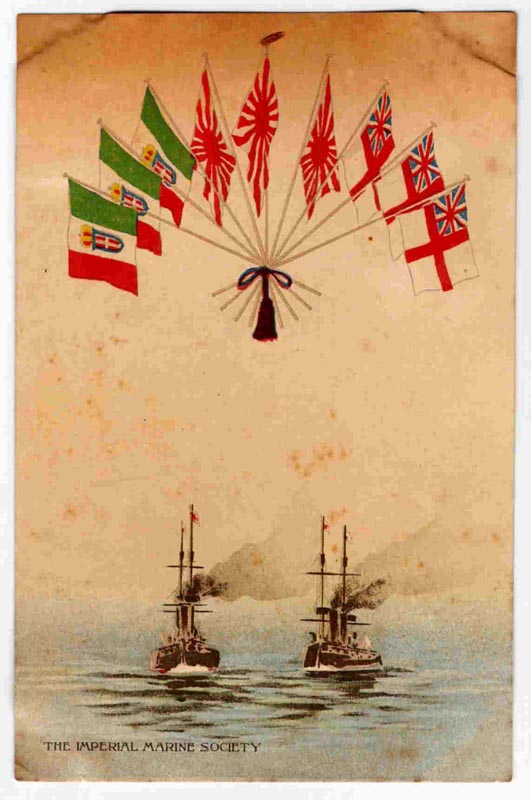 Welcome Postcard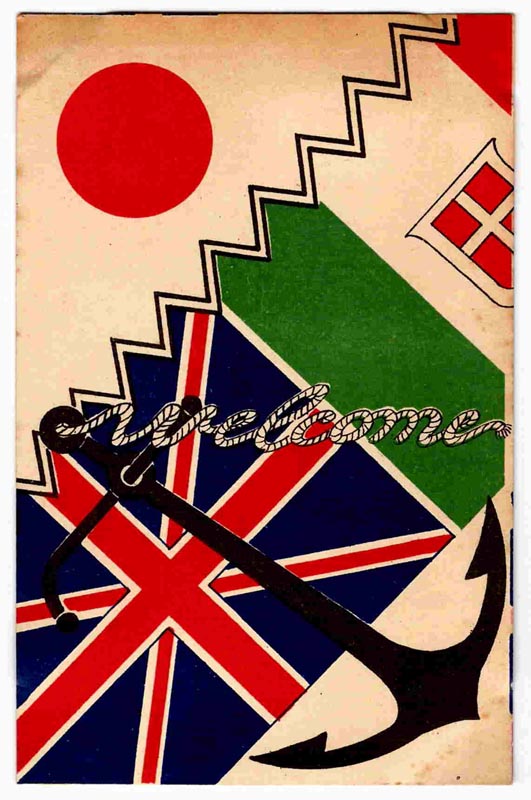 Welcome Postcard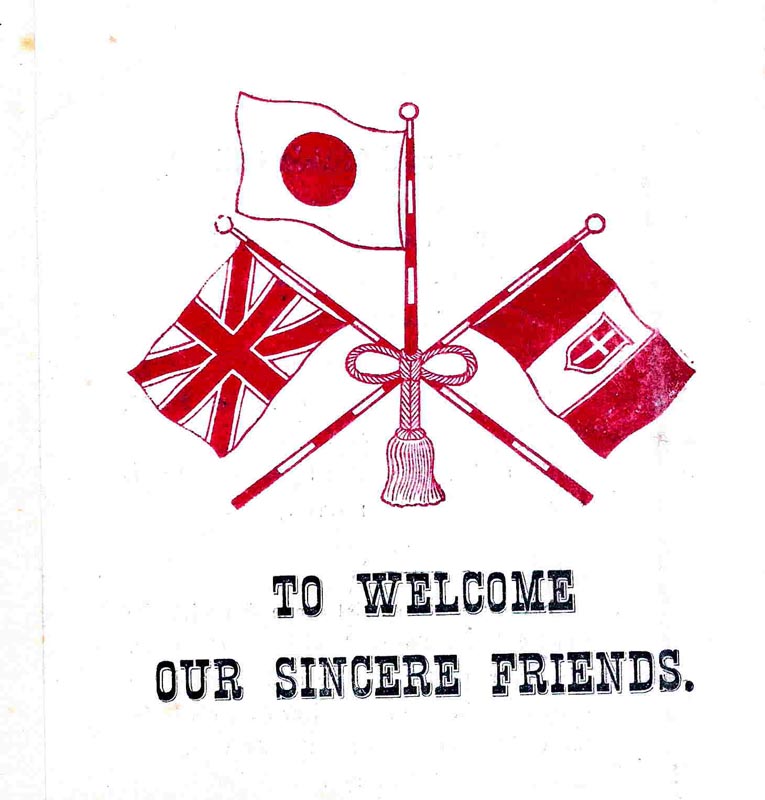 Welcome Postcard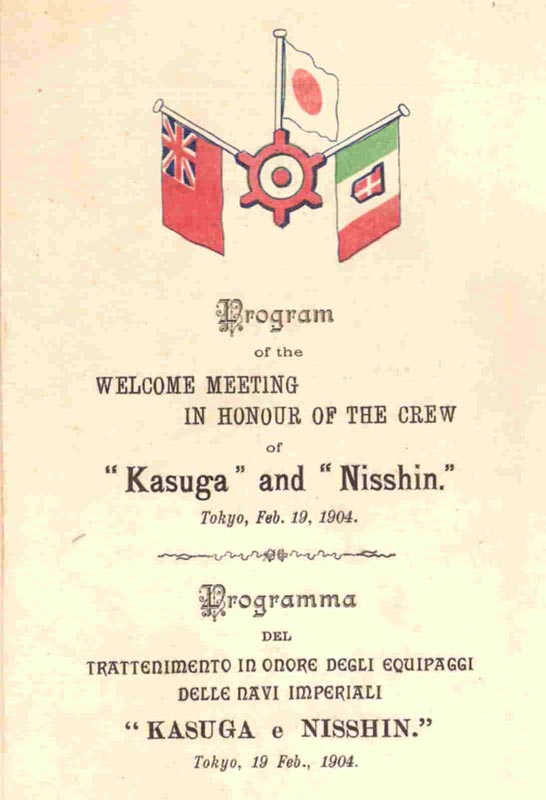 Welcome Card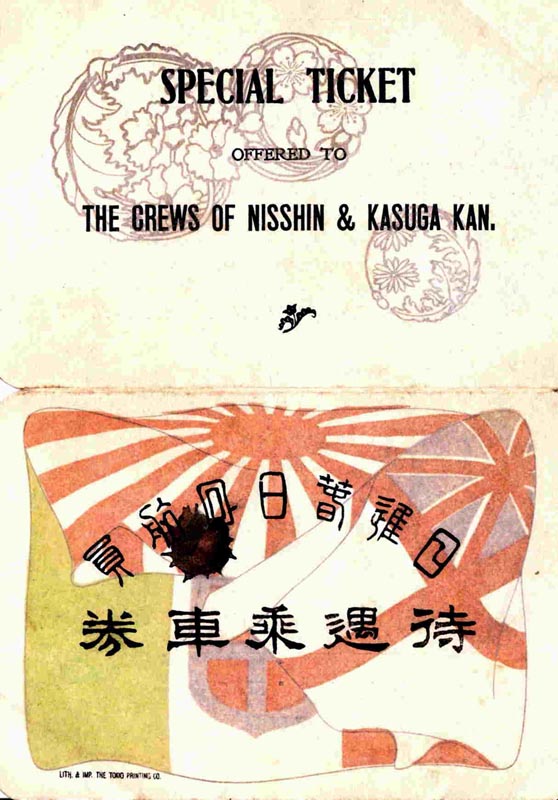 Special Crew Ticket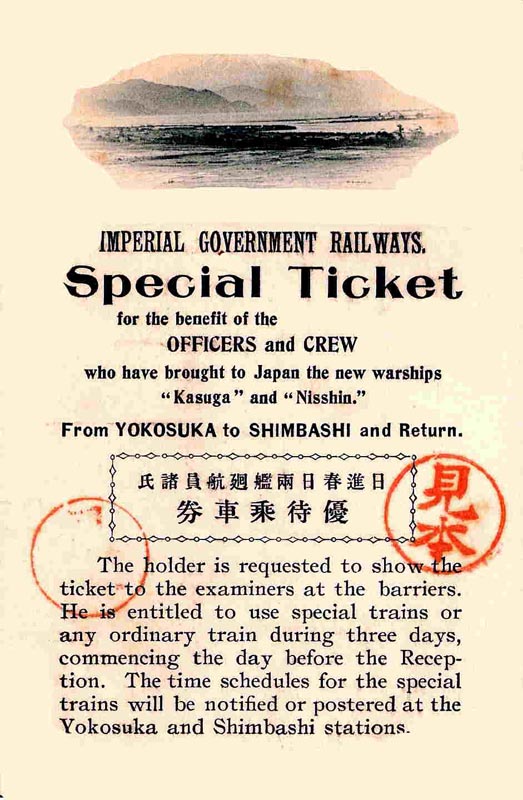 Special Railway Ticket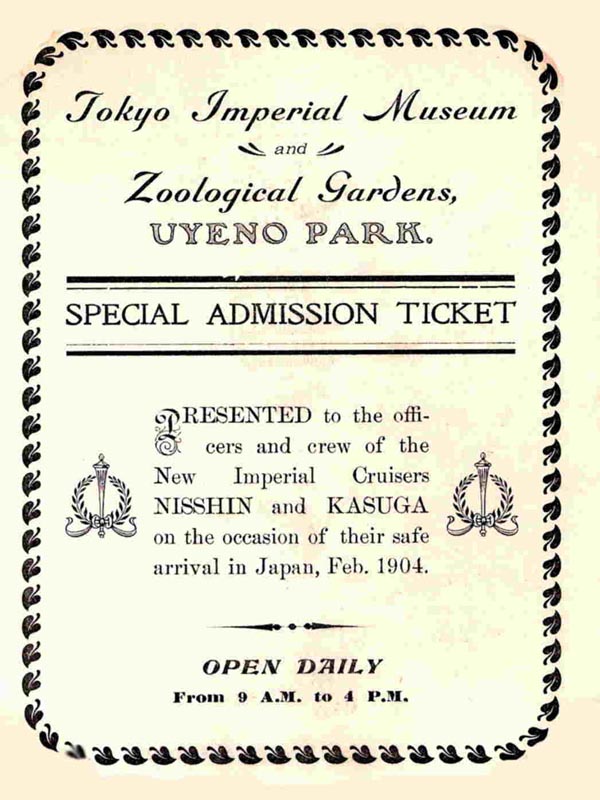 Zoological Gardens Ticket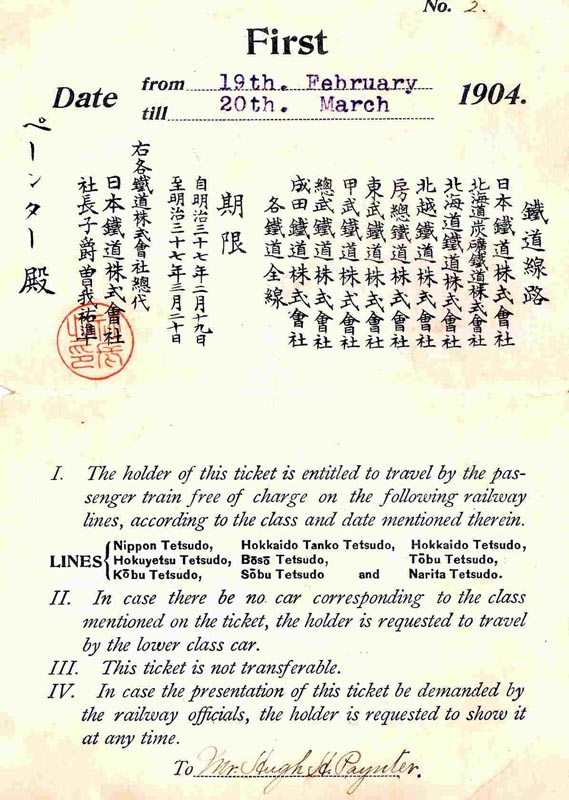 Railway Travel Permit
---
Newspaper Clippings relating to the event also kindly provided by Peter Duckers of the Shropshire Regimental Museum.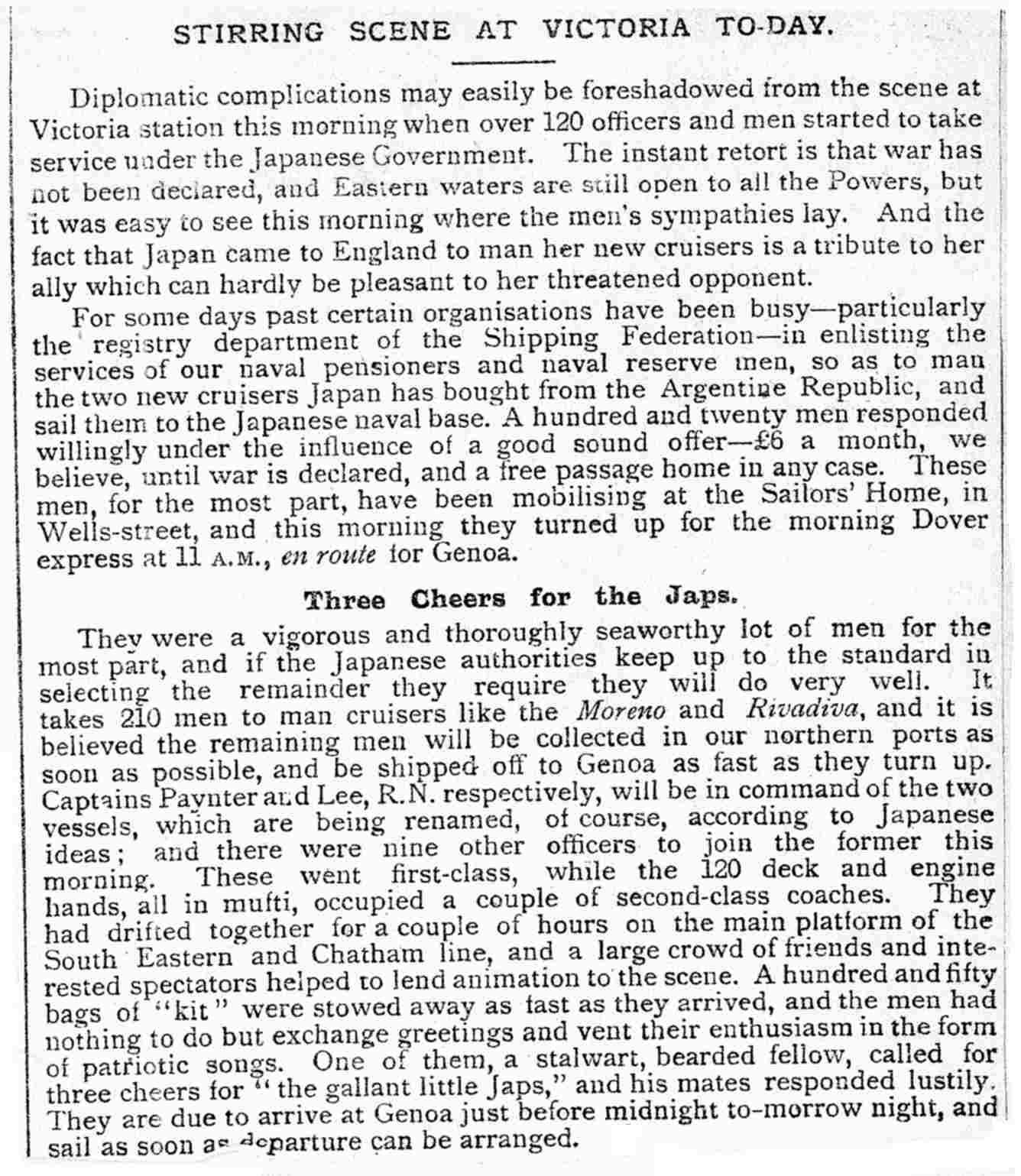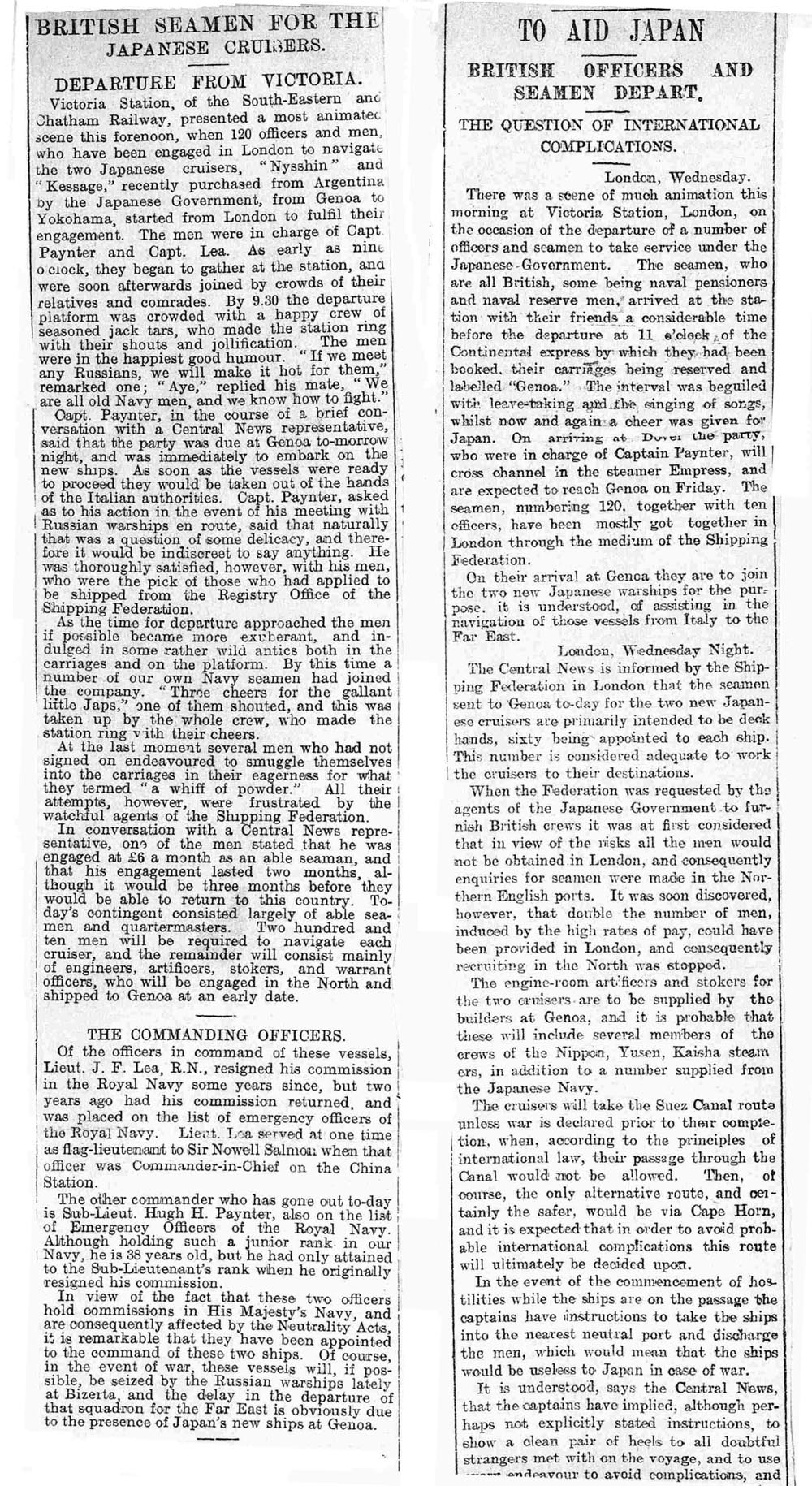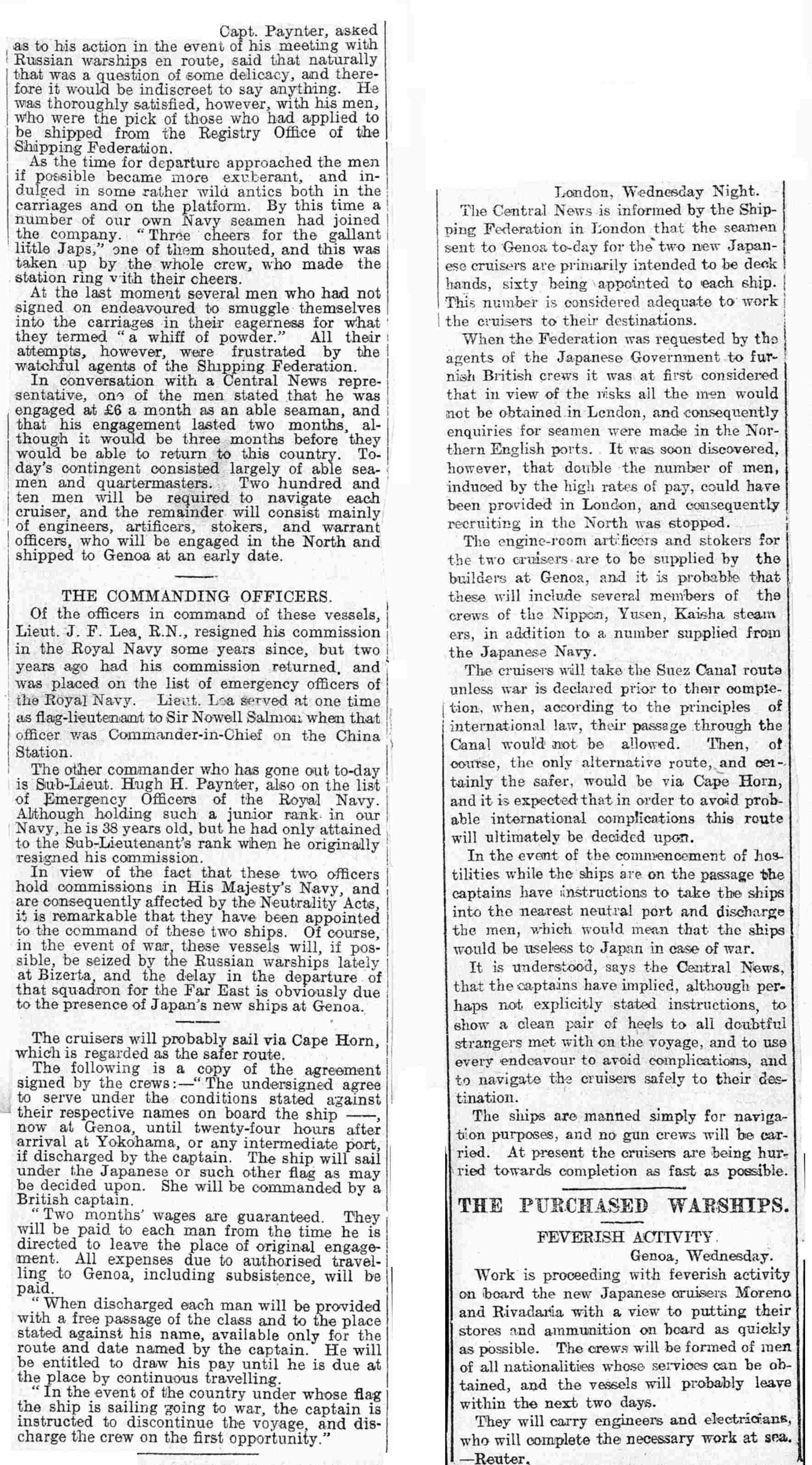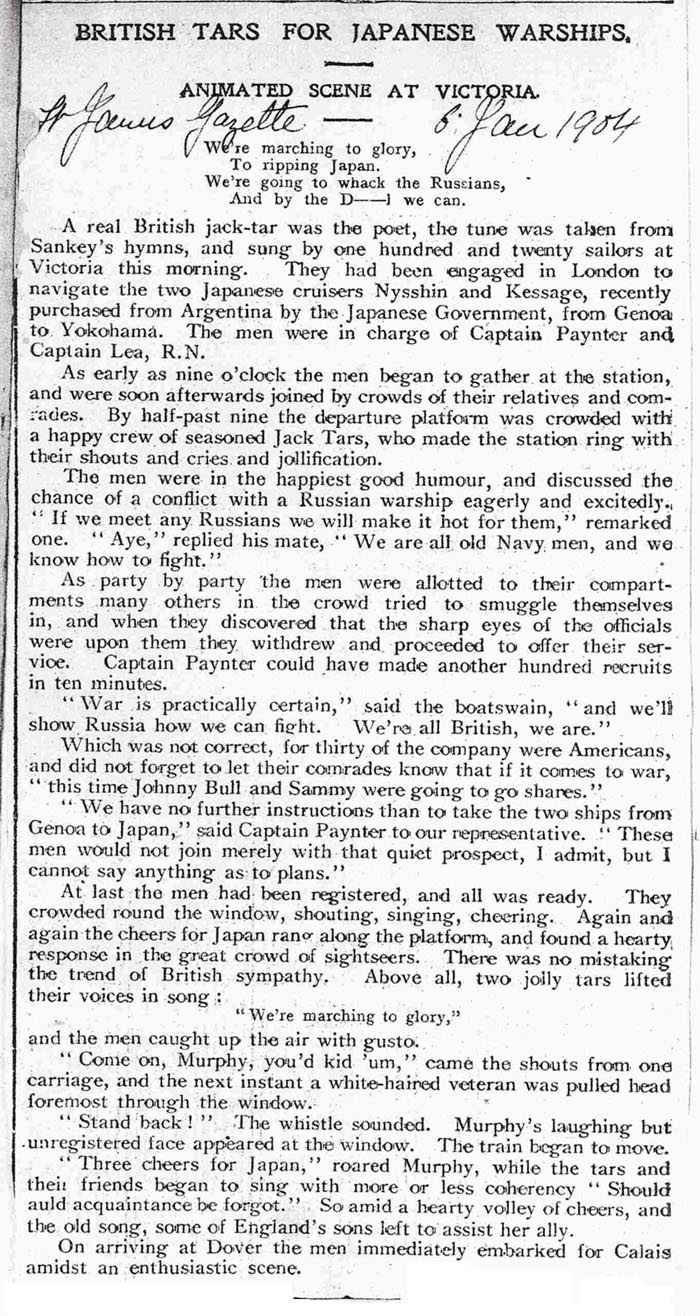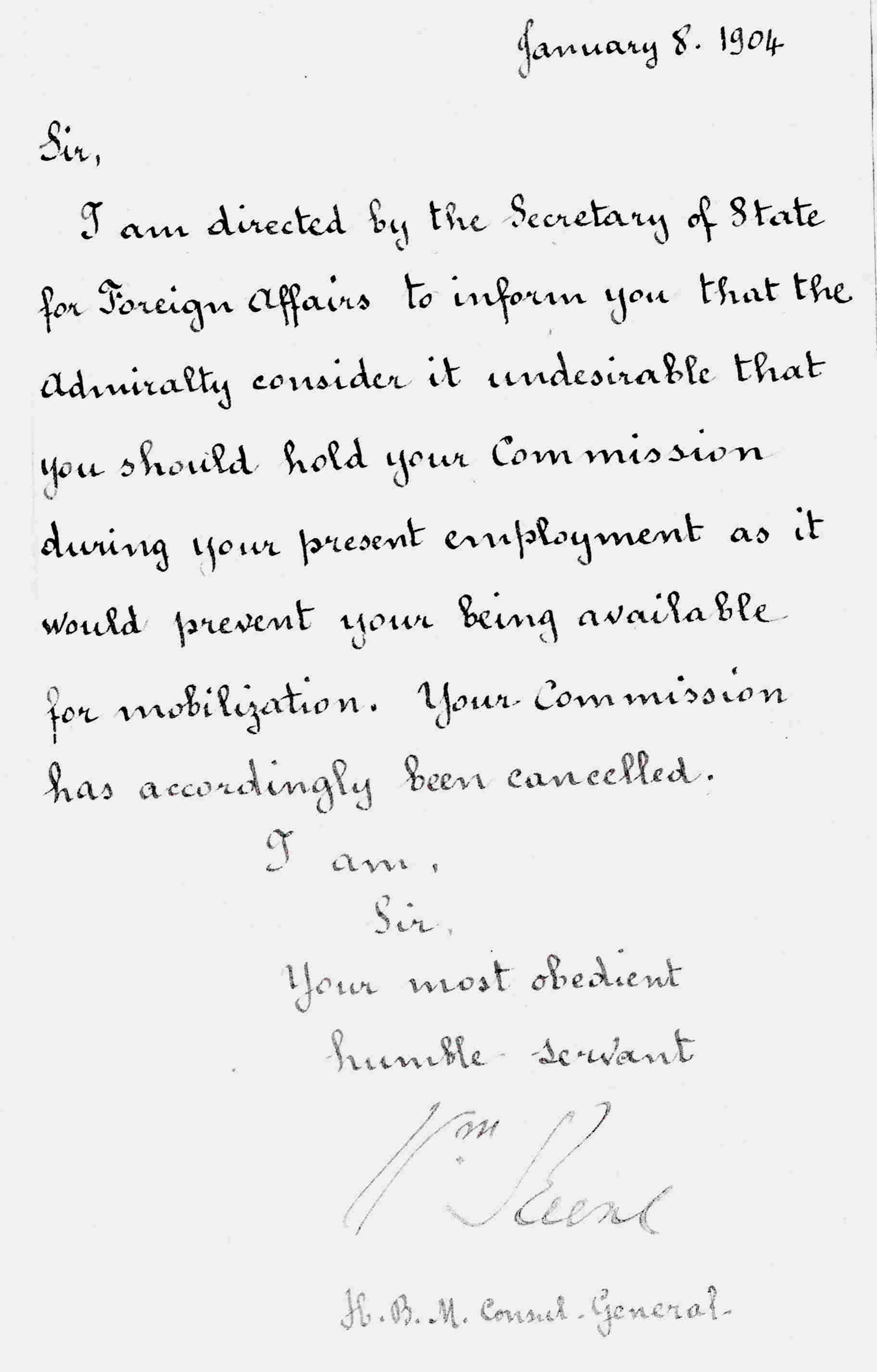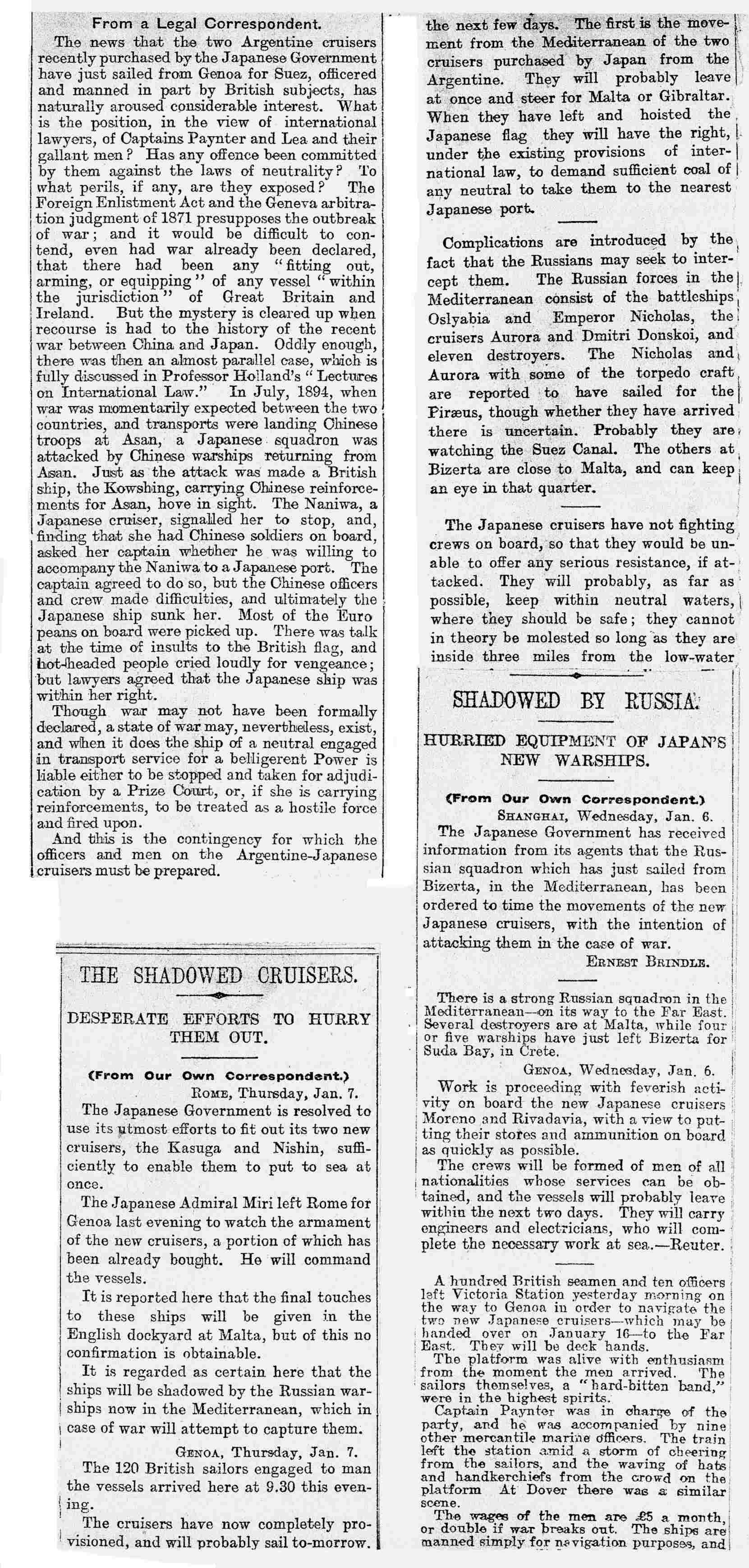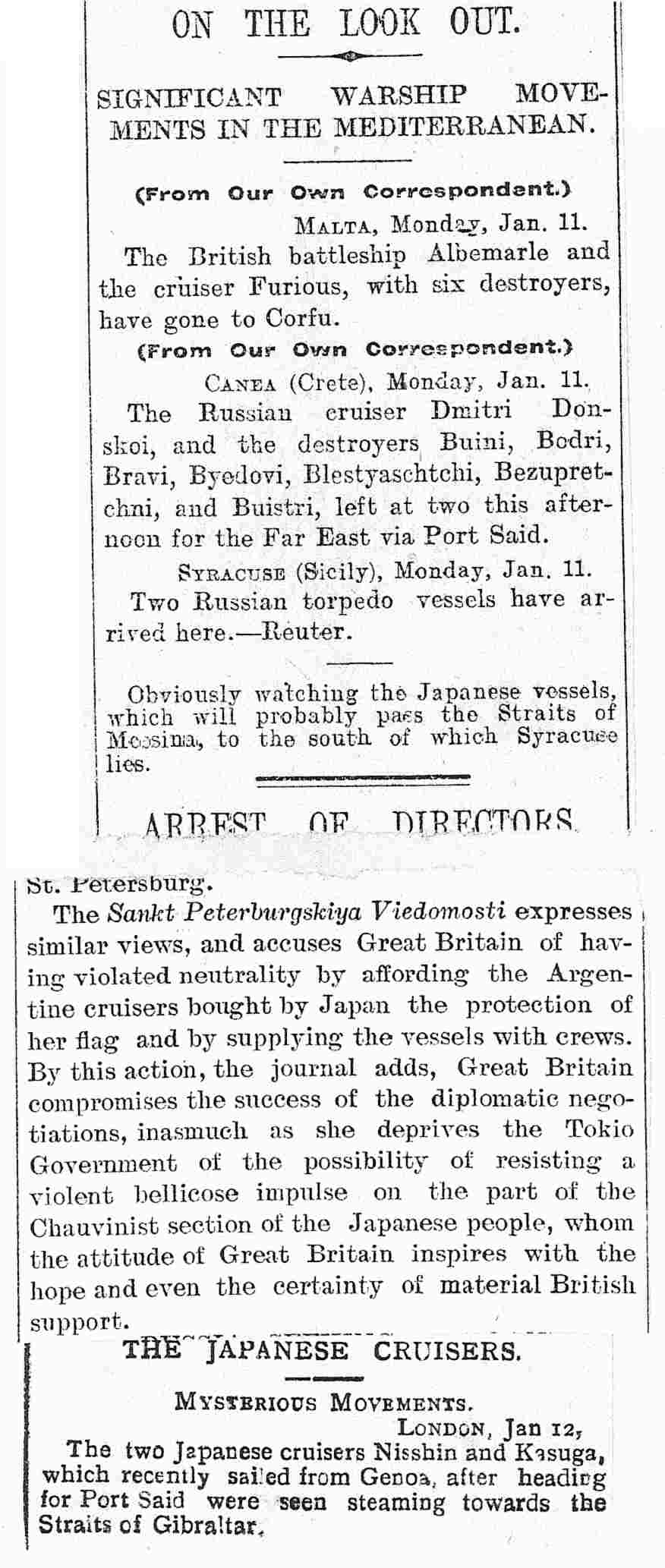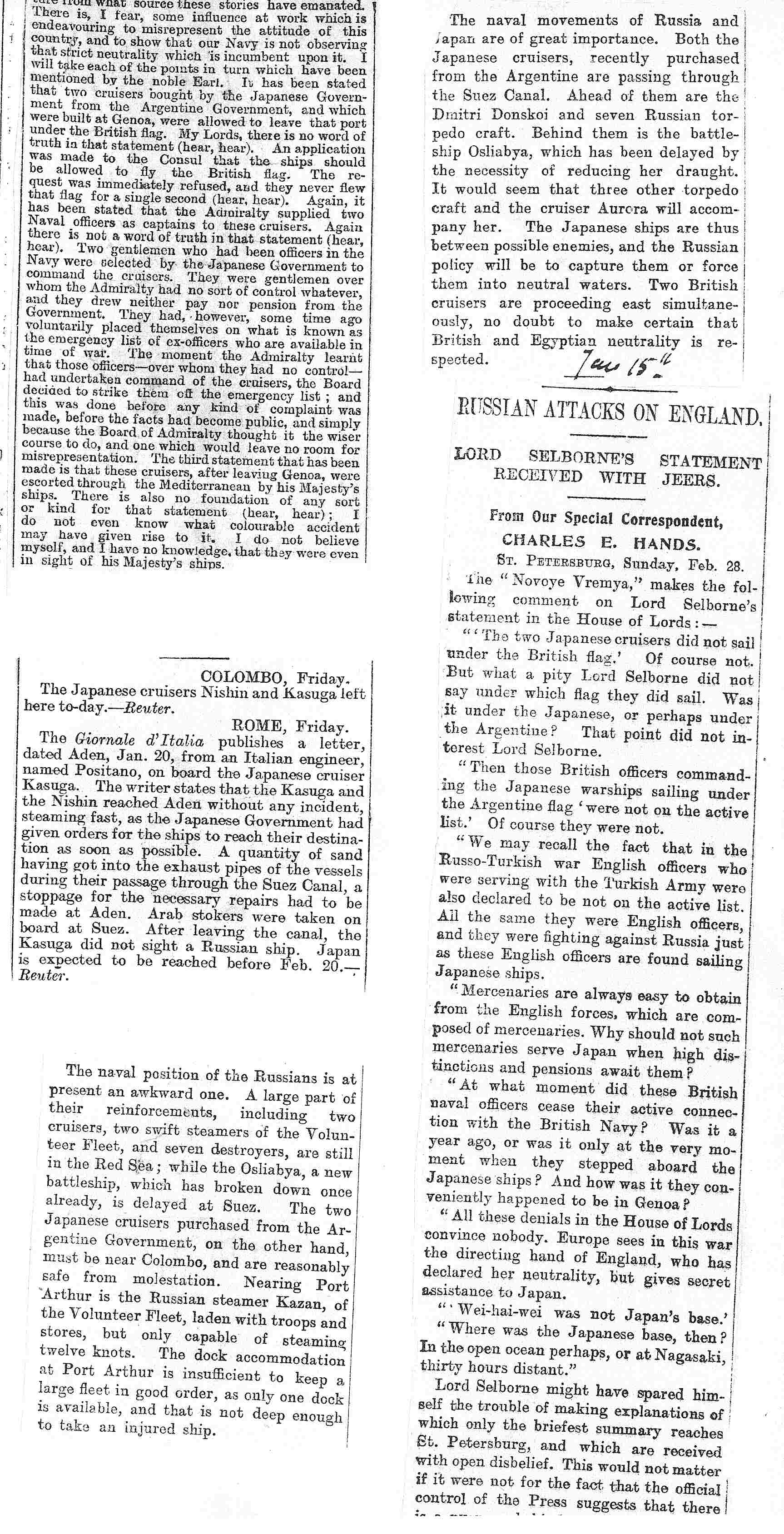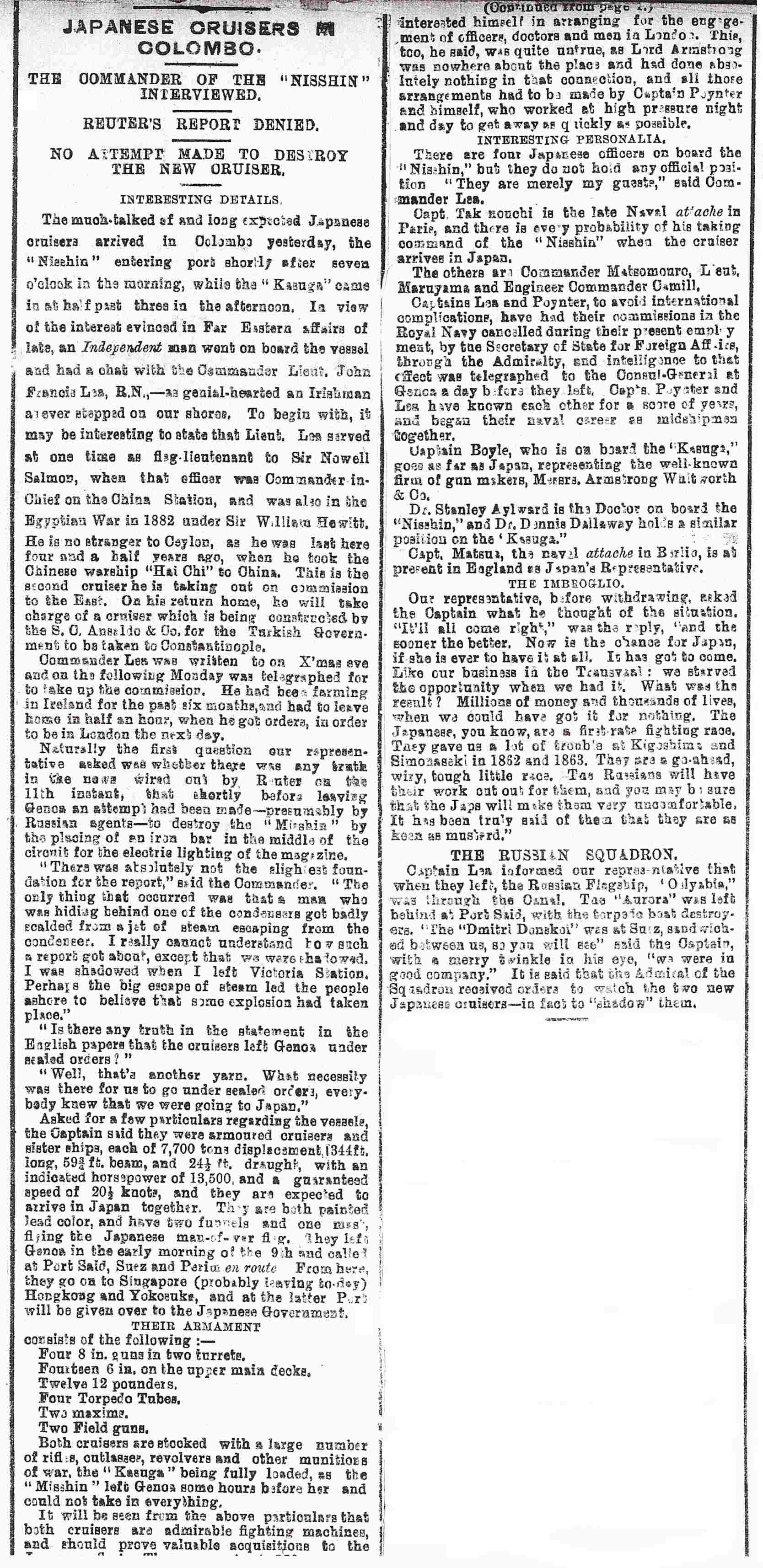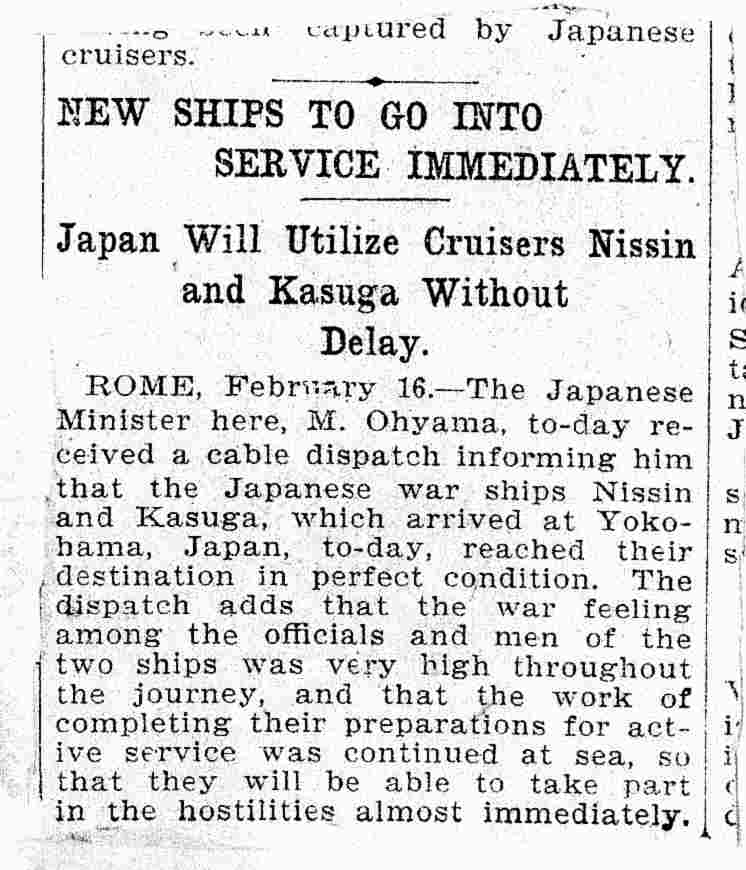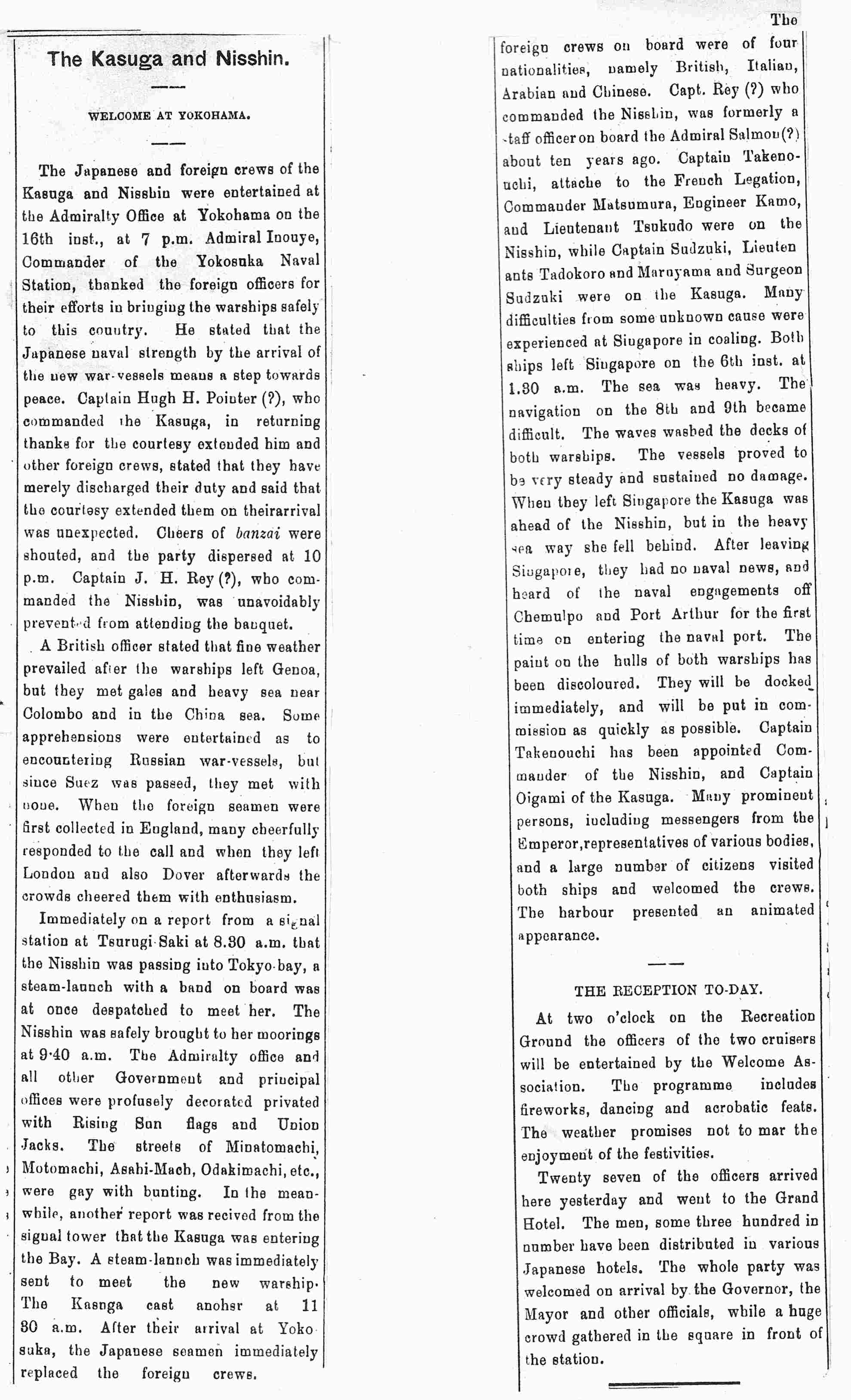 from the Marlborough Times (below)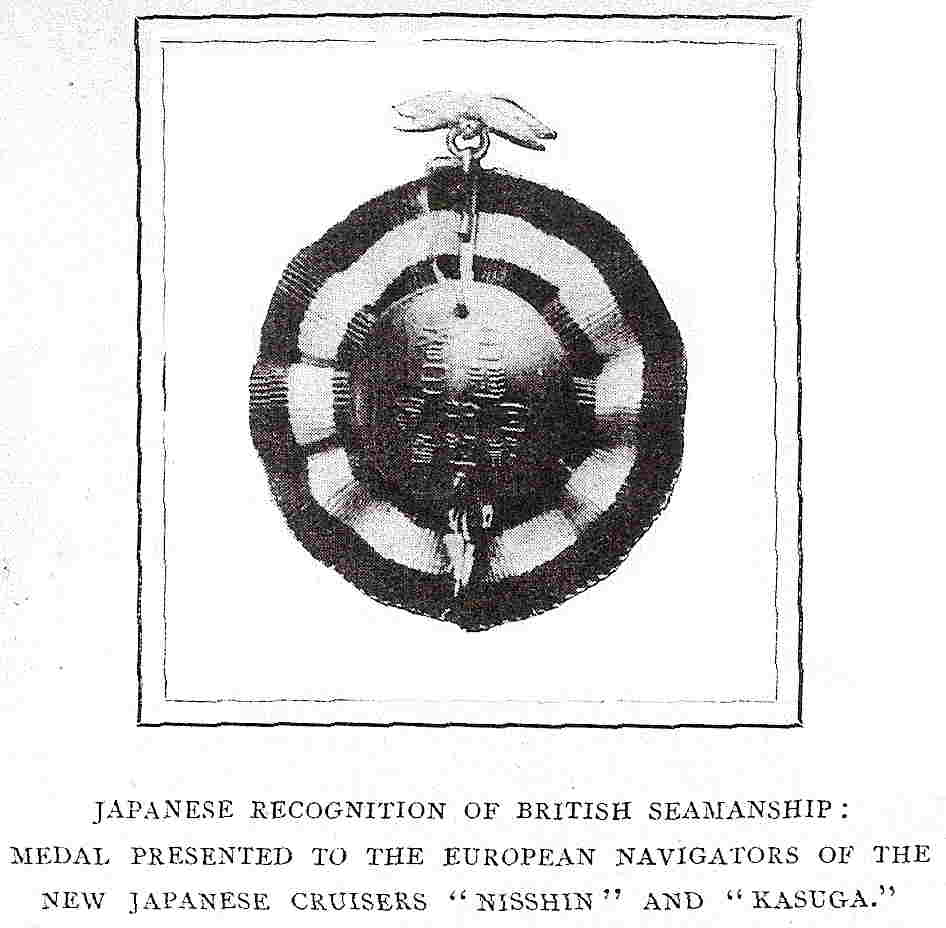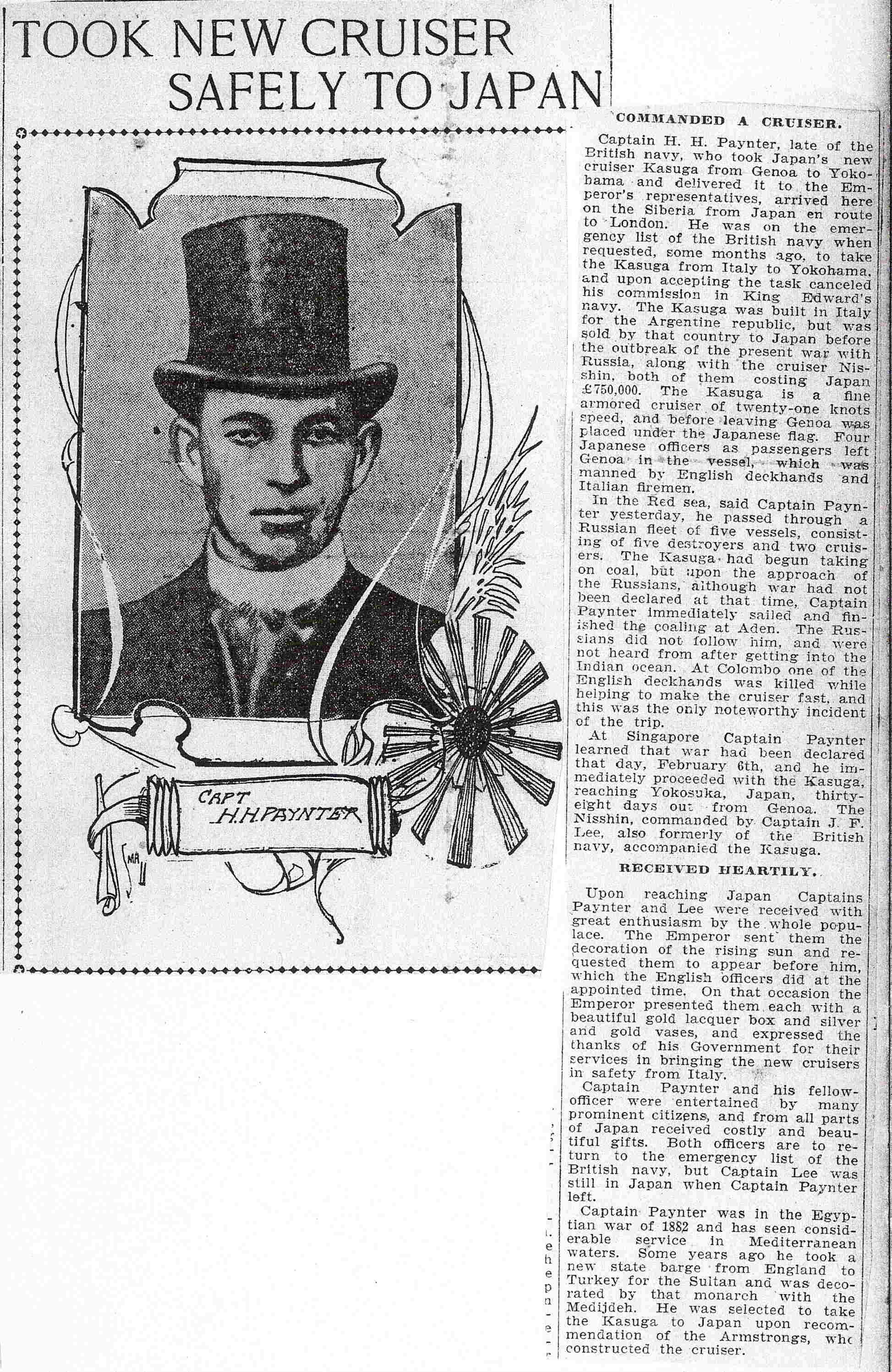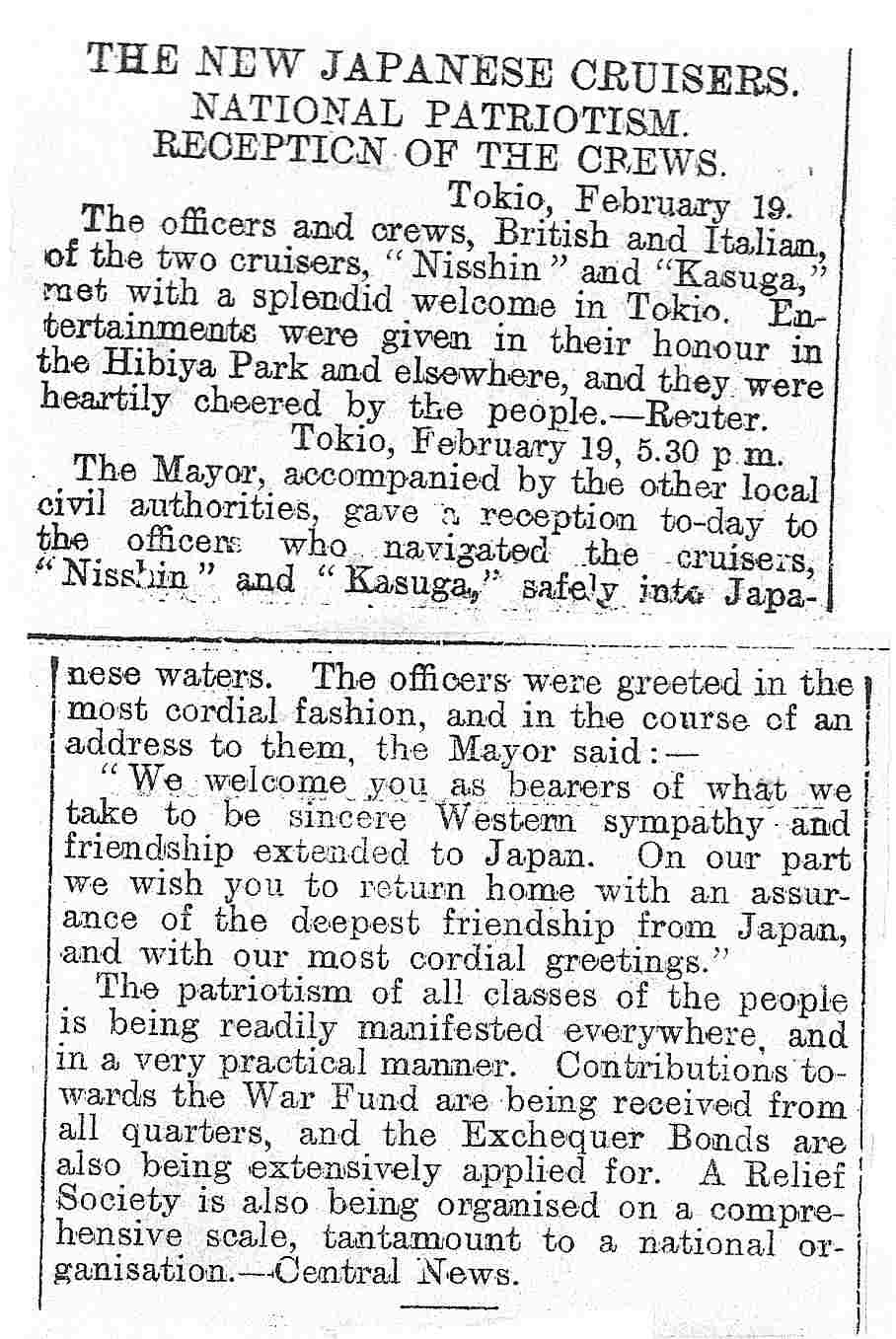 ---
Last updated 27 Nov 2011
Page created 22 Nov 2011