Francis James Newman Rogers of Rainscombe
1791 - 1851
---
Relationship to me:
1st Cousin 4 times removed
Gen -4
Born
1791#
Died
1851#
Age
60
Father:
James Rogers
unknown
Mother:
Catherine (née Newman)
1762 - 1832
Brothers:
none known
Sisters:
none known
Married:
married his cousin Julia Eleanora Yea according to Louisa Annie Rogers - m.1822 - see Access Genealogy
Children:
Francis Newman Rogers J. P. - unmarried#
1826-1859
Rev. Edward Henry Rogers of Rainscombe M. A.#
Fellow of King's Coll., Camb.; Vicar of Thames Ditton, 1860-97;

1827-1910
Walter Lacy Rogers M.A. of Balliol Coll., Oxford; Barrister-at-Law; J.P.;#
m. (1), 1868, Hermione Lucy Hamilton; m. (2), 1873, Sophia Mary Coore Paton
d.1885
* Note: Francis's grandfather, Francis Newman of North Cadbury, called attention in his will to "his wife's "promise of doing justice to her successor, my grandson Francis James Newman Rogers." From this it is deduced that Francis's middle name was James as confirmed by Access Genealogy. As noted below, he may have been known by the name James Newman.
# Dates taken from Access Genealogy.
---
Francis Newman-Rogers: Francis appears to have been a very different character and much more successful lawyer than his grandfather Francis Newman. Indeed, he has achieved recognition to the extent of having aWikipedia page dedicated to him and also a Wikisource page. He even has his own Facebook page.
It also appears that Francis took over the Rogers' ancestral home of Rainscombe Park in Wiltshire, becoming known as Francis Newman of Rainscombe (see Access Genealogy website).
Notes:
Francis Newman-Rogers may have been known as James Newman. A book called

The cult of Kean By Jeffrey Kahan

includes a description of the notorious affair between the famous Shakespearean actor Edmund Kean and Francis's cousin

Frances Charlotte Cox

. The article refers to a James Newman handing an envelope containing notes (implying money) to a Ms Wickstead for Mrs Cox one evening at the theatre, presumably on behalf of Edmund Kean.

As noted on Catherine Roger's page, Francis Newman-Rogers is mentioned in the old

Newman-Rogers Bible

currently in the possession of Francis's descendant, Jonathan Newman-Rogers. The fly-leafs contain references to the Rogers family and their inclusion of the Newman name at the request of Francis's grandfather

Francis Newman of North Cadbury

. On one page, Catherine's sister

Frances Newman

records her gift of the book to her nephew Francis Newman-Rogers Esquire. And in some accompanying

notes written by Louisa Annie Rogers in 1947

, she records her own gift of the book to her son Francis Henry Rogers and requests that he pass it onto his son Timothy.

According to Louisa Annie Rogers' notes, Catherine's sister Frances Newman "left these books to the son of her sister, who married the Revd S. Rogers Rector of Queen Camel. Francis Newman-Rogers, who took the name of Newman at his grandfather's request. This Newman-Rogers married his cousin Julia Yea - became Recorder of Exeter and rebuilt Rainscombe. Grandfather of my husband F.E.N. Rogers." She goes on to state that the books were given by her husband's uncle the Revd E.H. Rogers to her son Francis Henry Rogers in trust for his son Timothy. From this we can deduce that Francis Newman-Rogers was the great-grandfather of Louisa's son Francis Henry Rogers and great great grandfather to his son Timothy Rogers, father of Jonathan and Alex Newman-Rogers.

Below is a portrait of a young Francis Newman-Rogers dated 1797.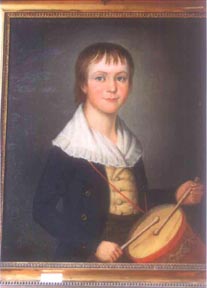 Click on images for enlargements
---
Page updated: 26th Feb 2012
.
Page created: 2nd May 2008.