Sir Anthony Montague Browne KCMG CBE DFC
1923 - 2013
---
Relationship to me:
Second cousin once removed
Gen -1

Born:
1923
dates from Wikipedia
Died:
2013
Age
89
Father:
Andrew Montague Browne
1878 – 1969
Mother:
Violet Evelyn née Downes
1883 – 1969
Brothers:
????
Sisters:
(elder) Mary Jeanne
1919 - c.1990
Married:
????
???? - ????
Children:
Dr. Justin Welby
1956 - living
????
???? - ????
---
Anthony MB was private secretary to Sir Winston Churchill from 1952 until Churchill's death in 1965. Full details of his life can be found on Wikipedia.
His name reappeared in the world press in 2016 (three years after his death) when it was discovered that he was the father of Dr Justin Welby, Archbishop of Canterbury - see newspaper cutting below [from The Week magazine, 16 Aprl 2016].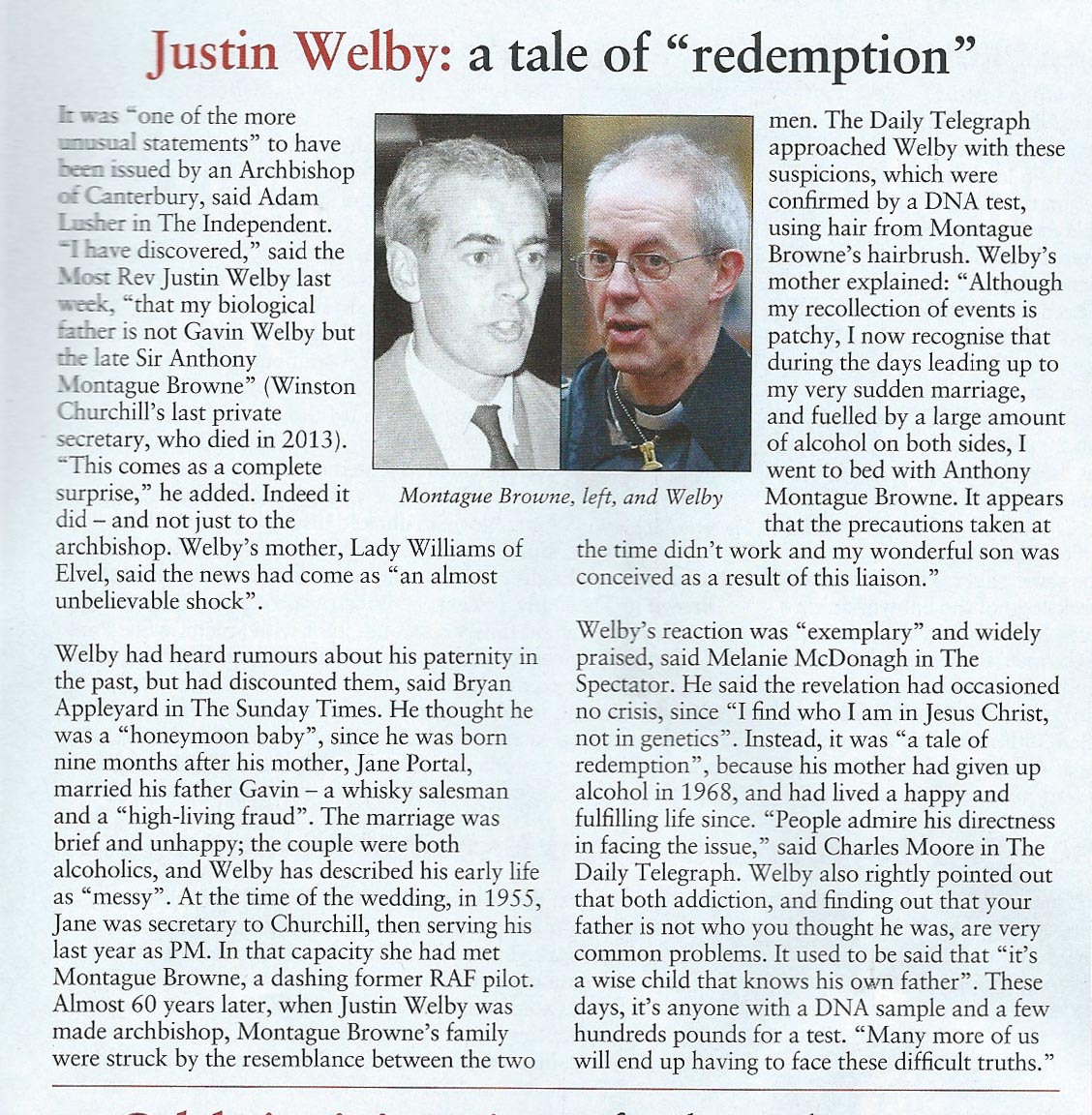 The undated newspaper clipping below shows him dancing with Churchill's daughter Sarah.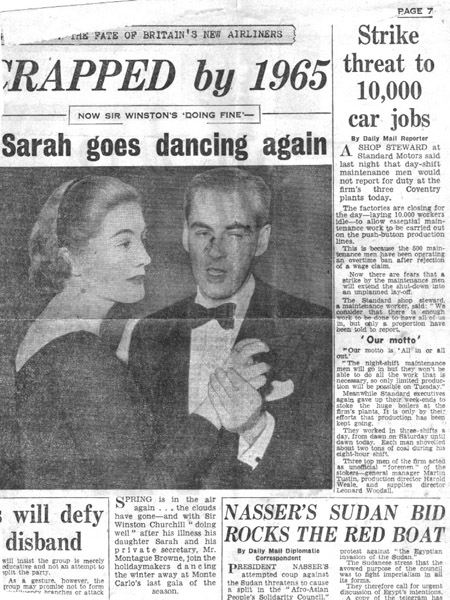 ---
Mary Jeanne Montegue Browne: the following anecdotes were provided by Jeanne's god-son Charles Hillman in June 2018:
Jeanne was Anthony's bossy big sister aka elder sister. She was at school with my mother and later became my God mother. This was superficially odd because she was resolutely athiest in her beliefs, but in fact she collected God children and refused to be put off. My mother was steam rollered into not saying no which meant, it turned out, yes. So I grew up with an extra God mother. I should add she was in several ways an excellent God mother as in financially generous when I went to university. She was still terrifying.

Mary Jeanne Montague-Browne was born in 1919. (registered Devonport Q3 1919). She attended "secondary" school at St George's School at the eastern end of Lake Geneva. She must have started there around 1930, at which time Switzerland was a cheap place to live. (A few years later Britain "came off the gold standard" and Switzerland stopped being a cheap place to live because the pound took one of its periodic tumbles.) At the school the young ladies were required to speak French in daily conversation and the linguistically talented became quite good linguists.

If one googles the right combination of words one finds a certificate attesting that during the second world war she was stationed at Bletchley Park.

She went to the US, briefly, and married J. Elliott Spiers in California in November 1950. They only stayed together for about three weeks, but it was long enough for a name change and she became Jeanne Spiers.

During the 1950s, 1960s, 1970s Jeanne had an important job with the "Foreign Office". I think it was in connection with this that she collected God children. She used to visit us for Sunday lunch every month or so. She was generous with bank notes at birthday times but made me cry by suggesting that it was high time that a "cuddly toy" dog should be relegated to the bin. I wasn't ready for that. Nor was the "cuddly toy" dog. Later she gave me £850 when I went to Cambridge (instead, she said, of leaving me something in her will) which along with the work I got on the M11 motorway site in my summer holidays made a significant and positive differences to my student life style). So not a motherly type. But generous. Also I think she is also the only person who ever took me to a Promenade Concert in the Albert Hall.

After she retired it emerged that her job with the Civil Service had involved the spooks. She retired to Hertfordshire and married a former colleague called Ray Richards.

She died during the late 1980s or early 1990s.
---
Updated 13 July 2018