Anne Acton (née Gregory)
1729 - 1780
---
Relationship to me:
Great Great Great Great Great Grandmother
Gen -7


Anne Gregory probably painted around 1765 after the death of her father
(photo from Ian Caldwell)

Born:
1729
Died:
20th Feb 1780
Age
51
Father:
William Gregory of Sollershope
and How Caple
d. 17 Nov 1765
Mother:
Susan Brydges of Tyberton Court, Hereford
Brothers:
None known of
Sisters:
None known of
Married:
Edward Acton of Acton Scott, near Church Stretton, Shropshire.
Children:
Susanna
1754 - 1834
---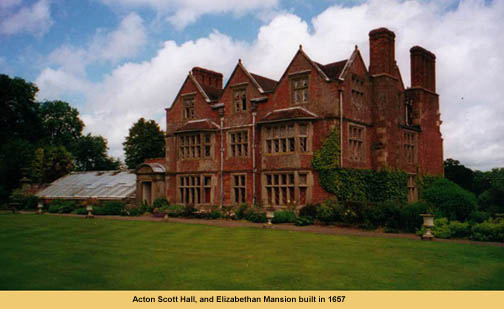 From Ian Caldwell (Dec 2001): Anne Gregory (1729-1780), daughter of William Gregory and Susannah Brydges, married Edward Acton (1724-1775) of Acton Scott, near Church Stretton in Shropshire. Edward Acton was the son of the Reverend John Acton DD, vicar of Clun, Shropshire and his wife, Beatrice Fleming. Edward Acton inherited the Acton Scott estate because his father's eldest brother's son, Sir Richard Acton died without and heir, as did the other brother, Edward Acton (1680-1716), whose wife, Mary Bird died in 1747. There is a memorial to Edward Acton in the church at Acton Scott which is inscribed: "Sacred to the memory of Edward Acton Esq. He departed this life July 23rd 1775 aged 51, a man of sound judgment and strict integrity. He married Anna, eldest daughter of William Gregory Esq. of Woolhope in the County of Hereford, by whom he left issue one daughter, Susannah, married to John Stackhouse Esq., of Pendarves in the County of Cornwall, April the 20th 1773."
There are two portraits of Anne Gregory one possibly made around 1765 at about the time of the death of her father, as she is wearing a black ring of lace around her neck and is draped with a black shawl. Her hair is piled up high in a Madame Pompadour style. Another portrait made perhaps 10 years later (shown left) shows her with the same hairstyle and wearing a black dress with white lace around her neck and white ribbons, perhaps after the death of her husband?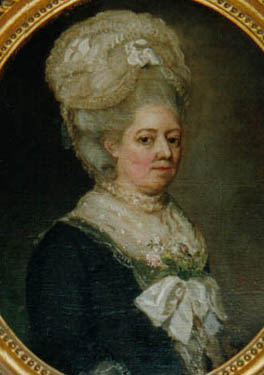 Anne Gregory was buried in Cambourne Parish, Cornwall, where her son-in-law held the Pendarves estate and her epitaph reads: "Near this place are deposited the remains of Anne Acton, widow and relict of Edward Acton Esq., of Acton Scott, Salop, who departed this life on February 20th 1780 aged 51.
Unconscious Virtue, unaffected grace,
Her mind reflected and adorned her face,
Her every word was sense with candour fraught,
Her every action was by justice taught,
Superior worth cold not on Earth be given,
To be more perfect Acton flew to Heaven."