Sir Ralph Hopton - Lord Hopton, 1st Baron of Stratton
1596 - 1652
---
"The King's Man in the West"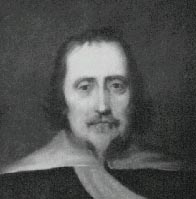 The following story is taken from a text sent to me by Mark Hopton, a descendant of Sir Ralph.
1596 - Ralph Hopton was born in March into a rich family, the son of Robert Hopton and Janet Kemeys. The family had a long record of outstanding military achievements and many years of civil service. He was christened on the 13th of March at Evercreech, and grew up at the family home at Witham Friary in Somerset with his brother William (1602 - 1623) and his four sisters Katherine born in 1605, Rachel born in 1606, Mary born in 1608 and Margaret who was born in 1610.
1614 - Following his education at King's Grammar School Bruton, Ralph was admitted to the Middle Temple to study on February 14th.
1616 - He was accepted at Lincoln College Oxford to continue his studies but it is believed he never completed them.
1620 - Having, it is believed, abandoned his studies and joined the volunteer force fighting for the Protestant Elector he was sent with his great friend, Sir William Waller, to Prague as part the personal bodyguard of the English Princess Elizabeth who had married Frederick the Elector of Bohemia. Princess Elizabeth was the sister of Charles I. When the Catholic League overran Prague, because Frederick had professed to the Protestant faith, Ralph carried on the back of his horse for some forty miles to safety, Elizabeth now Queen of Bohemia, who was pregnant with Prince Maurice.
1621 - Ralph was elected as Member of Parliament for Shaftsbury. His father Robert was the Member of Parliament for Somerset.
1623 - On March 18th Ralph married Elizabeth Capel Lewin (1591 - 1646) at Little Hadham in Hertfordshire. Elizabeth was the daughter of Sir Arthur Capel and the Widow of Sir Justinian Lewen. They lived at Ralph's estate at Evercreech Park just outside Witham Friary
1624 - Ralph was promoted to Lieutenant Colonel in Sir Charles Rich's regiment on the Mansfield expedition.
1625 - He was elected as a Member of Parliament for Bath in June, decided in August to join the Cadiz Expedition but in November, decided against joining, obtained a discharge from his military duties and remained as M.P. for Bath.
1626 - At the coronation of Charles 1 on the 2nd February Ralph was made a Knight of the Order of the Bath. Possibly as recognition for saving Elizabeth, Queen of Bohemia.
1628 - Ralph was elected as member of parliament for Wells, became a Justice of the Peace as well as Deputy Lieutenant of Somerset. He now settled down to life as a country squire at his home at Evercreech Park.
1636 - Ralph's father Robert died and he inherited the families estate which included Witham Friary and all its lands, Cogan Fleming Manor in Monmouthshire, Tilshead Rectory and Langley Fitzure Manor in Wiltshire, Llanthony Manor in Monmouthshire, Ditcheat Mansion House and Alhampton Manor in Somerset, Bisset-le-Rose Manor in Suffolk. He also inherited lands at Eways-Lacy , Waterston and Trewaylanin in Herefordshire, as well as land in Cardiff, Glamorgan and St.Mellons in Monmouthshire and Nunney parish in Somerset.
1639 - During the Bishop's war with the Scots that arose through Charles I's attempt to enforce the use of the New Prayer Book in Scotland, Ralph was appointed a Captain in the Royal Bodyguard. Upon his return to Somerset he was promoted to Colonel in the local militia and in his position as Deputy Lieutenant of the county of Somerset he issued a 'Posse Comitates' and recruited some 200 soldiers for the trained bands. This was an early Territorial Army that was used to defend and keep the peace in the county in which they were raised.
1640 - He became a member of parliament for Somerset in the Short Parliament and was then elected as Member of Parliament for Wells again in the Long Parliament.
1641 - Ralph supported the Act of Attainder against Strafford on May 10th and the Grand Remonstrance. As a close confidante of the King he was asked by parliament to lead a delegation to present the Grand Remonstrance to the King, which he did on December 1st at Hampton Court. The Grand Remonstrance was a criticism by parliament of the policy in Church and State of the King's reign. Up to this time the King had chosen to ignore parliament and only agreed to read it at a later date. Charles believed in the 'Divine right of Kings' and the fact he could rule without parliament, this being one of many conflicts between the King and parliament.
1642 - Being a Puritan, Ralph was a supporter of parliament, however on March 4th when he thought parliament had gone too far, he spoke out against the Militia Ordinance, which placed control of the army under parliament instead of the King. For this Ralph was imprisoned in the Tower of London for two weeks and upon his release on March 15th he declared his allegiance for the King.
With the relationship between King and Parliament growing even more antagonistic, the King was left with no option but to issue a 'Commission of Array' that empowered his supporters to raise an army in the King's name.
From his base in Wells the Marquess of Hertford, the Lord Lieutenant of Somerset, issued warrants to the various 'Hundreds' that required them to provide men, arms and supplies. However, the new Deputy Lieutenant of Somerset, Colonel William Strode, who on parliaments instructions had replaced Ralph, instructed people to ignore the 'Commission of Array' and follow parliament's Militia Ordinance, in raising an army for Parliament instead. Ralph was instructed by the Marquess of Hertford, to go to Shepton Mallet accompanied by Thomas Smith, Sir Fernando Gorgos and a body of 100 cavalry and to read aloud the 'Commission of Array'
On August 1st Ralph arrived in Shepton Mallet and attempted to read aloud the King's 'Commission of Array' Colonel Strode attempted to stop him saying that Parliament had declared on June 20th, that "all those that are actors into putting into effect the 'Commission of Array' are disturbers of the peace and be treated as such." In the ensuing street brawl Strode was arrested, the commission was read, but an ' unruly rabble' of about 1,000 people forced Ralph to withdraw. Both sides now faced each other three days later at Marshall's Elm where Ralph accompanied by Sir John Stawell totally routed Strode's men killing twenty-seven and taking some sixty prisoners. "And thus innocently began this cursed war", Ralph recalled later.
On August 5th Ralph was declared a delinquent by parliament, as he retired to Wells after his victory at Marshall's Elm. However, on August 6th the parliamentarians attacked the royalists at Croscombe, although it was inconclusive the parliamentarians were able to lay siege to Wells. Outnumbered, the loyalists abandoned Wells and proceeded to Sherborne Castle.
The King proclaimed that "the Earl of Essex, the leader of the parliamentarian forces, and all who serve under him were traitors and rebels" and on 8th of August declared war on parliament, raising the royal standard at Nottingham on the 22nd August. The commons declared Ralph a traitor on August 30th.
The Earl of Bedford besieged Sherborne Castle on September 2nd with 7,000 men. Ralph was sent to reconnoitre the area and clashed with parliamentarian forces on September 7th at Babylon hill near Yeovil. Hertford held a council of war on September 18th and decided to retire on Bristol and so the following day Ralph and the other royalists left Sherborne Castle. After a change of plan, Ralph and Hertford descended on Minehead where Hertford split his army, sending Ralph into Cornwall to raise an army, whilst he went into Wales. Ralph set himself up at Pendennis Castle on September 24th and raised an army of Cornishmen.
The King moved out of Nottingham and raised his standard at Oxford which became the royal capital for the duration of the civil war.
In December the King promoted Ralph to Lieutenant General of the Horse in the West and he arrived in Lostwithiel with his 'Commission of Array' to strengthen his army. Ralph's 'Cornish Army' consisted principally of the five foot regiments of his main adversary Sir Bevil Grenville, together with Sir Nicholas Slanning, Colonel's John Travannion, William Goldolphin and Warwick and Lord Mohun. With these men Ralph was able to drive the parliamentarians before him occupying Launceston and Saltash. His army however being Cornishmen refused to cross the river Tamar so Ralph dismissed them with good grace and set about raising a new army, with which he was able to control all of Devonshire in the name of the King right up to walls of Exeter which had declared for parliament.
1643 - The King invited Ralph to become Commander-in-Chief of the Western Army of the triumvirate, a position Ralph accepted. However, being short of supplies he had to lift the siege of Exeter and retreat back across the River Tamar pursued by Lord Stamford. The Cornishmen whom Ralph had dismissed previously now rallied around Ralph. Ruthven, a Scottish Officer, pushed an attack on the royalists without waiting for support from Stamford's regiment. Ralph and Bevil Grenville counter attacked at Braddock down near Liskard on January 19th defeating the parliamentarians and taking over 1,250 prisoners, guns and ammunition. Saltash was retaken on January 22nd and Okehampton was over run by the royalists two days later. Reinforced by the armies of Berkeley and Ashburnham the royalists now laid siege to Plymouth an important port and supply route from overseas. The parliamentarians in Plymouth offered a peace settlement and a meeting was arranged between Ralph accompanied by Sir Sidney Goldolphin and the parliamentary commissioners of Plymouth. However the talks soon collapsed and hostilities resumed.
On February 10th Ralph's house at Witham Friary was searched by order of parliament and on 20th February the house and all his properties were sequestered and seized to William Strode, the staunch parliamentarian with whom Ralph had clashed the previous year.
Ralph attacked General James Chudleigh at Polstern Bridge near Lanceston on April 23rd but in a rare error of judgement followed up his victory too quickly and was defeated at the bleak heights of Sourton Down on April 25th. Letters taken from Ralph's baggage after the battle, which were from the King, implored Ralph to assist in the King's action in threatening London and thus parliament. Ralph had regrouped following his defeat at Sourton Down whilst Chudliegh's army had retreated to Stratton, as Ralph's army was being strengthened by an increasing number of Cornishmen. Ralph now marched on Chudleigh's army at Stratton and in one of the most spirited battles of the civil war, the Battle of Stratton, Ralph and Bevil Grenville, despite being heavily outnumbered defeated the parliamentarians under the command of Chudleigh and the Earl of Stamford. The royalist army consisted of only 2,400 foot and 500 horse against a parliamentarian army of over 6,800. Ralph attacked the parliamentarians at dawn and the battle raged all day. By late afternoon as Ralph's ammunition had all but been used up a final assault was made on the parliamentarians by the Cornish foot who eventually routed Stamford capturing his artillery and munitions. The whole of Devonshire and Cornwall was now placed under royalist control again apart from Plymouth and Exeter. On June 10th Ralph, accompanied by Bevil Grenville, met up with the Marquess of Hertford and Prince Maurice at Chard and the combined forces proceeded to march on Bristol another important port and supply route which had declared for parliament Taunton, Bridgwater and Wells were captured in quick succession.
After marching over the Mendips, Chewton Mendip was reached on June 11th. The Cornish Army that had fought so well at Stratton, and had agreed to march out of Cornwall and fight in the name of the King, was transferred to the command of Prince Maurice. Ralph, now in the county that he knew so well, set about raising a new regiment whose motto was 'Et Sacris Comprescuit Ignibus Ignes. The combined armies of Maurice, Hertford and Ralph's new regiment now faced Waller, a formidable parliamentarian commander, and an old friend of Ralph who had accompanied him in the Palatine Wars some years earlier.
Waller had established himself at Bath for sometime and Ralph wrote to Waller with a proposal for a private meeting. This is one of six letters that appear to have been in Ralph's possession for sometime, it is not known if the meeting took place but it is known Waller did receive some of the correspondence. Waller's famous 'Opus Domini' reply highlighted the conflict between friendship and loyalty.
The royalists now advanced, via Frome to Bradford-on-Avon on the 2nd July encountering a small force of Waller's army that was defeated at Monkton Farliegh. The royalists now advanced on the parliamentarians at Lansdown hill in the hope of reaching Bath via the north.
Ralph advanced to Tog Hill. At Cold Ashton Waller placed his army to prevent any advance on Bath, and seeing Waller entrenched in front of him, Ralph withdrew to the top of Lansdown Hill. Waller sent a regiment of London cavalry, nicknamed the "Lobsters" because of their distinctive armour, under the command of Sir Arthur Hazelrigg after Ralph who assembled his forces at the top of Lansdown Hill. The Lobsters were driven back by the royalists and were pursued by Sir Bevil Grenvil and his men. A fierce battle took place with over 1,400 horsemen killed. Eventually Waller was forced to retreat to Bath with the remnants of his army. The victory was a hollow one as Sir Bevil Grenvile had been in the thick of the battle.
Ralph had also been wounded slightly during the battle, but the next day whilst inspecting some prisoners who were sitting on a cart, one of them lit a match for some tobacco. The cart that had been full of gunpowder, match and shot exploded killing Major Thomas Sheldon and seriously injuring Ralph. His horse was killed, " ......its skin turned to parched leather", whilst Ralph was temporarily blinded, suffered temporary paralysis down one side of his body as well as flash burns.
The royalists spent the day at Marshfield so Ralph could rest and the next two at Chippenham. Worried at the approach of Waller's army the royalists moved onto Devizes. Ralph from his sick bed organised the defence of Devizes as Waller laid siege. Bed cord was soaked in resin and dried in ovens to provide the much-needed match that had been destroyed in the explosion that had injured Ralph several days previously. However gunpowder was in short supply. A council of war was held to which Ralph was carried in his chair nursing his injuries. It was agreed that Hertford, Maurice and the horse would break out at about midnight on the 10th/11th and ride to Oxford for help, whilst the foot would defend Devizes until they returned. Waller now issued an ultimatum to Ralph for surrender, or on the evening of the 13th he would attack. To gain time Ralph considered the terms of surrender. In the afternoon of the 13th a large body of men crowned the heights of Roundway Down. Prince Maurice, who's mother Ralph had saved many years earlier, had returned with his army backed by a force of 2,000 fresh cavalry under the command of Wilmot to relieve Devizes. The Battle of Roundway Down followed in which Waller's army was defeated and to all intents and purposes, ceased to exist.
Prince Rupert together with the injured Ralph moved on and laid siege to Bristol on July 24th and on July 26th stormed and captured the port releasing several royalist ships that had been captured by the parliamentarians. The Cornish army, which led the assault, suffered heavy casualties with Colonel John Trevannion and Sir Nicholas Slanning killed and sir Thomas Basset, Major general of the Cornish army wounded.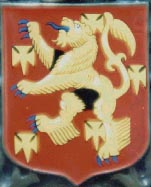 Hertford made Ralph the governor of Bristol, a position Rupert had asked for and been granted by Charles I. A furious row broke out between Hertford and Rupert and Ralph offered to become Lieutenant Governor under Rupert in an attempt to prevent further strife. Charles I arrived in Bristol and eventually created Rupert governor of Bristol, Hertford was moved to Oxford to assist in planning further campaigns and Ralph was raised to the peerage and created 'Lord Hopton First Baron of Stratton' on September 4th (coat of arms illustrated).
Ralph now almost fully recovered from his injuries was placed at the head of an army of 2,000 men, which included five companies of his regiment "..... resplendent in new colours," and started his move out of Bristol in an attempt to clear Dorset, Witshire and Hampshire and try and lift the siege of at Basing House letting the way open for an assault on London. [Basing House was a royalist fortified house owned by the Marquess of Winchester.] Sir William Waller, also at the head of a new army, was despatched by the earl of Essex, the leader of the parliamentarian army, to try and stop and if possible defeat him. Ralph had by the end of November met up with Sir William Ogle and made Winchester his headquarters. Alton was captured and a force sent, commanded by Sir Edward Ford, to take Arundel Castle which surrendered to Ralph himself on December 9th.
However his supply line had been stretched and despite a request to the King for support, Ralph was forced to withdraw to Petersfield. Waller attacked Crawford's headquarters at Alton on December 13th and following a fierce battle Crawfords cavalry retreated to Winchester leaving the foot under Colonel Bolles to fall back on the church. Unable to fend off the parliamentarians Bolles Troop's were overrun and the garrison wiped out. On December 16th Ralph wrote to Waller stating "This is the most evident ill success I have had....." and the Earl of Clarendon, the historian, wrote later that the loss of Bolles's regiment galled Hopton "...... as wound that would not heal", Whilst the King called for a 'mourning scarf' when told of the loss of Colonel Bolles and his regiment. Following on from his victory Waller took 5,000 horse and laid siege to Arundel Castle.
1644 - Ralph had to abandon Petersfield and unable to send support to Arundel Castle. It was forced to surrender on January 6th.
By March Ralph had been resupplied with gunpowder and with an army of between 8,000 and 10,000 men advanced once again on Winchester. Ralph met up with the Earl of Forth who brought an additional 2,000 men and supplies. The royalists occupied the town of Arlesford whilst Waller occupied Hinton Ampour. Ralph and Forth took up position on the crest of the hill above Cheriton, Waller occupied the Vale just over a mile away. Waller under cover of mist advanced into Cheriton Wood to begin the Battle of Arlesford. The cavaliers were defeated and forced to retreat to Basing House which despite several attempts to relieve it was still under siege. On March 31st Ralph and Forth left Basing House to return to Oxford and report to the King.
Once Ralph reached Oxford and had briefed the King he was made General of the Ordnance and sent on May 27th to take command of Bristol because the King was concerned "over the enthusiasm of its defence". In an attempt to stop Waller's advance the King, accompanied by Ralph and his regiment of Lifeguards, engaged the parliamentarians at Cropedy Bridge on 29th June. Having captured Waller's artillery the King tried to make terms but these fell on deaf ears, so the royalists being unable to press home the advantage retired on Evesham. Essex meanwhile had advanced into the Southwest in an attempt to relive the siege of Plymouth. The King's army, which included Ralph's regiment proceeded via Crediton and Okehampton to attack the parliamentarians who had advanced as far as Lostwithiel. The King set up his headquarters at Bocconock Down and advanced on Lostwithiel Lord Essex, realising he was surrounded, escaped by sea whilst his army now commanded by Skippon, following a council of war, was forced to surrender to the royalists.
At a royalist's council of war held at Stow-on-the-Wold, the King decided not to advance on London but to relieve garrisons under siege and if necessary engage the three parliamentary armies that were combining into one large army. Thus Ralph and Rupert left to go to Bristol principally as a diversionary tactic, but Ralph's regiment was called upon to assist the King in a second attempt to halt Waller this time at Newbury where Ralph was placed in command of the artillery. The Battle of Newbury from 17th to the 27th October was a drawn out affair but the royalists were forced to withdraw to Oxford leaving Donnington Castle besieged.
1645 - On January 21st Fairfax was made Commander-in-chief of all the parliamentarian forces that also included the "New Model Army". The New Model Army was a suggestion made previously by Waller which instead of an army of conscripts that were no better than an undisciplined rabble, an army of well paid, well trained and disciplined troops should be created.
Ralph was recalled to Oxford and appointed to the Prince of Wales's Privy Council as military adviser and councillor to Prince Charles the future Charles II. The council consisted of, Sir Edward Hyde the chancellor of the exchequer; the Earl of Bedford the prince's governor; Brian Duppa the Bishop of Salisbury, the prince's tutor; Richard Fanshawe the prince's secretary; Lord's Hopton, Capel, Culpepper and the Earl of Brentford, military advisors. They moved from Oxford to the relative safety of Bristol in April but because of the plague moved onto the West Country making Barnstaple their headquarters from about June. Following the King's defeat at the Battle of Naseby, and the surrender of Bristol, on September 11th by Rupert, the Prince fearing approach of Fairfax and the New Model Army, decided to move his headquarters to Launceston. In an attempt to reorganise the defence of the west and plan an offensive against the New Model Army, on 27th December the prince again moved his headquarters, this time to Tavistock and issued a proclamation "that all loyal and able bodied men take up arms and fight for the King".
1646 - After Lord Goring's decision to go overseas for "health reasons", Ralph was made Lieutenant General of the King's Army in the West on January 15th taking over, in effect, the only strong fighting force the King had left outside of Oxford.
The prince's council and chief commanders met at Tavistock and deployment of the royalist forces was agreed, which was to move the army via Torrington to Exeter and to engage and defeat the New Model Army under Fairfax and thus relieve the siege of Exeter. Accordingly on 3rd February Ralph left Launceston, which had remained as his headquarters after the prince moved to Tavistock, and arrived at Torrington on Tuesday the 10th of February where he waited on supplies being sent from Launceston.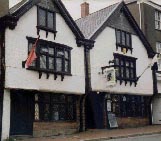 On Monday 16th February Fairfax with his new model army marched out of Chumleigh, their headquarters, to a rendezvous some two miles from Torrington. At 8pm the Battle of Torrington began, Ralph whose headquarters had been at the Black Horse (photo right) was forced to leave his evening meal and lead his troops into battle. Accompanied by several of his officers Ralph was checking the barricade on Well Street he had set up when the parliamentarians broke through and in the ensuing engagement Ralph was injured slightly in the cheek by a pike. As the royalists withdrew Hammond's tertio opened fire with muskets. Major General Webb had his horse shot from under him, Captain Harper was wounded in the head but not fatally, Ralph's horse was struck by a musket ball and in the ensuing melee Ralph lost his personal standard with his motto 'I will Strive to Serve my Soveraigne King' as well as his personal servant, a Thomas Cooke and five of Lord Capel's servants. His horse was fatally wounded but managed to get him back to the Black Horse where he managed to obtain another horse although this animal was 'ill-accoutred'.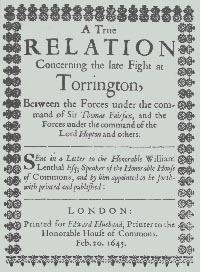 As the parliamentarians poured into the town Ralph mounted one last charge with his cavalry during which the church, containing approximately eighty barrels of gunpowder, exploded killing several hundred royalist prisoners and guards, destroying all the stock of gunpowder as well as the church. (the church was subsequently rebuilt in 1651 a plaque in the side of the church commemorates the rebuilding.) Sensing the battle was lost Ralph retreated back into Cornwall leaving behind, "........ his fur coat, £400 - £500 in coins, trunks of plate and silver and other treasures in port mantles", rendezvousing with the remnants of his army at Stratton the scene of his most famous victory. The Battle of Torrington was the hardest battle fought by the New Model Army and an account of the action was sent to parliament. Following a weeks rest, on 24th February, Fairfax set off in pursuit of Ralph and the royalist army.
On February 28th Ralph moved from Camelford to Bodmin, which was relatively indefensible, so accordingly Ralph placed 400 horse on guard on Cardington Down that was approximately three miles from Bodmin. On the 2nd March, after ensuring the Prince of Wales had set sail for France aboard the 'Phoenix', Ralph held a council of war in a farmhouse at Castle an Dinas to discuss the royalist's next move. Several officers were prepared to discuss a cessation to hostilities. Colonel Marcus Trevor put forward a motion to treat with th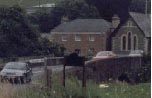 e parliamentarians and which was backed by most of the officers present. Only Ralph and Major General Webbe disagreed. However, on 6th March Fairfax sent a 'summons of surrender' to which Ralph replied on the 8th March that he was willing to negotiate terms. Fairfax, mindful that if the royalist horse broke out of the Southwest and reached Oxford it could prolong the war considerably, agreed to negotiate and so on the 10th March at 9am both sides met at Tresillian Bridge just outside Truro (photo right). Ralph agreed to move his army to St. Allen as a gesture of trust and goodwill allowing Fairfax to occupy Truro.
On the 12th March negotiations began on the one part, Comimissionary General Henry Ireton, Colonel John St. Aubin, Colonel John Lambert, Commissionary General William Stane, Captain Edward Hearle and Captain Richard Deane, Controller of the Ordnance, "Commissioners appointed on the behalf of his Excellency Sir Thomas Fairfax, Knight General of the Parliaments Army" and on the other part, Colonel Charles Goring, Colonel Marcus Trevor, Colonel Thomas Panton, Colonel Jordan Bovill, Sir Richard Prideaux and Major Jean Goteer, "Commissioners appointed on behalf of the Right Honourable Lord Hopton, General of his Majesties Army". Generous terms for surrender were formally agreed and the "Treaty of Truro" was signed on the 14th March. On the 20th March the last of the 'King's army in the West' had surrendered, whilst the final remnants of the royalist army from Oxford under the command of Sir John Astley surrendered at Stow-on-the-Wold a day later, leaving only isolated royalist strongholds holding out for the King.
On 16th March Ralph was informed that Lady Elizabeth Hopton, his wife of twenty-three years, and who had accompanied him on many of his campaigns had died in Jersey. With his nephew Lord Capel, Ralph left for the Scilly Isles and onto Jersey before meeting up with the Prince and his entourage in Flanders. On April 13th at Sorlings, Ralph presented to the prince's council "For Duty Alone, Lord Hopton's relations of the Proceedings in the West of England", which was an account of the last battle and surrender of the royalist army. Ralph returned to Jersey to mourn his beloved wife.
1647 - Ralph, who had remained in Jersey, now decided to leave and stay with his uncle Sir Arthur Hopton, who had been the English Ambassador to Spain, and lived in Rouen
1648 - Whilst in enforced exile in Rouen Ralph wrote "'Bellum Civile', Narrative of his Campaign in the West 1642 - 1644"

1649 - Following the execution of Charles I, Ralph, took command of a flotilla of some twenty ships, his naval force being called the Hoptonians by parliament, and attempted to set up a channel blockade in the name of Charles II. His colours were yellow with black bullets in the middle and the motto "For Charles the second". However the royalists were unable to finance the fleet and the blockade had to be abandoned.
1650 - Ralph was removed from the prince's council in Breda Holland and retired to Wesel, because as a Puritan and his distrust of the Scots, he opposed the plan for a Scottish Army to enter England, restoring the prince to the throne and establishing Presbyterianism as the national religion. Ralph's opposition was fully justified when Cromwell defeated Charles II and his army of Scots on 15th October 1651 at Worcester.
1651 - Ralph was approached by Colonel Slingsby with a plan to attack the castle at Poole in Dorset and start an uprising in the name of Charles II. He decided against the attack and the plan was dropped. At about this time Ralph was rumoured to be engaged to Lady Anne Douglas, the daughter of Anne, Countess of Morton.
1652 - On October 8th, Sir Ralph, Lord Hopton, 1st Baron of Stratton KB. MP died of a fever in "honourable poverty" in Bruges Belgium. His body was carried to Helvoort Sluys. Being exempt from pardon by parliament he never regained his lands or property that had been sequestered from him in February 1642.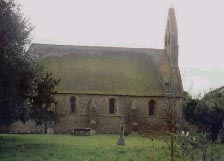 1661 - Sir Ralph's body, which had remained unburied following his death in Bruges, was returned to Somerset upon the restoration of Charles II, for burial in the churchyard at Witham Friary, (photo right) but records of the grave's exact location are missing.
1672 - Following a ruling by the House of Lord's Ralph's lands and estates, which had been denied him whist he was alive, were restored to his family. Witham Friary passed to his eldest sister Katherine, who was the widow of Sir John Wyndham, whilst his three other sisters inherited the rest of his estate.
---
Page created: 14 Aug 2002