Frances Neville (née Manners)
c1525 - ????
---
Relationship to me:
Great Great Great Great Great Great Great Great Great Great Great Great Grandmother
Gen -14
Born:
c1525 (deduced)
Died:
????
Age
??
Father:
Thomas Manners
1492 - 1543
Mother:
Eleanor Paston
Brothers:
None known
Sisters:
None known
Married:
Henry Neville
1527 - 1587
Children:
Mary Elizabeth
c1555 - 1626
---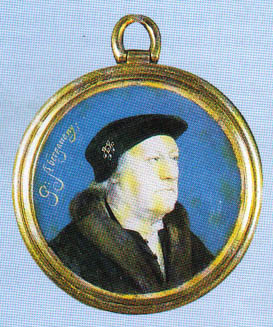 According to information passed on to me by Ian Caldwell, in Dec 2001: "Frances Manners, daughter of Thomas Manner and Eleanor Paston, married Henry Neville, Lord Abergavenny, (1527-1587) of Berling Place, Kent. He served at the trial of Mary Queen of Scots in 1586. Henry's father, Sir George Neville (1471?-1535 pictured right ), was Larderer to the Household at the coronation of Henry VIII and had been a favourite of Henry VII. He was a general of the army and warden of the cinque ports. He was also a signatory of the letter to Clement VII, requesting Henry VIII's divorce".