Cressie's School or "Lyndon Lodge School" - Burnham-on-Sea, Somerset
compiled by Chris Newman (contact: cje.newman@gmail.com)
---
Note: If anyone can help correct errors or add photos, information or anecdotes to this page, I will be most grateful.
Lyndon Lodge School, known as Cressie's, was founded and run by Miss Gladys A. Creswell. The school was housed in Lyndon Lodge, a converted dwelling house at the end of Allandale Road in Burnham-on-Sea in Somerset, England. The school was located near the western end and on the northern side of Allandale Road, there being just one property between it and the sand-dunes forming the edge of the Bristol Channel (see map below).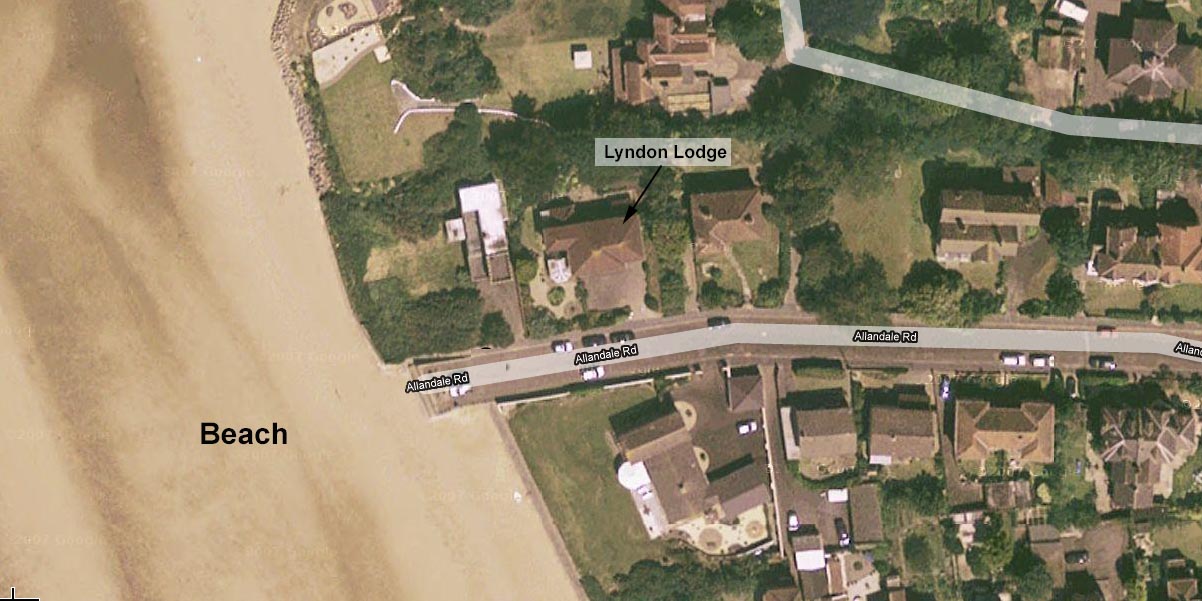 At present I know nothing about its origins, but the school was active in the early 1950s and closed when Miss Creswell retired around 1960. I myself attended the school from mid-1951 (when aged 5) until April 1954 when I transferred to Hill Brow Boy's Preparatory School in the nearby village of Brent Knoll. It may have been that Cressies acted as a feeder-school for Hill Brow, since many of its male pupils went to Hill Brow (and many others to St Dunstan's which was even closer-by in Burnham).
The school offered three classes starting with a kindergarten under Miss Cresswell and Forms 1b and 1a for older children under the tutelage of a Miss Winifred (W.A.) Keirle. The school took in both boys and girls from local middle class families. It offered no boarding facilities.
Lyndon Lodge was (and remains) a two-story brick house, the upper floor of which formed Miss Cresswell's living quarters, with the entire lower floor used by the school. This consisted of two classrooms: Miss Creswell's junior class facing south towards the road, and Miss Keirle's senior class facing north. In addition, children ate lunch in a separate dining room on the northern side adjoining a small kitchen area.
Both Miss Creswell ("Cressie") and Miss Keirle were spinsters, Cressie being in late-middle-age in the 1950s and Miss Keirle a little younger. Cressie looked after the smaller children (ages around 4 to 5 years) while Miss Keirle taught the older ones aged 6 and 7. For a shy child, new to school regimen, Cressie's class offered a comforting introduction to the ways of schooling. Miss Keirle on the other hand, could appear quite terrifying in her demands and strictness, however below the surface she was a kindly soul and she was an especially gifted teacher.
The school had space for about 30 pupils - a mixture of boys and girls - with about 15 in each classroom. Teaching was to a formal curriculum which included the three Rs (reading, writing and arithmetic) to which great prominence was given. Pencils were used for writing, the novelty of ink pens having to await the Prep School environment. Cressie's daily class routine included listening to radio programs like "Music while we Work" and children's nursery rhymes (or perhaps she sang the latter to us or played them on a gramophone).
Cressie's most famous (perhaps her only famous) alumnus was John Cleese who attended the school in the late 1940s when his family lived in Burnham after moving from Weston to Brent Knoll during WW2. His family subsequently moved back to Weston where John attended St. Peter's preparatory school [information supplied by James Curtis].
The photo below [supplied by Tom Wright] was taken in 1950 when the school was in its heyday.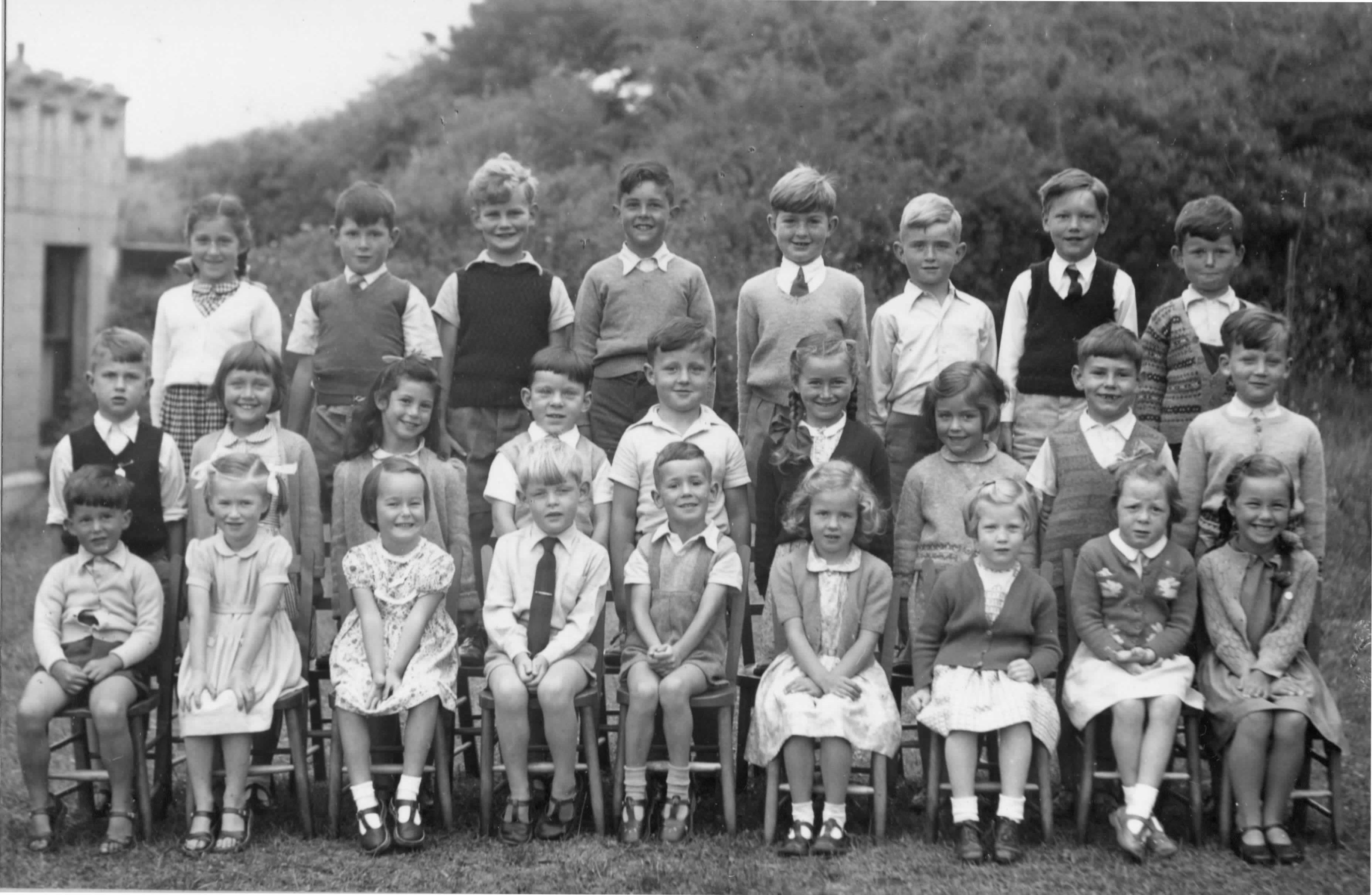 1950 School Photo [kindly sent to me by Tom Wright]

Back row: Jennifer Cook, Colin Hatherell, Peter Frost, Anthony Bolland, Hugh Swan, Nicholas Arlidge, Christopher Hill, Stephen Tilley
Middle row: Colin Sara, Dinah Swayne, Jennifer Williams??, Gerald Haslam, Thomas Wright, Jennifer Williams??, Sarah Shorten, Tiffy Gould, Michael Herring
Front row: Mark Bolland??, Sally Jeffries, Penny Gibbs, Richard Holmes, Robin Martin, Daphne Newman, ????, Vivian Hallett, Trixie Carey??
The photo below [supplied by Peter Little] was taken in 1955 (still in its heyday):.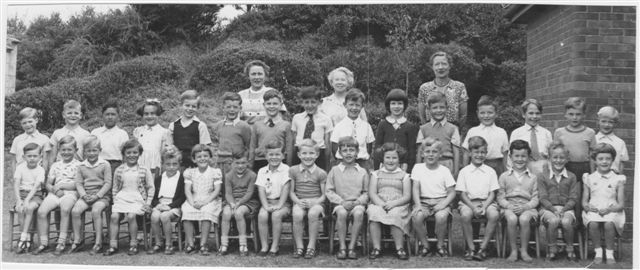 1955 School Photo [kindly sent to me by Peter Little]

Back row: Mrs. Shorten; Gladys Creswell; Winifred Keirle
Middle row: Peter Little; Mark Watkin; Christopher Steele-Perkins; Nichola Parish; ????; Nick Drew; Gordon Strong; Richard House; Tim Billington; Jocelyn Wickham; Nick Halsey; John Counsell; Robin Cross; Colin Williams; Andrew Bradbeer
Front row: ????; Nigel Sara; Paul Andrewartha; Jane Barnwell; ????; Jane Heslop; John Palmer; Richard Scoones; Bob Lamond; David Holmes; Sue Robinson; John Heslop; Guy Attfield; Roger Scoones; James Barnwell; Paula Parish
The photo below [supplied by Tim Drew] dates from 1956: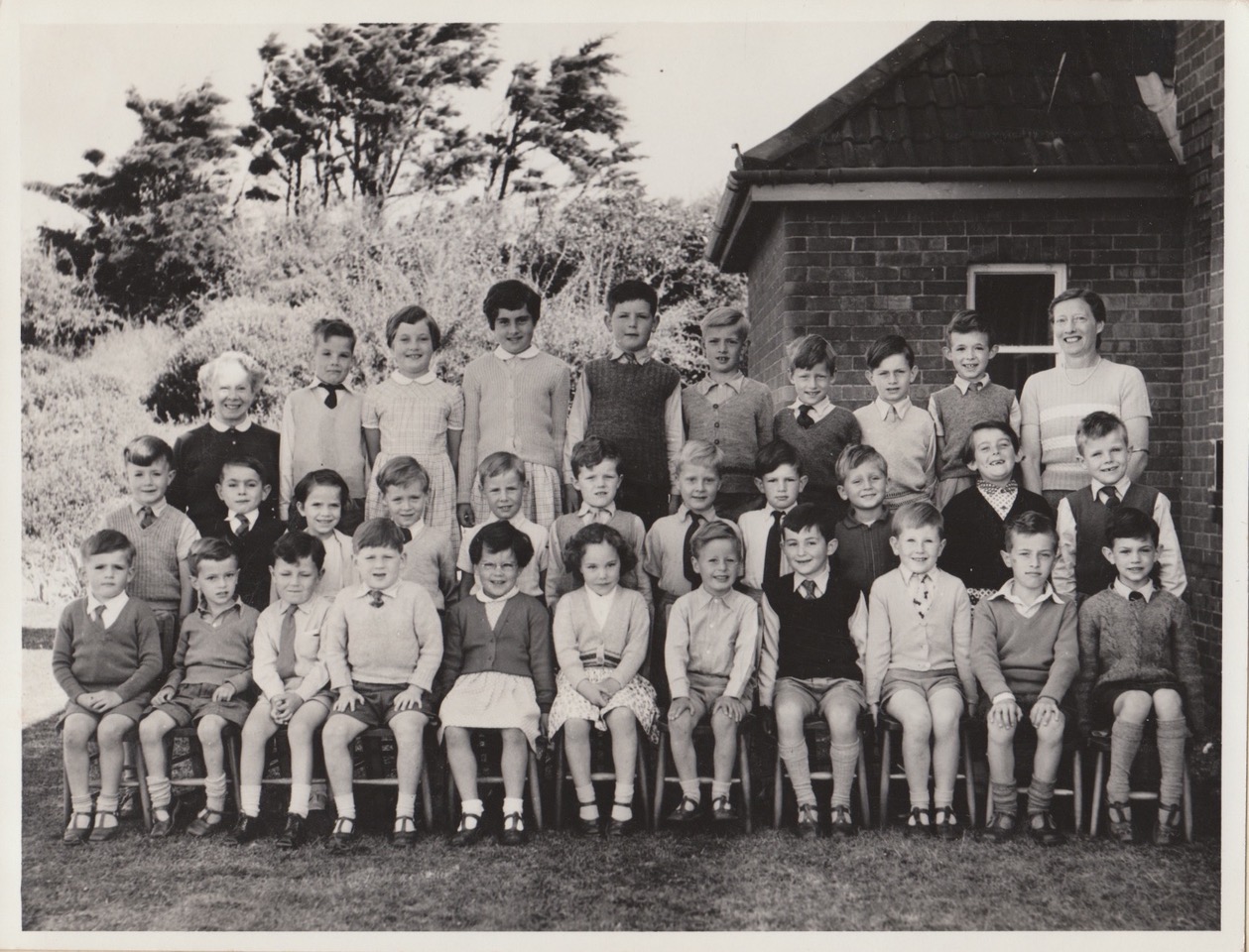 1956 School Photo [kindly sent to me by Tim Drew]

Back row: Gladys Creswell; pupils' names unknown; Winifred Keirle
Middle row: ????; ????; Blanche Matheson; Tim Drew; the others' names are unknown;
Front row: fourth from right Mark Newbery; third from right Harry Cocks; the others' names are unknown;
---
I seem to remember learning "times tables" by rote, and learning all about the British coinage through pictures that were printed in a"maths" book. I'm probably wrong in recalling learning how to add and subtract, multiply and divide amounts in pounds, shillings and pence, since this now seems rather advanced for a 6 or 7 year old.
Curriculum subjects listed on the termly report cards for the kindergarten section were (as listed): Scripture, History, Geography, Arithmatic, Writing, Reading, Needlework, Drawing, Music (band and singling), and Nature Study. Curriculum subjects listed for the classes 1b and 1a included (in the order listed): Scripture, History, Geography, Arithmatic, Writing, Reading, Spelling, Grammar (class 1a only), Drawing, Nature Study (class 1b only), Percussion Band (class 1b only), Singling, Elocution, Handwork and French (class 1a only). Children were expected to behave well in lessons and to learn what they were taught, and a very good grounding was given in most or all of the subjects that were offered. Typical reports from the Kindergarten and 1a divisions are copied below.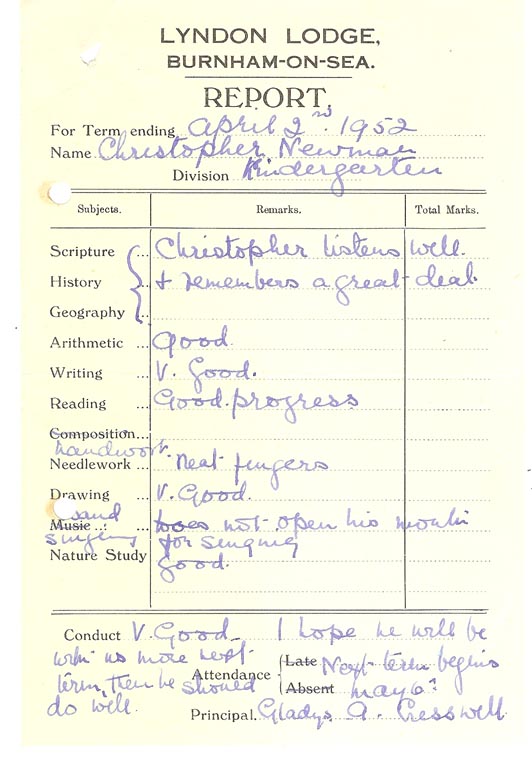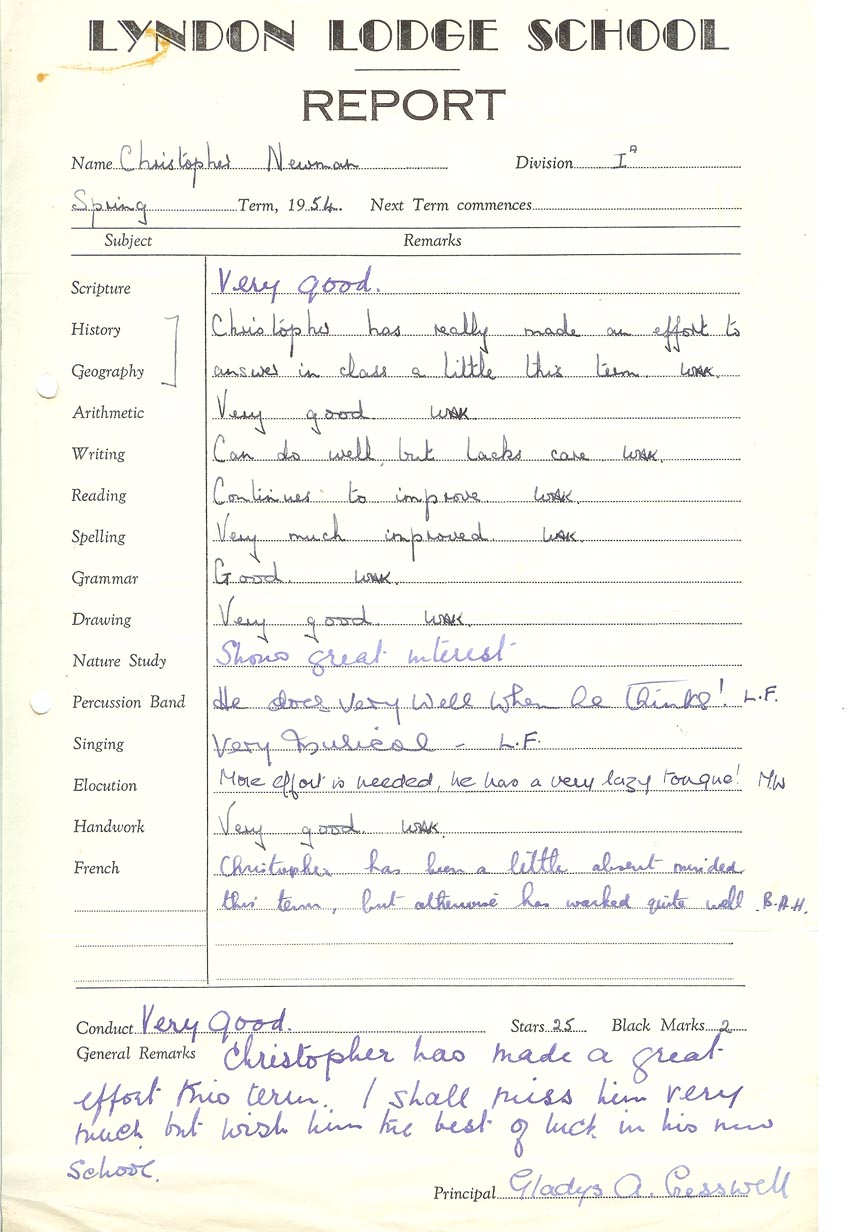 Perhaps everyone's memory of food during childhood is equally rose-coloured, but besides the unmatched cooking of my mother, the lunches at Cressie's had a wonderful flavour that I have never forgotten. Vegetable stew with thick gravey, and mashed potatoes with cauliflower-cheese were special favourites, as were strawberries and ice-cream for desert. Mealtime pleasures were circumscribed by a "no-talking" rule and rules of etiquette the details of which I no longer remember.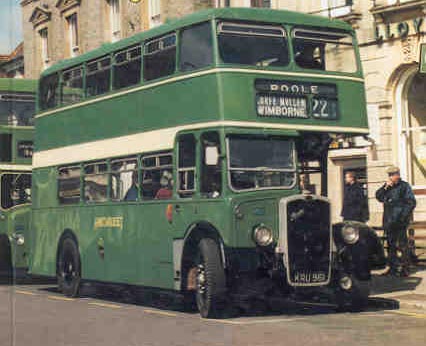 I attended the school with my sister (Daphne) who was two years senior to me. Some days we were driven to school by our mother or (more rarely) father, but most days we went by bus. During our time at Cressie's we lived at Churchland Farm in Bason Bridge, just over 5 miles from the school, and catching the bus meant a ¼ mile walk along the railway track to the Bason Bridge railway station and thence to the Bason Bridge garage (fuel station and repair shop) where a green Bristol Tramways No 160 double-decker would stop to pick us up. After a 15 or 20 minutes journey we would disembark at its terminus at the end of the Burnham Esplanade, from where we would have a further ¼ mile along the sand beach to the steps that led up to the end of Allandale Road.
Returning home after school - probably around 3:30 or 4:00pm (I don't recall having to walk along the beach in the dark on winter evenings) - we would walk back along the beach and wait for the bus, sometimes for 20 or even 30 minutes, allowing time to play in the sand. On one occasion when on my own (after my sister had left Cressie's) I played too long and missed the bus. Quite unperturbed, I put on my satchel and walked home, all the way through Highbridge and across the A38 trunk road before my mother drove up in a woirred state and drove me the last mile or so back home. I couldn't understand what she was worried about because I was quite content walking home. How times have changed!
There was an alternative bus service from the Esplanade bus terminal - the No. 201 bus which Miss Keirle caught back to her home in Puriton each afternoon. Like the 160, it went to Bridgwater and perhaps beyond, however the 201 took the more direct route along the A38 while the 160 took the B3141 through East Huntspill and Woolavington. Thus in the event that we missed the 160 service, we had the option of catching the 201 and getting off at Highbridge and walking the two miles home from there. I recall one frightening occasion when I took the 201 and found myself jammed in by standing passengers and unable to ring the bell for the bus to stop. Some kindly passenger must have seen my tears and stopped the bus for me, but how I got home after that, I don't recall.
During each morning break, pupils were allowed half and hour playtime. Most mornings this involved the short walk to the beach where we were allowed to play as we pleased – building sand castles or whatever. I don't think the idea of going into the water ever crossed our minds. At any rate, I don't recall any paranoia about it – though no doubt there were warnings about the dangers of quick-sands (an ever present danger on a beach with a very high tidal range). I recall lengthy walks along the beach which were more controlled and therefore much less fun, and suspect that these took place in the afternoons. How we avoided getting ourselves covered in mud, I don't recall, but perhaps the beach was cleaner in those days than in later years.
Cressie's was a happy school that offered a very good grounding for children going on to "preparatory schools". I left in April 1954 to begin my own "preparatory school" educaton at Hill Brow School in the summer term of that year. A reunion event was held around 1960 to mark the retirement of Cressie and the closure of the school. A photo taken of that even appears below one copy showing with the names of those attending as recalled by my sister Daphne.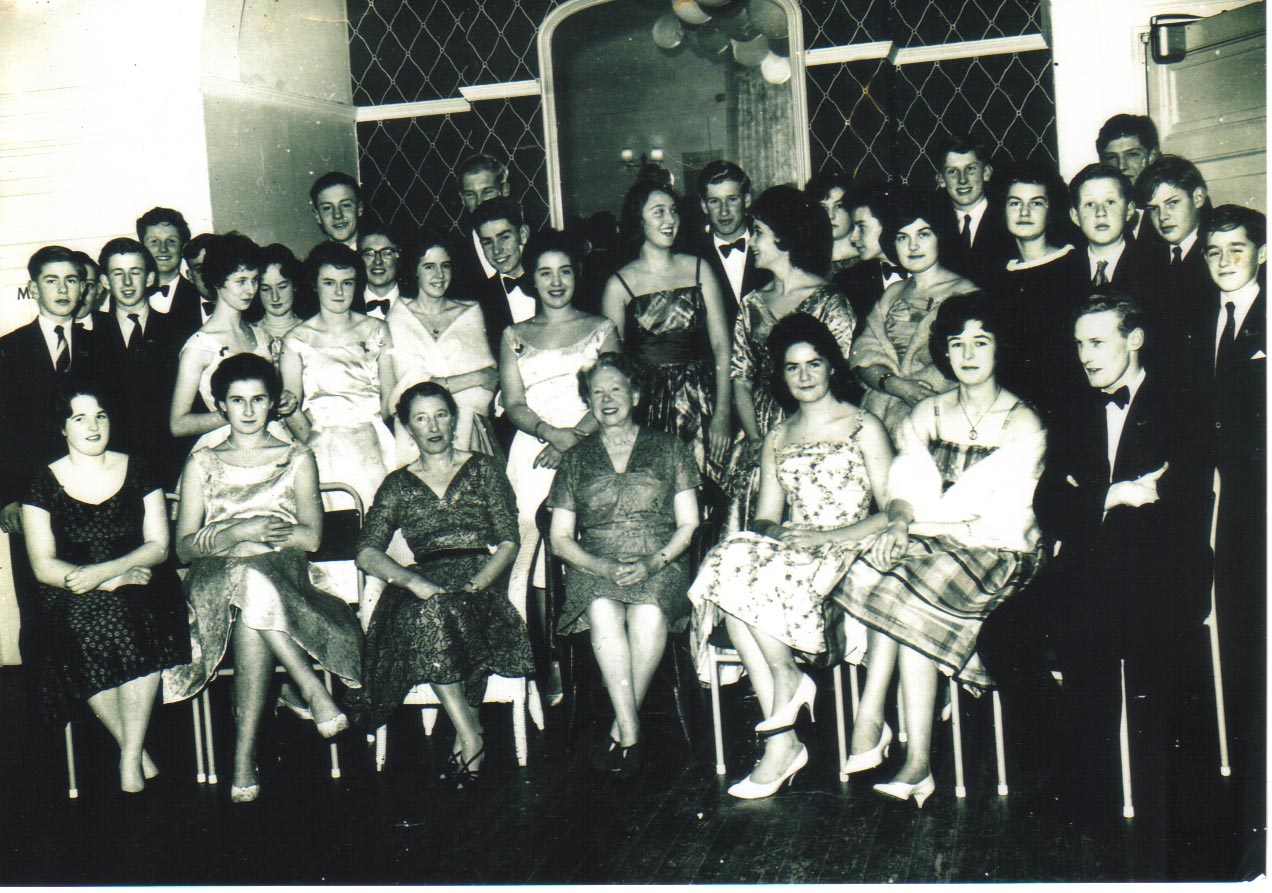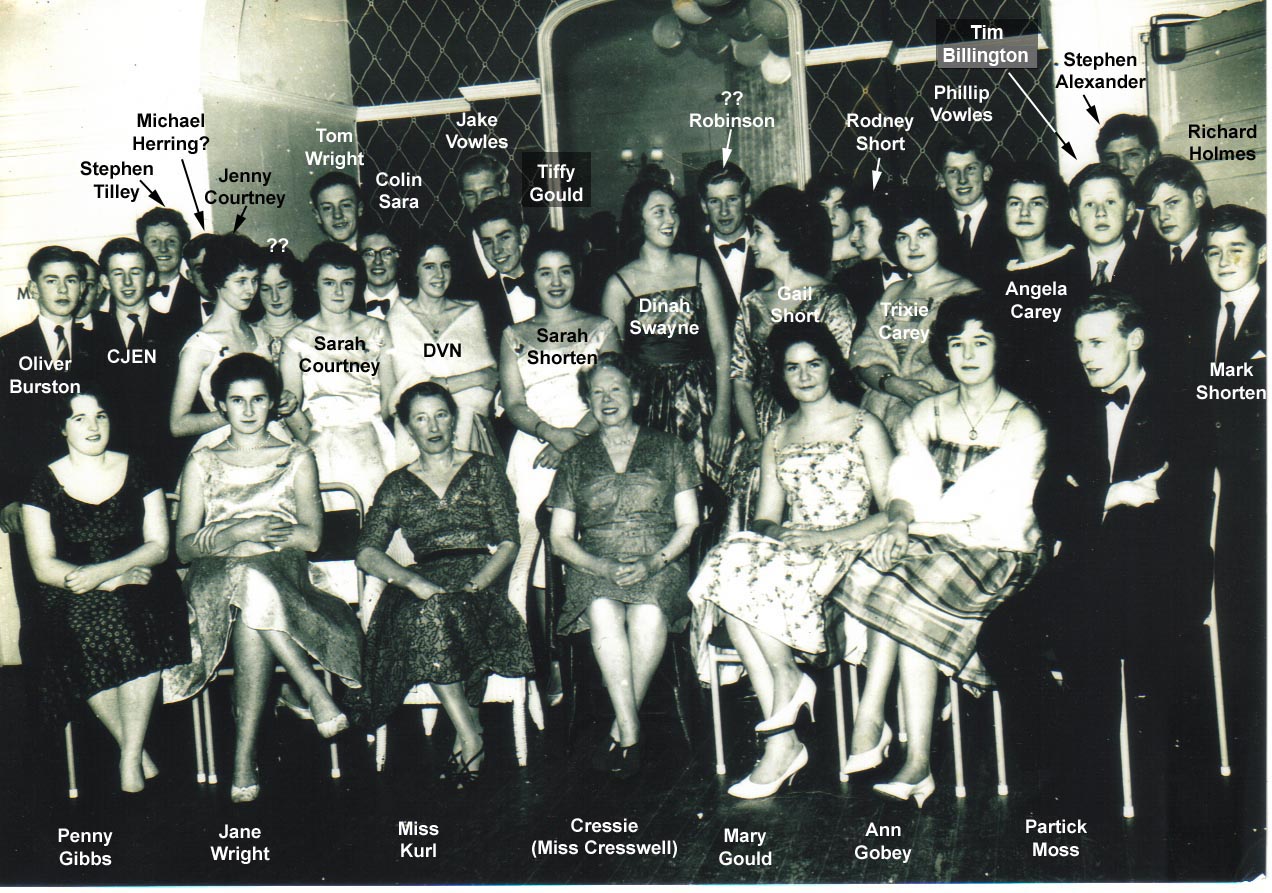 ---
Updated 16 Aug 2020 - Robin Martin's name added to 1950 photo
Updated: 3 Aug 2019 - Tim Drew's photo added.
Updated: 22 Sept 2010
Page created: 28th Dec 2009