Clements Inn
---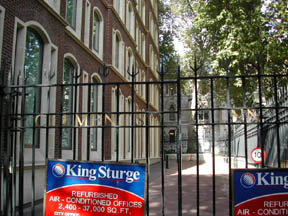 Edwin Newman maintained chambers for his law firm at 1 Clements Inn, next door to the Royal Courts of Justice at the Temple in Central London (just south of the Strand). It appears that Edwin may have established a London office as early as 1851 but the first reference to his Clements Inn chambers appears in the London Gazette for 23 May 1879 which gives the firm's name as Newman Jeans & Co. The 11 March 1881 Gazette gives gives the same name for the firm, but uses its Yeovil address.
Throughout its life, the firm's head-office remained at Hendford Manor in Yeovil. The 1851 Yeovil census describes either Edwin (or perhaps his eldest son Edwin) as "Now of the Temple, London", from which the assumption is drawn that a London office had been established by this time.
Edwin's grandson Walter Ernest Newman (my grandfather) spent his career working in the firm's Clements Inn office after gaining his articles from the firm's Alnwick office under his father-in-law Henry Augustus Paynter.
A more detailed history of the law firm is presented on a separate page.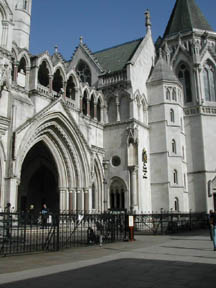 The photo at left is of the magnificent facade of the Royal Courts of Justice, next door to the Clements Inn gate (pictured above).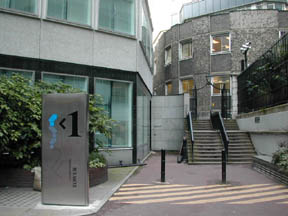 No 1 Clements Inn is now a tower building (photo right) sitting aside two other identical towers Nos 2 and 3 Clements Inn.
No 2 Clements Inn Tower has a plaque on its wall stating "Here were the Headquarters of the Women's Social and Political Union known as the "Suffragettes" led by Emiline and Christabel Pankhurst. Here also lived Emiline Pethick-Lawrence who, with her husband, played an invaluable part in building up the organization and edited 'Votes for Women'". I wonder what Walter felt about having the Womens' Suffragette Movement as neighbours in the early years of the 20th century!
---
Page updated 27 Mar 2012 - law firm details corrected