Extract from Rev Grosvenor Bartelot's Papers
sent to me by Dorset Record Office April 2003
---
Dorset Record Office provided a copy of a letter to Rev. Grosvenor Bartelot written by a Mr. C.R. Everett in 1938 , together with an extract from a Newman Pedigree.
The text of the letter is transcribed as follows, with question marks indicating where I am not sure of the correct spelling or word.. A copy of the original letter and the Pedigree are found at the bottom of this page. What a pity we don't have a copy of Bartelot's answer!
---
Lyonsdown
19 Victoria Road
Salisbury
22 Jan 1938
Dear Mr Bartelot
May I recall our correspondence last September on the subject of the Newmans of Sarum [=Salisbury] & Poole! Then you were settling in and unable to get at your Notes! I am troubling you again in the hope that now they are accessible and you can, perhaps, assist the drawing up of this pedigree and, maybe, other information. My objective of course is the tracing of the Newman property in Grave St in and out of their possession.
John Newman heads the pedigree. In his Will pr. 1402/3, he mentions Nicholas Harding, while Robert Newman in his Will pr. 1457 makes Wm. Harding an executor. Thus, you will agree, John and Robert Newman were akin, the Hardings being a link in common. I have no record of the Harding family of Sarum and Pewsey(?); perhaps you have and can show the relationship. There are a quantity of Harding Deeds in the Cathedral(?) Memorial Room, which would probably help: unfortunately cannot read them, and Christopher is, alas, done for: it is sad thinking of his condition. The above John Newman also mentions the Forest family, also related no doubt.
The next generation is unidentified (viz Pedigree): it, however, is represented by Robert Newmans father of whom nothing is known to me.
The aforesaid Robert Newman died in 1457: his Will enables three generations to be identified. In it he specifically leaves the "Grave" tenement to his son John, (this according to the list of Bishop's records(?) in 1455 (W. Mag Vol 97) were, in that year, in the possession of Sir John Lisle, who paid his quit rent. Apparently the property changed hands between 1455 and 1457!)
I now come to John Newman of Sarum, whose short Will bequeathing all lands, tenements etc in Sarum to his wife Dorothy was proved P.C.C. 1519. There is a doubt whether he was son or grandson of the above Robert Newman - a gap of 62 years to cover. He could be son, if a young boy at the date of his fathers death! This, as property left to his mother and he is not mentioned in the Will, appears likely?
John Newmans widow remarried Christopher Glenfyn(?). The latter's Will (also Dorothy Cs) refers to his Newman step-children &(?) identification complete. It also specifically mentions the Newman house in Grave Street, the property of Wm. Newman, tho' not as the "Grave". Still, I think that there can be no difficulty in assuming that it is the tenement bequeathed 1457 by Robert Newman?
William Newman just named died at Poole in 1587. His will does not mention property at Sarum! I cannot trace the circumstance or date attending the passing of the tenement in question to - as I believe was the case - the Weekes(?) family before 1571 - Then a gap of a century - afterwards have no trouble identifying the building on the site as that purchased by Windley for St Thomas's Parish! By the way, are there any Newman Dorset J.P.Ms? I trust you will forgive me for troubling you again!
Yours sincerely
---
Dorset Record Office advises that "P.C.C. means stands for the Prerogative Court of Canterbury. Wills which disposed of land which was held in more than one diocese were proved, for southern diocese, in the Prerogative Court of Canterbury and are available on microform at the Family Records Centre, 1 Myddelton Street, London, EC1R 1UW. However, the Family Records Centre will charge a fee for searches of their finding aids."
---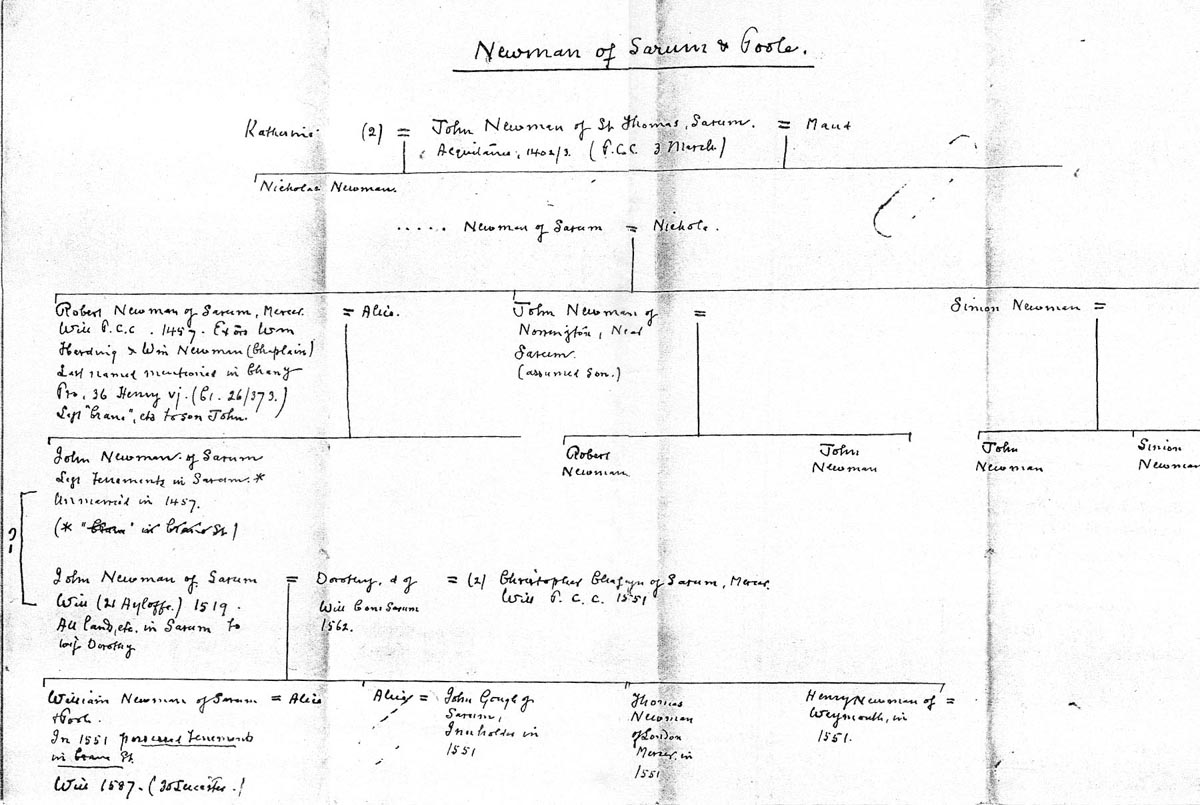 ---
Created 8th Apr 2003; minor corrects 3 Feb 2011