Rev. Arthur Edwin Tweed Newman
1867 - 1944
---
Relationship to me:
First Cousin Twice Removed
Gen -2

Arthur Edwin Tweed Newman
Photo of a miniature portrait in the possession of Campbell Newman

Born:
8th Dec 1867 at Henford Manor, Yeovil, Somerset
Died:
28th May 1944 East Preston, Surrey
Age
76
Father:
Arthur Newman
1843 - 1915
Mother:
CharlotteTweed m. 21 Feb 1867
c.1844 - 1924
Siblings:
none known
Married:
(1) Alice Kate Gabbett m. 22 Aug 1894 - in Ramelton, Co. Donnegal - b.c1870 - 1907
(2) Florence Elsie Price daughter of Harold Price, butcher of Yeovil - b. 1890 m. 1908
Children:
(1) Charlotte Ellen Tweed Newman
b. 1895 d.s.p.
Arthur Maurice Tweed Newman
1897 - 1915 killed in action d.s.p.
Charles Edwin Tweed Newman
1898 - 1985
Alice Mary Tweed Newman
1901 - >1987
Hugh William Newman
1903 - 1981
John Septimus Newman
1905 - 1965
(2) Francis Harold Newman
1909 - >1987
Rev. Arthur Maurice Newman
1918 - 1982 d.s.p.
---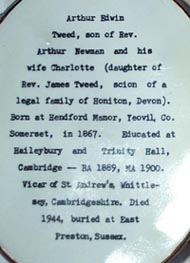 Notes: On the reverse side of the miniature pictured above are the words: "Arthur Edwin Tweed Newman, son of Rev Arthur Newman and his wife Charlotte (daughter of Rev. James Tweed, acion of a legal family of Honiton, Devon). Born at Hendford Manor Yeovil, Co. Somerset, in 1867. Educated at Haileybury and Trinity Hall, Cambridge, BA 1899, MA 1900. Vicar of St Andrew's, Whittlesey, Cambridgeshire. Died 1944. Buried at East Preston, Sussex." Presumably Arthur Edwin Tweed Newman was born at Hendford while his father was Rector of Lufton, a village just outside the town.
Arthur's great grandson Campbell Newman's website at http://www.angelfire.com/mac/cambel/500_hist/geneal_10_newman.html describes Arthur Edwin Tweed Newman as follows:
"Vicar of Wittlesey, Co. Cambridge. b. 8 Dec 1867 at Hendford Manor, Yeovil co. Somerset. Educated at Trinity Hall, Cambridge, BA Hons [1899] President of Union; ordained 1893; Lond.Curate Holy Trinity Hoxton 1892-1895; St Barnabas South Kensington, Surrey, 1895-1897; MA Cambridge 1900; Vicar of Grandborough Buckinghamshire 1897-1907; a radical liberal (Whig), from 1890s became an outstanding political orator, financed by friends including Baron Rothschild and Lord Wedgwood. disinherited by his father and dismayed by deaths of wife [1907] and eldest son [1915], and by decline of the liberals after the Great War [1918], devoted the rest of his life to writing sermons as Vicar of St Andrews, Wittlesey [1907-1944], despite bouts of consumption (he had TB from Hendford throughout his life), depression and binge drinking. Before and during WW2 his sermons gained wide notoriety (sic) and drew large congregations; d.1944, buried at East Preston, Surrey, aged 76. Survived by six sons and two daughters."
---
Page created: 19th August 2004; last updated 1 Jan 2005